Taking on SeaWorld: Let the Voyage Begin
SeaWorld has called the new documentary Blackfish, about its treatment of orcas in captivity, "shamefully dishonest, deliberately misleading, and scientifically inaccurate." But the co-writer argues that the facts speak for themselves.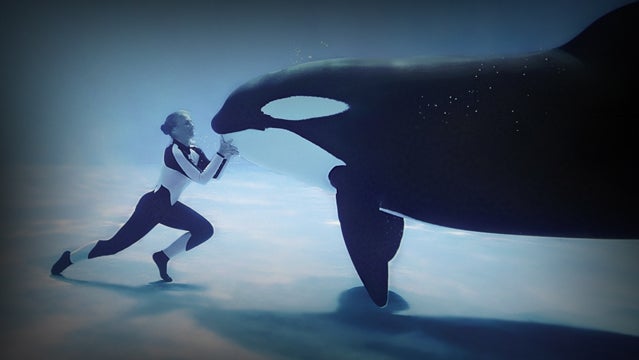 Heading out the door? Read this article on the new Outside+ app available now on iOS devices for members! Download the app.
"First they ignore you, then they laugh at you, then they fight you, then you win," Gandhi observed. He didn't intend it as PR analysis, but it comes to mind as SeaWorld engages in a media blitz to try and undermine the credibility of Blackfish, the documentary film which tells the story of SeaWorld's largest orca, Tilikum, and how his life in captivity led to the tragic death of top SeaWorld trainer Dawn Brancheau.
Blackfish takes my Outside story Killer In The Pool to the big screen, and I was involved with its production as an Associate Producer and Co-writer. SeaWorld initially tried to ignore director Gabriela Cowperthwaite by repeatedly declining to participate in interviews, and saying virtually nothing about Blackfish even as it made the film festival rounds, starting at Sundance in January. Then SeaWorld sort of laughed at us, dismissing Blackfish as nothing more than an animal activist polemic requiring no rebuttal.
But now, with Blackfish getting good buzz and opening tonight in New York and Los Angeles (as well as in many other US cities and abroad in coming weeks), the billion-dollar theme park has broken its virtual silence on the film and has belatedly started to fight. In an e-mail blast to film critics last weekend that called Blackfish "shamefully dishonest, deliberately misleading, and scientifically inaccurate" (you can read SeaWorld's complaints, and the Blackfish responses, here) and in interviews with ABC News and the New York Times, SeaWorld is doing what it can to try to inoculate audiences and the public against the critical portrayal of how SeaWorld over the years has managed Tilikum and its captive orca entertainment business.
The challenge for SeaWorld's PR effort, even though its e-mail broadside quoted Senator Daniel Patrick Moynihan's well-known aphorism on opinion and fact—"You are entitled to your opinion. But you are not entitled to your own facts"—is that the facts are not really on SeaWorld's side.
SeaWorld, for example, complains that Blackfish asserts killer whales live longer in the wild than in captivity, arguing that because SeaWorld has only been "studying" killer whales in captivity for 40 years it is not known for sure what their captive lifespans might be. However, scientific studies have shown that females in the wild live an average of 45-50 years (with some living to 90-plus), while males live an average of about 30 years and can live to 50-70 years. SeaWorld does have one wild-caught whale that is in her 40s, and five whales (including wild-caught Tilikum) in their current "collection" of 28 that have reached their 30s.
But of the 36 killer whales that have died at SeaWorld over the years (not counting multiple miscarriages and stillbirths resulting from the captive breeding program SeaWorld developed to replace wild captures), most died in their teens or younger, and only a handful reached their 20s. Scientific studies have also looked at the mortality of killer whales both in the wild and in captivity and found that the mortality rate in captivity is some 2.5 times higher than the mortality rate in the wild.
To continue to try to deny or obscure this data, as Seaworld has over the years, is similar to continuing to deny the existence of climate change and the human role in it. One of the most telling scenes in Blackfish shows docents at SeaWorld telling guests last year that killer whales actually live longer in captivity. That is orca trutherism.
Similarly, SeaWorld complains that Blackfish unfairly charges SeaWorld management with obscuring Tilikum's role in previous deaths and not adequately conveying to training staff the danger he represents. I would simply note that as far as I know SeaWorld has never compiled a formal "incident report" analyzing Brancheau's death, a standard procedure at SeaWorld in the aftermath of any aggressive behavior by a killer whale, and used by trainers to better understand risks.
Moreover, Tilikum's SeaWorld profile, which is also used by SeaWorld staff to better understand each whale and any aggressive propensities, describes his involvement in three deaths by laconically noting "Has negative history with trainers in the water." The profile also elides the fact that in 1991 (as Blackfish documents) Tilikum pulled Sealand trainer Keltie Byrne into the water, and along with the two other whales, killed her, by describing the incident as an "accidental drowning."
I could go on, but critics don't seem to be buying SeaWorld's rebuttal (though there might be more to come). Blackfish has a 96% positive rating on Rotten Tomatoes which compiles reviews, and it is a New York Times "Critics' Pick."
In fact, after decades of defining how the public sees killer whales in captivity, SeaWorld's anti-Blackfish PR blitz may only be helping bring an alternate view of Tilikum's life and killer whale captivity to a public that has long regarded Shamu as a friendly, happy, icon. That would constitute Gandhi's final phase: winning.

Tim Zimmermann is a correspondent for Outside, a former Senior Editor and Diplomatic Correspondent for US News & World Report, and author of The Race (Houghton Mifflin, 2002). You will find him at TimZimmermann.com and can follow him on Twitter.

Lead Photo: ViewAllPapers.com