The Super Bloom Is Returning to California. One City Has a Plan to Curb the Selfie Seekers.
Lake Elsinore has already closed access to one of the most popular areas for checking out the wildflowers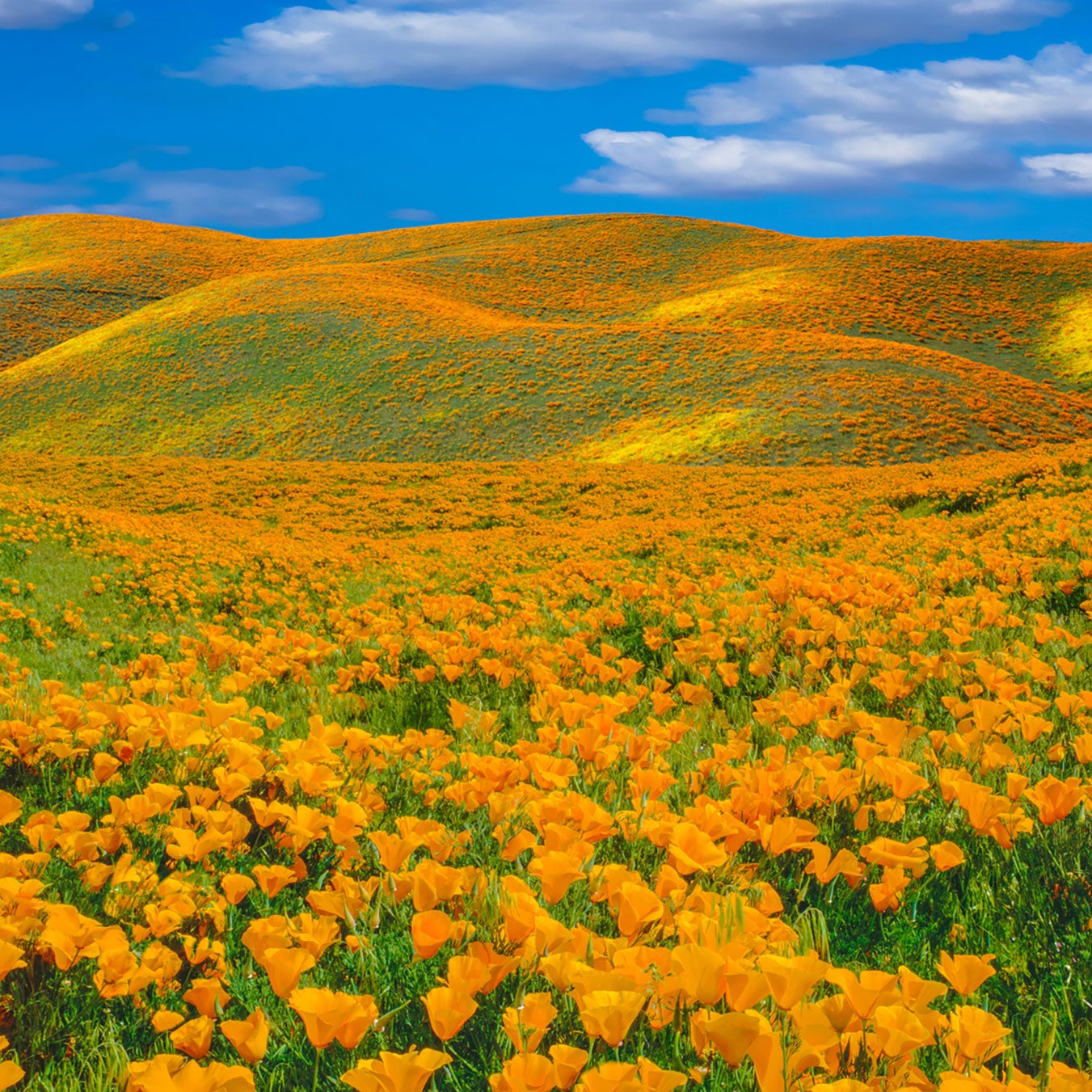 Heading out the door? Read this article on the new Outside+ app available now on iOS devices for members! Download the app.
This article was first published by Backpacker.com.
California received record amounts of rain over the past few months, which experts suggest may result in a stunning "super bloom," a colorful explosion of poppies and other wildflowers. Flower watchers noted the first early signs of a potential super bloom after Groundhog Day last. But while that may be good news for plants, it may not be great for the environment. During the 2019 super bloom, enormous crowds of visitors—some of whom were seeking the perfect photo—inundated parking lots, trailheads, and other public spaces.
One couple even landed a helicopter in a field to check out the flowers.
Located 60 miles east of Los Angeles, the town of Lake Elsinore decided the coming super bloom was such bad news that it closed one flower-peeping hotspot—and all of the trails running through it—until the natural phenomenon subsides.
Located in Riverside County, Walker Canyon is an Instagram-ready flower-peeping hotspot in spring, when fields of orange-red California poppies blanket its slopes and miles of trails. During the 2019 super bloom, visitors who were hoping to snap photos of the display swarmed the canyon and Lake Elsinore, parking along narrow roads and blocking traffic. Hordes of visitors wandered off-trail and picked flowers, causing damage that still hasn't regenerated. It wasn't long before officials began referring to the situation as a "safety emergency." because of issues like road gridlock. Amplified traffic forced city employees to increase their workload, straining personnel. Riverside County Sheriff Chad Bianco told a news conference that his office had to conduct "many rescues" of unprepared and inexperienced hikers
CBS reported Mayor Natasha Johnson said that while the 2023 bloom wasn't shaping up to be nearly as brilliant as the one in 2019, the town would still close the canyon and cite anyone found entering or parking in the area.
"The last time was like out of a movie," Johnson said. "There was not a neighborhood that wasn't impacted by the gridlock. Our five freeway exits into the city were jammed. The freeway was completely stopped, with people getting out of their cars. Our first responders were having challenges getting through traffic. Our residents did not have a quality of life for several weeks. The flowers were beautiful, but the scene was a nightmare."
Superblooms, though often referred to as once-in-a-decade events, may be becoming more frequent. They have the tendency to draw crowds of all levels of outdoor experience, which often spells trouble for the local environment. Many less-experienced hikers contribute to plant trampling in their attempts to get in on the wildflower selfie action. On one occasion, a group of visitors even landed a helicopter in a field of poppies to get in on the action.
If a superbloom does occur this year, there are some ways that hikers can reduce the impact that higher numbers of visitors will put on these destinations. Taking steps like following Leave No Trace principles—in particular planning ahead, walking only on designated trails, and packing out garbage and human waste—are vital to the preservation of these places.
Going out of the way to respect local infrastructure is another way visitors can take steps to reduce their impact. Superblooms often appear in multiple parts of the state of California during wet years; Instead of heading to over-traveled hotspots similar to Lake Elsinore, visitors can follow the superbloom as it travels north to towns that are either more equipped to handle an influx of visitors or less traveled. Crucially, following local rules around parking and camping can help ensure access restrictions like those in Lake Elsinore don't become more commonplace.
Lead Photo: Ron and Patty Thomas/Getty Images