There Are No Pythons Here
When the Florida Wildlife Commission offered $1,500 for the most Burmese Pythons caught in the Everglades in a month, they had no idea that almost 1,600 would-be wranglers and a cabal of journalists would flock to the cypress swamps for what turned out to be more of a reality-TV audition than a good ole-fashioned bounty hunt. Now that the dust has settled, what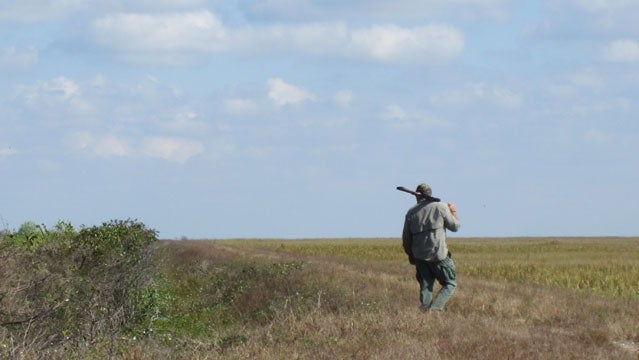 Heading out the door? Read this article on the new Outside+ app available now on iOS devices for members! Download the app.
"RUBEN, WHAT'S UP with this, bro? We gonna have to run it over?"

The author with a python caught by the Florida Python Hunters.

Ready with "pea shooters."

Ruben Ramirez shows the neighborhood kids his latest python.

George Brana and a neighbor.
I'm standing in a parking lot at the University of Florida's Fort Lauderdale campus, across from outdoor exhibits for a Model Hurricane Home and a Restored Everglades Habitat. The tail of an eight-foot-long Burmese python is twisting around my fingers. Forty-five minutes ago, this muscular reptile was shot in the head with a captive-bolt pistol, those nasty-looking guns used in slaughterhouses and by the bad guy in No Country for Old Men. Technically, the snake is dead, but the body of a python can keep moving for up to an hour after its head has been shot or severed. On the pavement, it writhes in desperate coils.
"That bothers me," says George Brana, 44, part of a two-man snake-hunting team that captured the python, which was brought here for counting and measuring by state wildlife officials. "We've been hunting snakes for decades, and we'd never killed a Burmese python until three weeks ago. We caught our first one and Ramirez was like, 'You kill it.' And I was like, 'No, you kill it.' So finally, he was like—"
His partner, 40-year-old Ruben Ramirez, cuts in. "I had to build myself up. I was like, 'Hoo! Hoo!' I was like, 'Give me the fucking gun! Give me the goddamn…' Bam! But once that adrenaline went away—"
"We were both, like, crying," Brana says. "Well, not, like, literally."
"No, like, literally."
I'm here for the final week of the Florida Python Challenge, an effort by the Florida Wildlife Commission (FWC) to do something about the unpleasant fact that Burmese pythons—an invasive species from Southeast Asia—are slithering around all over the Everglades, wreaking havoc on the birds and small mammals that naturally reside there. A study released last year links a major decrease in small-mammal populations—90 percent over the past 15 years—to the rise of invasive species, including pythons.
The FWC estimates that the Everglades' python population ranges anywhere from 10,000 to 100,000—the exact number being something of a puzzler, obviously, as is the explanation for how the snakes got established here. (More about that soon.) Last December, state officials invited professional and amateur snake hunters in to kill as many pythons as possible during a monthlong season that began January 12. Since this was a state initiative, Everglades National Park, in southwest Florida, was not part of the hunting ground. Most of the action happened inside a 670,000-acre rectangle of state-owned swamp south of Interstate 75, which runs west out of Fort Lauderdale for 100 miles before cutting almost straight north to Fort Myers. Another huge area—the Big Cypress National Preserve, just north of the national park—was open to hunters for just the first two weeks.
The Permit Holders Competition (for professional snake hunters like Brana and Ramirez) constitutes its own division, separate from the General Competition (for amateurs). In each category, hunters are eligible to win $1,500 for the most snakes and $1,000 for the single longest one. FWC officials did not explicitly say that this short-term hunt would solve Florida's snake problem, but a lot of people seem to have gotten that impression. Before I even landed in Florida, I'd received a stream of e-mails from disillusioned hunters who claimed that the FWC had misled them into thinking the hunting would be easy, that they would be picking pythons up off the road. As the small catch numbers were reported—just 50 snakes in three weeks—FWC officials said that the hunt was really aimed at raising awareness about the state's bleak struggles with invasive species.
The awareness part certainly worked, but not in the way the FWC had in mind: the moment the Python Challenge was announced last December, it inspired a seemingly endless barrage of Twitter sarcasm. People imagined that tribes of yahoos would be running wild through the woods and muck, as dangerous to each other as they were to the snakes.
"We probably need an 'Only In Florida' section of the paper," the Orlando Sentinel tweeted. "Cash for rustling up wild Burmese #Pythons."
"As crazy as this Te'o story is," remarked somebody called @sirbrooks, "it's still not a statewide python hunt."
"All my terrors converge," wrote @rebeccaburns. "Snakes! Swamps! Florida rednecks!"
Mainstream media responded in full force, too. By my count, there were lengthy stories or quick hits about the Python Challenge in or on The New York Times, The Washington Post, Yahoo News, NBC, CNN, Fox, and NPR. And those were just the major outlets.
Not that I had any reason to feel superior. When I heard about the Challenge, I flew to Florida as fast as I could, for the same reasons everybody else did: My hunch was that the snake stomp would be an unforgettable clown show. I had to see it for myself.
THINGS LOOKED DIFFERENT on the ground, though, in a way that didn't always come through in coverage heavy on the "Florida rednecks" theme. The snake hunters I met were decent people who, like Brana and Ramirez, were not unsympathetic to the pythons, wild creatures who aren't to blame for what's happened in the Everglades. The whole spectacle was also a lot sadder than I expected: the futility of the effort, the way the media hype distorted the behavior of the hunters (who were angling for a level of sustained exposure that seemed likely to elude them), and the fact that none of what transpired had much to do with the real problems facing the Everglades.
One of the world's most famous and beautiful natural habitats, the Everglades is made up of roughly 2,350 square miles of marsh and prairie, penned in by highways that break it up into four quadrants, with development on all sides. To the east of where the Challenge took place there's Miami, rising above a horizon of haze. To the north, a tall chain-link and barbed-wire fence prevents the jungly Everglades from literally swallowing up I-75. Guys in coveralls park on the shoulder and fish right off the side of the highway.
The 1,800-mile canal system that cuts through the Everglades was dredged in the early 1900s, partially draining the wetlands and stopping the natural flow of water southward to the sea. As a result, the Everglades have receded, the estuaries have become saltier, and the ecosystem has long been in its death throes.
In his 2006 book The Swamp, Michael Grunwald explains that much of the development in the Everglades happened thanks to midcentury land prospectors who recognized that "northerners yearned for a piece of Florida the way bald men yearned for hair." What's left today barely resembles what was there 100 years ago. "America's war on nature has left a tattered battlefield in south Florida," Grunwald wrote. "Half the Everglades is gone. The other half is an ecological mess. … Algal blooms are exploding in its lakes and estuaries, massacring its dolphins, oysters, and manatees. … [P]aradise has been sullied by sprawl, and by overcrowded schools, hospitals, and highways."
The suburbs of Miami and Fort Lauderdale have steadily eaten away at what remains on the eastern boundary. Development and agriculture around and inside the Everglades' perimeter, particularly the production of cane sugar on farmlands to the north, have caused pollution problems, mainly from leached pesticides. The diminished swamp, which used to absorb storm surges and minimize flooding, now provides less buffer for the houses that have been built on former marshlands. The water has been sucked out of the peat and caused the ground to fall away, leaving many older homes on bare piles, like stilt walkers.
The federal government is 13 years into a multibillion-dollar, 30-year Everglades restoration project, which aims to halt the ecosystem's precipitous decline. A 2012 assessment by the U.S. National Research Council condemned its progress as unacceptably slow, giving most parts of the project C's and D's, and one an F for allowing nearly irreversible damage.
The habitat destruction has, unfortunately, enabled exotic species to outcompete many natives. The tree islands with their hardwood hammocks, which used to break up the swamp, are now gone from large areas of the Everglades, along with 95 percent of wading birds. Seventy percent of the fish in the canals are nonnative, and the canals themselves provide a breeding ground for invasive clams, water hyacinth, and snails. The levees, built of limestone, dredged from the swamp create a habitat that encourages nests of fire ants and Florida's pesky population of Burmese pythons, which locals call Burms.
There are two main theories on how the snakes got here. One is that several of them escaped from a South Florida breeding facility that was destroyed by Hurricane Andrew in 1992. Another is that the wild snake population resulted from the slow release of pet pythons by people who obtained them, legally and illegally, and got tired of them.
In Fort Lauderdale, Ramirez and Brana, the snake-hunting pros, tell me that they believe both things happened. Then Ramirez says something odd. "Maybe Everglades National Park decided to throw 100 of 'em in there to eradicate some other kind of rat and it just blew up," he says. "Who knows! They have introduced species to get rid of another one, and then that one becomes a problem."
Brana, who, like Ramirez, is suntanned and dressed in baggy cotton outdoor clothing, agrees. "Especially in the canals, y'know?" he says. "They released the peacock bass from the Amazon in the eighties to get rid of this other invasive fish, and now it's taken over everything."
"Just like the cane toads," Ramirez says. Cane toads, massive natives of Central and South America, were introduced to Florida in the 1930s and 1940s as "natural" pest protection for the burgeoning fields of sugarcane. It didn't work, but that program and a later, accidental release established a population. Now they're such a menace that the FWC recommends killing them on sight.
"So why aren't we out hunting those invasives, too?" I ask.
"'Cause people hate snakes," Brana says.
"You know the feral cats that are all over the place?" Ramirez says. "That's more of a problem. But go ahead and shoot one: You'll go to jail. They'll kill you. You know what sort of reaction a TV show about killing cats would get?"
"Pythons are a problem," Brana continues, "but they just add to the problems that are already here. Nobody likes to see a ten-foot snake in their backyard. You see a lizard, like a Nile monitor or a tegu, and you're like, 'Oh, it's an iguana! No big deal.' But those things are mean and as big as Komodo dragons. Even the wildlife guys will admit they're a bigger problem than pythons."
THE NEXT DAY, as the sun goes down, I pull up to a gravel boat ramp 30 minutes outside Miami, off Highway 41, just as a different group of hunters I've driven out to meet—Bill Booth, Duane Clark, and Dusty Crum—are coming in on their flat-bottomed swamp boat. Booth and Clark look like hunters, clad in muted long-sleeved shirts and sensible long pants and muddy boots, while Crum's getup could be described as Gator meets Dances with Wolves. He's barefoot, with a scraggly beard and aviator sunglasses, and he wears feathers in his blond hair, which tumbles down his back. Is he auditioning for something?
Sort of. Booth and his crew shoot hunting films part-time for Bill Booth Outdoors, a production company he owns. Booth thinks the combination of python hunting and Crum might attract people who produce big-budget reality TV.
Booth and the guys are competing in the Challenge's nonprofessional category, but they're the only people I've found besides Brana and Ramirez who've taken an entire month off work to hunt. They've been going at it 14 hours a day, averaging 12 miles each on foot. They're camping out at a nearby tent site and are leading the nonpro standings with five snakes. (They had six, Booth says ruefully, but one got away when they were showing it off to a camera crew.) Clark has been trying a new technique—mountain biking on top of the levees, covering 40 to 50 miles every day—but it hasn't helped. It's been seven days since they caught anything, a fact that has everybody frustrated, especially since Ramirez, who's become something of a mentor to them, keeps calling in to talk about his latest catch.
Booth, like Ramirez, says the media blitz has been nonstop. His team was shadowed for a few days by a seven-person film crew from National Geographic, and Booth once had five different outlets call his cell during a 25-minute drive between the campsite and the put-in. Even so, he's friendly to all comers and invites me back to the campsite for burgers and beer.
Once we're settled in, Booth puts down his Budweiser and takes a plastic bag from a cooler. It's filled with what look like cod steaks—until he pulls one out, unrolls it, and lays it flat. Two eight-foot-long python skins glisten in the light from his headlamp. The scales are smooth, almost like newly treated leather, but harder. He picks up the partially detached head and points out the rows of needle-like teeth, which pythons have instead of fangs. Booth hasn't decided what he'll do with the skins, but he's an experienced taxidermist, so he may mount them. They could sell for pretty good money.
"Right now, Duane is usually digging arrowheads somewhere," Booth tells me, by way of explaining that snake hunting isn't such a bad temporary employment option. Duane Clark served time for growing marijuana in the 1980s. He was eventually busted and thrown in prison. Since he got out, a few years ago, he's been on the move, crisscrossing the country. Once, he hiked the Continental Divide in 80-some days. He'd probably be great on reality TV.
"Right now," Crum points out, "Duane is over there washing his nuts." I look up: he isn't kidding. Later, when I ask what Crum's hair feathers are for, Booth says, "Attention."
"He was playing it up for NatGeo with the barefoot thing," he says. "The girl was all over it, but I know that's what they're after."
On his Canon, Crum shows me a few rough cuts from the past couple of weeks. In one scene, he puts the camera in so tight that a python lunges and rips off the mic's fuzzy windscreen. "Close!" Clark says. "But if you were actually the guy to get bit, you'd be on Letterman."
"If I get a 14-foot snake, I'd let it bite me and wrap me up a few times," Crum says. "That would be solid gold—to sacrifice myself for the camera."
The men have hunted wild hogs and massive alligators for Bill Booth Outdoors, but when they started coming out for the Python Challenge, they were winging it like everybody else. "We had no idea what we was doing," Crum says, describing the first python they caught. "I was holding the camera, and Duane threw a sweatshirt over its head. We didn't know how to kill it. We didn't have knives or guns or nothing. So Duane was running along with it around his neck, and he was like, 'It's choking me out!'"
Crum says there's a market for python meat, though it's under the table. "Some Chinese dude drove 650 miles all the way from Atlanta," he says. "Said he was going to make medicine with it." Python dishes and medicinal soups are a popular delicacy in Chinese cuisine, but a buyer wouldn't be likely to admit serving it, since the python hunters aren't licensed to handle food. "We were drunk, so we let him have all of it for his first offer—$17 a pound," Crum says. They later found out that the going rate for python meat is at least twice that.
"What about the mercury?" I ask.
Shortly after announcing the Challenge, the FWC released a report warning that the Florida Burmese python had been found to contain dangerously high quantities of mercury per pound. Some environmental groups have tied the results to the mercury-binding sulfites that are used to fertilize the sugarcane fields. "Well," Crum shrugs, "nobody's got sick."
The next day, I go to a place in Fort Myers that advertises python pizza. Booth asked me to check and see if they're buying. There's an Everglades pizza for sale, featuring inch-long slivers of python meat—which look like yellow onion—set amid frog legs, bits of gator sausage, and "swamp cabbage" (hearts of palm). I tell the owner about Booth and ask if he's in the market.
"It's not legal," he says. "The stuff I buy is from Vietnam." He shows me a frozen vacuum-sealed package that looks like salmon. "Cost me sixty-six bucks. One pound."
I'M IN THE BOAT with the guys the next morning, scanning the banks of the canal as we shoot down the middle. Around 9 A.M. we pull in to a levee bank; Booth lifts the propeller to avoid dinging it on the rocks. The canal is clear, and Booth tells me that Clark, who's taken off on the bike, drinks from it. He claims the whole swamp acts as a giant filter.
Booth takes a Charlie's Angels–style picture of the team with various guns, then we all set off up the levee. Booth and I motor five more miles to a separate put-in, so we can walk toward everybody else and meet them in the middle.
As I soon discover, snake hunting isn't about wading through the swamp or crawling through mud on your belly. Mainly, you just walk a lot, on a hot, dry road, waiting for something to happen, which usually doesn't. "Nobody knows how to do this well," Booth says. "There's this one guy we kept running into, a kid on a bicycle with a lacrosse net. He had his earbuds in, listening to music, riding along. We just catch 'em by hand."
"Sometimes you'll hear 'em before you see 'em," he says, dragging his boot through the grass to mimic the sound. "But you can't get into the weeds—they're too thick, and it'll wear you down." We stick to the top of the dusty levee, scanning the banks for dark shapes and any hint of motion.
When we stop for a minute, I notice a low drone from some far-off place. Booth says it's probably planes taking off from the airport. He points to a hazy urban outline. "You can see Miami," he says. "Opposing worlds. The city's such a rat race, but here there's no one." Booth has lost 12 pounds since the Challenge started, and he says he'd like to quit his job entirely, that "staying inside and getting fat" gives him anxiety. "Being outdoors is a gift in itself," he says. "We live on such a beautiful planet."
I notice dozens of dead turtles on either side of the levee and ask Booth if he knows what's killing them. "I dunno. There are so many that have just died in their shells not too long ago—if you go over to those islands over there, every one of them has three or four dead turtles on it. I think we've only seen a couple alive." He pauses. "I wonder about it. Maybe they're keeping it hush-hush, because I talked to one of those FWC officers, and he's like, 'Well, something's eatin' 'em.' And I'm like, 'No, nothing's eatin' 'em.'"
Booth hasn't seen much of anything alive on the levee. "Maybe it's pythons, but maybe it's the same thing that's killing the turtles. Runoff from some of these sugarcane fields. All that water runs through the Everglades, and it could be chemicals or something." I'm surprised at the distrust of the FWC, but Booth cites all the introduced species—like the cane toad—and says, "You never know what people are doing. What the FWC is doing."
We fall silent. It's humid and still, except for the unearthly breathing of the saw grass.
"Hear that?" he says suddenly. We crouch on the side of the levee, listening. "It might just be a bird," he whispers. "But a bird makes a noise and then stops." We're quiet for two minutes. Finally, Booth throws a rock that hits with a plunk. A finch shudders out of the grass.
He sighs. "I've walked this so much, I almost fall asleep walking. You think, 'Just a little bit further, there's gotta be one,' and it keeps pushing you along until suddenly you've walked five miles. The longer you're out, the more you think, 'I have to hit it soon.' Like gambling."
Booth and his crew cover 42 miles on foot and bike, and all they find is a Florida king snake. Booth holds it up: it's lovely, thin, and about four feet long. "Them pythons are gentle like this, too," he says. "After you catch 'em they settle down. It all depends on how you handle 'em."
RAMIREZ LIVES A FEW BLOCKS from Brana in an east Miami suburb, just a 20-minute drive from Booth's usual put-in. Here, the sea of grass blends quickly into shopping malls and suburban ranch houses with tile roofs. Ramirez still lives in the house where he grew up. When he was a child, the area was all Everglades, which is how he got into snake hunting. "Starting when I was 12," he says. "My mom used to drop me off in a field and say, 'When I beep, you come running.'"
In the late afternoon light, Ramirez shakes out a pillowcase on the front lawn. A nine-foot python slumps into the grass. His crew caught it this morning, with a Washington Post reporter tagging along.
A friend from down the street sneers at it. "Feisty little shithead, aren't you?" It's still alive, undulating across the grass. Its size is dizzying.
"Go, try your training!" Brana says to me. He's aware that I took the FWC's online course, which supposedly teaches an amateur how to hunt snakes. "It doesn't tell you what to do when you come across a python, does it?"
We hop into Ramirez's truck, which has the words FLORIDA PYTHON HUNTERS printed on the cab's rear window, the name of the hunting club he founded.
About 20 minutes later, at a gated entrance to another series of levees known as the Rocky Glades, we meet up with one of the other club members, Blake Russ, and his friend Steve. It's a hot evening, which Ramirez says could be good. We divide up the route, with Russ and Steve covering a different levee in their SUV.
Russ, who's studying construction at Florida International University ("No money in biology," he says), currently holds the record for the largest snake caught during the Challenge: 11 feet 11 inches. Since the catches are all part of the Florida Python Hunters' combined bag, the club will collectively win every prize if current positions hold.
Brana kneels on the covered truck bed and uses a flashlight to check the ditches that run beside the levees. It's a technique that he says he learned from "real old-timers" who hunt snakes for a living.
Just seconds into it, Brana pounds on the top of the truck. He jumps off and yells that he saw something slither into the water. "Sneak up slowly, bro," shouts Ramirez. "If you see the head, just jump in, bro!"
It's too late. Whatever was there is gone. We get back in the truck.
Ramirez keeps looking ahead and occasionally yells, "Shine there, Georgie!" When he gets excited, he calls out, "Look at that big black thing—watch that Big Bertha!"
But the levee is quiet tonight. Ramirez points to the area on the other side of the canal where big homes and lawns run right up to the water. "Big-time changes. It's sad, the development. There used to be so many native snakes everywhere, even just 15 years ago. You'd see a snake every thousand feet. Route 41 used to be full of snakes."
The whole time I'm with Ramirez, his phone never stops ringing. "This guy from the Palm Beach Post won't leave me alone," he says. "He just texted: 'You're breaking my heart. Could have got you catching.'" Ramirez always responds to the media, though, because his team is also hoping for a TV show. A month before the Challenge was announced, Florida Python Hunters signed on with the production company that makes Swamp People and Stormchasers. Now they're waiting for their agent to sell a deal.
In the dark, the car's lights make sticks and rocks momentarily look like snakes. Slippery white dust from the loose limestone of the levee gets on everything. It leaves a thin film on the dash and in your lungs; Ramirez is always clearing his throat. "Road cruising" feels less like hunting and more like a test drive. And an expensive one at that. Ramirez, like Booth, says they've each spent well over the $1,500 bounty in gas alone.
In the headlights, we see a group of kids on trick bikes hanging out. They crowd around the truck. They say that another group of kids was fishing in the canal last night, saw a python, and shot it with BBs. It slithered away to die. Ramirez shakes his head as we drive on. He speculates that the snake might still be nearby. Then we get the call from Russ. He's got one.
We meet up with Russ a few minutes later. He drops his snake in the lights of some diesel-refueling tanks, which are there to power the pumps for the canals. Nine muscular feet. It uncurls slowly.
"We walked all the way around and way out into the cattails," Russ says. "It was right along the rock line."
A moth settles on the python's beaming scales. It looks around slowly, quietly hissing.
WHEN THE PYTHON CHALLENGE results were announced in mid-February, only 68 snakes had been bagged. No one was surprised that Ramirez and Brana clinched first in the Python Permit Holders' division, with 18. Blake Russ took second with five. Russ also held on to his lead in the longest-python category with his 11-foot-11-inch catch. Paul Shannon, a guy in the non-licensed category, bagged a monster at fourteen-three.
The $1,500 grand prize for the most pythons went to Brian Barrows, a lesser known hunter from Fort Myers. Booth took home a conciliatory $750, but it must have been devastating that Barrows won with six snakes, the same number Booth would have had if one hadn't escaped during the photo shoot.
The last time I saw Booth's crew, they had been up since three in the morning, with no success. I told them that a man at the general store said he'd given two pythons—which had been lying on the grass outside—to a blond guy with a crew cut. Maybe it was Barrows.
After the results were publicized, I spoke with Frank Mazzotti, an associate professor of wildlife ecology at the University of Florida and the official who performed necropsies on the submitted snakes. He was brusque, audibly tired of being the FWC's go-to guy for journalists.
I told him about the turtles, dead in their shells. "No, that shouldn't happen," he insisted. "Turtles are like tanks. They can withstand lots of stuff. It's definitely cause for concern. They tend to be very good indicators of contaminants. Turtles live at Superfund sites."
I asked him about Duane Clark drinking unfiltered Everglades water. To my surprise, he said that this practice is generally safe to do. When I asked about "other" invasive species, his sentences became curt and emphatic.
"Pythons are the tip of the iceberg," he said. "There are 140 species of introduced reptiles and amphibians in Florida. Pythons are the poster child for the problem."
"Does it really make sense to make pythons the main culprit?" I asked.
"What we're getting out of Burmese pythons is the poster child we would have never gotten any other way," he said. "We've been telling people about tegus for well over a year now, and it's fallen on deaf ears. We were at a meeting of government agencies this week, and everybody got up and said that probably the biggest problem we're facing is tegus, not pythons. But the whole meeting was called because of pythons," he stressed, his voice rising. "If we were focused on Cuban tree frogs, none of this would've happened."
The FWC was vocal that the 68 snakes were nothing to sneer at. But the actual impact of the Challenge will be harder to assess. The FWC is trying to figure it out, with a voluntary questionnaire it sent to all participants, asking how much they spent on gas, flights, food, etc. Once they're totted up, officials will have a better idea of how much an ongoing snake hunt would cost. Based on the hunters I talked to, who came from far and wide, the expenses should be pretty impressive.
Ramirez and Booth will show up on National Geographic programming next month, but the Florida Python Hunters' production company hasn't been able to sell its pilot. And Booth's crew is still waiting for an offer. Russ suggested to me that the poor catch numbers might have dampened the media's enthusiasm, that people are over the story.
Unfortunately, that may also be true in a larger, more important sense. "The thing with these conservation battles," Michael Grunwald told me, "is you need to win and win and win. You lose once and you've lost."