These Adventurers Took the (Really) Long Way to the Climate Talks
During a year-long journey to Paris for the UN Climate Summit, they witnessed a changing environment firsthand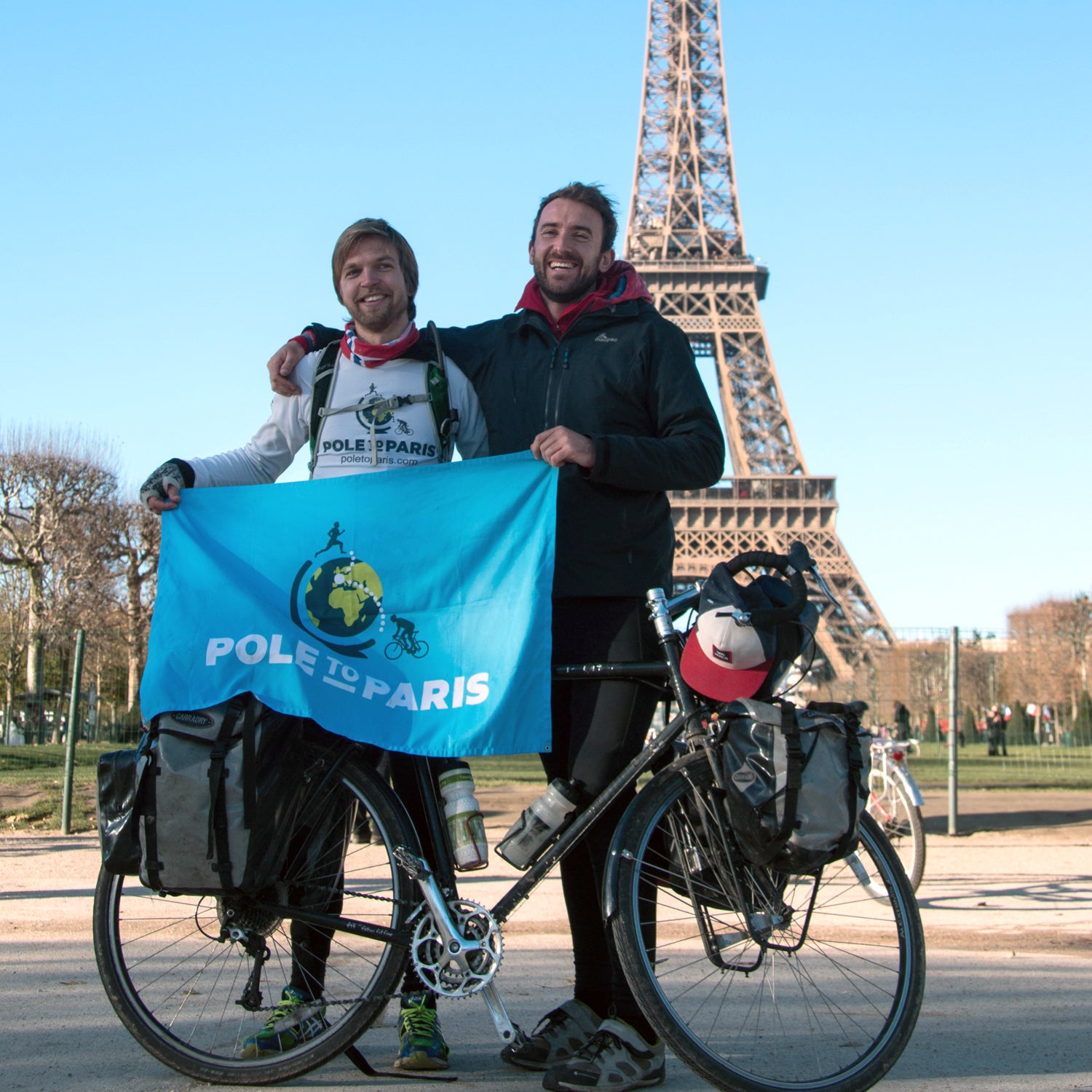 Heading out the door? Read this article on the new Outside+ app available now on iOS devices for members! Download the app.
Between the time Erlend Moster Knudsen left from the Arctic and the time he arrived at the Champs de Mars in front of the Eiffel Tower, he had worn out four pairs of sneakers. His current pair—blue and green Asics GT-3000 with gaping holes in the spongy fabric—were barely holding up as he made the final, 20-foot sprint. Dan Price, who cycled from Antarctica as part of the duo's joint effort to arrive at Paris from each of the poles, was ending with a blown-out knee.
With world leaders aiming to reach a new climate accord that would reduce greenhouse gas emissions and limit global warming at the U.N. Climate Summit in Paris, the goal of traveling with a low carbon footprint was foremost in many minds. But a handful of ultra-committed activists from around the globe made the trip using as few fossil fuels as possible. (When planes were a necessity, most participated in carbon offset programs.) 
In January, Scotsman Simon Nelson and Kim Ngan began cycling from Ho Chi Minh City in Vietnam, Ngan's native country. Six months later, Americans Morgan Curtis and Garrett Blad departed Vermont in the same fashion, though they flew across the Atlantic to Iceland and then to Norway. Biologist Henri Robert, from the Royal Belgian Institute, paddled nearly 250 miles from Brussels to Paris in a canoe. But for Knudsen and Price, who traveled for eight months and covered 1,864 miles and 7,456 miles respectively, the logistics were much more challenging.
Knudsen, a 29-year-old Norwegian climate scientist, set out for Paris from Tromso, Norway, one of the northernmost city in the world, last August. At the beginning of his run, Knudsen would go days without seeing another human being. At night, he stayed in primitive cabins, worn out from trail-less runs that climbed hundreds of feet. (He would complete more than 190,000 feet of vertical climbing before he left Norway.) In one long stretch there were "no tracks, no signs, just reindeer." 
Depending on the terrain conditions, Knudsen ran anywhere between 10 and 28 miles each day, sometimes finishing as early as 2 p.m. From the southern tip of Norway he flew to the United Kingdom, then to Belgium. From there to France, the hard pavement (instead of grassy meadows) quickly took a toll on his knees and ankles. By the time the adventure was done, he had suffered four major injuries to his knees, ankles, and thighs. 
"Physically, the hardest part was in France because it's so flat—just asphalt the whole way," Knudsen said from Fleurines, France, two days before reaching Paris. "And the nature in Norway gave me so much more mentally. Here, it's tougher to motivate yourself."
The Pole to Paris effort also offered Knudsen and Price, a climate scientist from the United Kingdom who had no cycling experience, a chance to discuss climate change at the local level. Price began his journey 77 degrees south on the McMurdo Ice Shelf, where he was conducting research on how giant ice sheets are moving off the continent and into the ocean. Though he had hoped to take a boat from Antarctica to New Zealand, and then Australia, he wasn't able to secure funding. Instead, Price flew on a U.S. Air Force plane to those countries, later participating in carbon offset programs. Barring water, he continued to ride his bike through southeast Asia, then onto the Gobi Desert (he took a train from Mongolia to Latvia after he was denied a Russian visa), and finally the Alps. The most memorable part of his journey, he says, was in Bangladesh. The country ranks first as the nation most vulnerable to climate change in the coming decades, according to Germanwatch's 2011 Global Climate Risk Index. Already, the impoverished country has faced devastating cyclones and floods. With sea level rise, many of the coastal regions could soon disappear.
"A lot of people have asked [us] about the physical part of the journey, but the mental part is harder," says Knudsen, who ran over 1,500 miles. "That said, the goodwill of the people along the way who gave me a place to sleep, some food or maybe just a few kind words cheered me up. This is something that's important and I feel like I owe it to them to bring their voice to Paris."
On Tuesday, the pair of athletes spoke at the Rio Pavilion of Le Bourget, where COP21 is taking place, and shared stories of the people they met on their journey.
Lead Photo: Espen Mortensen