Trump's Pardon Condones Western Rebellion
The president's decision wasn't an assessment of whether the Hammonds deserved their sentence or not, it was an endorsement of the Bundy family's movement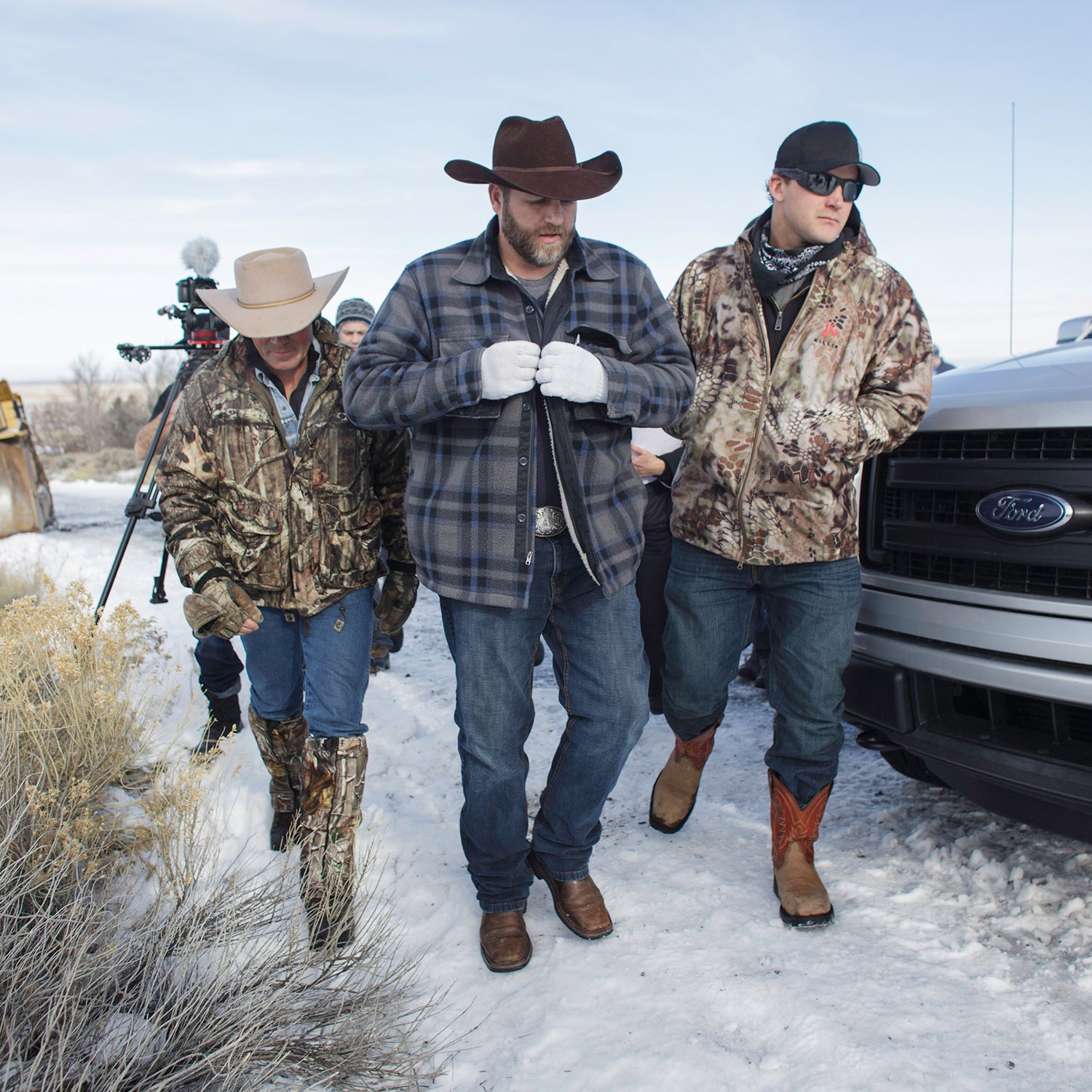 Rob Kerr/AFP/Getty Images(Photo)
Heading out the door? Read this article on the new Outside+ app available now on iOS devices for members! Download the app.
On Wednesday, Dwight Hammond and his son, Steven, walked out of a federal prison in Southern California, joined oil magnate Forrest Lucas aboard his private jet, and flew home to Burns, Oregon. A day prior, President Donald Trump had pardoned them, wiping away convictions of felony arson on public land. In Oregon, a crowd of well-wishers greeted the Hammonds like heroes of a mythic Western range war. "I'm here to convey that the community, Americans out there … love you," one woman said during an impromptu press conference. "I have no questions. Just that you're loved."
The Hammonds were virtually unknown outside eastern Oregon ranching circles before 2016. Had that remained the case this pardon might have even been widely seen as merciful. In 2012, a jury found the Hammonds guilty of setting two fires that blazed onto public land; Dwight was sentenced to three months (he was involved only in the first fire) and Steven one year in prison. Then in 2015, federal prosecutors appealed and the 9th U.S. Circuit Court ruled that the men must each serve five years, the mandatory for that crime. In Oregon, plenty of people felt the Hammonds' sentences—mandated by the Antiterrorism and Effective Death Penalty Act of 1996—were excessive. The judge who handed down the original punishments, advocates routinely note, said five years would "shock the conscience." The Oregonian's editorial board wrote that "the president should consider granting" clemency; the Bend Bulletin called for a full pardon.
"The Hammonds are devoted family men, respected contributors to their local community, and have widespread support from their neighbors, local law enforcement, and farmers and ranchers across the West," the White House statement read.
It's clear that Bundy's movement feels as though their ideology has been validated, and their mission accomplished.
But whether or not the feds were too harsh on the Hammonds has almost become irrelevant, because as soon as their case caught the attention of Ammon Bundy and his militant followers, their name became entwined with the Bundy cause.  
In 2016, fresh off his father's standoff with the Bureau of Land Management in Nevada, Bundy instigated the Malheur takeover, where Dwight had for decades grazed his cattle (and threatened staffers when said grazing was restricted). Bundy and his followers stayed 41 days, and supporter LaVoy Finicum was killed by authorities. While many in the community sympathize with the Hammonds, most locals wanted the Bundys out. Even the Hammonds—no strangers to hostility with the feds—have distanced themselves from the occupation up to this day. Back in Burns on Wednesday, a reporter asked Steven Hammond to share his feelings about the occupation he once declined to support. Behind him were three men on horseback carrying huge American flags—an image portrayed relentlessly during the takeover. "I wasn't—I don't want to comment on it today particularly," Hammond said. He paused for about five seconds before continuing: "There was a lotta people that did a lotta things, maybe things that are trying to define what a patriot is today."
Though they claimed to be champions of ranchers, the Bundys' allies were mostly armed members of fringe militias who vehemently oppose the federal government—Cliven, who wasn't present in Oregon, and LaVoy Finicum were among the only actual ranchers in the crew.
It's not entirely clear if the Bundy occupation of Malheur laid the groundwork for this pardon. It was, after all, Oregon Representative Greg Walden, not Ammon Bundy, who had the president's ear. But it's clear that Bundy's movement feels as though their ideology has been validated, because the occupation made the Hammonds synonymous with a small militant wing of extremists in the West. And now that President Trump has pardoned them, he has granted that fringe group validation from the most powerful office in the world, raising them up like the victims of an insidious system.
The Hammonds may have been dealt with too harshly—or maybe they got the sentence they deserved. Either way, Trump's pardon is an endorsement of the right-wing, gun-toting, lawbreaking militia that follows the Bundys. It's unclear whether Trump's hat-tip to the Bundy militia will empower more anti-government displays with the potential for bloodshed, but the Hammonds' freedom is a momentous coup for that movement.
"Today shows that, hey, we were right," Ryan Bundy, Ammon's brother and Nevada gubernatorial candidate, told NPR Tuesday. "We went there for a good reason, and our efforts have finally come to fruition."
The logic is clear: We fought, and we won. 
Lead Photo: Rob Kerr/AFP/Getty Images