Wolf Tourism: So Hot Right Now
Can you hear us now, wolves? How 'bout now? "Non-consumptive" uses of wolves are increasingly popular in the Upper Midwest, but they could turn into too much of a good thing.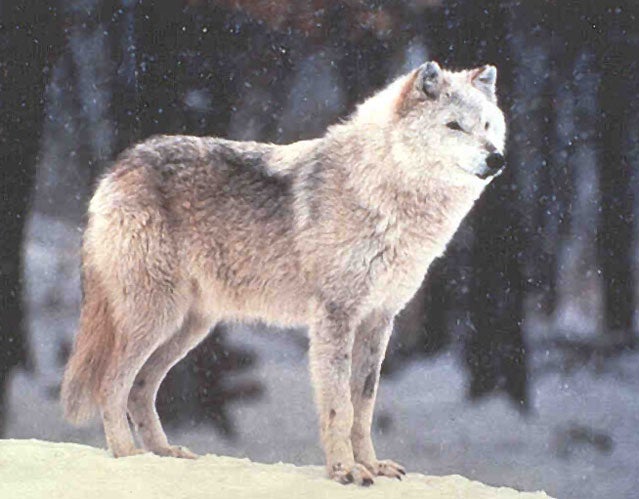 Heading out the door? Read this article on the new Outside+ app available now on iOS devices for members! Download the app.
It's hard to be stealthy in a 40-foot motor coach. But Phil, our fearless driver who had been schlepping the 20 of us journalists around Michigan's Upper Peninsula and Northern Wisconsin all week, did his best as we ventured deeper into the Chequamegon-Nicolet National Forest, in search of wolves. 
Our secret weapon was Dave MacFarland, carnivore staff specialist for the Wisconsin Department of Natural Resources Bureau of Wildlife Management. He had scouted the area earlier and had found some signs of the local Pembine pack. But the scat was days old so he wasn't very confident that any wolves would be close enough to hear his howls.
At our first stop, we tiptoed out of the bus—all of us surprised by just how loud footfalls on a gravel road can sound. MacFarland howled four times, turning his body 90 degrees each time, and we waited. Dogs responded. We were too close to town, he whispered.
At our second stop, deeper into the forest, MacFarland repeated the first four howls. We journalists, Fellows from all over the country who were gathered with the Institutes for Journalism and Natural Resources for a week-long study of the current mining resurgence in the upper Midwest, were happy to be deep in the dark forest after hours spent in deep, dark mining operations. 
Alas, there were only crickets. So MacFarland gave it another go, this time amping the volume a bit, as those of us with audio equipment held our microphones a bit higher. Two minutes passed. And then, there it was: A very distant, barely audible response from a single wolf. It was thrilling. (I will note that some of our more cynical companions alleged that someone must have been replaying muffled audio of MacFarland's howl, but I like to believe it was real. If MacFarland didn't think the response was legit, he didn't let on.)
Camps with Wolves
Wildlife specialists and biologists in Wisconsin and Michigan have been howling for wolves ever since the canid made its return to those states in the late 1970s and 80s, respectively. But Brian Roell, wolf specialist with Michigan's Department of Natural Resources, says that in recent years he's been getting many more calls and requests from individuals who want to hear wolves howling, find their tracks and, hopefully even glimpse the allusive animals.
"The non-consumptive uses for wolves are growing," Roell says. As it happens, this November will mark the first wolf hunting season in Michigan since the animal was removed from the Endangered Species List (Wisconsin's first wolf hunt was last fall). Roell does not, however, think the spike in interest in wolf tourism (for lack of a better term) is correlated with the upcoming hunt. He just thinks wolves are increasingly associated with the U.P. and they're on the minds of more travelers to the region.
"I'm getting more phone calls, emails and folks stopping by, saying things like 'I'd like to see wolf tracks.' So I say sure. I ask where they'll be camping and I try to narrow it down. If I have knowledge of a nearby pack or what roads they should use, I share that. I am the keeper of most of the wolf info so I have pretty good knowledge of the whole U.P.," says Roell.
He explains how to cast a paw print using plaster of Paris, for those interested in taking home a keepsake.
But for all those wanting to get closer to wolves, there are plenty who wish they'd disappear. "People just don't understand wolves," says Roell, referring the fear many have of the animals. Through his experiences trapping, collaring and studying them, he says wolves exhibit fear of humans, not aggression. "The day a wolf bites someone in Michigan or Wisconsin is the day I hand in my resignation," he told us journalists back in August.
It's a good thing he didn't add the Land of 10,000 Lakes to his list, however, because days later a report emerged from Northern Minnesota, where a 17-year-old camper had been bitten on the skull by what appeared to be a wolf. A nearby wolf was later trapped and killed, and its misaligned jaw suggests that it might have had a hard time obtaining prey on its own and could have been habituated to human food from the campground where young man was bit.
The boy was sleeping outside, and it's possible that, to the wolf or whatever bit him, his brown hair resembled that of a small animal. 
"It does not sound like a predatory attack, more like curiosity," says Roell of the attack.  "If animals are coming into a campground, where there is a lot of activity. The first thing that comes to my mind is that this animal is being fed. Nothing good can happen when you start feeding wild animals."
Too Much Howling?
Along with feeding them, excessive wolf howling can also be bad news for wolves, say MacFarland, Roell and Adrian Wydeven, a wildlife biologist with Wisc. DNR. If a pack leader hears enough convincing human howls, he might sense competition from another pack could decide to move his own pack, which could put it in danger. Plus, Wydeven says researchers in Canada found that doing howling surveys can force wolves who are out hunting to return to a rendezvous spot to protect the pack's pups. "If that happened on a frequent basis, there is the risk of reducing food for pups," says Wydeven.
A number of conservation groups in Northern Wisconsin and Upper Michigan offer wolf-howling excursions during the late summer, but the naturalists and biologists who run these tours (and do the howling) observe a protocol developed in the 1990s to avoid stressing wolves through howling, says Wydeven. Still, there is no formal registry or regulation for wolf howling. For now, conflicts are rare. But that could change, especially if interest in wolf howling excursions continues to grow.
The arrival of wolf hunting can also add a new dimension. While hunts take place in late fall and howling surveys are conducted in late summer, howling is a tool that some hunters use to locate packs.
"If you were to get paid by a hunter to go out and howl, then that would make you a guide and you'd need to be licensed," says Wydeven. For someone who has been howling in an effort to study and foster wolf packs for more than 20 years, this is a pretty strange concept for him. "But," he says, "At least that way we'd know how many people were out there howling during hunting season."