You React to Trump's Bears-Ears Shrinkage
Donald Trump just reduced Bears Ears by nearly 85 percent. Here's what you're saying.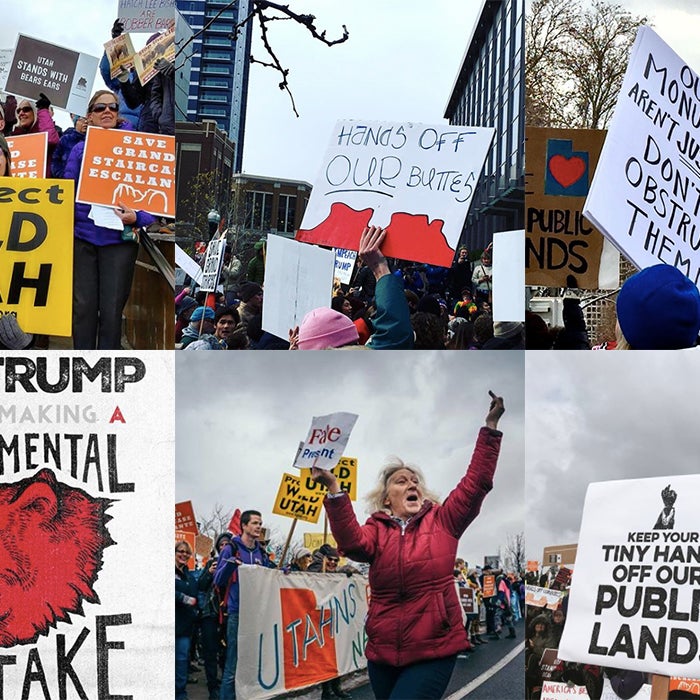 Heading out the door? Read this article on the new Outside+ app available now on iOS devices for members! Download the app.
During his visit to Salt Lake City on Monday, Donald Trump signed executive orders to shrink Bear Ears National Monument by nearly 85 percent and Grand Staircase Escalante National Monument by about half. It's possibly the largest attack on our nation's natural heritage ever committed.
And boy, it's pissing you off. 
Before the President's big announcement, his Secretary of the Interior (and world's worst Teddy Roosevelt impersonator) gave a speech claiming the reduction was in the best interest of the American people, rather than those of special interests, like the oil businesses that donated to Trump's campaign. The GOP's entire war on our public land is based on lies; this one fits right in. 
The GOP is trying to wrap its war on public lands in a veil of states' rights, small government, and other conservative fantasies, yet opposition to its official platform remains bipartisan. Some of the strongest voices in the fight to save Bears Ears and other monuments have come from hunters, a traditionally conservative demographic. 
Protests in Utah's capital drew people from both conservative and liberal backgrounds. 
It's expected that there will be multiple legal challenges to Trump's order. 
It's encouraging to see that folks aren't accepting the GOP's narrative about monuments in Utah reducing public access. 
Oh yeah, and Trump has never actually visited either monument. 
Native American groups are among the loudest voices speaking out in opposition.
And the outdoor industry is right there with them. 
But despite such strong opposition, the mood is still a sad one. Utah and our country stand to lose significant protections for one of our most special places.