Your Face Scrub Is a Serious Pollutant
That fancy exfoliating wash cream you just dropped a bundle on? It may be full of "microbeads" and mucking up some major waterways.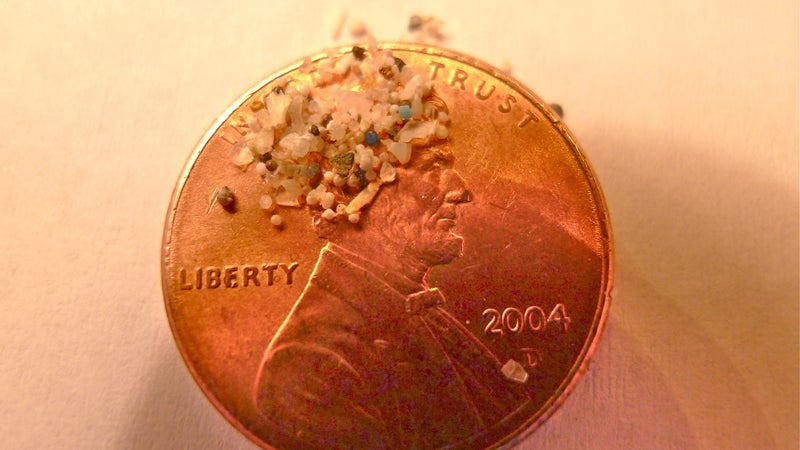 Heading out the door? Read this article on the new Outside+ app available now on iOS devices for members! Download the app.
In 2012, advocacy group 5 Gyres, which draws attention to the epidemic of ocean trash and the impact photo-degraded plastic is having on ocean ecosystems, turned its attention to the Great Lakes. Suddenly, the group's workload skyrocketed.
"We found high concentrations of micro-plastics, more than most ocean samples collected worldwide," said 5 Gyres' executive director Marcus Eriksen. "These were of similar size, shape, texture and composition to plastic microbeads found in many consumer products used as exfoliants…"
Thus began the group's campaign to pressure cosmetics companies to jettison these tiny beads from their products, such as facial scrubs and other types of soaps and toothpaste. The campaign saw some victories, but they were small, says 5 Gyres director of communications Stiv Wilson: "The only firm commitment we got was from Unilever, which said it would cut microbeads out by 2015. Some other companies still have not given a firm deadline. Procter & Gamble said it would eliminate them by end of 2017, but it's all based on when they can find alternatives. Johnson & Johnson has never given a timeline. Long story short, these timelines became a moving target."
So last fall 5 Gyres started working with its legal staff to draft a bill seeking to prohibit the sale of beauty and cosmetic products that contain microbeads smaller than 5 millimeters, such as the polyethylene and polypropylene beads found in many popular face-wash products. Sewage systems cannot capture or filter these small beads of plastic out of wastewater, so they are eventually flushed out into waterways.
In early February, within 72 hours, both New York's attorney general Eric Schneiderman and California assemblyman Richard Bloom introduced versions of this bill to their respective state legislatures. Wilson, who is one of just 5 full-time 5 Gyres staffers, was clearly quite pleased with the outcome. "We had been hoping it would happen, but you can't make really strong requests of senators and attorneys general offices," he said.
The California version of the bill only bans the sale of products containing microbeads, while New York would ban their manufacture, as well. Aside from forcing consumer brands to rid their products of microbeads sooner rather than later, the passage of both bills would effectively force the companies to completely change their formulas, because converting to non-plastic abrasives in one part of their manufacturing would not make sense. "One in every seven Americans lives in California," says Wilson. "If these bills pass, makers of personal-care products will have no choice but to phase microbeads out."
Other states are moving with bills as well, including Illinois, whose Senate passed a bill recently with no opposition, but Wilson says that the timeline, which would phase the plastic out by 2018, is too slow.
Wilson says consumer products are not the only source of microbeads in waterways, but they are the most troubling in terms of their numbers and impact on fish life. "In the Great Lakes we were finding [microplastic] sandblasting mediums, but those are negatively buoyant so not on surface," says Wilson.
Questions are piling up around what these tiny bits of plastic, which look an awful lot like fish eggs and therefore a compelling meal to many larger fish, are doing to fisheries in the Great Lakes and elsewhere. In this L.A. Times story, Marcus Eriksen does a quick survey of the Los Angeles River, with a 2-foot-wide net placed in the flow for 10 minutes, and finds dozens of bits of plastic.
"The bigger picture is to improve [product] design—not use single-use plastics in throw-away, single-use applications like microbeads," he says.
Lead Photo: 5 Gyres