The Cold, Hard Reality of Racing the Yukon Arctic Ultra
Temperatures were brutally low at this year's running of the 300-mile competition, and one frostbitten competitor may lose his hands and feet. Is this just the price of playing a risky game, or does something need to change?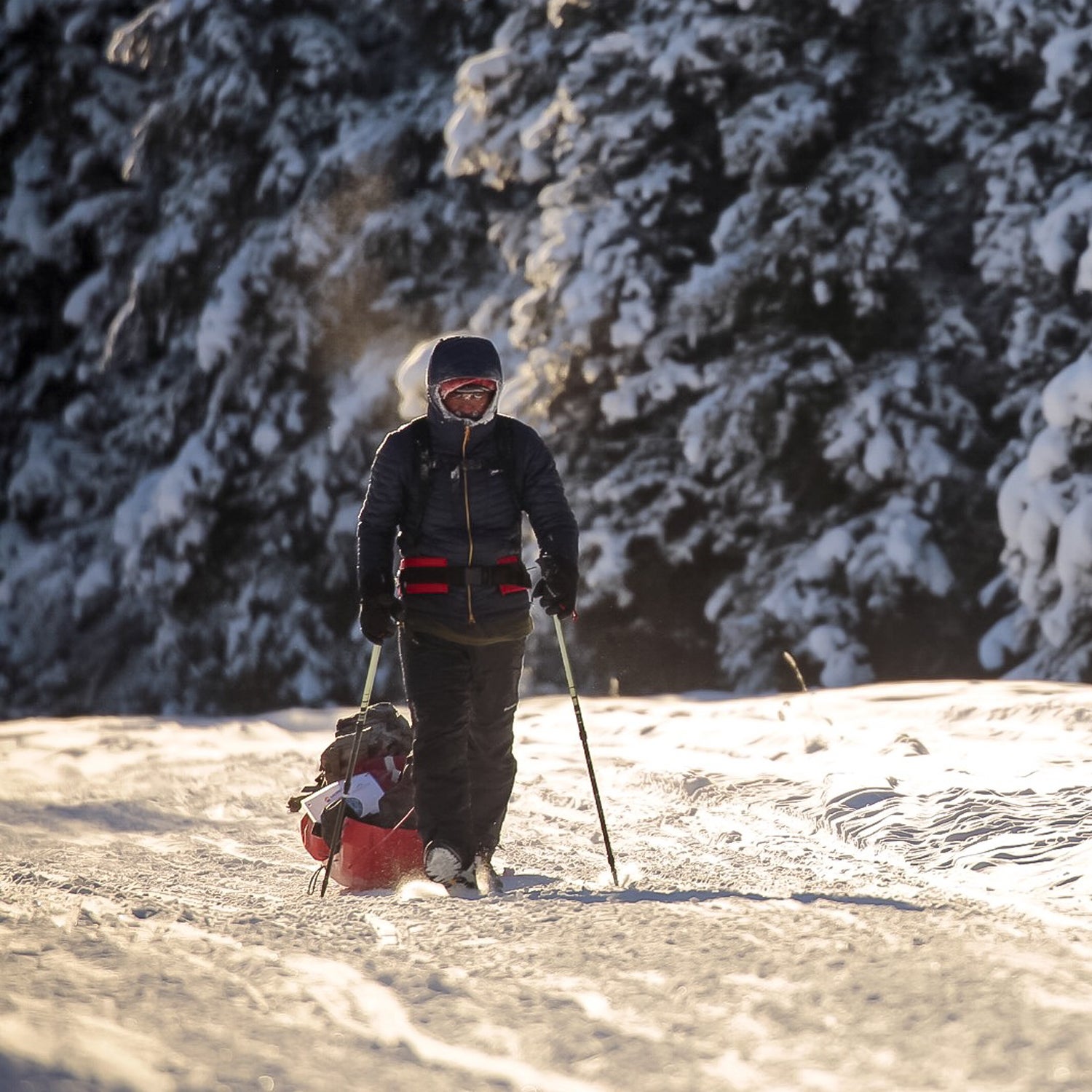 Heading out the door? Read this article on the new Outside+ app available now on iOS devices for members! Download the app.
Roberto Zanda left the Carmacks checkpoint of the Montane Yukon Arctic Ultra just before noon on February 6. He was at least 150 miles into the 300-mile race—he'd already been slogging down a dogsled trail through the Yukon backcountry for more than five full days. Temperatures had plunged below minus 40 Fahrenheit on the first night out of Whitehorse, the small Yukon city where the race began; along the race course, temperatures consistently ranged from the minus 20s to the minus 40s.
In short, conditions were brutal. Of the eight racers who'd begun the 100-mile version of the variable-length event, just four had finished. Of the 21 who'd started the 300-miler, only the 60-year-old Zanda and two others remained. Most of the rest had scratched with frostbite or hypothermia.
When Zanda left the checkpoint, hosted in a village rec center, a race medic wrote on the event's Facebook page that the racer had paused only for "a short rest and a big meal. He was looking very strong."
Just over 24 hours later, Zanda was in a helicopter, being rushed to Whitehorse General Hospital with hypothermia and catastrophic frostbite, lucky to be alive. He now faces the likely amputation of both hands and both feet. What went wrong?
---
This was the 15th running of the Yukon Arctic Ultra, an annual race in which competitors choose their distance—marathon, 100 miles, 300 miles, or, every second year, 430 miles—and their mode of transportation: a fat bike, cross-country skis, or their own booted feet. Race organizer Robert Pollhammer, 44, who runs an online gear store in his native Germany, started the event in 2003 after being involved with Iditasport, a similar event on the Alaskan side of the border.
The Yukon race takes place on part of a trail built each year by the Canadian Rangers for the Yukon Quest, a 1,000-mile dogsled race, and it's as much a feat of logistics as it is an athletic contest. It's continuous, not a stage race; competitors are self-sufficient, carrying all their camping and survival gear, spare layers, food, and water in sleds they pull behind them. Temperatures are cold enough to kill, and it's dark for roughly 14 hours every day. Nonetheless, eager ultra racers travel from around the world for the event, paying anywhere from $750 to $1,750 USD to enter (depending on when they register and the distance they're attempting), plus the cost of flights, hotel, and gear. The total can easily add up to $5,000 or more.
The conditions were brutal. Of the eight racers who'd begun the 100-mile version of the variable-length event, just four had finished.
The entrants tend to be experienced ultra and adventure racers; many athletes have already completed events like the Gobi March or the Marathon des Sables. Most competitors come from Europe, although this year's race also saw entrants from South Africa and Hong Kong. The race organization offers a survival course a few days beforehand—a crash education in moisture management, layering, and cold-weather injuries. Generally speaking, the racers are accomplished athletes, but they may not have extensive experience with severe cold. The challenge lies in keeping themselves safe while moving through the Yukon's remote, frigid backcountry.
The race is billed as "the world's coldest and toughest ultra," and there have been plenty of serious injuries before: flesh blackened by frostbite, frozen skin peeling off racers' faces like wax, and bits of fingers and toes lost to amputation. But what happened to Zanda is by far the worst medical outcome yet, and it has shocked former racers, event organizers, and fans. It has also led to discussions and debates, often heated, about where a race organization's responsibilities end and a racer's personal assumption of risk begins.
---
As Zanda moved out of Carmacks, his Spot tracker showed him clipping along steadily at around three miles per hour. Between 3 p.m. and 9 p.m., his beacon's transmissions became more erratic—but that's fairly normal in the Yukon, where satellite signals can be weak or inconsistent. Between 9 and 10 p.m., the problem cleared up and the Spot began sending signals every few minutes.
The last blip came in at 10:08 p.m., at route mile 189.7, and then the device went into sleep mode. After a strong ten-hour, 25-mile push from Carmacks, Zanda appeared to have stopped to camp for the night.
In the morning, as the sun rose, his tracker still hadn't moved. The race crew wasn't concerned yet—Zanda had taken a 12-hour rest once before during the race, as had some other athletes. At 9:32 a.m., Pollhammer posted on Facebook that two volunteer trail guides were headed out to check on him. "His Spot has not been sending for a long time now. Once we have news I will let you all know."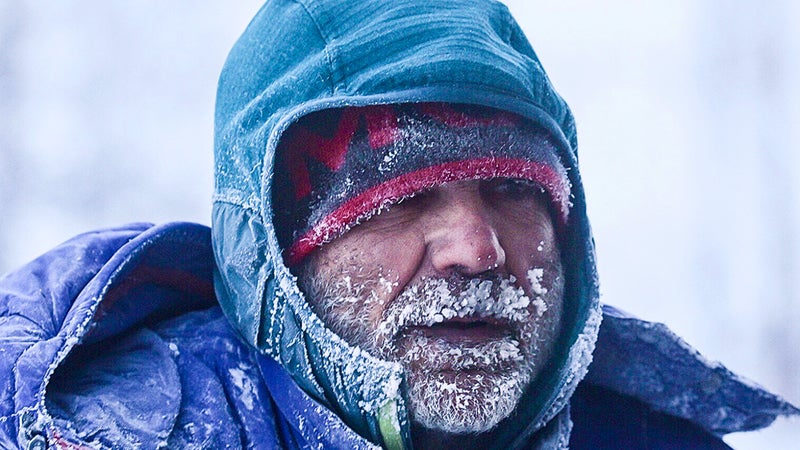 The trail guides are the race's safety net, patrolling hundreds of miles by snowmobile to check on the athletes and, when necessary, evacuate them from the course. They motored down the trail toward Zanda's Spot location, but when they got there, in late morning, they found only the racer's harness and sled, loaded with a tent and sleeping bag, a stove and fuel, and—crucially—the Spot device. Zanda was gone.
They called back to Pollhammer, who contacted the Royal Canadian Mounted Police, and then they began searching the area, looking for some sign of where the racer might have left the packed trail and wandered into the forest. The Mounties were about to launch a search of their own when the call came in: Zanda had been found. A helicopter was dispatched and landed near him. The trail guides, advised by the incoming medical team, did what they could to care for Zanda while they waited. As Pollhammer put it in an email to me: "No time was lost."
His sled was his lifeline, containing everything he needed to stay alive and the only tool he had to call for help. He wandered through the cold and dark all night while the sled sat on the trail, sending out a reassuring beacon to the world that all was well.
A few days later, Zanda spoke to a Canadian television reporter from his hospital room in Whitehorse. He wore a pale-green gown, and his hands were heavily bandaged, nearly up to his elbows. His feet and shins were the same. He said he'd left his sled behind to go look for help because his feet were freezing up. He and his family members have also told race organizers that Zanda had lost the trail and went in search of the next marker, leaving the sled behind while he scouted.
Hypothermia must have already had Zanda in its grip by then, muddying his mind and compromising his decisions. His sled was his lifeline, containing everything he needed to stay alive and the only tool he had to call for help. He wandered through the cold and dark all night while the sled sat on the trail, sending out a reassuring beacon to the world that all was well.
---
I competed in this year's Yukon Arctic Ultra—my first attempt—and I didn't last long. Twenty-two hours in, suffering from frostbite on three fingertips, I scratched from the event, one of four 100-mile racers who decided to quit.
I never met Zanda, though for all I know we could have been standing side-by-side at the start line. On the afternoon of day one, he left the first checkpoint 19 minutes ahead of me. That night, I passed by as he bivied on the side of the trail. A couple hours later, I put up my own tent, crawled inside, and was trying to change into dry clothes with my hands briefly exposed. That was long enough for frostbite to set in.
Early the next morning, Zanda and two other racers passed my tent. I heard them go by but didn't call out. I was waiting until daylight to push the help button on my Spot. I've thought about those encounters a lot since I learned about what happened to Zanda. It's impossible not to hear his story and ask: Could that have been me?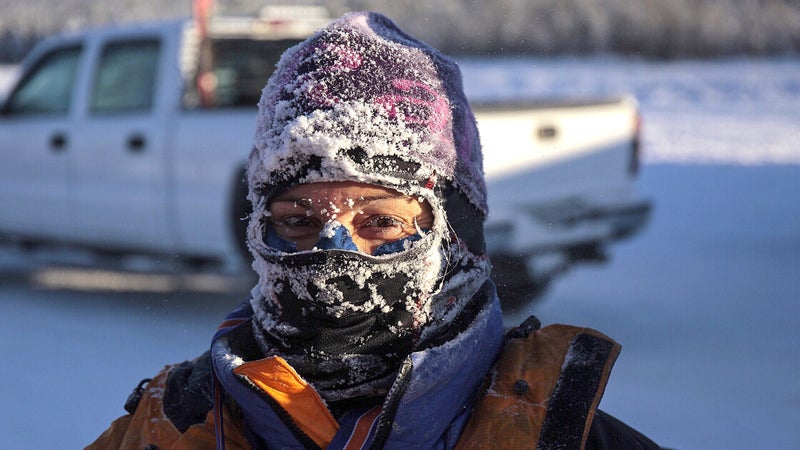 Easily. I knew when I signed up for the race that amputations, or even death, were among the potential consequences. At such low temperatures, exhausting yourself to the degree required to complete an ultramarathon is a good way to erase whatever thin margin of safety you've managed to create. But while some of my friends had concerns, I wasn't really worried. That disconnect is what allows many of us to put ourselves in these situations.
Zanda wasn't the only person hospitalized. Nick Griffiths, another 300-mile racer, scratched on day two. The frostbite on his left foot had become severe by the time he was whisked from the trail to a remote checkpoint for eventual evacuation to Whitehorse. Griffiths spent five days in the hospital, and he will eventually lose his big toe and two others next to it. (To preserve as much healthy tissue as possible, doctors will allow the toes to "self-amputate," meaning that the dead tissue will simply fall off.) Losing the big toe, in particular, could have a serious impact on Griffiths' future ability to walk, hike, and run.
"I'm hoping I'll be all right," he told me from his home in England, where he's been reading up on athletes who've lost toes. "I'm not expecting to be able to go and do ultras or things like that, but there's other challenges. It's not ideal, but there's no point jumping up and down about it. It's done."
I'm not sure I could muster the same acceptance if I were in Griffiths' position, let alone Zanda's. Understandably, the Italian racer's friends and family are extremely upset. In the days after his rescue, the race's Facebook page filled up with furious comments from people demanding to know how this could have happened, why Zanda wasn't checked on sooner, why the race hadn't been canceled entirely when the weather refused to relent. Zanda's wife, Giovanna, wrote, in Italian, "It's been too many hours before you decided to verify what happened. He didn't die by miracle." His brother, Paolo, posted, "Why they promise you safety when they do not care about you?" To which Pollhammer replied, "Nobody promises safety."
It's impossible not to hear his story and ask: Could that have been me?
That much is certain. The waiver I signed when I filed my registration paperwork last summer listed the risks I was assuming as including but not limited to "dehydration, hypothermia, frostbite, collision with pedestrians, vehicles, and other racers and fixed or moving objects, sliding down hills, overturning of ice-rocks, falling through thin ice, avalanche, dangers arising from other surface hazards, equipment failure, inadequate safety equipment, weather conditions, animals, the possibility of serious physical and/or mental trauma and injury, including death."
Still, even as we sign our lives away, participating in an organized race may provide us with an illusion of safety in a way that an independent backcountry trek might not. If so, I suppose it becomes our job to tear down that illusion and make clear-eyed choices about the risks. That's easier said than done, of course.
Throughout the aftermath of this year's race, Pollhammer has remained calm as he answered his critics, walking the fine line of showing empathy for Zanda and his family while making it clear that he believes the error was the racer's. Initially he seemed shaken, unsure about running the event again next year, but he has since announced the 2019 dates. I asked Pollhammer if, with the benefit of hindsight, he would do anything differently. He said that the rules and safety procedures evolve almost every year, and next year will likely be no different. But there are limits to what he can do, no matter how much he tweaks his protocols
"We can increase the list of mandatory gear, make people carry a sat phone, warn athletes even more so than we do now," Pollhammer said. "We can do many things. However, we won't be able to make sure people don't get hypothermic and start making mistakes when they are out there. It they don't act, or if they act too late, it will always mean trouble. I wish I could take that away from them, but it is impossible."
Or as Nick Griffiths put it, "I can't blame anybody for it—it was my own fault."
As for Zanda, he told the CBC that he'll be back out racing again—on prosthetics, if need be.
Lead Photo: Courtesy Montane Yukon Arctic Ul