Indefinitely Wild
The Lies in the Secret National Monuments Memo
Ryan Zinke's report to Donald Trump recommending alterations to 10 national monuments is based on a pack of falsehoods. Here we break down the worst ones.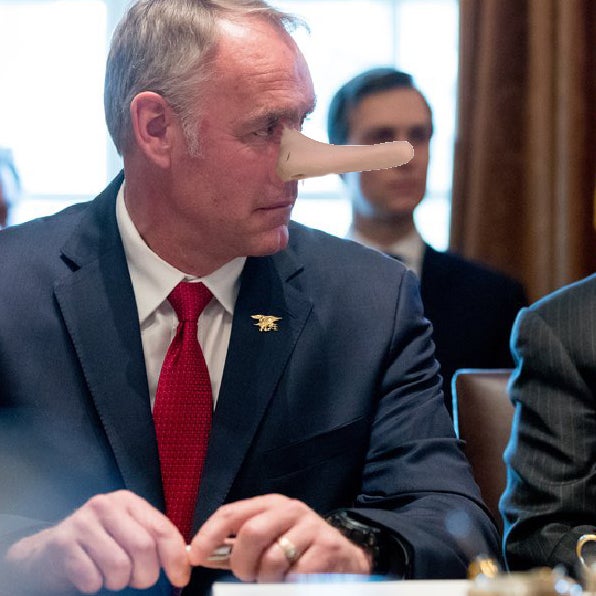 Heading out the door? Read this article on the new Outside+ app available now on iOS devices for members! Download the app.
Over the weekend, the Associated Press and The Washington Post published the secret memo Interior Secretary Ryan Zinke sent to President Trump detailing the findings of his four-month review of national monument designations. Not intended for public eyes, the report details 10 monuments Zinke thinks should be altered. That's important information, but what strikes me as most interesting is the length Zinke goes to justify such actions—often resorting to downright lies. Let's take a look at the most egregious whoppers.
Trump Has Authority to Alter Monuments
"There is no doubt that President Trump has the authority to review and consider recommendations to modify or add a monument," Zinke writes.
There's actually a ton of doubt. It's widely accepted that the Antiquities Act grants a President the authority to create monuments, but the law doesn't actually contain language authorizing a president to modify an existing monument's parameters, let alone abolish it all together. While presidents have altered monuments before, none of those changes have been challenged in court. That will likely change this time around. 
That's not to say that there is no mechanism for modifying the national monuments. There is, legally, through an act of Congress.
Previous Monuments Were Created Without Public Consultation…
Zinke set out to review monuments created since 1996 that were over 100,000 acres in size "or were made without adequate public consultation."
What did public consultation for the creation of monuments like Bears Ears look like? Former Interior Secretary Sally Jewel detailed just that in a recent interview with High Country News. She describes more than 1,000 meetings with local people and interest groups over a four year period. "To say voices were not heard is not true," she states.
…and Zinke Fixed That
"…the second step [in Zinke's review] was to ensure that the local voice was heard by holding meetings with local, state, tribal, another elected officials; non-profit groups; and other stakeholders, as well as providing an online format for public comment."
To suggest that Zinke's four-month review of 26 monument was somehow more thorough than the years-long processes that went into judging the merits of each monuments' creation is ridiculous. In fact, many groups that were consulted during the initial creation process were left out of Zinke's review, despite requesting meetings. Records demonstrate that Zinke spent more time meeting with oil companies than he did with Native American groups when it came to Bears Ears, for instance.
Public Comments Are Divided
"Public comments can be divided into two principal groups," writes Zinke. He goes on to mostly dismiss the arguments of people who commented pro-monument and to give entirely unjustified weight to the anti-monument comments.
The thing is, the public opinion delivered during the four-month comment period could not be clearer—over 2.8 million people participated in the process, and 99.2 percent of the comments were in favor of preserving the monuments.
Giving equal weight to a 99.2-to-0.8 percent divide is textbook false equivalency. The American people spoke, and their message was clear.
The GOP Doesn't Want to Sell Public Land
Zinke constantly dismisses the idea that the GOP's official policy is to steal our public lands. "Proponents [of keeping our monuments] tended to promote monument designation as a mechanism to prevent the sale or transfer of public land," Zinke's memo states. "This narrative is false and has no basis in fact."
And yet his party is currently engaged in efforts to sell or transfer public land. Just last week, a bill was introduced to Congress that proposed transferring management of federal lands to individual states in an effort to allow the oil and gas industries to circumvent federal laws like the Endangered Species Act.
Again, if that's not clear enough, the GOP's official platform states: "Congress shall immediately pass universal legislation providing for a timely and orderly mechanism requiring the federal government to convey certain federally controlled public lands to states."
Most Comments Came From NGOs
"Comments received were overwhelmingly in favor of maintaining existing monuments and demonstrated a well-orchestrated national campaign organized by multiple organizations," reads the memo. "The DOI received approximately 2.6 million form comments associated with NGO-organized campaigns, which far outnumbered individual comments…Too often it is the local stakeholders who lack the organization, funding, and institutional support to compete with well-funded NGOs."
Of course NGOs encouraged people to comment—it's their job in many cases—but these campaigns were often on a very small scale. I'm friends with the leader of one such NGO who advocated strongly for a public-comment period on the monuments review. His name is Brent Rose, he lives in a van, and he thought generating public comments on the review was so important that he drove that van to all the land-based monuments threatened by Zinke's review, shooting photos and videos of each for social media. In two months, he covered more than 6,000 miles. Contrast Brent's efforts with those of Berkshire Hathaway, which donated $21,700 to Zinke's 2015-16 campaign, Oasis Petroleum which donated $20,200, and ConocoPhillips which gave Zinke $10,000.
To suggest that 99.2 percent—2.6 million—of the comments about the review were a result of an "NGO-organized campaign" is simply ridiculous. 
Monuments Are Supposed to Be Smaller
Throughout the memo, Zinke makes repeated mention of the Antiquities Act's requirement that monuments cover the "smallest area possible" required to protect the designated objects. This is his chief justification for recommending size reductions for 10 monuments. "These recommended modifications are intended to ensure that the monuments meet the purposes of the Act, including that the area reserved be limited to the smallest area compatible with the acre and management of the objects to be protected," Zinke writes.
But the monuments in question are already sized for the specific purpose of protecting the natural and cultural resources in question. Let's again use Bears Ears as an example. Utah lawmakers have proposed trimming the 1.35-million-acre monument down to just 120,000 acres. That size can't possibly encompass the 100,000-plus cultural artifacts thought to exist there. The Obama administration spent years documenting these sites, in contrast to Zinke's whirlwind tour. The monument designation was made only after Native American Interests campaigned for it for years, yet is still 550,000 acres smaller than the Bears Ears Intertribal Coalition first proposed.
Increased Visitation Burdens Federal Government
"Monument status has a potential economic benefit of increased visitation, particularly to service related industries, outdoor recreation industries, and other businesses dependent or supported by tourism," states Zinke in the memo, building up to a caveat. "Increased visitation also places an additional burden and responsibility on the Federal Government to provide addition resources and manpower to maintain these lands to better support increased visitation and recreation activities."
Managing national monuments does cost the feds—specifically the National Park Service, the U.S. Forest Service, the Fish and Wildlife Service, and the Bureau of Land Management—money. But the combined annual budget for all those organizations is $12.2 billion, and only a small portion of that total will go to management of monuments. And that cost is far outweighed by the federal tax contribution of the outdoor industry, which pours $65.3 billion annually into federal coffers. Increased visitation benefits the federal budget, it doesn't burden it.
Hunters and Fishermen Oppose the Monuments 
Throughout the memo, Zinke states that monuments restrict "traditional uses" and cites hunting and fishing as one example of user groups that have suffered. In fact, hunters and fishermen are the most vocal group in opposing the alteration of these monuments. Backcountry Hunters and Anglers is running a TV spot in Zinke's native Montana, calling on him to leave our monuments intact.
Monuments Hurt Local Economies
"The DOI has certainly heard that monument designations bring increased tourism, and therefore revenue, to some local businesses, as well as jobs," Zinke writes. "Some of the monuments under review have resulted in this activity. However, in some instances the jobs and revenues resulting from tourism do not necessarily offset the lost or forgone revenue resulting from the limitations placed on land development." 
The assertion that monument designations hurt local economies does not hold water. Western counties with at least 100,000 acres of protected public lands have an average per capita income that's $4,360 higher than counties without. Communities with protected public lands also have faster job growth and higher wages than those without.
Take for example Cascade-Siskiyou National Monument. Since it was created in 2000, it's added an annual average of 1,044 jobs to surrounding rural communities. Then there's Arizona's Ironwood Forest that, since 2000, has created an annual average of 7,184 jobs. 
Grand Staircase-Escalante National Monument has added to the local economy an average of 121 jobs annually since Bill Clinton designated the monument in 1996—a fact Zinke might know if he had actually met with the Escalante Chamber of Commerce when he toured the region.