Zinke Recommends Reducing Bears Ears National Monument
After a 45-day review period, the Secretary of the Interior advised President Trump to redraw the boundary of the controversial national monument—a decision that will almost definitely be tested in court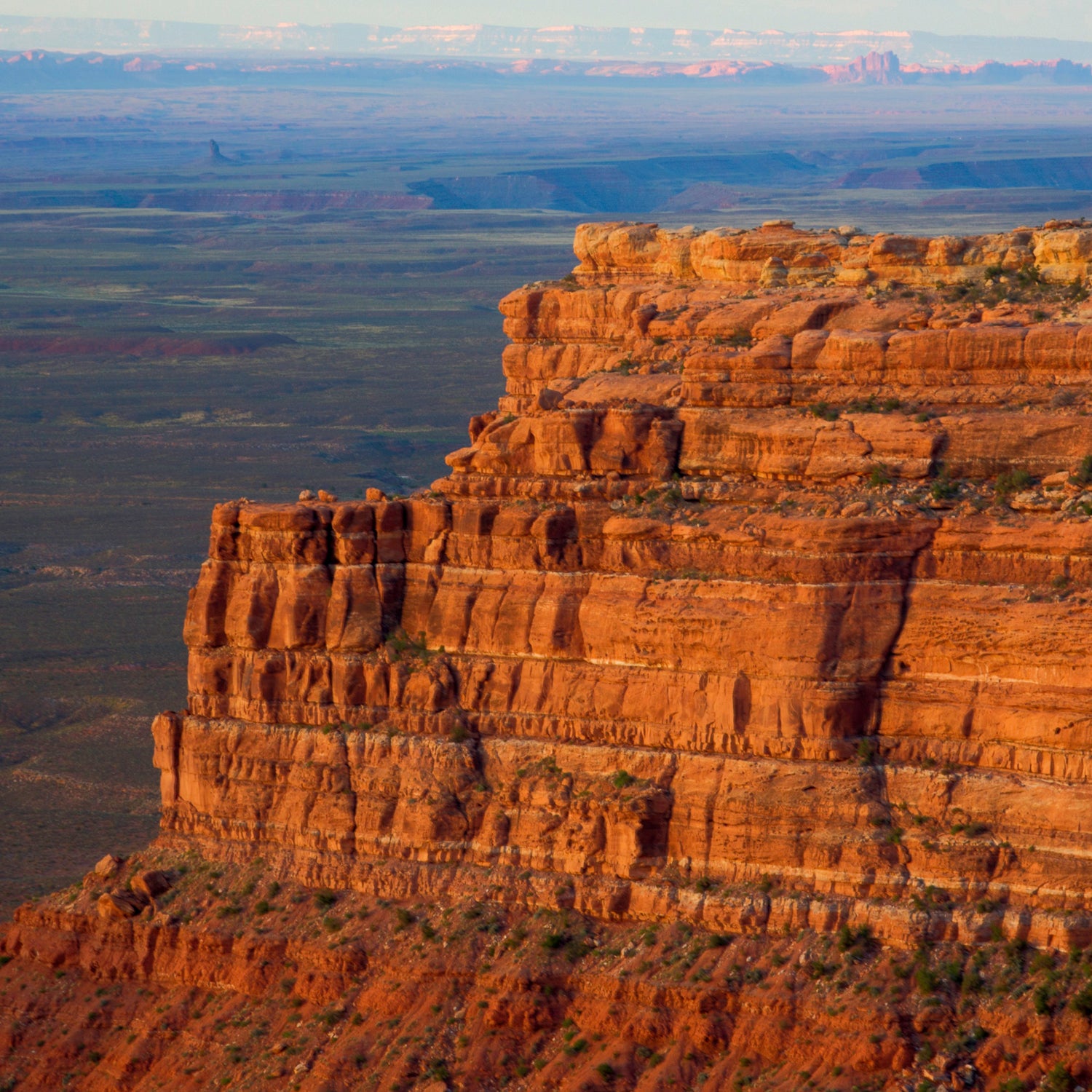 Heading out the door? Read this article on the new Outside+ app available now on iOS devices for members! Download the app.
On Monday, Secretary of the Interior Ryan Zinke recommended that President Trump reduce the size of the controversial Bears Ears National Monument in southeast Utah, which Barack Obama created in December during the final days of his presidency. If Trump acts on the recommendation, the move to reduce the monument will almost certainly end up in court.
According to a memorandum released June 12, Secretary Zinke's review "shows that rather than designating an area encompassing almost 1.5 million acres as a national monument, it would have been more appropriate to identify and separate the areas that have significant objects to be protected to meet the purposes of the Act, including that the area reserved be limited to the smallest area compatible with the proper care and management of the objects."
The memo does say that certain places within the current national monument deserve protection, a list that includes "rock art, dwellings, ceremonial sites, granaries, and other cultural resources that reflect its long historical and cultural significance to Native Americans." But Zinke's memo suggests that those resources can be better managed if the national monument is reduced in size and tribes are given Congressional authority to co-manage it.
In a conference call with reporters, Zinke said he had not yet decided how much to recommend that Bears Ears be reduced in size. Even as he would recommend a reduction, Zinke recommended that Congress step forward and establish other designations where the monument might shrink. Such areas could include National Conservation Areas or National Recreation Areas—designations that generally allow more uses and have fewer protections. The goal, he said, was to give Congress more of a say in the process. But such designations would also require an act of Congress, and are similar to the legislation that Utah Congressman Rob Bishop tried and failed to pass in previous years. 
Asked why it would work now, Zinke replied, "I would give it one word: President Trump."
Encouraging President Trump to undo some protections of the Bears Ears in hopes that a sclerotic Congress would sweep up behind him and add new protections struck one conservationist as dangerously backward. "It's like not paying your mortgage in hopes of one day planning on winning the lottery," said Josh Ewing, executive director of Friends of Cedar Mesa. If Zinke and Trump truly had interest in protecting the Bears Ears, the issue would first go to Congress, which is the only body legally certain to have power over its future—not stripped of protection first, then handed to Congress, he said. Now it will all end up in legal limbo due to lawsuits, he said.
Zinke's recommendations comes just over a month after Trump signed an executive order immediately reviewing all national monuments made or expanded to 100,000 acres by the Antiquities Act since 1996. Secretary of Interior Ryan Zinke was asked to report back to the president in 120 days, after gathering public comments. The order called for a shorter comment period for the more controversial Bears Ears (it ended on May 26), followed by an interim report about Bears Ears "and such other designations as the Secretary determines to be appropriate for inclusion" within 45 days. That report was revealed Monday.
During his early May "listening tour" in Utah, Zinke visited not only Bears Ears, but also Grand Staircase-Escalante National Monument, which had been a considered a target for shrinking or abolishment. The Center for Western Priorities examined more than 100,000 comments submitted electronically during the 15-day public comment period on Bears Ears. The group said it found more than 1,200 commenters who identified themselves as Utahans. Of those, 88 percent expressed support for keeping the monuments intact, while 11 percent urged Trump to rescind or shrink them.
Obama established the 1.35-million-acre Bears Ears, which is named for a pair of prominent buttes, after several Indian tribes asked him to protect the land, including Cedar Mesa, the monument's centerpiece. It is estimated to contain at least 100,000 ancient granaries, cliff dwellings, and rock-art panels, as well as locations considered sacred to some Native American tribes. The designation came after Utah politicians spent more than three years trying to cobble together a lasting solution to decades-long battles over wilderness in eastern Utah without success. 
It is no accident that the first executive action regarding public lands comes in Utah. No place in the country is the federal government looked at with more slanted eye than here, and no place have national monuments incited more outrage and resentment among some locals, and politicians. Even though many Utahans applauded Obama's declaration of the Bears Ears, the monument infuriated others who felt it was an example of executive overreach. (Many still fume over President Bill Clinton's creation of the nearly 1.9-million-acre Grand Staircase-Escalante National Monument in southern Utah in 1996.) Utah's congressional delegation and state politicians urged Trump to abolish the so-called midnight monument upon taking office. The state legislature passed a resolution to that effect in February, which Utah governor Gary Herbert signed. 
In response to those efforts, and to other measures taken by Utah's state and federal lawmakers that would limit protections of public lands, Outdoor Retailer, a major trade show held twice a year in Salt Lake City, announced in February that it will leave Utah. It was a significant show of political and economic force by outdoor-industry leaders. The expo brings an estimated $45 million to the state annually.
Many had worried that Trump might completely eliminate Bears Ears, though it wasn't clear if there was a legal precedent for such a move. No U.S. president has ever attempted it, according to the Congressional Research Service, an arm of the Library of Congress. As a result, there has never been a legal ruling on the matter. Several opinions dating back decades, however, state that only Congress has that power. In 1938, President Franklin D. Roosevelt considered abolishing the Castle-Pinckney National Monument in South Carolina. Roosevelt's attorney general, Homer Cummings, told him he had no authority to do so, and Roosevelt decided against trying. "However," the Congressional Research Service wrote in a November report, "given the silence of the Antiquities Act on this specific question, as well as the potential analogy to other presidential executive orders and proclamations, the existence or scope of a president's authority to abolish national monuments is still a matter of debate that has not been squarely resolved." 
Even without completely repealing the monument, any reduction is likely to result in a legal challenge. Before Zinke's interim report California's Attorney General Xavier Becerra told the Interior Department in an 11-page letter that his office would consider any reductions or removals of monuments illegal and that California would "take any and all legal action necessary" to fight such a move against any of the six monuments under review in that state, the Los Angeles Times reported on June 8. While Utah's state government is unlikely to sue the government over a reduction of Bears Ears, environmental organizations are likely to take the issue to court.
There is some precedent for reducing national monuments, however. John F. Kennedy added nearly 3,000 acres to Bandelier National Monument in New Mexico, created by Woodrow Wilson and expanded by both Herbert Hoover and Dwight Eisenhower. Kennedy also removed an additional 4,000 acres, for a net loss of 1,000, declaring the changes to be in the public interest.
Theodore Roosevelt signed the Antiquities Act in 1906 to help protect Native American sites from looting. The act gives the president the power to declare structures, landmarks, and places "of historic or scientific interest that are situated upon the lands owned or controlled by the Government of the United States" national monuments. Because doing so requires no congressional consensus, public input, or environmental review, it's essentially a quick and easy way to protect large swaths of land instead of obtaining congressional approval to create a national park, which can be very difficult.
For these reasons, the Antiquities Act has been controversial nearly from the start, says James Morton Turner, an associate professor of environmental studies at Wellesley College and author of The Promise of Wilderness: American Environmental Politics Since 1964.
Even so, the act has been wielded by conservative and liberal presidents alike. In 2006, for example, George W. Bush established the 140,000-square-mile Papahanaumokuakea Marine National Monument off the coast of Hawaii, at the time the largest protected marine environment in the world at 140,000 square miles. Last August, Obama expanded the monument to almost 600,000 square miles—about six times the size of Wyoming. Obama used the Antiquities Act more than any other president, designating 29 monuments and adding expansions to five existing ones. While conservationists applauded the actions as visionary, opponents—usually GOP politicians in states containing an abundance of federal land—accused him of abusing his power and ignoring the will of locals.