Ryan Zinke Shows His True Colors
With his office's insult-laden response to the resignation of the NPS Advisory Board, the secretary proves that, like his boss, he's not above mudslinging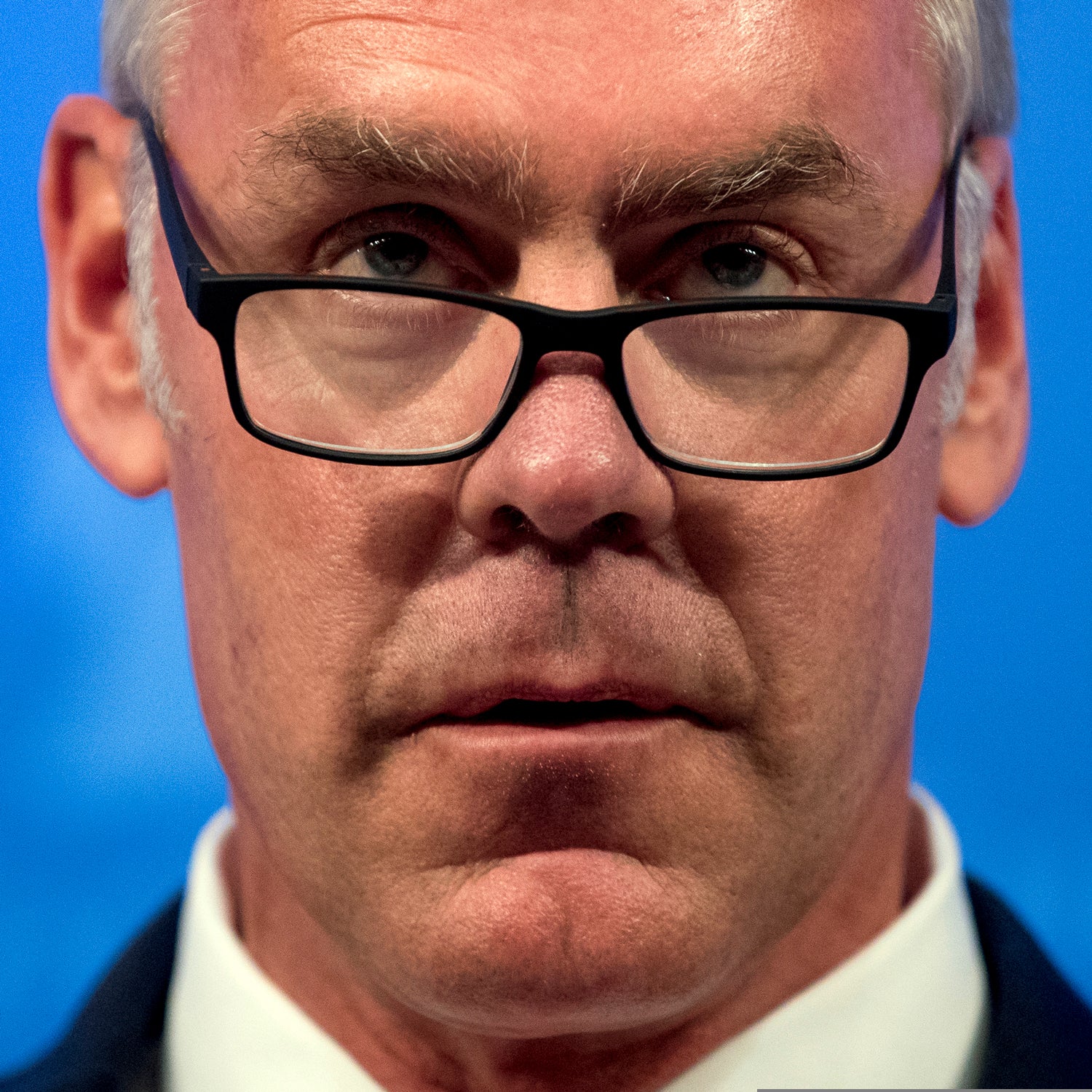 AP Photo/Andrew Harnik(Photo)
Heading out the door? Read this article on the new Outside+ app available now on iOS devices for members! Download the app.
Practically the entire membership of the National Park System Advisory Board resigned last week in protest, claiming they'd been frozen out by Secretary of the Interior Ryan Zinke. In the nine months since Zinke's confirmation, members of the board said they were unable to secure a single meeting with the cabinet official to whom they were congressionally mandated to report.
Board chairperson and former Alaska governor Tony Knowles expressed this frustration—using a diplomatic tone void of rancor—in a letter tendered on behalf of the group. Under any other administration, the interior secretary's office probably would have issued a boilerplate statement and let the news cycle wash the unpleasantness away. But these are different times. Before the day was over, Zinke's deputy undersecretary, Todd Willens, released an insult-laden response via press secretary Heather Swift, calling the Knowles letter a "hollow and political stunt."
"We welcome their resignations," Willens wrote, "and would expect nothing less than quitting from members who found it convenient to turn a blind eye to women being sexually harassed at National Parks."
Willens went on to accuse the former board members of unduly "taking credit for the extensive work of private companies" during the 2016 National Park centennial campaign and called it "patently false" that the Department of the Interior had not engaged with the board. "As recently as January 8, we were working with the board to renew their charter, schedule a meeting, and fill vacancies." As if to say good riddance, Willens wrote, "We have a number of individuals who have expressed interest in joining the board and we will now fast track filling these new vacancies with people who are actually dedicated to working with the Department to better our national parks."
"It's outrageous," former board member Gretchen Long tells me from her home in Wilson, Wyoming. "I knew this kind of rhetoric came from the White House, but to see it come from the DOI and the secretary—the same style of degrading and discrediting and lies, frankly dishonest information—I was appalled."
Long, a graduate of Harvard Business School with conservation and outdoor education bona fides that include chairing the National Outdoor Leadership School and the National Parks Conservation Association, tells me that no board members had been contacted on January 8 about a future meeting. Knowles also denied receiving any correspondence from Zinke's office on that day. As for the jibe about the centennial project, Long calls it "hogwash."
"I knew this kind of rhetoric came from the White House, but to see it come from the DOI and the secretary—the same style of degrading and discrediting and lies, frankly dishonest information—I was appalled."
"There were private companies, but also 200 citizen groups and nonprofits. The work was spread out with everyone's involvement. Public, private, not-for-profit—that's what made it so successful, and some might say too successful," Long says, referring to back-to-back record-breaking annual visitation numbers at some parks that have stressed staff and infrastructure.
Knowles, the board's now-former chairperson, is a Vietnam War veteran and was an oil-rig roughneck before he became governor of Alaska. He tells me the accusation of political stunting actually made him laugh. "This is the least political body I've ever been with. We're just a bunch of wonks, and everyone just loves to get around and talk policy," he says. "I'd have no idea what party these people belonged to."
Congress established the all-volunteer, nonpartisan NPS Advisory Board in 1935 to advise the Park Service director and interior secretary on big-picture policy. In recent years, that meant recommending official historic landmarks, suggesting ways to incorporate climate-change concerns into park management planning, diversifying the constituency of visitors, and planning for the centennial. The majority of the outgoing board's terms were set to expire in May 2018, so a transition was forthcoming, but no one expected this bitter turn.
"Our resignation was not something that we came to lightly," Knowles says. But after nearly a year of watching Zinke reverse the previous administration's orders (notably, bans on lead ammunition in wildlife refuges and plastic bottles in national parks, and a director's order to factor climate mitigation into park management), as well as plans to increase entrance fees and privatize campgrounds—all without any board consultation—the members felt they had no choice. "It's like being on the phone and someone puts you on hold for a year," Knowles says. "At some point you have to hang up."
Neither Knowles nor Long found the quip about the board's alleged inaction on sexual harassment within the NPS amusing. Personnel management doesn't fall under the board's legislative mandate, and Knowles says he thinks the Zinke team fired back with the sexual harassment barb as a diversionary tactic. "I was really sad to see that a secretary, through a spokesperson, would resort to mudslinging and character assassination to distract the discussion from what I thought were some very legitimate points that we were trying to raise."
I've been tracking Zinke closely for about a year. Last December, I wrote a profile for this magazine on the secretary. And while I suspect he's given up on conservation, I thought Zinke would maintain the veneer of respectability befitting both a former military officer and his current position. Here again, however, Zinke has revealed how little he resembles his proclaimed hero, Teddy Roosevelt.
The 26th president's carefully balanced speeches frustrated his supporters in the progressive movement, who wanted Roosevelt to thump his enemies with his legendary rhetorical hammer. Tempting as it may have been, Roosevelt never hurled personal insults from his "bully pulpit" and almost never called out enemies by name. As Edith Halford Ryan notes, Roosevelt's inclusive rhetoric contributed to his image as "just and impartial" and "seeking the best for his nation."
Faced with a choice between taking the high road and grabbing two fistfuls of mud, Zinke's team chose the latter.
The fact that Roosevelt, a century later, still holds a vaunted place in the collective memory has as much to do with his meticulous word choice as with any of his policies. Make no mistake: Trump's Twitter account isn't a bully pulpit—it's just the plaything of a bully. And now, a year after Trump's inauguration, we've all grown a little too used to the new normal—a state of public discourse in which, almost daily, and sometimes hourly, the highest elected officer takes cheap shots at anyone who dares to criticize him, from the loftiest senators in his own party to everyday citizens. Still, I held out a sliver of hope that Trump's total disregard for civility might be contained; that it wouldn't rub off on his cabinet, or on the system writ large; that political appointees like Zinke might at least maintain the old standards of decorum—those simple, unwritten rules that have helped our government function through dire political crises over the course of the century and a half since the Civil War. Suffice it to say, the Interior Department's response to the NPS board resignations did not kindle my hope.
"The part about this that's strange is the sheer lack of respect," says Kristen Brengel, vice president of government affairs for the nonprofit National Parks Conservation Association and someone who has worked in conservation policy since the George W. Bush years. "This is a group of volunteers who care deeply about the parks, who spend their time advising on issues where they have an interest and a specialty," she says. "They work in a very nonpartisan fashion, and they shouldn't have been criticized."
I asked Brengel if she thought the response was a knee-jerk misfire by overeager staffers without approval from Zinke. She says it is not likely that such an important and public document would leave the Interior Department without Zinke's approval. "No way that someone has free reign to make that choice for the secretary," she says. And, crucially, Zinke hasn't rebutted any part of Willens' letter. However, Brengel didn't discount the possibility of pugnaciousness on the part of Zinke's staffers. "In D.C.," she says, "the way things typically operate is that you reflect the people you work for."
Faced with a choice between taking the high road and grabbing two fistfuls of mud, Zinke's team chose the latter. And if Zinke's team reflects their leader, then surely Zinke reflects Trump just as clearly. So what does Zinke mean when he says, as he did during the conference call with reporters in which he bashed Patagonia, "I don't yield to pressure, only higher principle"?
Where is the higher principle in slagging a group of nonpartisan volunteers?
Lead Photo: AP Photo/Andrew Harnik