Everest Season Shutting Down?
Teams discuss cancelling climb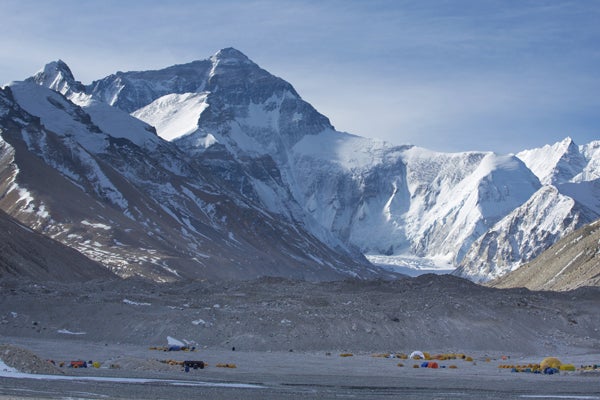 Heading out the door? Read this article on the new Outside+ app available now on iOS devices for members! Download the app.
In the wake of the worst tragedy in Mount Everest's history, it appears that many expeditions are discussing cancelling their climb, packing up, and leaving the mountain.
The latest news comes after a deadly avalanche on April 18 killed 16 Sherpas who were working to stock camps above the Khumbu Ice Fall. The slide struck early Friday morning, local time, killing the 16 men and injuring several others. Sherpas are well known as the backbone and workforce on Everest, helping install fixed ropes, set up camps, cook, ferry supplies, and assist western climbers. However, they make far less money than western guides and outfitters, on average. Sherpa climbing fatalities often leave families broken and  struggling to make ends meet. Working on Everest has been determined to be one of the most dangerous jobs anywhere in the world.
At Everest Base Camp after the disaster, many Sherpas met to discuss how to proceed, deciding that they didn't want to continue the season after so many friends, colleagues, and relatives were killed.
"[M]ost of the Sherpa climbers made decision not to climb Everest this year but then there are 1,2 companies who are being selfish  for their business purpose trying to push further more risking their Sherpa life," wrote Nyima Tsering, a climbing Sherpa who also runs Cafe 8848, in Namche Bazaar. 
Some outfitters are saying a final call is still pending. "Things definitely feel up in the air," wrote Adrian Ballinger, from Alpenglow Expeditions, in an email to his team, which is not yet on the mountain.
While no official decision has yet been announced by the Nepal government, Sherpas on Everest have said that this is a "black year," and that they should not continue to climb this season.
"Hope Everest gets a chance to rest," wrote Nyima Tsering, "and all the Sherpas and westerners come back home to live happily with their families and loved ones."
UPDATE: April 20, 8:30 MST. Outside has received conflicting reports regarding plans of various expeditions to continue climbing this season.
One guide, who asked not to be named, writes:
"This is an ongoing situation with more meetings just ending minutes ago. It's a complex situation. A Sherpa group at BC have made a list of requests today to the government related to the incident on the 18th. There are 13 points. Things here are very much up in the air as to how the rest of the expedition season progresses. As of now there is a request not to climb for 7 days, anything further is undetermined."
Outside has also received word that Joby Ogwyn is planning to continue with his wingsuit jump from the summit. However, Discovery has stated that they will not be broadcasting the jump live.
Lead Photo: Getty Images/iStockphoto