The Daily Rally
Jim Davidson Fills His Cup with Resilience
After finding himself in the middle of a disaster on Mount Everest, the mountaineer wanted to be the strongest version of himself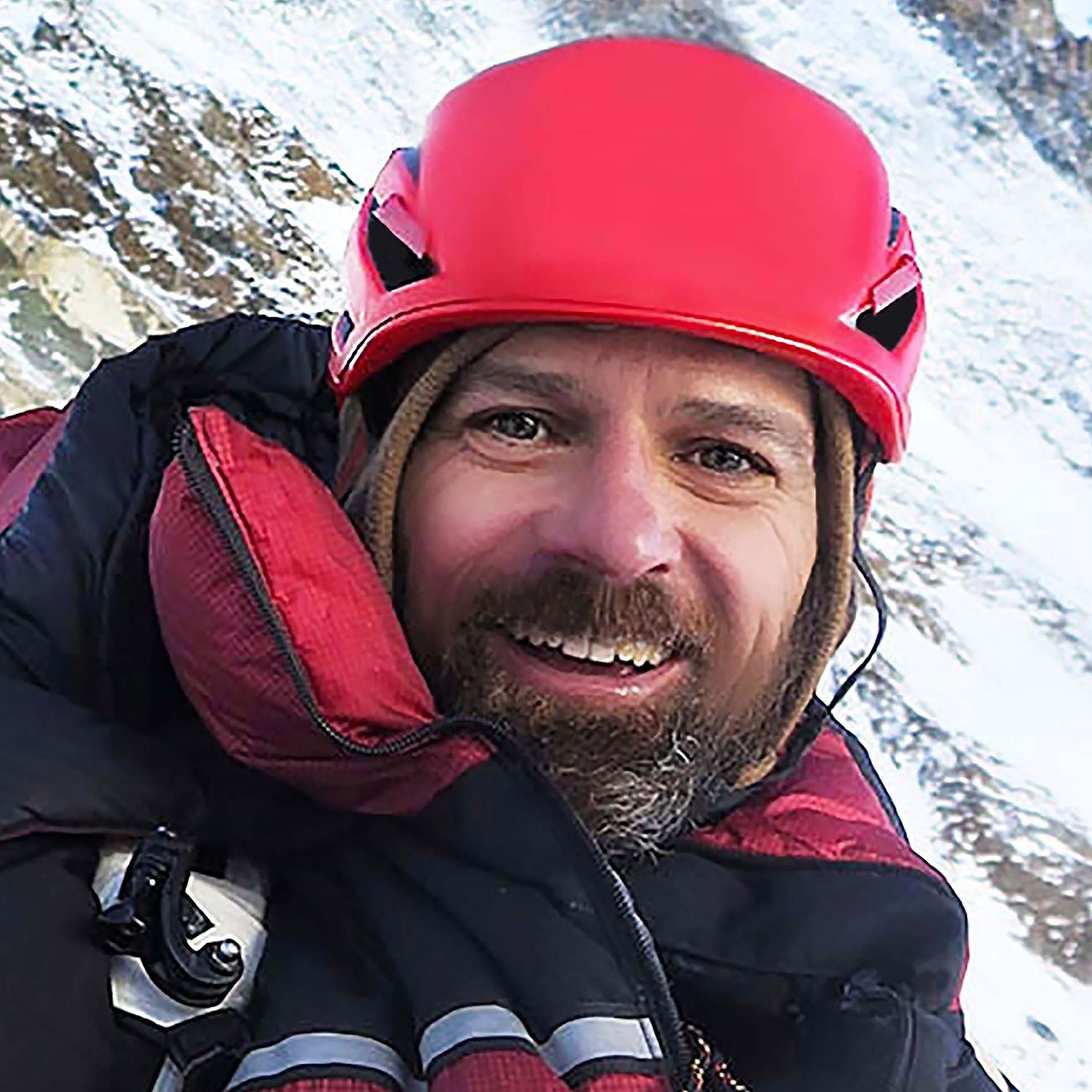 Courtesy Jim Davidson
Heading out the door? Read this article on the new Outside+ app available now on iOS devices for members! Download the app.
Jim Davidson told his story to producer Tanvi Kumar for an episode of The Daily Rally podcast. It has been edited for length and clarity.
We heard noise. We heard an avalanche ripping down a 3,000-foot wall next to us on one side. Then a second avalanche started ripping down a 6,000-foot vertical wall on the other side. I'm a geologist, and I've spent a lot of time in the mountains, so I thought, Two avalanches at the same time on different slopes? That doesn't make sense. Something's very wrong.
I live in Fort Collins, Colorado. I've been a climber my whole life. I emigrated out here when I was in my twenties to be near the mountains from my home state of Massachusetts.
I had one of the biggest challenges in my life when I was climbing Mount Everest in 2015. I'd been a climber for a long time, and finally was gonna grapple with that chance to grab my dream of climbing Mount Everest. I was at Camp One at an elevation of about 19,700 feet, and I was camped in a small tent on the glacier.
In the moment of crisis, the avalanches roared towards us. I yelled at my tent mate, Bart, to get outside the tent. We don't want to be in the tent because those avalanches could push the tent under more easily. Then all of a sudden, our tent shot up into the air, kind of hovered for two seconds, and then dropped back down. Then it went up again and back down again.
Those were the waves of the earthquake rippling through the glacier that our tent was resting on. And being in the tent was like being in a life raft on the ocean, as the swells were going underneath us, picking us up and dropping us down.
We were trapped at Camp One, because our route back down the mountain had been wiped out by all the avalanches. We had aftershock after aftershock and more avalanches. So we were living in that fear and uncertainty for a very gripping 48 hours waiting for our chance to escape Mount Everest.
My mental state and my emotional state would go up and down a lot. It happened with people around me, and I might get really upset, and Bart would say, "Hey Jim, come on. We got some world-class climbers and world-class sherpas and guides here. We're gonna figure this out." and I would calm down.
Maybe an hour later, he would get upset. I'd go, "Come on, Bart." So I think that's what happens, we need to take turns lifting each other up. Putting a little hope into one another so we can make it through it.
I was also looking inside myself a lot, because we had 48 hours just to lay in the tent. We couldn't take any action until we could get off the mountains. I would find myself thinking back on lessons that my dad and my old climbing partner Mike had taught me. I was pulling strengths from my past as well trying to grab some hope from the future to get back and see my wife and kids.
Climbers have been going to Mount Everest for over a hundred years, and there's never been an earthquake like that while they were on the mountain. This one was an especially bad one. It was 7.8 magnitude. It was the biggest earthquake to hit Nepal in 81 years.
Very luckily for us at Camp One, nobody was hurt or killed, which was an amazing, lucky coincidence. But sadly, in Base Camp they had a bigger problem. There were 70 people wounded, and 18 people killed instantly. It was the deadliest day ever on Mount Everest.
After the helicopters were used to move the wounded off to field hospitals, we were eventually able to get everybody out of Camp One and off the mountain.
When we were descending from Mount Everest, we began to see the damage around us. It wasn't just us climbing on Everest, it was these people's homes, their communities. They had lost loved ones, they had lost neighbors, and we realized that was a much more important thing than any climb or any other recreational activity. So we were trying to spark some hope and resilience in them by helping to lift them up. And it kind of reflected back. So we took turns lifting each other up, and that's energizing.
I've actually found that over the years, as you look back on something traumatic, you say, I can't change that bad thing. You have to fight that urge. There are some dark days but instead you try and move forward and say, I'm gonna instead use this as a strength. That's what they call post-traumatic growth.
We all have something that drives us forward. For some people it's playing music. Others, it's marathons or meditation. For me, it's mountains. My first big mountain climb was on Mount Washington in New Hampshire. It was wintertime, but I remember reaching the summit, and I knew that I wanted to spend my life trying to recapture that feeling of awe, being in such a rare and beautiful place.
I wanted to go back because I still wanted to climb Everest, but I was afraid because I didn't want to go through that again. And the question is: How are you gonna rise up, take on that next challenge ahead with resilience?
Being a scientist, I turned to science to give me an answer, about how many earthquakes have occurred, how big, and how the plates have released stress and everything. But in fact, the analysis of the seismology showed there was more risk. So my kind of go-to spot of science backfired on me. And I thought, Well, I have to dig a little bit deeper.
If you look to your past, you can find people who give you resilience. Your parents, a favorite grandparent, a coach or teacher. Then you look towards the future and go, Where do I want to be in the future? Who do I want to be in the future? I've also found in my career as a climber, now for over 40 years, that every time I take on a bigger challenge, if it makes me nervous, that's the right size challenge. So going back to Everest again did scare me, which told me it was a challenge that had the potential to make me grow into something more.
You have to be on Everest for about a month or two to train yourself up to deal with the high altitude in the thin air. And as that was going on, I slowly settled into a little bit more confidence. I was pretty acclimatized, and I felt like I understood the mountain fairly well.
But we'd been working for weeks and weeks. So we were very tired. I had lost huge amounts of weight and muscle. We were very beat down. We were exhausted because you can't sleep at high altitude. So I'd been up for 30 hours, or something like that.
We managed to reach the summit just before sunrise on a beautiful day. You're walking that last little section of the true summit on this very narrow ridge, and space just drops away around you. You have an 8,000-foot drop off to your left into Nepal, and an 11,000-foot drop off to the right, down into Tibet.
The sun's coming up, and you can look down upon all the other mountains around you there. They're 27,000, 28,000 feet, and you're looking down upon them. It's almost like being in space and looking down on Earth. The stars are just the brightest I'd ever seen. It is absolutely awe-inspiring to be there. But it also makes me feel very humble because I'm just so small on this big, beautiful planet.
One thing I've learned through all this is that even though life is busy and crazy things can happen, you have to take time to fill up your cup with resilience. Whatever it is that brings you joy and awe and that you love spending your free time doing, take the time to do that. Even when you're busy, even when there's a lot going on. So you're the strongest version of you possible moving forward to face that next challenge or opportunity ahead.
Jim Davidson is a mountaineer, environmental geologist, and motivational speaker. His book The Next Everest chronicles the 2015 earthquake and avalanches on the mountain, as well as the recovery effort that followed. Learn more about him and his work at speakingofadventure.com.
You can follow The Daily Rally on Spotify, Apple Podcasts, Stitcher, or wherever you like to listen, and nominate someone to be featured on the show here.
Lead Photo: Courtesy Jim Davidson