Kristin Harila's Speed Record on the 8000ers Has Hit a Snag: China
Harila has climbed 12 of the world's 14 peaks above 8,000 meters. Now she's asking for public assistance in obtaining a permit to enter China and ascend the final two.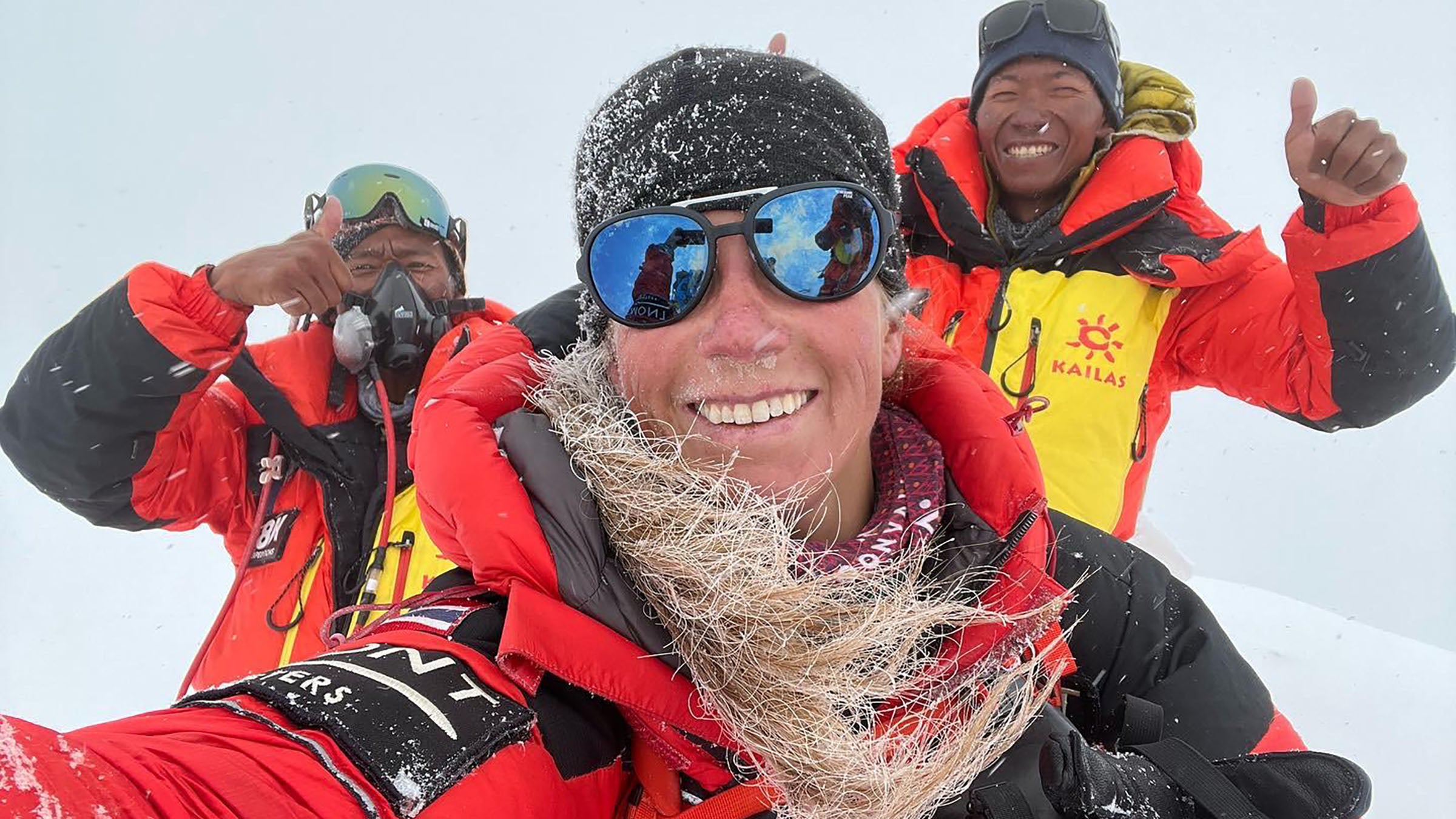 Heading out the door? Read this article on the new Outside+ app available now on iOS devices for members! Download the app.
Norwegian climber Kristin Harila is resting in Kathmandu after ascending her a 12th peak above 8,000 meters this year. Now, Harila has just two mountains remaining to complete her goal of ascending all 14 of the the world's 8000ers.
On Thursday, Harila, 36, reached the summit of 26,781-foot Manaslu, after trudging through deep snowdrifts for hours. She ascended the mountain's true summit—and not the lower point where climbers used to stop—alongside her guides Pasadawa Sherpa and Dawa Ongchu at 2:30 P.M. Nepali time, before starting the long hike down. Harila posted a photo of herself looking exhausted at Camp 3, saying she had been out in the cold for 23 total hours.
Harila was one of 400 or so climbers on Manaslu this week, and one of the first to reach the top. According to website Explorersweb.com, many climbers turned back on Wednesday and Thursday due to heavy snowfall. But Harila and her team kept going.
"This was hard, but we wanted to summit Manaslu now to avoid the crowd of climbers waiting in Base Camp," Harila wrote online. "Heavy snowfall and high risk of avalanches made this ascent challenging, so I am glad we made it."
The ascent brings Harila one step closer to breaking Nirmal "Nims" Purja's speed record on the 14 peaks, which he set in 2019 and was chronicled in the Netflix documentary 14 Peaks: Nothing is Impossible. Purja stopped the clock at six months and six days, nearly six years faster than the previous record. Harila climbed her first 8000er of the season, 26,545-foot Annapurna, on April 28, and she has until November 3 to complete the final two peaks: 26,864-foot Cho Oyu and 26,335-foot Shishapangma.
But simply traveling to the two mountains may prove more difficult than actually climbing them. Cho Oyu stands on Nepal's border with China, and the traditional route to the top lies in Chinese territory. Shishapangma sits squarely in China, three or so miles from the Nepal border. Thus far, Harila has been unable to obtain permission from the Chinese government to cross the border and ascend either mountain. China closed its borders to foreigners in March 2020 due to the COVID 19 pandemic, and it has yet to open them.
In a video posted on social media, Harila said she has contacted the Chinese ambassador in Norway to try and obtain a permit, but was unsuccessful. In the video, Harila asked her followers for help.
"I need all help I can get. Any ideas. Contact with anyone who can help me in the dialogue with the Chinese authorities. We need to move quickly to break the record," Harila said. "And please to share this message to as many as you can."
Chinese access proved a lesser hurdle for Purja in 2019, but he too struggled to gain access. He sought to climb the two Chinese peaks in November, which was after the country had shut down its official mountaineering season for the year. After weeks of negotiations with Chinese authorities, Purja obtained a permit from the China and Tibet Mountaineering Association to scale the two peaks.
Harila isn't completely out of ideas, however. Her outfitter, 8K Expeditions, told Outside that she may attempt to scale Cho Oyu from the Nepali side. Only a handful of mountaineers have made it to the top of the peak via the Nepali route, and in February climber Gelje Sherpa attempted to forge a pathway to the summit on Nepali soil. He and his team were turned back by high winds and deep snow.
Throughout her record-chasing project, Harila has said she hopes to show the world that women can be just as strong as men on the world's highest peaks—a point she repeated after ascending Manaslu.
"I have already proved that women can break barriers," she wrote. "I hope I get a fair chance to set the record, it would mean a lot for women in mountaineering."
Dewan Rai contributed to this report. 
Lead Photo: Kritin Harila