Mount Everest Permits Down Drastically After Historic 2021
Nepal's Department of Tourism has issued roughly 30 percent fewer permits in 2022 than the record-breaking 408 it did a year ago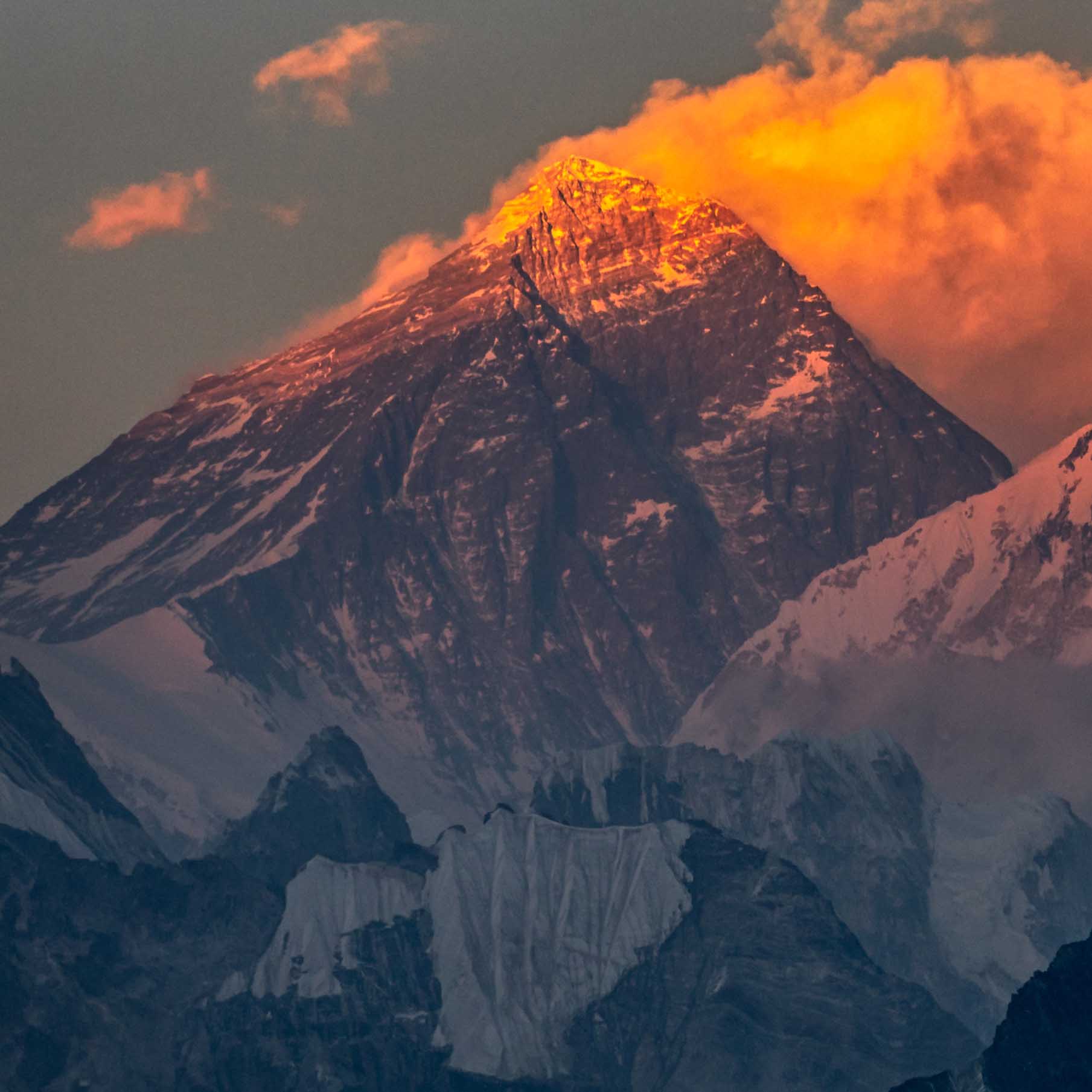 Heading out the door? Read this article on the new Outside+ app available now on iOS devices for members! Download the app.
After two years of pandemic-fueled lockdowns and expedition cancellations, will the 2022 climbing season on Mount Everest regain some semblance of normalcy? 
This is the pressing question facing another cohort of climbers aspiring to reach the highest point on the planet. With an extended ban on travel to the Chinese side of the mountain due to COVID, as well as continued global instability amid Russia's invasion of Ukraine, the answer is opaque.
One thing is certain, however: there will be fewer climbers on the mountain than there were last year.
In 2021, Nepal's Department of Tourism issued a record 408 Everest permits—the most in history. But as of April 19, it has issued 292 permits—about 30 percent fewer than a year ago. This is likely to be close to the final number of expedition permits, as the vast majority of climbers have already arrived at Base Camp.
A climbing permit for Everest costs $11,000, and last year Nepal earned $4.1 million from those sales. By contrast, the country generated a total of just $451,000 from permit sales to its seven other peaks above 26,000 feet elevation. In an attempt to increase tourism revenue, Nepal has removed COVID-testing requirements for vaccinated travelers, while going so far as to ask all foreigners to bring $200 in cash to pay for visas on arrival. Yet this decision has yet to boost numbers.
"Nepal is already in an economic crisis, and Everest expeditions are really important for the country," said Nivesh Karki, general manager of the English outfitter Pioneer Expeditions. "We were hoping this year would be as good as last year, but we've seen a major dip in bookings. This did not turn out to be a good season."
The pandemic siphoned off most of Nepal's tourism revenue. As COVID spread across the globe, the nation shut down access to all of its high peaks and hunkered down for a year of strict lockdowns and economic decline. The beginning of the 2021 spring-mountaineering season coincided with a moment of respite, but as climbers and expedition workers flooded into Base Camp and fixed ropes high on the mountain, the deadly Delta variant began spreading across the country, the start of a crippling second wave. Nepal's health care system was quickly overwhelmed, and dozens of those at Base Camp fell ill. Citing excessive risk, some operators packed up and headed home before the serious climbing even began.
By the end of the 2021 climbing season, fewer than half of the permitted climbers reached the summit–far lower than the normal success rate of 65 percent.
Nepal's current economic decline has placed a premium on revenues generated from the 2022 mountaineering season. Declining remittance earnings sent home from Nepalis living abroad and the global rise in petroleum costs have contributed to a dire shortage of foreign-currency reserves in the country, and there are growing warnings of a potentially larger economic collapse. As the season continues, expeditions see both global frustrations as hindrances but also glimmers of hope amid the turmoil.
Russia's Invasion and Continued Lockdowns Stymie Summits
Russia's invasion of Ukraine has also put a damper on Himalayan climbing this spring. In a typical year, more than a dozen Ukrainian climbers would come to the Himalayas, but this season there is only one: 33-year-old Antonina Samoilova, who has decided to attempt Everest "with a message of peace."
Sixteen permits have been issued to Russian climbers, despite Ukraine's attempt to bar Russians from climbing in Nepal. On March 21, the Ukrainian Embassy in New Delhi issued a diplomatic request urging Nepal to forbid Russian climbers from entering the country. Sources from the embassy confirmed the communique, but Nepal has yet to acknowledge receiving it.
The global conflict has impacted at least one popular climbing outfitter. Seven Summit Treks, one of Nepal's largest expedition companies, saw 10 Russian and 25 Ukrainian clients cancel their Everest quests this year. Seven Summits has only 50 Everest clients this season, down from 132 in 2021.
Chhyang Dawa Sherpa, the company's expedition manager, told Outside, "We were expecting more climbers, as many of the climbers from last year also wanted to come back, but the war changed everything."
Other expedition outfitters are also reporting significantly lower numbers of climbers for Everest. In recent years, Chinese clients have become an increasingly important—and growing—demographic for Nepali outfitters, some of whom also manage Everest expeditions operating on the north side of the mountain. Climbing Everest from the Chinese side, however, continues to be on hold; the countries' shared international border remains closed due to the pandemic, which prevents aspiring Chinese mountaineers from traveling to Nepal.
Indian climbers, who purchased 16 percent of the permits issued in 2021 and who typically receive funding for such attempts from their government, will also have less of a presence on the mountain this year.
"There are zero teams from the Indian army and police this year," Chhyang Dawa says. "The Indian government did not sponsor any expeditions due to COVID-related budget constraints."
Record Chasers Set Their Sights and Celebrities Return
Despite the downturn in numbers, the famous Khumbu Valley at the base of Mount Everest will soon fill with aspiring climbers, porters, and crew members trudging their way up to Base Camp. The famed "Icefall Doctors" will push the fixed lines higher onto the mountain and up the steep Lhotse Face. They have already fixed ropes and ladders through the dangerous Khumbu Icefall and have established Camp I in the Western Cwm.
Among the climbers will be Asma Al Thani, a Qatari royal family member who is making her second summit attempt with Nirmal "Nims" Purja's Elite Exped company. The group is supporting Thani's quest to become the first Middle Eastern woman to climb all Seven Summits. She has already climbed 19,341-foot Kilimanjaro and 22,837-foot Aconcagua, but had to cancel her Everest expedition in 2021 due to the pandemic.
There are a number of older climbers looking to etch their names in the record books as well, among them 62-year-old Australian daredevil Ken Hutt, who hopes to become the oldest person to paraglide from near the summit. He is bringing a film crew and has been training by running up and down 941-foot Mount Coot-Tha in his hometown of Brisbane.
French mountaineer Marc Batard, 70, hopes to become the oldest person to summit Everest without using supplemental oxygen. Batard is also pushing a new route into Camp II and the Western Cwm via the lower slopes of an adjacent mountain, 25,791-foot Nupste. He feels that this route is safer and more practical, but other expeditions have yet to attempt it.
Spanish climber Carlos Soria Fontán, 82, is currently working his way up 26,795-foot Dhaulagiri, aiming to become the oldest climber to notch all 14 peaks above 26,000 feet. He is expected to summit soon and then head to 28,169-foot Kanchenjunga and Everest in back-to-back pushes.
And Californian climber Phillip Henderson is leading the Full Circle Everest expedition, promoting global racial equity by (hopefully) putting 11 Black climbers on its summit. The group is accompanied by a film crew and plans to offer live video broadcasts from Base Camp, interactive moments on Microsoft's Flipgrid platform, and interactive videos from Everest for classrooms across the world.
A Team Is Cleaning Up the "Death Zone"
After shattering the speed record for climbing all 14 peaks above 26,000 feet, and gaining international celebrity status from the hit Netflix documentary 14 Peaks: Nothing Is Impossible, Nims Purja's Elite Exped team is mounting a massive cleaning effort of Everest's high camps. They plan to remove tons of garbage from the mountain, including discarded tents, ropes, oxygen cylinders, and more. Purja plans to pay Sherpa climbers from other expeditions to bring garbage down when they return from their high-altitude rotations.
"All these Sherpas have to carry loads to Camp IV. But when they come down, their bags are pretty much empty," Purja said. "I plan to pay them a really good salary so that, when they come down, they will have a good income and the mountain will also be clean."
Elite Exped will partner with a Nepalese army expedition also cleaning up the peak. When asked if Purja's plans include removing any of the dead bodies that remain frozen along the climbing route, he said no, citing the emotional and potentially legal consequences of doing so. "If they are in the way, of course, we can maybe just move them aside," he said.
Unfortunately, Everest has also claimed the first life of the season. Ngima Tenji Sherpa, 32, died suddenly in the Khumbu Icefall while carrying loads up to Camp II. He had successfully summited the peak multiple times. As of publication, the cause of death was unknown.
Lead Photo: Saimai Saelim/Getty Images