Nims Purja Says He Is "Fine and Well" After a Paragliding Accident on Manaslu
Purja, 39, returned to the mountain on Tuesday, one day after a paragliding mishap. "I can laugh about it," he wrote on social media.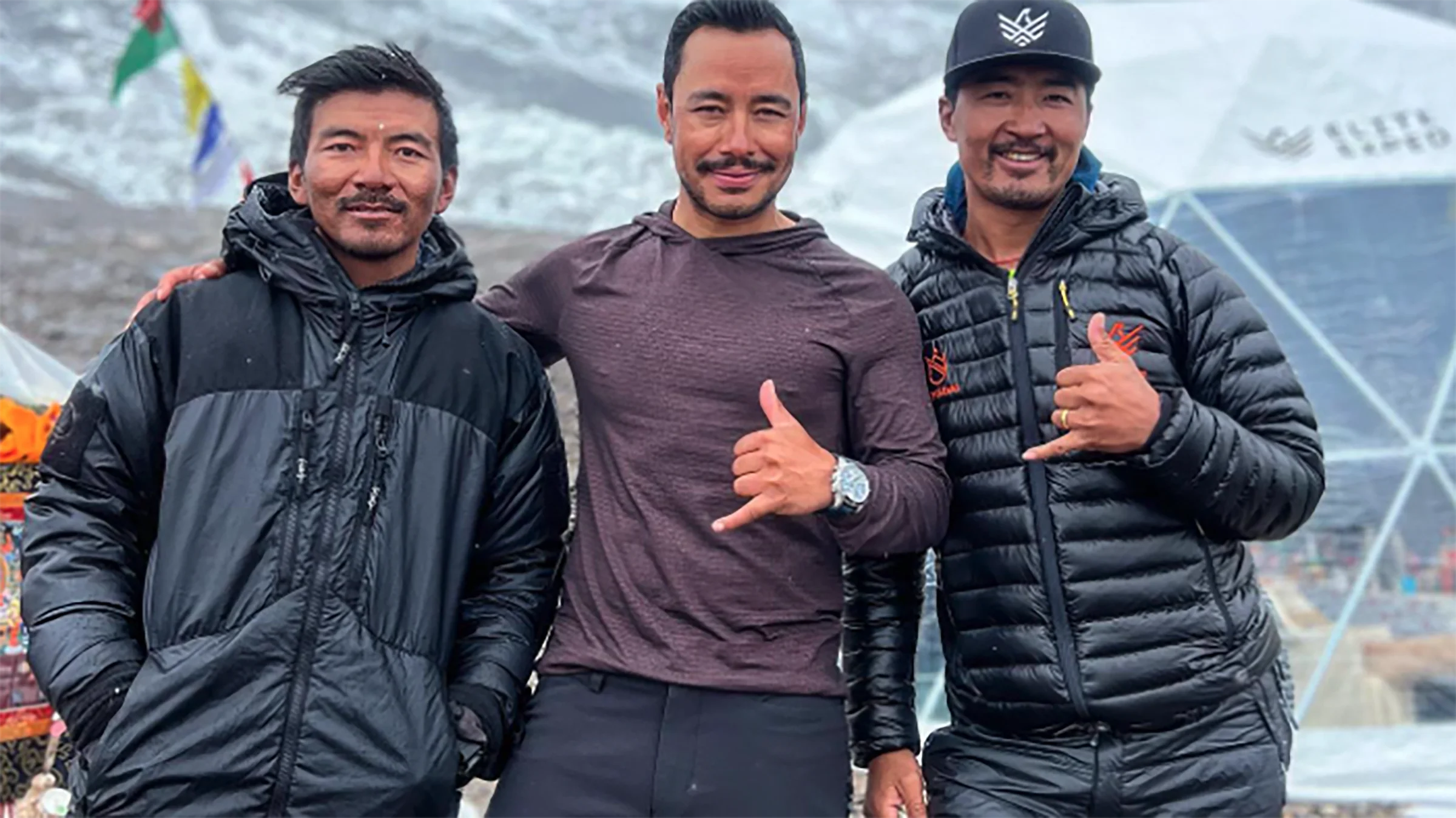 Heading out the door? Read this article on the new Outside+ app available now on iOS devices for members! Download the app.
Nepali climber Nirmal "Nims" Purja has returned to the high peaks after being airlifted to a Kathmandu hospital following a paragliding accident on Monday, September 19.
The Himalayan Times reported Monday afternoon that Purja, 39, struck a rock while paragliding near 26,781-foot Manaslu, and left the mountain's base camp via helicopter to undergo a checkup at HAMS hospital in Nepal's capital city. A source told the newspaper that Purja suffered only minor injuries in the crash.
On Tuesday, Purja posted an update on his social media accounts about the incident.
"I will always keep it real, so when I say I took a small tumble during one of my launches (which can be common on uneven terrain!) [of] an acro paragliding flight, that's all it was," Purja wrote. "No dramas—I reset and was back in the air ASAP. Don't worry—I am fine and well."
Multiple outlets picked up the initial news about Purja's accident, and he wrote that he did not expect the incident to generate so much attention.
"I was surprised to see a few stories which made it sound more dramatic," he wrote. "Nobody spoke to me about it, or I would have let them know what really happened. I can laugh about it, but for my family and friends, when they read things like that, they get really worried."
The media attention is indicative of Purja's celebrity status in Nepal, where he's become a national icon following his record-breaking ascents of the planet's 14 peaks above 8,000 meters. In 2019, Purja climbed the 14 peaks in six months and six days, shaving more than six years off the previous speed record on the mountains. The Netflix broadcast documentary chronicling his feat, called 14 Peaks: Nothing is Impossible, received global acclaim after it hit airwaves last year.
Purja continues to work on the high peaks with his Elite Exped guiding company, and earlier this year he led expeditions on Kanchenjunga, Mount Everest, and K2, where he organized a cleanup effort at the high camp.
Elite Exped is leading an expedition to the summit of Manaslu this week. The team plans to ascend to the mountain's higher camps on Tuesday and Wednesday, with a planned push for the summit on Thursday. On Monday, he posted a video on Instagram from his flight from Manaslu Base Camp at 15,700 feet down to the town of Samagaun, at approximately 12,000 feet. In the video, Purja then distributed 50 pairs of Scarpa shoes to local schoolchildren.
Purja wrote on Instagram that the paragliding flights are part of a wider push to see whether the activity could become a tourism draw for the company. "Our team has been working so hard behind the scenes in order to conduct the first feasibility study to open the way for flying from Nepal's 8,000-meter peaks," Purja said.
Lead Photo: Nims Purja/Facebook