The 10 Best Ethical Travel Destinations for 2013
Heading out the door? Read this article on the new Outside+ app available now on iOS devices for members! Download the app.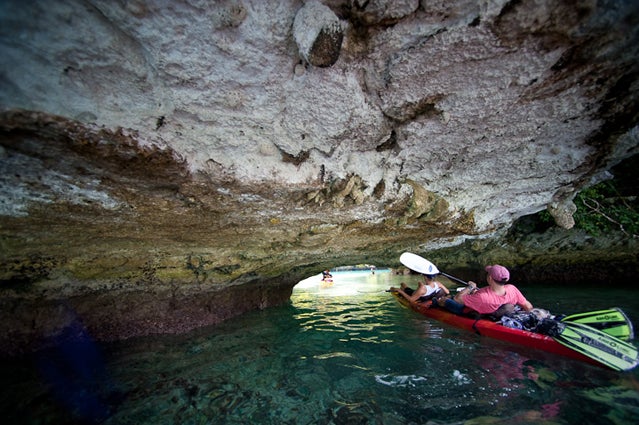 Kayaking in Palau. Photo: Mark Downey
Since 2006, Berkeley-based non-profit Ethical Traveler has compiled an annual list of the 10 best ethical vacation destinations for the coming year, and it just released its 2013 list this week.
"We try to encourage travelers to vote with their wings by going to places where travel and tourism benefits local people, where the government has an eye on the environment and supports human rights," Jeff Greenwald, Ethical Traveler's executive director, told a packed house at San Francisco's Commonwealth Club on Monday evening.
Greenwald's group focuses on developing nations, with an eye toward encouraging travelers to put economic power into these nascent tourism economies. In 2011, international tourism receipts exceeded $1 trillion for the first time, and this year the number of international tourists in the world is expected to hit one billion, according to the United Nations World Tourism Organization.
The list is offered in alphabetical order, so they're all equally weighted within the top 10. Each nation is judged based on its social welfare programs, its efforts to protect its environment, and its human rights records. In the list below I've focused mostly on environmental protection and recreation.
BARBADOS
Chosen for its proactive environmental programs—including its 2012 Green Economy Scoping study—and its transparency, Barbados also offers some of the best surfing (and rum) in the Caribbean.
CAPE VERDE
This island nation on Africa's east coast boasts a program to achieve 100 percent renewable energy. "We're always wary about commodification of culture," said travel expert Malai Everette at the event on Monday, but she feels Cape Verde has maintained its rich culture without cheapening it.
COSTA RICA
With its 20 national parks and ecotourism market, that this country made the list won't come as a big surprise. Costa Rica has banned shark finning and put the kibosh on a dam project that could have caused considerable damage. Great surf abounds, and seeing the country from the saddle of a mountain bike is increasingly popular.
GHANA
Ethical Traveler calls out Ghana's pioneering ecotourism work, as well as its efforts to enforce taxes on things with a negative environmental impact, such as single-use plastic packaging. Trekking and birdwatching in the country's national parks is a big draw.
LATVIA
The proudest environmental work here is in water quality improvement. In its early post-Soviet years, the lakes and rivers were horribly polluted, but have since become among the country's biggest selling points—especially inside its Gauya National Park, which you could peruse by canoeing the Gauya River.
LITHUANIA
Twelve percent of this country is comprised of parklands and reserves, and there's a big push at present toward agritourism and farm stays. Kaunas, its second-largest city, was a recent candidate for the 2012 European Green Capital Award for urban sustainability.
MAURITIUS
The government of this Indian Ocean island nation (off Madagascar's eastern coast) is focused on developing its tourism industry, but also the energy efficiency of its infrastructure. Like most islands, climate change is a major threat here. It's not all about beaches; Mauritius offers mountainous parks and has been making concerted efforts to boost native flora and fauna.
PALAU
In 2003, Palau became a pioneer in the movement to stop shark finning. It was already one of the world's top diving areas, and a shark sanctuary has only elevated this island in Micronesia as a top scuba destination. It levies an airport tax ($35) to fund environmental programs on the island, too.
SAMOA
This South Pacific island was one of the first countries to sign the Kyoto Protocol, back in 1998, and its government has since been quite vocal and proactive on the issue of climate change. It's also working to designate national parks and improve the management of its coasts, which offer some of the world's best, most consistent surf.
URUGUAY
This South American destination scored among the highest in Ethical Traveler's environment rankings and is making a marked push to improve the sustainability of its agricultural industry. Kayaking, birding, and surfing are among other reasons to visit.
Six of these 10 developing nations were also on the 2012 list alongside Chile, Serbia, and Argentina, but those three countries fell off the new list due to "declining performances," says the report. Proposed mega-dams that would push through Patagonia led to Chile's delisting.
Greenwald noted that some countries that seem like shoe-ins have never appeared on the list. Bhutan is one such example. Despite its strong environmental policies, that country's poor standing on human rights and record of discrimination keeps it off the list.
Everette, who recently founded a socially responsive travel company called Altruvistas, said no matter where you go, ethical travel is "about the intention and meaning of travel." Even if a destination is on the best 10 list, you should still do your due diligence, and be inquisitive about who owns the hotels, the tour providers, and transportation providers you patronize. Throwing your money toward a multinational corporation without ties to the local economy likely won't help the locals in the long run.
—Mary Catherine O'Connor
@mcoc