Sponsor Content: DICKIES
The 10 Most Badass Outdoor Jobs
What does it take to hold down some of the toughest, most demanding professions around? We talked to a bunch of hard-working folks to find out.
If you're like most of us, you probably daydream about being a bush pilot, search and rescue ranger, or custom-ski builder. But what does it really take to hold down one of these jobs?  Here's what we found out.
Overland Shop Owner (pictured above)
The Gig: Overlanding, where you use your vehicle to explore and camp in off-the-grid spots, can be done in almost any car or truck. But if you want to safely get up gnarly back roads and sleep in ultimate comfort, there are a couple of key upgrades you want a pro to handle. At Tactical Application Vehicles, Walt Wagner specializes in helping people decide which upgrades are necessary, and then carefully adds those new components to their rigs.
A Day in the Life: Wagner splits his time between the office and his shop floor. In the office, he'll sit with customers and help them pick out upgrades like all-terrain tires, better suspension, and rooftop tents. Once a build is decided on, he'll order the parts and get to work. Some jobs are easy and just need wrenches and a strong back. Others, however, are much more intricate and call for highly specialized welding, or even completely custom design and fabrication.
The Skills: You need a solid understanding of car mechanics to run an overland shop. Wagner has restored several overland vehicles from the ground up. You also need good design sense, so that if a customer asks for a custom bumper or camper shell configuration, the shop can ensure perfect integration. Finally, you need to know how to drive in the wild. Wagner has taught off-road driving courses throughout the country and uses this skill to help people decide what they need for where they're going.
Walt's Gear: FLEX Tough Max Ripstop 5-Pocket Pants, Performance Waterproof Breathable Jacket with Hood
---
Wildlands Firefighter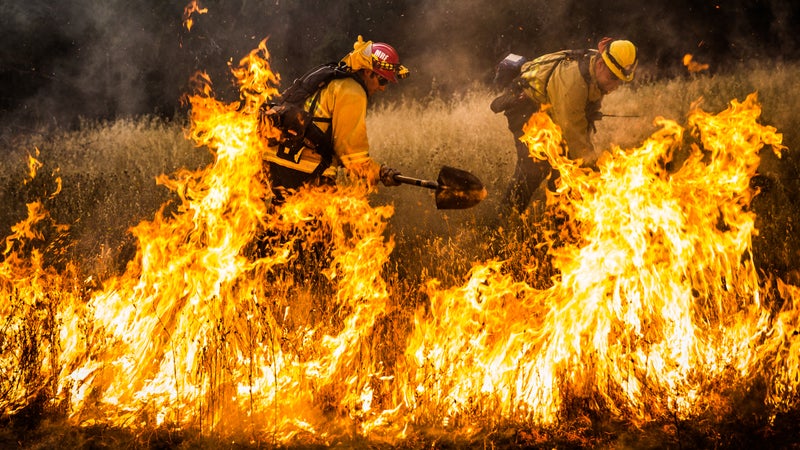 The Gig: There are several categories within this job. There are seasonal firefighters who often work the periphery of a blaze, hotshot crews that work the toughest parts, and smoke jumpers, who parachute into remote areas to battle a blaze. Agencies like the Forest Service, BLM, and National Park Service, as well as some state and local districts, hire firefighters.
A Day in the Life: When there's a fire, crews work 16-hour days, often in states that are hundreds of miles away from their home base. They spend their days cutting fire lines either by hand or with equipment, setting back-fires or using fireline explosives, and mopping up hot spots. It's exhilarating work, but it can be dangerous. Hotshots and other firefighters are killed almost every year while battling the blazes.
The Skills: Overall fitness is the number-one skill—firefighting is long and often brutal work. Getting a degree in fire science can boost the chances of getting a job. Before being hired on as a full-time firefighter or hotshot, most prospective firefighters need to work seasonally to gain some experience and demonstrate the right skills and work ethic.
---
Fly-Fishing Guide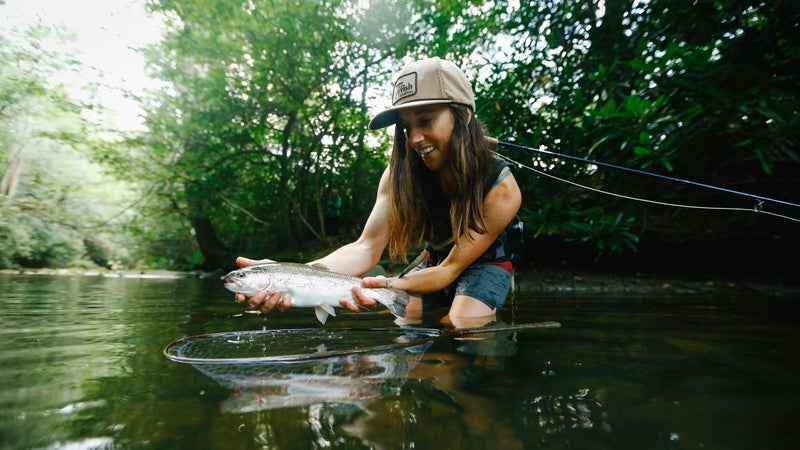 The Gig: Spend your days helping fellow anglers land fish in your home streams. Some clients need help casting and finding fish, while others just need a steady hand to pilot a drift boat. It's part teacher, part biologist, part buddy, and part babysitter, all rolled into one.
A Day in the Life: For Katie Cahn, a newly minted guide for Headwaters Outfitters, in Brevard, North Carolina, the job means getting up at 5:45 A.M., collecting her rods, flies, and gear, making a shore lunch, and zipping over the mountain to meet her clients for a day on the Davidson River or the North Fork of the French Broad. The goal, of course, is to get a fish on the hook, but that all depends on stream and weather conditions, and the skills of the client. Cahn says it takes patience and a positive attitude to deal with all the different personality types. "What makes it worthwhile is being outside and taking it all in and not dealing with a boss or being micromanaged," she says.
The Skills: Guide jobs are competitive. Cahn, who has been fishing for only five years, came by her job in a nontraditional way. After the fly-fishing bug bit her, she fished every day, posting images to Instagram. That was when Headwaters contacted her about becoming a guide. But the best way to get a job is to spend as much time on the water as possible, mastering the craft and studying fish and insect biology. For a résumé builder, prospective pros can take guide classes at places like Sweetwater Travel Company, Fly Fishing Outfitters, or Hubbard's Guide Academy.
---
Custom-Ski Builder
The Gig: In recent years, a whole crop of smaller ski builders have emerged, and they now make some of the country's finest sticks. A few can also build custom one-off skis to fit your exact needs. Ski makers are part tailor, part carpenter, and part physicist, creating products that excel on the snow and that play to your height, weight, skill, and style.
A Day in the Life: A good builder needs to spend time on the slopes, refining materials and designs, but most of the job is spent in the shop. Building a pair of skis means choosing a core with the right strength and flex, then shaping it. A topsheet, fiberglass or carbon layers, and tips and edges are added before the whole thing is laminated and squeezed together in a heated pneumatic press. The skis are then trimmed, sharpened, and sanded. In all, a pair of skis takes at least a full day of meticulous work. That means a small family shop like Shaggy's Copper Country Skis, in Boyne, Michigan, won't be getting rich, but it will be making lifelong fans by building top-quality skis with nice touches such as locally sourced long-grained ash cores from nearby Northern Michigan forests.
The Skills: Being a dedicated skier helps, but you'll also have to know how to use the building equipment. At Shaggy's, Jeff Thompson went to school for engineering, and his father, John, ran a construction business before they got into skis. Even still, there was a learning curve that started in the family basement. "We're organic. Everything we've done, we've done ourselves," says John. "We've taught ourselves to do everything."
The Thompson's Gear: FLEX Tough Max Duck Carpenter Pants, FLEX Sanded Duck Mobility Jacket, Pro Glacier Extreme Puffer Jacket
---
Avalanche Forecaster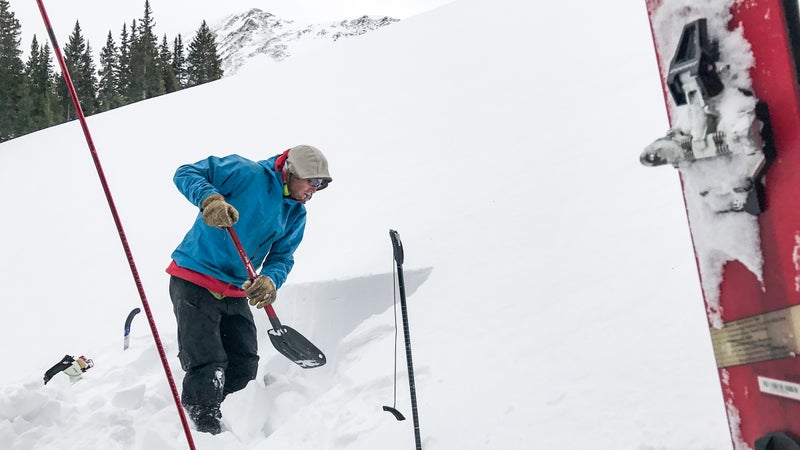 The Gig: Forecasters work for ski patrols, highway departments, and regional avalanche centers, and in all three cases they monitor weather reports and get out on the local mountains to look for instabilities in the snowpack that might cause avalanches. They then compile that information into a forecast that's used internally or by the public.
A Day in the Life: A forecaster has to visit several survey sites, usually digging down into the snowpack to look for degraded layers and conducting other snow stability tests. How difficult your day is depends on your beat. At a ski resort, it might mean riding snowmobiles to a few locations. In a national forest, it could mean skinning up to remote slopes to conduct stability tests. But it's not all outdoor fun; you also have to get back to the office to analyze the data and do the writing.
The Skills: Bruce Tremper, former director of the Utah Avalanche Center, says it takes a special combo of skills to be a good forecaster. "Basically if you want to work in a backcountry avalanche-forecasting operation, we look for the combination of practical and academic training," he says. "We usually want to hire people who have worked doing avalanche mitigation on a ski patrol so that we know they have a good intuitive knowledge of avalanches and they have been trained in a professional setting. In addition, we look for people who have a lot of backcountry experience. Finally, it's almost mandatory to have a college degree in one of the physical sciences."
---
Search and Rescue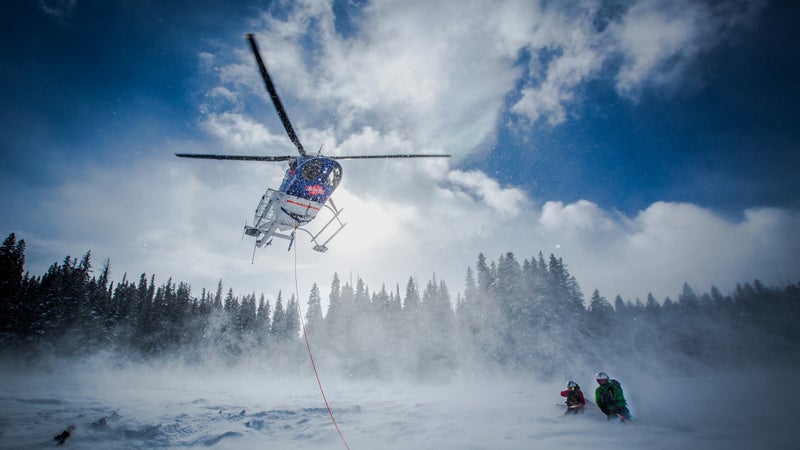 The Gig: Full-time search and rescue jobs are few and far between. In most places, on-call volunteers work with rangers, sheriff's departments, and other agencies to bring their outdoor skills to aid the authorities. That might mean tracking down a lost hiker in the desert, pulling a fisherman from a swollen river, or lowering an injured climber dangling from a big wall.
A Day in the Life: For six months a year, Josh Huckaby and eight other members of the elite Yosemite Valley SAR are paid for their time on the job. Mornings are typically quiet, Huckaby says, but in the afternoon the calls will usually come in and the SAR volunteers will be summoned via pager to the problem. Often the calls are for dehydrated hikers, people with twisted ankles, or other minor predicaments. But sometimes the calls are severe, like a fallen climber on El Cap who requires a complex rope rescue. "Most aren't super awesome, sexy rescues," says Huckaby. "What makes the job exciting is really having the chance to help people having a bad day."
The Skills: The skills needed to qualify for a SAR team vary by location. Yosemite, for example, needs strong climbers with rope skills. Areas with whitewater might require training in swiftwater rescue, and areas with snowy backcountry will call for strong backcountry skiers who can operate snowmobiles. Any specialized skill will give you a leg up on making the team, as will completed wilderness first aid courses. It also means staying in shape and being available for 2 A.M. calls.
---
Wind Turbine Technician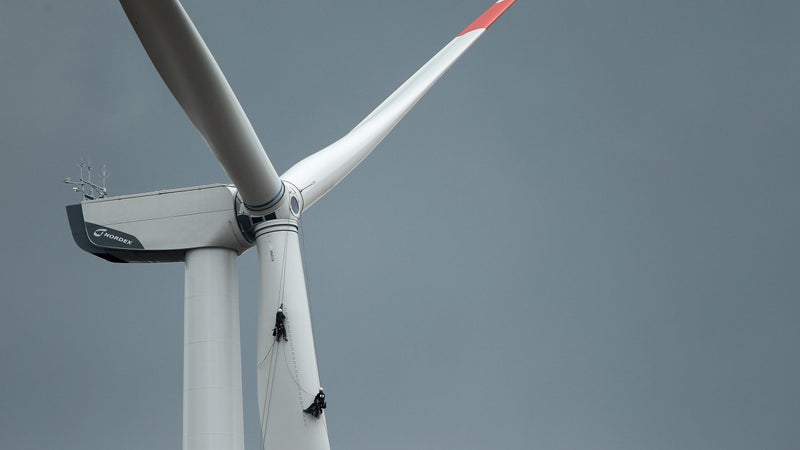 The Gig: Like all machines, wind turbines tend to break down. It can be from wear and tear or from severe weather, like lightning. Technicians climb up inside the towers and tinker with the gearboxes and batteries, but also hang outside and fix damaged blades.
A Day in the Life: Most wind techs use an internal ladder to get to the top of the turbine, but then have to use ropes to rappel down the 150-foot fiberglass rotor blades to make repairs. Once on the blades, they're often suspended a hundred feet up and regularly have to patch the fiberglass, which can crack or separate due to the elements. Other days, techs paint or clean the massive rotors or investigate them for developing problems.
The Skills: In recent years, wind companies have actively recruited rock climbers for the wind tech jobs. While some techs use cherry pickers to access the turbines, rope allows workers to better able to reach the towers and is generally safer. Many companies require climbers to have a Society of Professional Rope Access Technicians certificate before hiring them, and many vocational schools now offer an associate's degree for wind techs.
---
Commercial Fisherman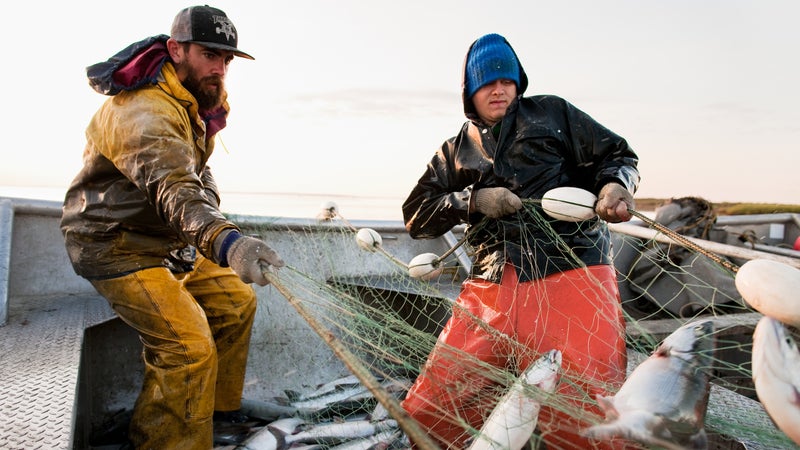 The Gig: Fishing means spending long days aboard a cramped boat while searching out and, hopefully, pulling in fish. It's not a job for the disorganized. It means methodically searching hot spots for fish, keeping lines and equipment at the ready at all times, and having the stamina to constantly set the lines and pull in fish.
A Day in the Life: Marsh Skeele is a salmon, black cod, and halibut fisherman based in Sitka, Alaska. Most of the time he runs his boat, the F/V Loon, solo. That means getting up at dawn and making the 3.5-hour run to the fishing grounds for a three-to-four-day fishing marathon. First he trolls the area, using his fish-finder to detect the schools. Then he baits and drops his long lines. When he notices a king salmon on the line, he'll pull in the leader by hand, gaffing the fish and immediately gutting it, bleeding it, and putting it on ice. The work is physically demanding and repetitive. "Sometimes, thinking back on it, I think it's pretty mellow," says Skeele. "But when you're doing it you realize how focused you are. You have to pay attention to a lot of things."
The Skills: The best way to learn is on the job. Skeele says that means crewing on boats for a few seasons and trying to make a reputation. Once you have some chops, you can move up to more successful boats. Owning a boat, however, is a whole other level. It means becoming a businessperson, meteorologist, marine mechanic, and fish biologist all at once.
---
Outdoor Entrepreneur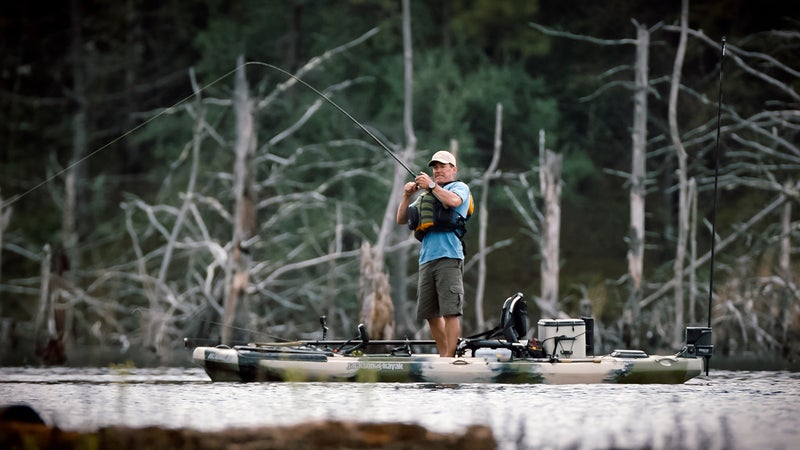 The Gig: You're not just living the lifestyle, you're actually producing, refining, and selling the equipment that lets people enjoy their favorite spots. Whether it's tinkering with a new style of climbing cam in a garage or finding the latest waterproof coating for rain gear in a high-tech lab, outdoor entrepreneurs need to have a passion for their product and the sales skills to bring their product into the world.
A Day in the Life: Back in 2003, Eric Jackson, four-time world champion whitewater kayaker and Olympian, was designing boats for a kayak company when they nixed one of his favorite ideas. Convinced that his playboat designs would be a hit, Jackson, his wife, and another partner went into business for themselves, setting up shop in an old laundromat. His intuition was right, and over the years Jackson Kayak had created 100 boat designs and launched a wildly popular kayak-fishing line. The growth processes involved a lot of time, money, and failures, but now the company, located in Sparta, Tennessee, is the largest whitewater-kayak manufacturer in the world.
The Skills: The major qualifier is a passion for your product that will sustain you through the inevitable hard times and setbacks. Having a handle on basic business skills, like accounting and marketing, can be invaluable, too. And, most importantly, being able to delegate is a must. It's fine in the beginning to be the manufacturer, sales team, and back-end office, but at a certain point one person can't do it all, and building a kick-ass team is essential.
Eric's Gear: Temp-iQ™ Performance Cooling T-Shirt, Ripstop Cargo Shorts
---
Bush Pilot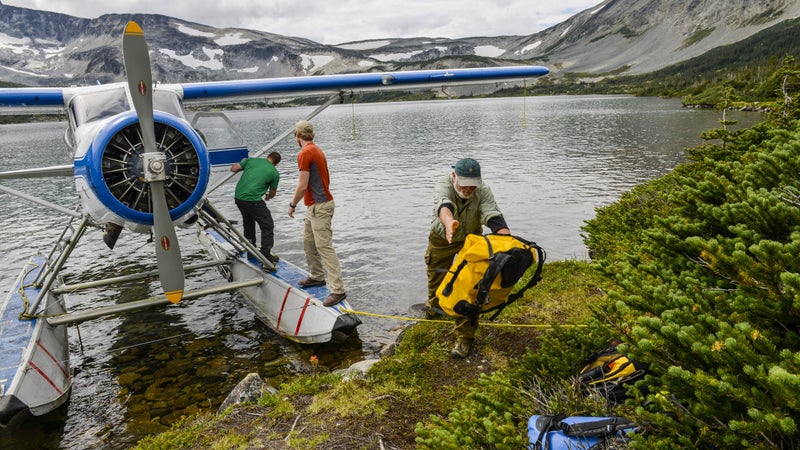 The Gig: Bush pilots shuttle people and gear to remote areas without an established airport or airstrip, often flying in locations that have fast-changing weather and small, unmaintained landing strips. The job can be dangerous, but also allows you to see some of the world's most remote spots.
A Day in the Life: In many parts of the world, bush pilots are the lifeline for remote villages and islands, because they deliver necessities like food and fuel. Other pilots shuttle fishermen, hunters, skiers, or other outdoor enthusiasts to remote base camps. Besides being an ace pilot and meteorologist, a bush flier also needs to be a plane mechanic and an electrician, just in case something breaks down on the far end of a run.
The Skills: Becoming a bush pilot takes a while, and requires some major commitment. First, it requires earning a private pilot's license, a commercial pilot's license, and an airline transport pilot's license. That last credential allows you to carry passengers and can cost tens of thousands of dollars and take a few years to complete. After that, a pilot can take specialized training courses, like seaplane training, mountain flying, and backcountry flying.