2019 Bucket List
Get into Outdoor Sports Without Breaking the Bank
Before you drop all that money on a full gear package, take some advice from the experts on where and how to save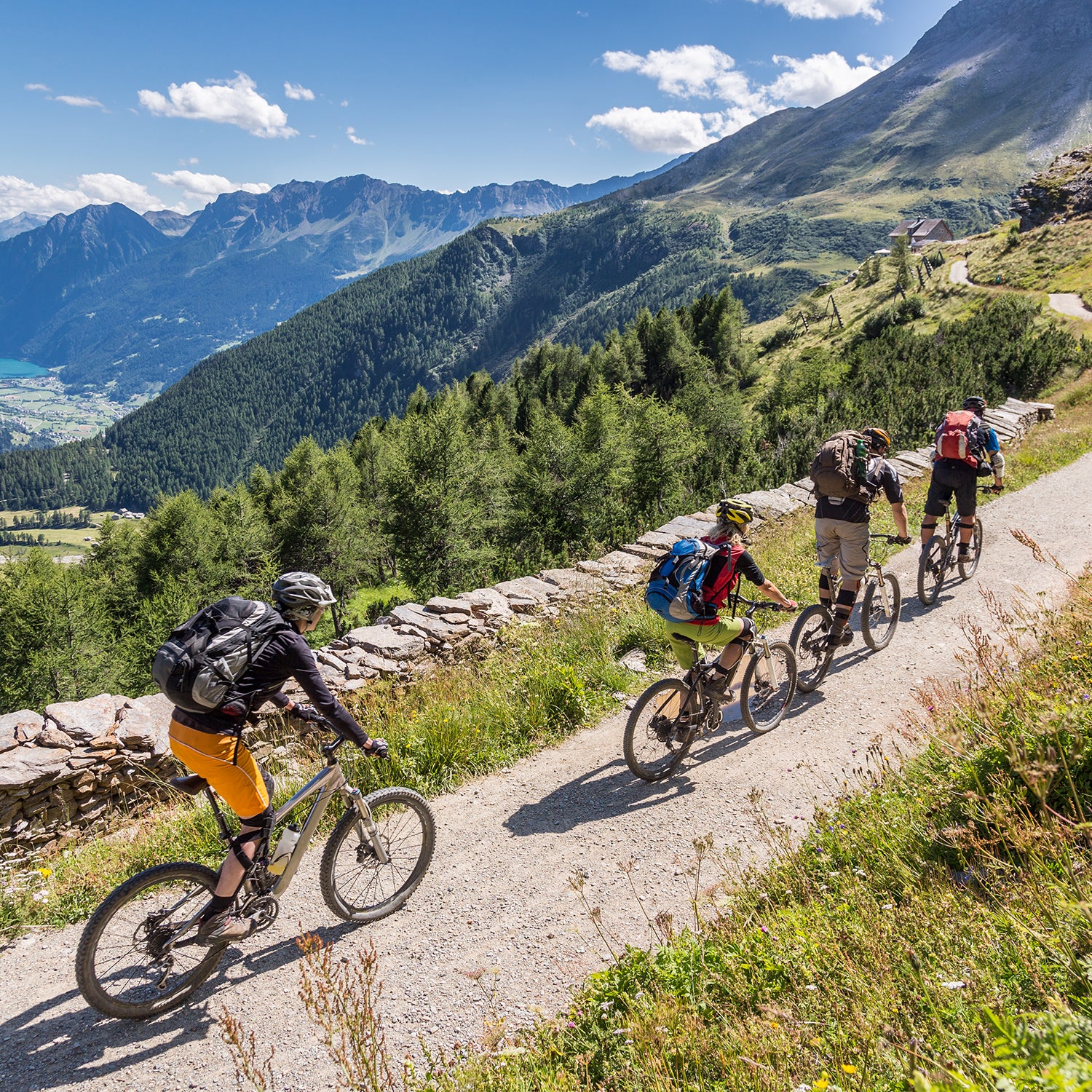 Heading out the door? Read this article on the new Outside+ app available now on iOS devices for members! Download the app.
A few months ago, my pit bull wandered into my neighbor's garage looking for affection. When I went to get her, I spotted a vintage mountain bike hanging by its rear wheel on the wall. It was a rigid neon green Diamondback Ascent Ex with an early-nineties paint-splatter overlay.
"That's a really cool bike," I told my neighbor while she rubbed the dog's belly.
"You want it?" she said.
We haggled over the price. She wanted $5. I gave her $20. If I harbored long-term goals of one day becoming a competitive downhill mountain biker, hitting Red Bull–certified runs, or even just the trail in Philadelphia's Wissahickon Park near my house, I had just entered the world of adventure sports for a bargain.
The 2018 Outdoor Industry Association (OIA) recreation report found that people who make more money spend more time outside—32 percent of outdoor-sports participants make $100,000 or more per year. Not surprising. The cost of gear, the travel involved to get to destinations, and other factors pose serious barriers to entry to would-be bikers, climbers, and skiers. But you don't necessarily have to spend thousands of dollars to try these active endeavors. Before you go all in to equip yourself, pump the brakes and listen to these experts who have made it their lives' work to get more people outside. 
Find an Entry Point
No one's ever going to sell me a Diamondback Mission 2C Carbon, which retails for a penny under $5,000, for $20. Heck, some bikes are double that. My new neon green ride would be something Samantha Searles, research director at the OIA, would call an entry-point purchase. 
"Obviously, biking can be expensive," Searles says. "But the other part of it is, how often are you going to have buy a bike? You make that first investment, and you can either upgrade or not. You can start with something you found on Craigslist or go to a store that's having an end-of-the-year demo sale and buy a discounted bike that way."
Each sport has different entry points on the economic ladder. Sometimes the best way to get started is by using someone else's stuff. Ski resorts, indoor climbing gyms, and bike shops want you to get hooked, so most places will rent you the gear you need, which can still be somewhat expensive but is cheaper than buying it all. It's an ideal way to figure out whether the sport is right for you. 
If there's a store that sells adventure gear, chances are it can help you find local swaps, too—basically Craigslist-in-the-flesh shopping events with mountains of good used gear. Each February, Robin Culver hosts Stop, Swap and Save, dubbed the "East Coast's largest indoor bicycle swap," at the Carroll County Agricultural Center in Westminster, Maryland. It costs $5 to get in, and Culver says that both private owners and bike shops participate to unload inventory. "Everything moves quickly, and everything is cheaper than what you'd find at a bicycle shop for the most part," she says. "The deals are incredible." In Washington State, the Tacoma Ski Swap is one of the biggest in the nation, with a portion of the proceeds going to the University of Puget Sound's ski team. There are swap-meet groups on Facebook, too, if you're willing to pay for shipping. 
Knowing what you need to get started, and which individual pieces of equipment require a larger investment, will also help you stretch your dollars. For example, according to Greg Whitehouse, owner of California Ski Company in Berkeley, once you've decided to become a skier, you should buy the best boots possible, then save money by picking up a set of skis on Craigslist. Cheap, ill-fitting boots will end your day early and kill your enthusiasm, he says. Bargain skis, on the other hand, will never hurt your feet. 
If you're just getting into climbing, find a more experieneced partner or join a group of people who already have a stash of expensive equipment, like ropes and protection, advises Phil Ratterman, owner of Apex Climbing Gym in Overland Park, Kansas. From there, the minimum package you'll need for going out on a climb would be shoes, a harness, and a helmet—a complete beginner's kit that will cost about $200. You can also check with gear stores to see if they rent any of that equipment. 
Build Experience
One barrier to entry for a snow hobby, historically, was the high cost of single-day lift tickets. However, most resorts today have packages that include a lift ticket, rental gear, and a lesson, all for about the price of a single ticket. Whitehouse says that ski resorts have a core group of repeat customers, the hardcore enthusiasts for whom powder is a lifestyle, but they know that far more people go skiing once and never come back. "They've decided that lessons are super important for that. You can't have fun until you learn how to do it a little bit. They're thinking, We'll give you a smoking deal, but we need you take a lesson," he says. 
Multiresort international passes are another breakthrough of recent decades. The 2019–20 Ikon Pass is $1,049 and gives you access to 39 global destinations with no blackout dates. The $949 Epic Pass allows for unlimited skiing at resorts in numerous western states, along with Rusutu, a Japanese resort with 16 expert and advanced runs. Smaller hills across the country are offering deals, too. Ikon offers a pass to Ontario's Blue Mountain for $299 a season. Mount Pleasant of Edinboro, in northwestern Pennsylvania, offers a season pass for $300.
For the climbing curious, gyms have been lowering the barrier to the sport for decades, and most cities have at least one such gym. Apex charges $12 for a day pass, and for another $4, you can rent shoes and a chalk bag. It also offers introductory classes and private instruction to help people get started. 
Another advantage to joining a climbing gym is having a community of like-minded enthusiasts all around: people to belay you and tell you to use your feet more. It's also a great place to develop a group to go with when you're ready to start climbing outdoors, which, once you get the gear in place, is the cheapest way to climb. 
The same goes for guided mountain-bike tours. Amy Regan, founder of Arizona Mountain Biking, organizes group rides and also recommends Meetup and Facebook groups as ways to connect with local enthusiasts. Her organization offers a free riding-skills class once a year as well as more in-depth riding clinics for $75. 
Secure Affordable Outdoor Digs
Figuring out where to stay near the trails and mountains on a budget is how dirtbag culture was born, and accommodations are one area where adventure-sports enthusiasts can save a lot of money. Think of Alex Honnold, who still lives out of his van when he climbs, or the revolutionaries who made Yosemite's Camp 4 a mini Haight-Ashbury decades ago. The sport came first—comfort off the walls wasn't a top priority.
If you don't want to sleep in a car eating Doritos, or even camp for weeks on end, Whitehouse says clubs are a way to get close to the mountains for less money in both winter and summer. His local Berkeley Ski Club, for example, owns a four-bedroom lodge in Tahoe City, California. You can join for $115 per year, along with a small fee each night you book (from $9) and a commitment to put in a week's worth of work on the property. 
Many resort towns have hostels, like St. Moritz Lodge and Condominiums in Aspen, Colorado, or Turn of the River Lodge in Killington, Vermont. Both offer hostel and dorm-like accommodations. Single beds can range from $40 to $45 a night. In the summer, when ski resorts transition into mountain-biking destinations, there are even more options. I've stayed in campgrounds in both Mammoth Lakes, California, and Lake Tahoe for less than $30 a night, and when I was there, nearly every car was carrying bicycles. 
Join the Industry
Obviously, not everyone is able to do this, but once you've committed and decided that an adventure sport will be more than a hobby for you, getting a job in the industry can help make it a lifelong thing, a slow and steady progression to better gear and gnarlier rides. That's what Bryan Fox did. He grew up racing BMX bikes in Washington. Eventually, he moved to California and bought his first mountain bike, an ubiquitous Mongoose, but cracked the frame on a jump. He upgraded to a 1993 Specialized Rockhopper Comp. He rode a bit with a cycling group called SCAAB (Stockton Cyclists Are Always Bleeding) and raced in a few National Off-Road Bicycle Association events. After that, he got a job at Delta Cyclery in Stockon and upgraded to another Specialized with an employee-purchase program there. When he moved to Chico, California, Fox worked at Pullins Cyclery, founded in 1918. Now he works in radio and rides a Marin Pine Mountain 1, a bike that retails for just under $1,000. At 46, Fox still likes to ride Downieville, a classic trail in Sierra County. 
Whether you work in the industry or not, finding your entry point is still the first step to getting into adventure sports. Over the years, Fox tuned up a lot of bikes bought at Walmart, and he says there's mostly nothing wrong with that. "We'd encourage people to go ahead and buy it, but bring it here to the shop and let us do a $50 tune-up on it so that the gears shift, and the brakes work, and that kind of stuff," he says. 
"A lot of times we turned those kinds of people into new customers, and we realized that instead of chasing those kids out of the store with their department-store bikes, we should encourage them," Fox says. "We were of the school of 'Hey man, it doesn't matter how fancy the bike is, as long as you're out there.'"
Amen to that. My Diamondback sat beside my dining-room table for weeks, mostly because I didn't have a Presta attachment for my air pump. But I've since taken care of that and gotten out on the road.  
Lead Photo: Saro17/iStock