How Dean Potter Became Everyone's Favorite Wingsuited Slacklining Speed Climber
Friends, family, fellow dirtbags, and the man himself on one of the world's best aerialists
Heading out the door? Read this article on the new Outside+ app available now on iOS devices for members! Download the app.
Dean Potter, 39, is the modern master of risk-taking on rock, a towering physical specimen who speed-climbs the biggest walls in Yosemite, flies off cliffs wearing a wingsuit and a parachute, scales steep, technical rock faces without a rope, and walks on bobbing slacklines set thousands of feet above the ground—sometimes without any kind of safety device. Among climbers, he's equally famous for his king-of-the-dirtbags ethos (he's been known to live in a cave), his intense demeanor, and a rebellious streak that has made him a counter­cultural icon, irritating some and inspiring many more. Potter was married in 2002 to fellow climber Steph Davis, from whom he divorced last year, and these days lives just outside Yosemite Valley with his dog, Whisper. For our oral history, former Climbing editor Matt Samet spoke with family, friends, and the man himself to get a glimpse of a life lived way over the edge.
Dean Was Trouble from the Start
Potter began climbing in 1988, at 16, doing most of his apprenticeship near his home in New Boston, New Hampshire, on the granite cliffs of Joe English Hill, a 1,273-foot mountain that sits on federal land controlled by a local Air Force base.
Dean Potter: In the early days at Joe English, my friend John and I climbed a lot by pushing on each other's feet and pulling on each other's hands. Later, some older guys—the Adams brothers—ran into us and said, "Damn kids, you guys are going to die!" They told us to get a harness, and they said you can't use a laundry line for climbing. We were doing top ropes with stuff we got from John's father's garage.
Patricia Dellert (Dean's mother): I wasn't aware of Dean's love of climbing until his high school years, when he was going over to Joe English Hill. I didn't know he was climbing on the cliff, because it's a military reserve, a satellite-tracking station. He was in there illegally. I thought he was just climbing the boulders below.
Potter: My parents didn't want to believe their son was 200 feet up, free-soloing. They liked to go on long walks and runs, and they would go right by Joe English. Later they'd say, "Hey, we saw someone climbing up there." They would describe what they saw, and I'd be wearing the exact same outfit. And I'd say, "Oh… Nope, wasn't me!"
Charley Bentley (early climbing partner from New Hampshire): The first few times I climbed with Dean, in 1991, I was on a different level, but he closed that gap quickly. At the end of spring, he moved to North Conway and was living in the woods between Cathedral Ledge and Whitehorse. He probably climbed every day on granite, which is a really slippery, technical rock that hones your footwork. By the fall, he was climbing 5.13's. I don't think Dean understood how shockingly fast he'd progressed.
Tommy Caldwell (top American rock climber): In Yosemite Valley in April 2004, Dean had climbed 20 feet up in a tree to spot us on this highball crack, and I was 25 feet up, getting tired. Dean's like, "Just grab me!" I reached back and grabbed his arms, swinging off him. You wouldn't usually leap off a boulder and grab somebody who's perched in a tree, but Dean is superhuman that way.
Wayne Crill (friend who in 2009 pioneered the Peyote Button, a scary, technical BASE jump on the north face of the Eiger, with Potter and another jumper, Ian Augenstein): I got to know him by BASE-jumping ­together in the Moab area around 2000 or 2001. Dean would walk barefoot everywhere. He would jump with shoes on but hike out barefoot.
Potter: Many of my hardest climbs were done with one or both feet barefoot. My feet look like hooves—like, fake-leather bottoms and funky toenails—and I scrub them with a big stiff-bristled nylon brush you'd use for scrubbing the side of your house. Even now, with snow on the ground, I'll cruise around outside barefoot to toughen up my feet.
Dean's School of Hard Rocks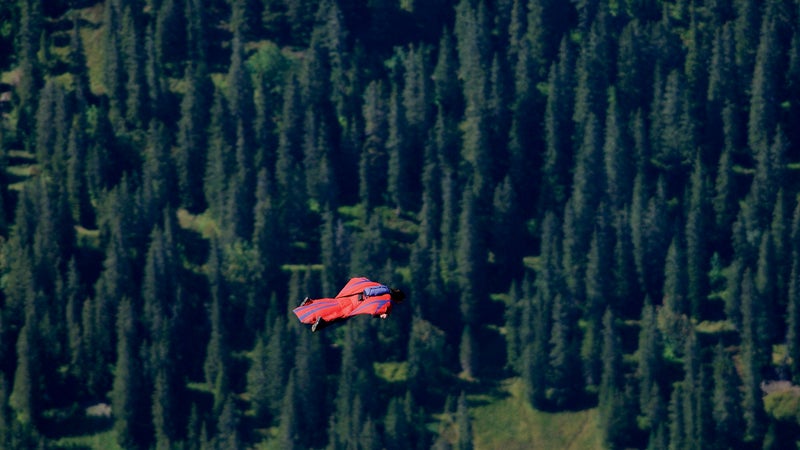 After three semesters, Potter dropped out of the University of New Hampshire and went west. He spent most of the nineties scraping by as an ­unsponsored ultra-dirtbag, usually living in or around ­Yosemite Valley (often in his van); in Hueco Tanks, Texas; Estes Park, Colorado; or Moab, Utah.
Mark Pelletier (early climbing partner from New Hampshire): In 1991, I was ­living with a friend in Missoula, Montana, and Dean came up to visit. He was living behind the couch, and we were adamant that he contribute, because we needed the cash. He got a night job at a golf-bag factory with a bunch of cranky old women who talked about what kind of underwear they were buying. He hated it. One night we're hanging out, and we hear something. I look over the couch, and Dean's hiding there. He'd had it with these psycho women. We spent the night heckling him about how he couldn't hang out with old women making golf bags.
Bronson MacDonald (early bouldering partner): He'd save every dime and then go down during winters to Hueco Tanks, the boulderer's mecca. In 1992, he was the head honcho of the climber bivouac at Pete's Country Store. Dean was extremely anal—kind of like an old hen, making sure everybody picked up after themselves.
Jim Hurst (climbing, slack­lining, and filming partner who shot footage of Potter's 2008 freeBASE climb on a 1,000-foot, 5.12+ Eiger route called Deep Blue Sea): I first met Dean when he was cooking at Pete's. I think of Pete yelling, "Dean, get the fuck in here!"—complaining because Dean was making these blueberry pancakes with piles of ­blueberries for his climbing friends. Before Dean got the job at Pete's, he was living on saltines and condiments. I think he liked mustard.
Potter: I got the job as cook at Pete's because I couldn't bear being on food stamps anymore. Basically, I worked for a $3-a-night place to sleep, plus breakfast and dinner. I ­remember sitting with my friend Jim Belcer one Christmas Eve, eating salt sandwiches, and we were saying, "Man, this is dumb—this is a salt sandwich." Now, somehow, I romanticize it. But at the time I wondered, What's gonna happen when the salt runs out?
MacDonald: In the summers, he would come stay with us in Estes Park. One time we were all sitting on the front porch, looking out at Lumpy Ridge, and a lightning storm rolled in. Lightning hit Dean's car, blew out the windshield and all the windows and fried the electrical system. Everything he owned was in it—in a sense, that was his money. And Dean was like, "I think this is a sign." And we were like, "Well, pretty much, it was a lightning storm that just came in and hit." But he totally believed there must have been a reason. I have no idea what that reason was, but maybe he's discovered it.
Dean Can Be Intimidating
At six foot five and 185 pounds, Potter has the physical presence and strength to match his demeanor. He's known for popularizing new training techniques, like slacklining, and pioneering sports, including freeBASEing (climbing without ropes with only a parachute for backup) and BASElining (highlining with a parachute on).
Potter: These days I'm training by doing my "ups" fanatically. I'm up to 1,540 exercises, about three or four times a week. It takes two to two and a half hours. I start with 20 push-ups and 100 sit-ups. Then 50 back arches, 30 squats, 20 regular curls, and 20 reverse curls. Then I do ten side-­fingertip pull-ups and ten regular pull-ups. Six sets, with as little rest as possible.
Leo Houlding (climber who, with Potter, made the ­second ascent of the dangerous Yosemite route Southern Belle in October 2006): In centuries past, Dean would've been the guy leading the charge. He is intelligent, disciplined, and committed to mastering his arts of climbing, slacklining, and flying. He is a warrior ­constantly searching for the next peaceful battle.
Alex Honnold (like Potter, a top free soloist): I first talked to Dean at the brewpub in Moab four years ago, when I was doing a bunch of his routes out there. I was mostly afraid that he was going to crush me with his ham-sized fists. He's ­intense. But he's the nicest dude when you actually talk to him.
"Chongo" Chuck Tucker (slacklining guru at Chongo­nation.com and Potter's slacklining mentor): The first time Dean tried slacklining, in 1993, he walked the whole 40-foot line. By the end of the day, he was able to mount, take steps, and turn around. Later, when Dean announced that he attributed his success to the slackline, the climbing world embraced it as a training tool.
Cedar Wright(fellow Yosemite climber and, with Potter, former member of Yosemite Search and Rescue): Dean used to set up these long slacklines 10 or 12 feet off the ground in the trees. I remember we had this 120- or 130-foot-long line. And for me, I was at my limit—one time I tried, got the wobbles, winged off, and landed on my back. I was lying there gasping, and Dean was pointing his finger at me and laughing hysterically. That about sums it up.
Hank Caylor (climber and BASE jumper): I was with Dean on his first ten BASE jumps, off the Perrine Bridge in Twin Falls, Idaho, in July 2003. He's so big that trying to outfit him with protective gear was like trying to squeeze a giant orangutan into a helmet. Nobody makes gear that fits him. You can see a video of 100 people jumping, and you can tell which one is Dean. He looks like a perfect X, just grabbing the air with his hands and feet.
Dean Is Mental (In a Good Way)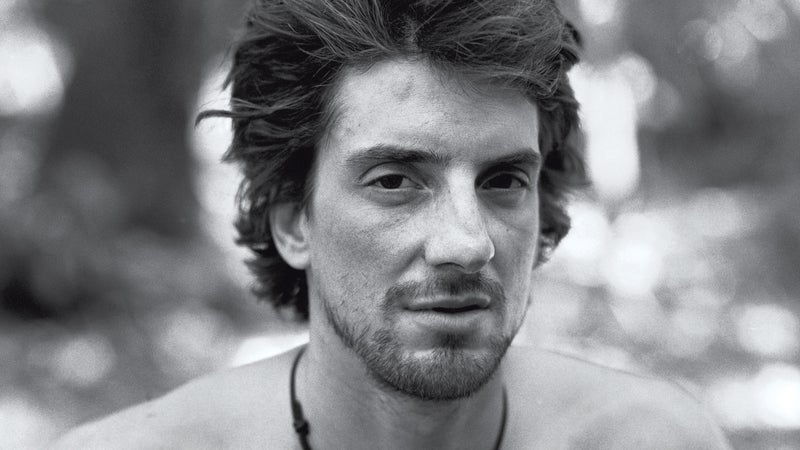 Potter's preparation for performances like his Deep Blue Sea climb involve what many describe as a preternatural ability to focus—along with the mood swings that can ­accompany this gift.
Potter: For two summers, I lived up on the Eiger for close to 40 days. It was in a tent under this overhang near the start of Deep Blue Sea. I would drink the water that dripped from the ceiling. It would be drip, drip, drip, and two hours later your water bottle would be full. I was sleeping in my tent, waiting for the clouds to part, meditating for big portions of the day, doing yoga to stay limber, and just watching the swirling clouds and living like plankton on that rock.
Peter Mortimer (founder of Sender Films, which has documented many of ­Potter's exploits): Right before he was about to freeBASE the Eiger, you could see he was in an almost altered state. His eyes were distant, and he was breathing deep. He did this sort of a shaking thing—ullullullullull—and you could tell that this guy had transformed his body and mind into the world of doing this climb.
Wright: Dean can be one of the most hilarious, fun-to-be-around people, and then the next minute can be a very dark, intense individual. He's had some nicknames. He used to be Mean Dean because he had a reputation for being a little aggro. And then he was Scheme Plotter because he always had some crazy, wild exploit he was planning. Now they call him the Dark Wizard.
Sean Leary (Potter's partner in setting the November 2010 speed-climb record on the Nose, a 2,900-foot climb on Yosemite's El Capitan): The first time we speed-climbed the Nose, in September 2010, we were sitting there waiting for it to get light out, and I'm spouting off about other stuff, kind of nervously. Dean's just quiet, then he says, "I'm focusing on the Nose." And that's it. I thought: Oh yeah, good point. Let's focus on the Nose.
Nick Rosen (partner at Sender Films): I was at the top of the Nose filming Dean and Sean when they broke the record. First Dean comes up. He said later he thought he was sprinting, but he was just shuffling. And then Sean comes up, making this inhuman panting. I go find Dean, who's collapsed behind some boulder, unable to talk or stand up. Their legs were all bloody, and they'd burned holes in the toes of their brand-new climbing shoes.
Brad Lynch (director of The Aerialist, a 2007 documentary about Potter's feats): Dean gets into this space where he's super slothlike and it doesn't seem like he's going to do anything, but then he's able to rally like nobody I've climbed with. He can flip the switch in this amazing way.
Potter: I do turn into quite the sloth. I'm saving every last bit for the send, and often I won't talk. I go into a ­meditative bubble. Everything I eat, I'm imagining the food dissolving and going into the right muscles. I was in a similar state in 2002 when I free-soloed Super Couloir and made the first ascent of California Roulette on Patagonia's Fitz Roy. I lived in a cave because I couldn't deal with normal inter­action. I couldn't deal if I saw fear in somebody else—if they feel it, it enters me.
Deano and the Man
Potter has had run-ins with the National Park Service, most notably in Yosemite Valley—where he's been known to BASE jump, despite the fact that it's illegal—and in Moab after his 2006 free solo of Delicate Arch, inside Arches National Park. That climb triggered new fixed-hardware regulations at Arches and cost Potter two of his biggest sponsors, Black Diamond and Patagonia.
Rosen: In Yosemite since the 1960s, climbing has very much been a way to rebel against conformity, a kind of outlaw activity. You have the national parks' very buttoned-down, conservative culture, and then you have Dean, the guy who more than anyone has inherited this legacy. He is the Outlaw King of Yosemite.
Royal Robbins (Yosemite climbing pioneer and big-wall legend): Dean's a very bold fellow with a lot of confidence, and it's well placed. He's doing things I wish I could do. There is a similar spirit, a willingness to get out there and try. It's all in the trying. That's the way I would make my mark if I were in the game today. At least, I would dream of it.
Wright: I first met him in 1998, the year I joined ­Yosemite Search and Rescue, when he was throwing crazy parties. One night we had this huge bonfire and laid plywood over it, and we had a bicycle with no pedals. Two people would grab the bike and launch somebody over the fire, and you'd just take it to the balls. We also had this little cart from the YOSAR site. Somebody was pushing Dean around in it, all drunk, and a ranger was hiding in the woods. They ran over the ranger with the pushcart—they nailed him. And then they were yelling, "Ranger!" Dean ran off and hid.
Potter: I'd be combative ­because I'd feel—and I still feel—that being free is the most important thing. But now the rangers just see this guy who has been here for 18 years, a guy who busts his ass every day practicing his art. And though I do some things that are illegal, if the rangers ask, I am honest. If I fly over their car and they have to chase me, they chase me. But if I don't rub it in their face, they don't go out of their way to hunt me.
Jason Keith (policy director for the Access Fund, a nonprofit advocacy group for rock climbers): Arches National Park responded directly to Dean's climb of Delicate Arch and banned all new anchors within days of the Delicate Arch controversy. Basically, I got called in by a park superintendent and had to make the case defending climbers in general, and then do the same in a meeting in Washington, D.C., with an ­associate director at the National Park Service.
Potter: After Delicate Arch, the Park Service slandered me—they said I harmed the rock, which I definitely did not. Despite all the slander, I didn't break any laws. They did subpoena all the companies who sponsored me to see if they'd put me up to the climb. Two of my sponsors dropped me and dropped Steph, too. It was pretty gutless. Their decision to drop her was one of the reasons we divorced.
Dean Is Lucky to be Alive
Any adventurer's life sees close calls, but Potter has walked the edge more than most.
Hurst: Basically, what he did at the Eiger involved free-­soloing with a weight on his back. One time he went up, and he had a lot of pressure on himself to do the climb. And then these clouds came in, and suddenly he's free-soloing in the clouds. If you fell, you wouldn't have any way to orient yourself—you know, which way to go when you came off—­because the visibility was only a couple hundred feet.
Leary: It was in September 2010, during our second time trying the Nose. I had put this cam in, but I must have kicked it when I went past. Dean didn't look at it—he pulled on it and it came loose. I was on a ledge up high, and the rope started whipping out. Dean fell 20 feet, hit this little ledge, started windmilling his arms, and started to fall back again. I was like, Oh shit, the unthinkable is happening! I grabbed the rope and squeezed. Dean would have fallen another 100 feet if I hadn't.
Mortimer: He's fully aware of how dangerous this stuff is. It's very calculated, and I think that informs the way he approaches these climbs and jumps.
Potter: I've been focused on solo-walking slacklines without a tether. I don't do a lot of gymnastic tricks. If I fall when I'm high up, my trick is to catch the line so I don't plummet thousands of feet and splatter on the rocks below. It's incredibly scary out there—maybe some of the scariest stuff I do.
Hurst: Dean actually has a lot of fear, a lot of thinking that goes like, "Oh, this could go wrong and I could die." He has nightmares before doing stuff. For Dean it's a process, and he works really hard at it. He doesn't have the natural ability to turn it all off.
Jimmy Pouchert (BASE-jumping mentor and partner): Mexico's Cave of the Swallows is like an open-topped, inverted, 1,200-foot ice cream cone, so huge that clouds form inside. One day in 2003, Dean and Heinz Zak had fixed a ­rappel rope, and when we were jumping they pulled it over maybe 20 feet from the wall. Up top we'd been sleeping in bags in a palapa, and it was raining a bit. Dean's rig was sticking out from the palapa, so half of it got wet. I jumped in first, and then watched Dean, a speck dropping in free fall. Just past the midpoint, he deployed his parachute. Probably because it was unevenly wet, it rotated about three times—a malfunction known as line twists. Dean was kicking and slowly unwinding from this as he came closer to the side. Just before he hit, he got out of the line twists and turned sharply away—right into the rap line. His canopy collapsed, and he grabbed the rope out of instinct. So he's 200 feet up with his canopy draped over him, clinging to a wet ten-­millimeter rope. I'm yelling, "Don't let go, don't let go!" Dean starts sliding down, and I'm yelling to tell him how far he is from the ground because he's completely blind.
Potter: When I fell in that cave, I fell into depression, and I think that's the biggest injury I've had—this post-traumatic stress syndrome. I lost so much of my willpower to go for it. Having that accident made me question my motivations. I was in a very low-energy place for at least two years afterward.
Pouchert: Dean slid all the way down and ended up as a pile of fabric on the ground. I pulled the canopy off to find him with his hands clenched in front of him and an empty stare. I said, "Let's see them," and he unclenched his hands. The friction had cauterized his wounds, so they weren't bleeding—there were just these big, deep, ten-millimeter grooves. I had been so sure that he was going to die ten seconds earlier that I planted a big wet one right on his forehead.
Dean Wants to Fly Without a Net
Potter holds the world record for a wingsuit BASE flight: an 8,900-vertical-foot soar off the Eiger in 2009 that lasted nearly three minutes. He has talked about landing a wingsuit BASE flight without using a parachute to slow himself down for landing—an incredibly risky feat that nobody has come close to accomplishing.
Pete Swan (equipment designer): I keep joking that we will see it, but that there will be a couple of dead French kids first. Dean and I have spoken at length about the idea and have some concepts.
Potter: I've slowed myself to around 65 mph downward speed, but then, when I put the wingsuit on, I fall at less than 25 mph. I've also come to this more medium speed, when I'm going about 35 mph downward and forward at about 40 to 50. I've flown by parachutes when I've skydived, and they're dropping on me, descending at a faster rate. Anybody who's seen that was like "Yo, Dean, you can land that—you were going slower than a parachute."
Crill: You could work up to it slowly—probably at glaciers and snow slopes in Europe. You could get familiar with the angles and then fly the line over and over again. And slowly get closer and closer to the surface and then eventually make that commitment.
Katie Ives (editor, Alpinist magazine): As an aerialist—Dean's term—he's creating these fleeting visions of senseless, useless, dangerous, and transcendent wonder. Dean wants to shock people out of their routines and preconceptions, to get them to feel the wildness of the world again.
Potter: Lately, I've been so fascinated with the "states between" that a big part of my concentration is on the emptiness. Visually, I can see the drifts. I've been up on top of El Cap this winter, either climbing by myself or with Sean, and the light would be perfect. I'd gaze out at the 3,000-foot drop and just see the air currents, the substance of the air.