The Ambassador
Lorie Karnath, president of the Explorers Club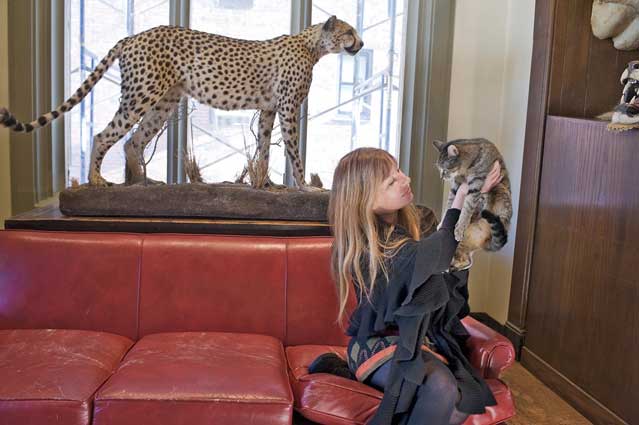 Stefan Falke
Heading out the door? Read this article on the new Outside+ app available now on iOS devices for members! Download the app.
Since 1904, the Manhattan-based Explorers Club has served as adventure's unofficial hall of fame, deciding which expeditions and explorers matter. Most of the inductees have been men: women weren't welcome as members until 1981. In 2009, Lorie Karnath, an investment banker turned philanthropist, became the second female president in the club's history. Her experience has paid quick dividends: in two years, Karnath, 50, has brought in more money than any of her predecessors. But can Karnath, the founder of an orphanage in Yunnan, China, liven up the club's old-guy image? She spoke with Outside senior editor Abe Streep about the future of the club—and how it might involve outer space.
STREEP: What's the biggest misconception about the Explorers Club?
KARNATH: Tell me what your conception is.
Maybe a little old and stodgy.
I've heard that people think it's a group of elderly men from New York, but if you meet me, that kind of thwarts that notion.
You just had your biggest event of the year, the annual dinner. How was it?
Great. You should've come. The theme was prophecy and separating scientific fact from fiction. Historically, explorers were told that if they sailed across the ocean, they would fall off the face of the earth. So it was about superstition and exploration's role in debunking that. It's an interesting idea, ­especially these days when we're having to discern fact from fiction, particularly with regard to climate change.
You decide which expeditions get funding and which don't. What projects appeal to you?
Well, we hear about the eureka experiences. Discovering Lucy propelled [Donald] Johansson to the top of everyone's understanding of who and what an explorer is. But he had been researching for decades. It's the years of devotion and ­dedication that produce ­results. I'm not taking away from some of the younger explorers who are doing things that are very high on adventure. Their work is valuable, too, but it doesn't perhaps add to our body of knowledge.
How does an investment banker become a member—then the president—of the ­Explorers Club?
On Wall Street in the eighties, a lot of people were interested in bonuses. I was interested in time off for expeditions. I did a program with Operation Raleigh, which Prince Charles founded, in the Borneo jungles. We climbed Mount Kinabalu, where a large percentage of the world's orchid species are, and did some studies along the way. The army captain I was climbing the mountain with had some problems, and in the end I was carrying not only my supplies but his supplies. At the top, someone said, "How did you train?" I said, "I trained in the jungles of Wall Street." I became a member of the Explorers Club in 1989.
What do you see the club doing in 50 years?
I think about this a lot, and not even 50 years from now but today. The club plays the role of a hub for the global—and, eventually, beyond global—network of explorers. Explorers tend to work in an isolated manner. We offer a neutral platform, a means to share results without concern for borders or competing governments.
Wait—beyond global?
Well, I think as we go into space…
Which of your members are going into space?
We have quite a few members who are astronauts. But what we're looking at now is increasingly how we'll use space going forward. We have Richard Garriott, who's looking at space travel as a logistical option. Just like I think more and more we're going to see work in the oceans—both of these as alternative habitats.
Do you think that's realistic?
I do. I think what happens on earth might decide how quickly it becomes realistic. I just think it's good planning, nothing more than that.