Axe Man
You've chopped wood, but never like this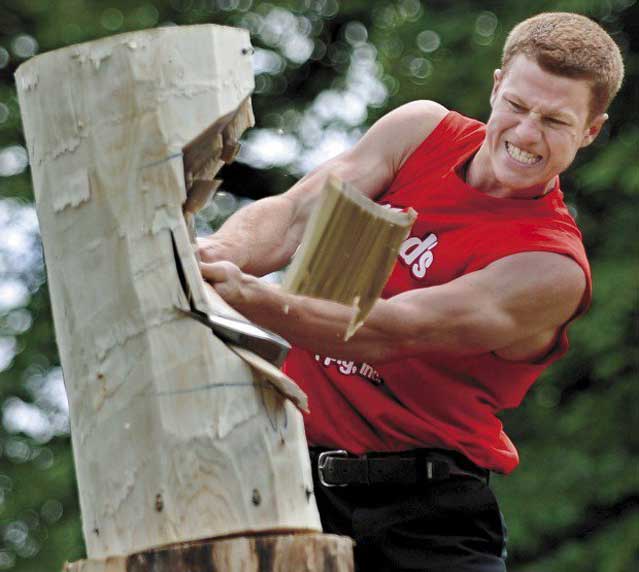 Heading out the door? Read this article on the new Outside+ app available now on iOS devices for members! Download the app.
Over three days in late July, 110 professional lumberjacks rolled through Hayward, Wisconsin for the 52nd-annual Lumberjack World Championships. Competing in 18 events, from a standing block chop to a 90-foot scramble up a cedar pole, 59 men and 51 women hacked, sawed, and climbed their way to a prize purse worth $50,000. Among the masses, Stirling Hart, of Vancouver, British Columbia, stood out as one of the best all-around athletes. He didn't win any events, but he placed in three. We caught up with 5-foot, 8-inch, 170-pound, 22-year-old professional lumberjack to find out how he ekes out a living.
Stirling Hart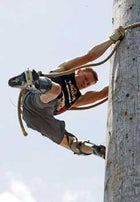 Stirling Hart in the pole climb.
19.64: Seconds it took Stirling Hart to scale (and descend) a 90-foot pole, using spurred climbing shoes and a steel-reinforced rope, in 2010—a world record.
26: Seconds it takes Hart to chop through a 12-inch diameter cedar log.
30: Axes in Hart's quiver, each for a different type of chopping. "It's like a golf bag," he says.
$500: Cost of Hart's most expensive axe, from Tuhati, New Zealand.
$20,000: Amount Hart estimates he has invested in equipment.
$5,000: Cost of Hart's yearly travel to events and competitions.
0: Number of corporate sponsorships that help Hart cover his costs.
8: Age at which Hart joined his first professional lumberjack competition—against grown men. "I got my butt kicked for the first 10 years," he says.
3: Shows Hart performs per day, seven days a week, six months a year, for an entertainment gig at Grouse Mountain in Vancouver, where the lumberjacks are mic'd up and tell jokes.
20: Other exhibitions—of up to 14 days each—along with 10 competitions, that Hart enters each year.
5: Times Hart has gone to the hospital for a lumberjack-related injury.
$0: Cost of his most frightening injury, when a 6-pound axe with an 8-inch blade fell on his face after a springboard competition, leaving a 5-inch gash from just below his right eye to his mouth. "Luckily, I had insurance," he says.
$100: Yearly cost of Hart's insurance. "I've broken my feet a few times, just coming down the tree and landing funny, but never had to pay anything out-of-pocket," he says. "That's when it's good to be a Canadian."