Battle of the Big Swinging Picks
In the heart of New York City, a power struggle is under way at the century-old Explorers Club—with claims of tyranny aimed at Lorie Karnath, the current president. She says her detractors are mired in the past, and in a fight this rough, somebody isn't coming back alive.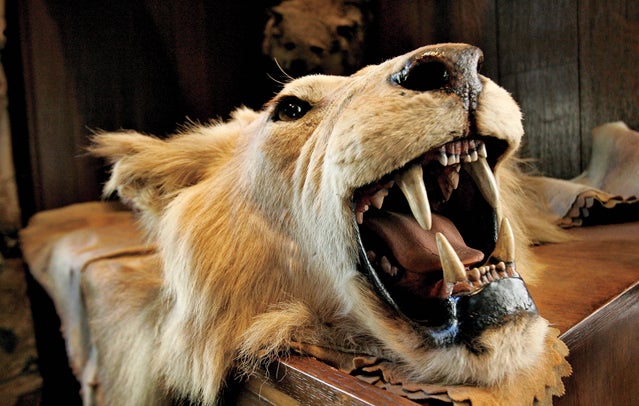 Heading out the door? Read this article on the new Outside+ app available now on iOS devices for members! Download the app.
ON OCTOBER 14, 2011, the board of directors of the Explorers Club, the 107-year-old adventurers' fraternity, gathered at an upscale establishment in St. Louis called the Racquet Club. One of the meeting's purposes was to select the winner of the annual Explorers Medal, the club's highest honor, which in the past had gone to legendary figures like Roald Amundsen and Sir Edmund Hillary. Before voting, the board's 16 members would be given a list of finalists compiled by the Flag and Honors committee, an appointed group that bestows most of the awards and includes explorers like Don Walsh, who in 1960 teamed with Jacques Piccard to make the first and only submersible descent 35,789 down to the bottom of the Mariana Trench.
Lorie Karnath

Lorie Karnath
Board member Josh Bernstein

Board member Josh Bernstein
Honorary president and Karnath rival Don Walsh

Honorary president and Karnath rival Don Walsh
By the time the board convened, one member already knew the names of the finalists: president Lorie Karnath, a 52-year-old German businesswoman who took the club's helm in 2009. As president, Karnath sits on both the board and the Flag and Honors committee. The night before the meeting, she'd spoken with Flag and Honors vice president Constance Difede, asking for the finalists' names. It was an unusual request—committee members vote in secret, and in the past only the VP had seen the list of finalists. But no rule was being broken, so Difede shared the names.
What followed was a shock: Karnath proposed that the board move into a closed session and, together with another director, accused the Flag and Honors committee of bias. She was followed by Fred McLaren, a 79-year-old club member and former Navy submarine commander who had mapped parts of the Siberian coast in 1970 and has long coveted the Explorers Medal.
McLaren argued his case with résumé in hand and, according to some officials, made it clear that he had knowledge about the committee's deliberations—even going so far as to reference Walsh's confidential reservations about McLaren's bona fides. (The committee had recommended that the medal go to Philip Currie, a leading Canadian paleontologist.) McLaren also accused Walsh, who is the club's honorary president—a title conferred on him in 2008 as a sort of lifetime achievement award—of using favoritism to bestow a lesser honor on a friend, a charge the board didn't pursue.
"The Flag and Honors committee is like the Supreme Court," says David Concannon, a scuba diver and former committee member. "It's the group that makes sure the club remains true to its principles. If you're going to give someone an award today, they better be up to the same standards as Robert Peary was a century ago. Fred showed up with his résumé, and with knowledge of the internal communications regarding his nomination, and proceeded to blast the committee."
It was no secret that Karnath and McLaren were close. He often advised her about club business, and she occasionally referred to him as "my guardian angel." Several board and committee members, including Concannon, suspected that Karnath had leaked committee e-mails to him, a charge that both McLaren and Karnath deny. According to the president, "I didn't lobby for him at all. I played no part in him getting his medal. He wasn't nominated by me."
Still, whatever McLaren did, it worked. In a majority vote, the board eventually decided to award two Explorers Medals: one to Currie and another to McLaren. Both are scheduled to be handed out March 17 at the club's annual dinner, a big-ticket event at the Waldorf Astoria hotel that coincides with the club's annual presidential election. Asked about the unusual decision to award a joint medal—it's happened just seven times before—Karnath says, "Our problem is not that we're awarding a medal to someone who doesn't deserve it. Our problem is we don't have enough medals for people who deserve them." 
For some, the episode was a breaking point. A number of club officials had been upset with Karnath for a while, stewing over what they call a capricious management style that has alienated members and sponsors alike. Karnath's critics—including Walsh, Concannon, and board member Josh Bernstein, a former host of shows on History and the Discovery Channel—decided that she'd gone too far, threatening the integrity of the institution. According to officials, Karnath later asked Difede to reveal how each member of the Flag and Honors committee had voted—a charge Karnath denies.
On December 3, 10 of 12 committee members—everyone but Karnath and her husband, Robert Roethenmund, a Berlin real estate developer—threatened to quit in protest if the president didn't address their concerns. Karnath promptly accepted their resignations, the start of a months-long feud that would grow to include tabloid stories, competing allegations of tyranny and jealousy, and a power struggle that could culminate at this year's election. 
"We were essentially fired for standing up," says Concannon, who has left the club entirely. "What she did to the Flag and Honors committee was disgraceful. She's rewarding her political cronies with medals.
"The bottom line," he says, "is that the Explorers Club brand has been cheapened."
THIS ISN'T THE FIRST power struggle at the Explorers Club. Founded in Manhattan in 1904, the club served as a hub for gentleman adventurers during the golden age of modern exploration. The first president, Adolphus W. Greely, led the 1881 Lady Franklin Bay Expedition to the Arctic, which ended in a new farthest-north record as well as multiple deaths by starvation among Greely's support team. According to club lore, the second and third presidents, rival Arctic explorers Frederick Cook and Robert Peary, sometimes got into fights at board meetings.
Back then, the club was the pinnacle of the American adventure scene, and it had global influence. Peary, Amundsen, Hillary, Ernest Shackleton, and Charles Lindbergh were all members. The iconic red, white, and blue Explorers Club flag accompanied several important expeditions well into the middle of the 20th century—with Thor Heyerdahl in 1947 on his Kon-Tiki expedition and into space in 1970 with the Apollo 13 astronauts. 
In the 1970s, with virtually all the world's firsts bagged and tagged, the club began to slip from prominence. It had a calcified image, partly because it didn't admit women until 1981. These days, its $175,000 expedition budget pales in comparison with companies like the North Face and organizations like the National Geographic Society. Top adventurers like alpinist Conrad Anker and kayaker Scott Lindgren have let their Explorers Club memberships lapse. Even now, however, the iconic flag has cachet: carrying the red-and-blue on your first ascent in the Himalayas can translate into backing from corporate sponsors like Eddie Bauer. 
Now the nearly 3,000-member Explorers Club has 19 chapters in the U.S. and six more around the world, from Poland to China. Slightly more than half the club's $1.5 million annual budget comes from membership dues. Not just anyone can get in—you have to be nominated by a current member—but you don't have to be Edmund Hillary to join up, either. Many on the rolls are wealthy travelers. All elected and appointed positions, including the president, are voluntary. The average age is 65, giving real meaning to the phrase old boys' club.
Karnath, it should be noted, is not the first president to butt heads with the club's healthy egos. In 2002, Richard Wiese, a former model and TV host, was elected president—at 42, the youngest in club history—partly to freshen up the place. Among other changes, Wiese revamped the club's financial structure to attract corporate sponsors. Wiese declined to comment for this story, but in 2006 he told Outside that it had been "an absolute dogfight to take some of these people kicking and screaming into the 21st century."
When Karnath was elected, in 2009, she became only the second female president in club history, and part of her mandate was to proceed with modernization. Defending her tenure, Karnath points to a refurbished Manhattan headquarters, a new website, and a 20 percent increase in membership since 2008. Most significantly, though, she says she's raised buckets of money from corporate sponsors, stabilizing a financially tenuous organization in the midst of a recession.
"I'm thrilled with this president," says Jeff Blumenfeld, the club's director of communications and editor of Expedition News. "Years ago there'd be pots and pans out to catch rainwater in the building. This president came in and worked exceptionally hard to raise money to renovate it."
The child of globe-trotting parents, Karnath joined the club in 1989 and was elected to the board in 2006. Her adventure bona fides were modest compared with, say, Walsh's: a plane-hopping expedition to the North Pole, a trip to establish a white-stork sanctuary in Germany, a survey of flora and fauna in Borneo. What she had instead was extensive experience as an investment banker at firms like Credit Suisse. The fact that she was only 48 when she was elected also helped. The board has reelected her both years since she became president—and no one has even bothered to run against her.
"I've raised the money," Karnath says. "I've increased the membership numbers. I've done all this in a very short amount of time. This whole story is really about transition. We're transitioning into the 21st century. Some people adapt to change faster than others."
She framed the Flag and Honors episode as a temporary flap, saying that all committee members had been invited back to their posts—but also noting that a little turnover might be good for the place. "Some of those people will be staying on that committee," she says, "and some will be leaving."
According to her supporters, she's a strong leader who gets things done and ruffles a few feathers along the way. "We do have a couple of people who have trouble having a female boss," says McLaren. "Particularly one that's attractive, articulate, and capable. None of this would be a problem if some of these men would spend two weeks in a boot camp and learn something called respect."
THE ST. LOUIS FIASCO was only the beginning. On December 20, someone tipped off a New York Post reporter that the club had censured and fined Josh Bernstein, who allegedly had accepted high-priced sponsor tickets from Rolex and Eddie Bauer to two galas, including the club's 2011 annual dinner. (Members paid $375 to attend the March dinner; a seat at the Eddie Bauer table, where Bernstein sat, ran more than $1,000. Bernstein paid $375, and his wife, Lily Snyder, paid nothing.) The story described a feud between Bernstein and Karnath for control of the club. Ken Kamler, a board member and microsurgeon who aided victims during the 1996 Mount Everest disaster, was quoted as saying, "Josh is a real explorer, and Lorie Karnath is not, and she is threatened."
Some club sponsors were furious to see their names in a tabloid: the day after the Post story ran, the CEO of one sponsor wrote a scathing letter to Karnath and the club's leadership. Another sponsor wrote an e-mail supporting Bernstein, who has been prominently involved in the club since his TV career lost steam in 2008. He and Karnath have repeatedly clashed over his desire to use the club's headquarters for photo and television shoots; the previous president, Dan Bennett, let Bernstein film in the building without paying the club's usage fee, and Bernstein chafed when Karnath demanded that he file proper paperwork. While Bernstein denies eyeing Karnath's job—he told me he's not running for president this year—he did respond to the charge that he accepted improper gifts. 
"I was acting in the best interests of the club," Bernstein says. "I was invited by the sponsors of the club. It was never raised as a potential conflict until Lorie made it one."
Asked about Bernstein, Karnath said, "I welcome a voice of dissent. Not everyone has to agree with me. But if you are a contributor to the club, then criticism goes a lot farther."
Karnath's lawyer, Benjamin Hulsey, the club's legal co-chairman, was less guarded in his response. "I think Josh Bernstein wants to be president, and he thinks instead of working hard and doing what you usually do, he'll shortcut it by denigrating the existing president," he says. "Ken Kamler just can't deal with a strong, smart, pretty woman. I think that's exactly what's going on here."
The fallout from the Post story was severe. Bernstein and three other board members—Kamler, Difede, and Jim Clash, a writer for Forbes—united in opposition to the president. Another camp rallied around Karnath. An e-mail war that had been brewing for weeks intensified. The head of a Florida chapter, a Karnath booster named Jim Thompson, called her critics "perps" and "cur dogs."
On a cold afternoon in early January, I met with a high-level Explorers Club official at a restaurant in Manhattan. This person, who asked not to be named, was worried that his cell phone was bugged. During our conversation, he kept glancing anxiously at an older woman several tables away, fearing that she could be a Karnath spy.
"I've never seen anything like the way it is now," the official said. "If you ask a simple question, you're immediately thrown before the ethics committee or slammed down. What happened with Josh was a monkey trial."
The official made charges of micro-management and vindictiveness that I heard repeated by six current and former club members. Others, who didn't comment, have also had spats with Karnath in the past. In 2010, Kristin Larson, a board member who worked on legal matters—and who wouldn't comment for this story—claimed Karnath repeatedly stymied her attempts to obtain financial information. "She treated my inquiries as hostile acts," Larson wrote in a letter to the board. She resigned soon after—according to Karnath, due to an unrelated matter. Angela Schuster, editor of the club's flagship publication, the quarterly Explorers Journal, says that Karnath has even started decreeing the theme of each issue. (The latest: microscopes.) Karnath maintains that she's merely helping offset the journal's overhead by making it more palatable to advertisers.
These are hardly impeachable offenses. More serious charges include a lack of transparency and questionable judgment. In 2010, according to one club official, the king of Morocco donated to the club 12 all-expenses-paid tickets to a religious festival in his country, with the tickets to be auctioned off at a benefit. But, the official says, the tickets were never auctioned; instead, half of them went to club members, and Karnath kept a few for herself, her husband, and friends. Karnath denies this, saying that the tickets were never officially donated and that she attended the festival as a guest of the Moroccan tourism bureau.
According to some members, Karnath has been guarded about the club's finances, and there are whispers that she may have inflated her accomplishments. Bernstein is dubious about Karnath's claim to have boosted club membership. In January, he told me that Karnath had not been removing members who weren't paying dues or who had passed away. The rolls, in other words, were stocked with deadbeats and the dead.
Karnath disputes this and says she's led the effort to cleanse the rolls while increasing the number of actual, paying members. Blumenfeld backs her up. "Lorie launched a campaign to call each member, and as a result, 290 inactive members were eliminated," he pointed out in an e-mail. He also noted that member dues have increased under Karnath's tenure, from $776,112 in 2009 to $819,435 in 2011.
Then there are the fundraising claims. "By our calculations, the president has raised perhaps $562,000," says Bernstein. "Karnath says it was $1 million to $1.2 million. Our repeated requests to be given a detailed breakdown of this amount have so far been ignored." 
The club is a tax-exempt nonprofit with publicly available records. According to filings, the organization's income has varied widely in recent years, from more than $2 million in 2007 to just over $1 million in 2008—and $1.8 million in 2009, Karnath's first year as president. But the records don't show where every dollar goes. One concern voiced by Karnath's critics involves a $300,000 donation made in 2008 by a now deceased club member. The money was pledged under Karnath's predecessor, Dan Bennett, and after Karnath took office it was transferred to a building-renovation fund. Karnath's critics complain that the president has since taken credit for raising all of the money in that fund. Her defense: while the $300,000 was promised under Bennett, it arrived during her tenure, and she merely allocated it to a pressing cause. The club's treasurer, Mark Kassner, backs her, saying the board approved the transfer of the donation. "Any suggestion of impropriety," Kassner says, "is part of an unsubstantiated smear campaign."
SO WHICH IS IT? Is Karnath a vindictive dictator or the target of a petty witch hunt by a hopelessly dated rebel alliance? One thing's certain: this isn't the first time her management style has caused a stir. In 2004, Karnath was hired to shore up the finances of the Dahlem Conference, a prestigious scientific gathering in Berlin launched during the cold war. Sponsored by the Free University of Berlin, the Dahlem Conference was held several times a year and featured top scientists discussing heady topics, like the "Genetic and Cultural Evolution of Cooperation." As the new century dawned, though, the organization found itself on shaky financial ground, and it brought in several German entrepreneurs and businesspeople, including Karnath, to secure funding. Within a year, the organization had imploded.
According to Randolf Menzel, a neurobiologist and former chairman of Dahlem's 12-member scientific advisory board, the university appointed Karnath to the board without its consent. The committee, which included a Nobel laureate and two Guggenheim fellows, was outraged by the intrusion, especially when Karnath proposed her own idea for a workshop. Program director Julia Lupp, who declined to comment, objected that Karnath was out of bounds. Soon after, the university removed Lupp from the board, and rumors began to swirl that Karnath was involved with her ouster. 
"Karnath saw Julia as an impediment to whatever her plans were," says Norbert Baer, a research professor at New York University who also served on Dahlem's board. Karnath denies having anything to do with Lupp's departure, and Wedigo de Vivanco, the Free University's dean of international affairs, supports her claim, calling Karnath's role in the incident "coincidence" and saying that Lupp was removed as part of a larger upheaval. In any case, Lupp's firing provoked fury: 10 of the 12 scientific committee's members threatened to resign, and the university was inundated with letters of protest from scientists around the world. Following an investigation, Lupp was cleared of wrongdoing and reappointed. Karnath left the university after the conference was restructured. Asked about Dahlem, Karnath said, "The university wanted it to change. That's what I do. I go in and make change and move things forward."
In person, Karnath doesn't come off as mendacious. She was friendly when we met at club headquarters in January, a time when the infighting had reached absurd levels. Clash and Kamler—two of Bernstein's cohorts on the board of directors—were under review by the ethics committee for speaking to the Post. I'd become something of a sounding board for the fight, my inbox filled with vitriolic e-mail from both sides. At one point I received an envelope containing internal club documents, with a return address bearing the name John Drake—the secret agent in the 1960's British spy show Danger Man. I got the feeling that the anti-Karnath crowd was attempting to air its grievances—and possibly force the president's ouster—through the media.
Karnath seemed oblivious to the maelstrom as she led me past a stuffed polar bear and up to her office. She spoke about her accomplishments for 45 minutes. When I asked about the Bernstein and Flag and Honors spats, she dismissed her critics as a band of malcontents. "It's a small group of people with an agenda. The vast majority of the club, we want to continue our work and be productive," she said. "If this story ends up being negative," she continued, eyes welling with tears, "then all the work I've done is damaged."
During our interview, a board member and underwater photographer named Anne Doubilet breezed into the office in a fur coat and handed me a printout. "That should about cover it," she said, and left. The paper contained a rundown of Karnath's best qualities. "Every once in a while if we're lucky in life," it read, "it seems the planets and stars align in the universe to produce a most advantageous and auspicious time when things just come together. With Lorie Karnath as our president and all her hard work, I think this is one of those moments for TEC."
Needless to say, not everyone feels that way. Soon after my visit, on January 27, a top-level meeting was held at club headquarters. Karnath was in attendance; so were Constance Difede, the Flag and Honors vice president, and most members of the board. The idea was to clear the air. But things went south when Difede took the floor. She had been a staunch Karnath supporter prior to the St. Louis incident, and though she'd been reinstated to her post, she was still bitter.
"You have destroyed so many people in this club," she declared. "I would not trust you to hold my belay rope." She proposed that Karnath be immediately removed as president. For her part, Karnath later told me, "The intent of the session was to look for proactive ways to move forward. Unfortunately, Constance was not able to follow the intent of the program." And what's the program? "It's about change," she said. 
THE NEXT ELECTION is March 18, the day after the annual dinner. While Karnath hasn't confirmed that she's running, she's done little to dissuade the notion. "I've invested a huge amount of my personal self into this, and I want to make sure that's protected," she told me. "I don't want to see anyone tear it apart."
To enter the election, members must submit their names and qualifications to the club's nominations committee, which passes a short list on to the board of directors for a final vote. There's some concern about the impartiality of this process, though. Soon after the medals blowup in St. Louis, Karnath appointed a new chair of the nominations committee: Fred McLaren.
"I believe it's a quid pro quo," says Concannon. "I don't think it's a coincidence that he gets the Explorers Medal with the strong help of the president and then he's nominated to be head of the nominating committee." Multiple members have threatened to boycott the dinner, which promises to be more eventful than last year's, a Maya-apocalypse-themed affair that featured fog machines, dancers in faux loincloths, and a live panther that appeared to have been drugged.
If Karnath does run—members can announce their candidacy up until the day of the board meeting—it's unclear who would oppose her. Multiple sources told me that Don Walsh might enter the race to take down his foe, pointing to a letter he sent to club leadership in December, in which he hinted at the possibility and seemed to take the high road about the organization's troubles. "Information about several of these problems has now gone beyond the boundaries of our membership," he wrote. "This is really unfortunate, and we will not be able to stop it. The best remedy is to clean up the mess." But even Walsh wasn't above a bit of backroom plotting, as evidenced by a later e-mail to another Flag and Honors member, leaked to me by a Karnath supporter. In it, Walsh, who declined to comment for this story, admitted that his threat to run had constituted "a Machiavellian maneuver." His real goal, he wrote, was "to buy time so Lorie's 'reappointment' is not a slam dunk."