Behind the Scenes at Ground Zero for the World's Wingsuiters
Every summer, the world's best wingsuiters and BASE jumpers gather in Switzerland's Lauterbrunnen Valley to have the best times of their perilous lives
Heading out the door? Read this article on the new Outside+ app available now on iOS devices for members! Download the app.
"A lot of people call this the Disneyland of BASE jumping," Scotty Bob Morgan said as he and Kat Donahue kneeled on a blue tarp and packed their parachutes last August. It was the heart of jumping season in Switzerland's Lauterbrunnen Valley, and after several days steeped in the scene—its beer-blurred nights, long hikes, and dizzying heights—I was beginning to understand his point.
The skies hummed with cable cars, wingsuits, and colorful canopies dropping like confetti from sheer 2,000-foot cliffs. On the ground, crashing waterfalls drowned out fleets of buses unloading tourists at the Stechelberg cable car station for a ride to Piz Gloria, a restaurant at 9,700 feet. Once the mountaintop lair of James Bond's nemesis in the 1969 film On Her Majesty's Secret Service, the space-age building is now a rotating restaurant offering sweeping views of the Eiger, Mönch, and Jungfrau peaks, all icons of this BASE-jumper's paradise.
"It's culture shock for a lot of people here," said Morgan, a compact, hyperkinetic 31-year-old who is YouTube famous as one of the world's leading wingsuit pilots. (See "the Beehive Line.") At the time, we were downing beers and burgers at the Basepoint Café—a funky bar and restaurant owned by a French jumper named Fabien Clerc, where wingsuit videos play on a flat-screen TV and posters of the valley's famous jump sites line the walls.
Whether you have built your entire life around BASE, like Morgan, or just aspire to, chances are you will make a pilgrimage to Lauterbrunnen eventually. Jumpers come from around the world for the cliffs and the cable cars and trams that carry them to scores of exit points, where they launch. (The local tourist office estimates that more than 20,000 jumps were made in the valley in 2016, up from 15,000 in 2010.) They come for the license to jump without breaking the law. (Which is not the case in many jurisdictions, including the Yosemite Valley in California and other territories under the National Park Service's purview.) And in an often antisocial and clandestine sport, they come for fraternity. (There are now three bars and restaurants in town with a BASE theme.)
They made their way onto a metal grate platform extending from the ledge like a pirate ship's plank, then plunged 2,360 feet to the valley below.
"If you're feeling isolated at home, you come here to be part of the community," said James Yaru, a jumper from Twin Falls, Idaho.
Morgan and Donahue, a petite 35-year-old from Brooklyn who worked as a location scout for Hollywood productions, were among some 100 people who had come on August 1 for Swiss Day, a national holiday that jumpers have adopted as a hybrid between Halloween and the Fourth of July by combining costumes with fireworks. Taking place at a time of year when valley weather is most reliable for jumping, it is a highlight of the BASE calendar and a chance to see who is still participating in a notoriously perilous sport.
Visitors to Lauterbrunnen are reminded of how dangerous BASE can be by framed portraits of dozens of dead-but-not-forgotten jumpers hanging on the walls inside the Horner Pub. Up the valley, where Morgan and Donahue packed their chutes, flowers and votive candles surrounded a memorial boulder, plaques bolted to its sides in tribute to more of the deceased.
With their gear fixed, Morgan, Donahue, and I crammed into a cable car and disembarked at Mürren, a fairytale village on the edge of a half-mile-high cliff. The destination: High Ultimate, a notorious exit point steps from the cable car station and the town's tennis courts, cafés, and hotels.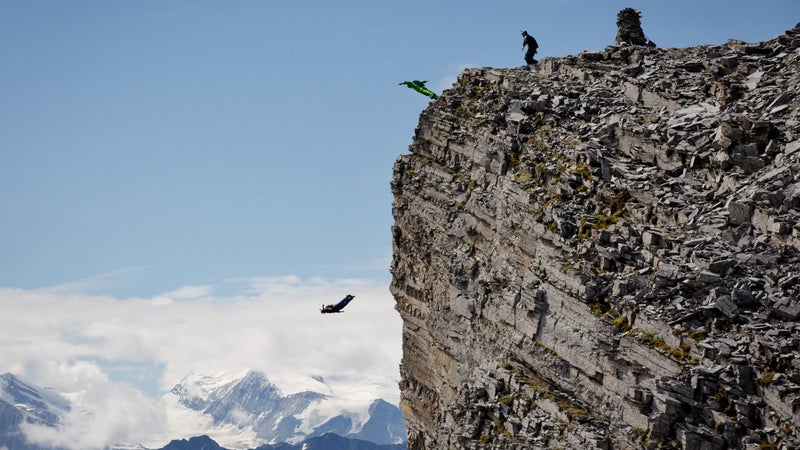 Jumpers geared up, donning parachute harnesses, helmets, and GoPro cameras. A call on a small handheld radio, placed and maintained onsite by the Swiss BASE Association, ensured that the Air Glaciers helicopter, paragliders, and other jumpers wouldn't be in the same air space. Mere feet from tourists clutching cell phone cameras, Morgan and Donahue made their way onto a metal grate platform extending from the ledge like a pirate ship's plank, then plunged 2,360 feet to the valley below.
---
Morgan was a 23-year-old Marine Corps aerial combat photographer, on a two-week leave from a 13-month deployment in Iraq, when he first visited Lauterbrunnen in 2009. He headed straight for the Horner Pub, a BASE hangout with lodging upstairs for about $40 a night. Inexperienced, with fewer than 50 jumps, he introduced himself to John Van Horne, a respected jumper from Denver. "John basically convinced the group to take this kid that they'd never met to Yellow Ocean, the safest jump in the valley," recalled Morgan, describing a typical entrée for newcomers.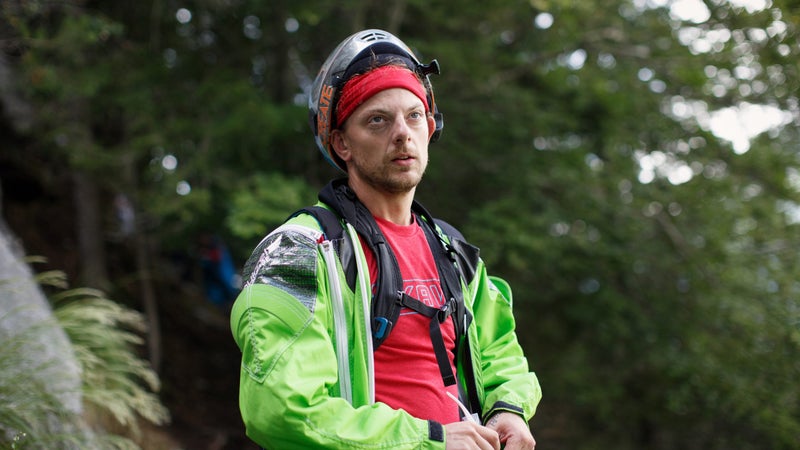 Jumpers discovered the Lauterbrunnen Valley and its big walls in the late-1980s. While it is legal to BASE jump in Switzerland, there are still rules. The Swiss BASE Association requires jumpers to buy a landing card for 25 Swiss francs (about $25), the majority of which helps compensate farmers for lost silage when grass gets trampled. In 2015, valley farmers split approximately $11,000, the equivalent of dues from more than 400 jumpers. Other rules require jumping only at marked exits, having an appropriate level of experience for each exit (which range in difficulty from intermediate to expert), and respecting the airspace of paragliders and Air Glaciers helicopters ferrying skydivers and sightseers to altitude.
"People want to talk about death. I like to talk about how we live. All my friends and I live every day."
Enforcement is lax, though, and jumpers rely mainly on self-policing. "The community is very tight worldwide," said Brian Mosbaugh, a 32-year-old climber, highliner, and BASE jumper from Moab, Utah, who was in Lauterbrunnen for Swiss Day. "When people act out, people are good at putting them in their place."
Konrad Suter, guard chief of Lauterbrunnen's police force, told me, "We have no hippies, no criminals like in Yosemite where they run after them. We have no problems."
Yet conflicts have flared. In 2011, newspapers Der Spiegel, in Germany, and Berner Zeitung, in Switzerland, published stories about locals fed up with jumpers landing in farmers' fields, flying too close to cable cars, and falling screaming to their deaths in view of schoolchildren. A few locals even wanted the activity banned.
Tensions persist, according to Chris McDougall, a renowned Australian jumper known as "Douggs," who lives in Wengen and acts as a liaison between the BASE community and locals. He said cavalier attitudes toward safety and disrespect for the environment are the chief problems. "People don't understand how lucky they are to be BASE-jumping here," Douggs said. "We're the scumbags of the valley."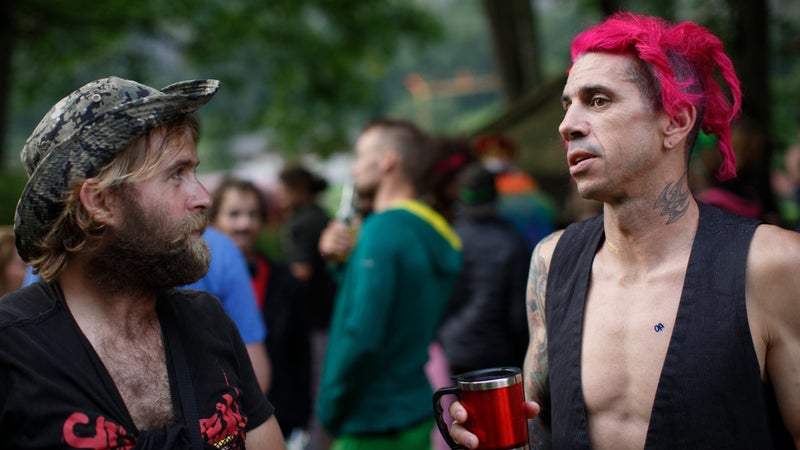 Although there are no reliable figures on the number of active jumpers worldwide, informal polling suggests between 500 and 2,000, a few hundred of whom fly wingsuits. Their increasingly robust presence in Lauterbrunnen has helped put the town of 2,500 on the map.
"They come in bunches," said Mark Nolan, who owns the Hotel Oberland and a few restaurants in town and employs several jumpers as wait staff, cooks, and maintenance workers. "They are good for business. They spend money. But they die, too."
More than 50 jumpers have been killed around Lauterbrunnen over the past 30 years. (Xaver Bongard, a Swiss climber world-renowned for his big-wall ascents, was first to die in 1994, the result of a parachute malfunction.) 
Dr. Bruno Durrer is the valley doctor. He tends to fatalities and treats the injured. "BASE jumping is part of our tradition in the valley," he explained. "You have seven to eight people dying in the valley from mountaineering [each year]. If you do outdoor sports, you have more risks than if you are collecting stamps."
Still, 2016 had been shaping up as an especially deadly year worldwide. For Morgan, the carnage began in January, when his best friend, 29-year-old Mat Kenney, was killed in a crash while flying his wingsuit among the spires and sandstone slots of northern Arizona's Paria Canyon. In June, Van Horne—Morgan's 42-year-old former mentor—plummeted to his death in a snowfield after launching with a wingsuit from 8,000-foot Le Brévent, a mountain above Chamonix, France. Both men were among the most experienced wingsuit BASE jumpers in the world.
No one risks their necks for the money. Morgan works as an itinerant skydiving and BASE instructor, stunt coordinator, and wingsuit test pilot. He keeps some belongings at a friend's place in Irvine, California, and sleeps on couches or floors wherever he happens to be.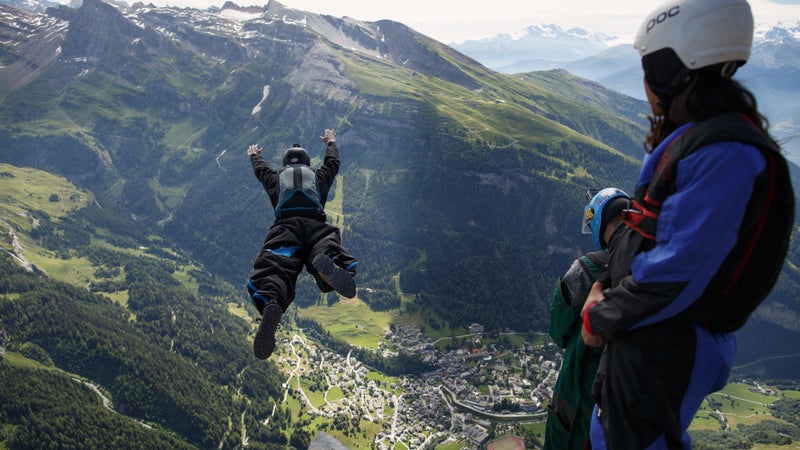 He confessed over mugs of Rugenbräu that he has $2,000 in the bank from commercial work, enough to carry him around the jumping circuit for a few months. Bristling at the suggestion he might settle down someday, he told me BASE "is what I was born to do." It's his dharma, his life's purpose, and the most fun he can imagine having. "People want to talk about death," he said. "I like to talk about how we live. All my friends and I live every day."
---
The plan called for parachuting into the party. Down they came, one at a time—Morgan; Donahue; Mosbaugh; Paul, their friend from Toronto; Cherie Clothier, from New Zealand; Liz Freeman and Hartman Rector from Salt Lake City, Utah; and a Canadian named Mike, whom everyone called Treehouse because he once lived in a treehouse in British Columbia. They had launched just before dusk from High Nose, a popular exit 1,910 feet up, touching down in a farmer's field that was echoing with the slow clang of cowbells. 
"Crazy!" said a startled German tourist walking his dog as they descended.
Morgan looked a little crazy. He wore a long purple wig and fat, white wraparound shades, a speaker stashed somewhere in his gear pumping dance music. 
"You guys had a good day?" Mosbaugh called out.
"No," said Clothier, in a voice thick with sarcasm. She had descended under a hot pink parachute, wearing fuzzy rainbow leg warmers and a rainbow feather headdress while lugging three cans of beer in a bag she took with her off the cliff. "Terrible!"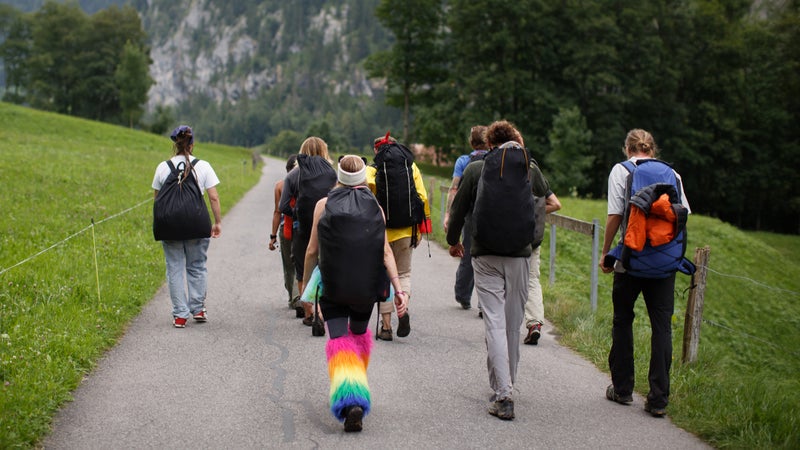 "Let's go home and watch some TV," Mosbaugh suggested, "about people living their lives."
An insouciant platoon, they gathered their parachutes and strode together to a picnic pavilion, where a crowd of jumpers waited with cold beer and meat on the grill. Later, fireworks flashed and echoed off the big walls, and the celebration continued at the Horner with Douggs and two bandmates belting out a three-song tribute to Van Horne. Jumpers clambered into the rafters, and Morgan, still in his wig and shades, danced on a floor slick with spilled beer. The bash would not wind down until dawn, when both Morgan and Donahue crashed into bed.
"My mentor said we all have voices in our head. We have different ways to quiet them."
The next afternoon, while Morgan slept, Mosbaugh and Donahue nursed coffee on a café terrace and explained the appeal of Lauterbrunnen for practitioners of a decidedly individualistic sport.
"I showed up here two days ago, walked down the street and saw ten really good friends," said Donahue, who was on a two-month international BASE odyssey while between work assignments. She had discovered jumping four years earlier, having graduated from snowboarding, surfing, and skydiving. "That was my happy place—outdoor adventure," she said.
Why BASE? I asked her. "My mentor said we all have voices in our head," she said. "We have different ways to quiet them."
The voice in Mosbaugh's head told him to "live your life now." He was 21 when his father died from a heart attack. Several friends have since died from BASE, mainly while using wingsuits, which he considers too dangerous. "BASE jumping is a beautiful, amazing activity," he said, "but I'm not going to do this my whole life."
After more than 2,000 jumps, Morgan refused to consider quitting, but he did admit to doubts. The coordinates for Brévent, above Chamonix, are tattooed on his right forearm. But since Van Horne's death there, he had been skeptical about returning. The exits are short, the terrain unforgiving. "I know someone is going to keep pushing the limit," he said about flying the most challenging wingsuit lines. "Maybe my days of doing that are coming to an end."
The next day, he led a crew on a two-and-a-half-hour drive to the south of Switzerland, to a mountain he asked me not to name above the Rhône River valley, with views of the Matterhorn.
Reaching the exit required a cable-car ride and a 1,300-foot hike through scree. An exposed traverse sent rocks skittering down a 2,000-foot plunge. The jump was 4,800 feet from a breathtaking spit of rock. There were 12 on the load, and Rector, Donahue, and Morgan went off last, wearing tracking suits, which inflate like a wingsuit but with less surface area and glide, allowing more mobility and making it easier to deploy and control a parachute.
Everyone landed safely and briefly considered jumping a nearby bridge, but the wind had kicked up in the afternoon, making it too dangerous. Swiss Day was gone, so their time together was ending; real life called. Rector and Freeman were returning to Utah. Paul needed a lift to the Zürich airport. Morgan, Donahue, and Mosbaugh were headed to France.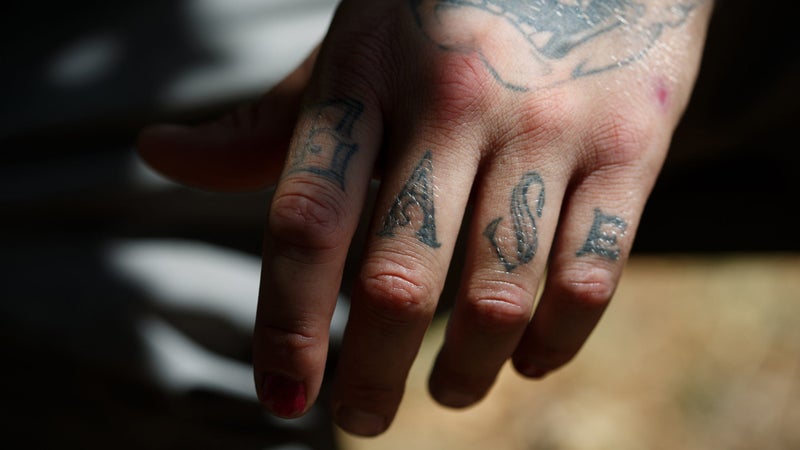 Alex Edbom, a gargantuan 28-year-old Swede with "BASE" tattooed across the knuckles of his left hand, was headed to Monte Brento, a renowned jumping destination in Italy. He had driven down from Sweden in a Honda Civic, taking a leave from his job operating a crane on construction sites in Stockholm. "I want to get out of Sweden," he said, describing a routine of 5 A.M. wake-ups and returning home in the dark at night to crash on the couch while watching TV. "It's boring."
Wistful about a year spent in Lauterbrunnen working as a bartender and jumping constantly, he explained the problem: he couldn't afford to stay. Like most jumpers, he worked all year to save for a summer trip to the valley.
---
I never said goodbye to Morgan and Donahue. I had last seen them on the platform at High Ultimate. Morgan waddled off in his tracking suit and disappeared. I snapped a photo of Donahue on my phone. She wore a blue tracking suit and white helmet, her back arched and arms overhead as if giving two huge high-fives.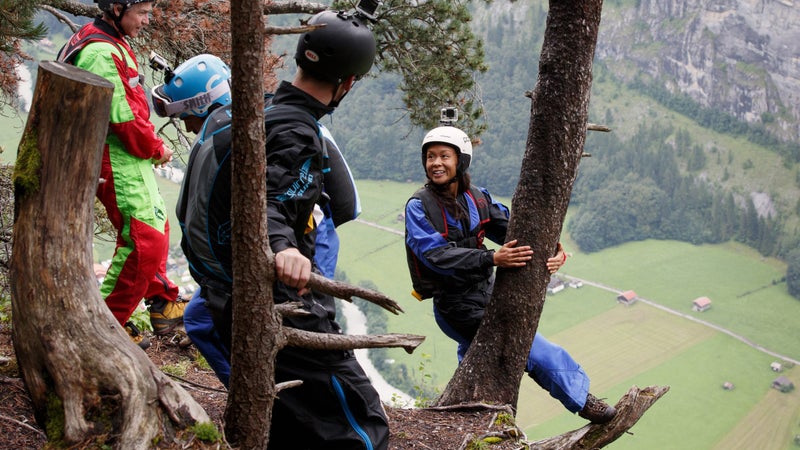 The following week, I read about three unnamed jumpers in France "going in," as jumpers say when one of them has been killed in the act. I texted Morgan to see how he and Donahue were making out. He called immediately, sounding exhausted. Dispensing with preliminaries, he said he had bad news about Donahue. "Kat died." 
She had been with Mosbaugh and another jumper at Croix de Têtes, an 8,000-foot peak in France, on the border with Italy. Attempting to fly her tracking suit through a notch, she impacted at high speed and died instantly.
"She went for something she probably shouldn't have gone for, and it got her," Morgan explained. "She was definitely a rad girl."
"Each person has to decide for himself if he wants to do this sport and should know his own limits."
Nursing his hurt in a Chamonix bar, Morgan blamed himself for failing to say more, for not teaching friends better. "That's a poisonous way to think," he admitted. He was headed home. "I'm done for work for the season."
More would die that month. Uli Emanuele, an Italian jumper who had famously flown through an impossibly narrow opening in a rock spire in the valley (view the video below), would lose control of his wingsuit above Lauterbrunnen and crash into a cliff. Alexander Polli, a wingsuiting icon from Norway, died when he struck a tree flying from Brévent. An Italian named Armin Schmieder famously live-casted his fatal flight in Switzerland on Facebook.
A record 38 jumpers would die in 2016. One of them, a Russian who crashed his wingsuit into a house in Chamonix, prompted the mayor to ban wingsuit flight to study the issue.
In September, Mosbaugh, Morgan, and about 40 other jumpers met at the Burning Man festival in Nevada's Black Rock Desert. They wrote messages on a scrap of Mat Kenney's wingsuit and tacked it up in the Temple, a wooden structure that is ceremonially burned at the festival. Mosbaugh added a message on the back of a photo of Donahue, too. In April, Freeman would break her back while jumping at Brento. (She expects to make a full recovery.) Meanwhile, the ban in Chamonix continues while Lauterbrunnen remains open for business. "We don't want to do it," the president of the commune governing the valley told a newspaper about prohibiting BASE, "or we'd also have to ban climbing and hiking. Each person has to decide for himself if he wants to do this sport and should know his own limits."
Come summertime, cows and wildflowers would return to the high pastures above the Lauterbrunnen Valley. And so would jumpers, to experience another season of ups and downs. 
Matt Higgins (@bymatthiggins) is the author of Bird Dream: Adventures at the Extremes of Human Flight.