The Horror Vault
Catch Me If You Can
When Robert Wood Jr. disappeared in a densely forested Virginia park, searchers faced the challenge of a lifetime. The eight-year-old boy was autistic and nonverbal, and from his perspective the largest manhunt in state history probably looked like something else: the ultimate game of hide-and-seek.
Heading out the door? Read this article on the new Outside+ app available now on iOS devices for members! Download the app.
A ball of fire with twinkling blue eyes, Robert Arthur Wood Jr. is a four-foot-six, 70-pound eight-year-old who loves to swing. His doting grandmother, Norma Jean Williams, calls him Bud, and he gives as good as he gets when he and his brother, Ryan, a year younger, scrap over a toy. Robert can see and hear fine, but he can't talk, swim, sit still for a movie, or use the bathroom by himself, because he is also severely autistic.
Ryan, a dark-haired version of Robert and also autistic, but less so, hugs and kisses his brother. Robert is not as affectionate. He is prone to repetitive motions, like hitting himself over and over with an empty plastic soft-drink bottle. But most of all he enjoys swinging. If you let him, he'll do it until his hands blister and the skin on the back of his legs rubs raw. Even then he keeps swinging.
Robert and Ryan are both in constant motion, jumping, rocking, and pounding things. Like many children with autism, they are fearless. As a toddler, Robert liked to climb on top of the television and the refrigerator. He also likes to wander—or, as behavioral specialists call it, "to elope." At Walmart, Robert's mother, Barbara Locker, still puts him in the shopping cart. If you don't hold him by the hand or by his shirt, he might run off.
That's exactly what happened on October 23, 2011, a warm Sunday afternoon. After lunch, the boys' father, Robert Wood Sr., 34, known as Robbie, and his girlfriend (Wood and Locker have been separated for six years) took Robert and Ryan for a walk at the rarely visited 80-acre North Anna Battlefield Park, in Virginia's Hanover County, 15 minutes from the boys' home in Ruther Glen. This was no ordinary walk in the park. The hilly green thickets of central Virginia, where Grant vied with Lee in an epic battle for nearby Richmond, are prickly and hardscrabble, with skin-ripping greenbrier and blackberry bushes, not to mention coyotes and bobcats. In this land of rivers, ravines, swamps, mosquitoes, and water moccasins, the Union general soon discovered, inhospitality was endemic.
Within the park, narrow paths tunnel through dense woods. A warren of Confederate breastworks leads to a bluff—with no guardrails—that plummets 90 feet. Below, the North Anna River rumbles through the boulders and Class III rapids of Falls Hole. Nothing separates the park's other boundaries from a massive open Martin Marietta gravel quarry, with its clatter of industrial dump trucks, bulldozers, and freight trains and roar of controlled explosions. It's a fantasy-land for any boy, autistic or not.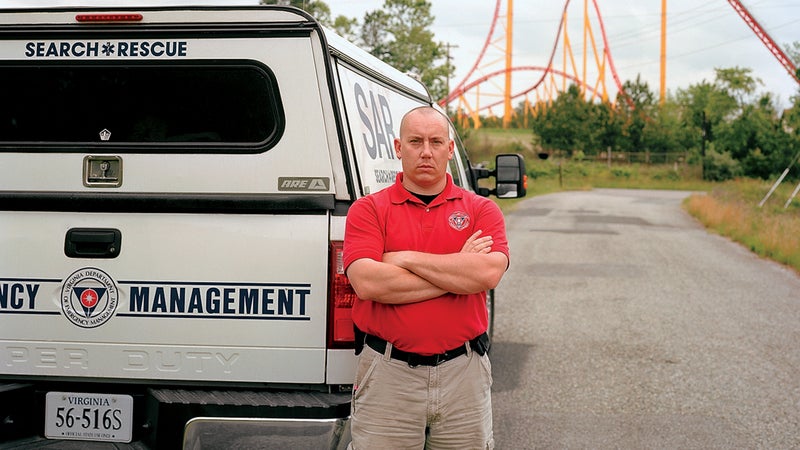 At around 2:30 p.m., while the group was resting after a mile-long walk, Robert ran down a spur trail. Somehow both his father, an avid Civil War-relics hunter, and his father's girlfriend missed seeing him take off. Wearing a red long-sleeved shirt, blue pants, and blue tennis shoes, Robert would not have been difficult to spot. Yet he vanished.
Within five minutes of Robert's disappearance, according to Wood and his girlfriend, they had placed a call to 911 for help. Within an hour, the Hanover sheriff's department was searching the area with two canine teams. Hanover Hounds, a local tracking organization, arrived with two more teams.
Because of his autism, Robert probably didn't know that he was lost. If he heard people coming through the woods, he might well have taken cover from them, thinking it was a game of hide-and-seek. Or he might not have wanted to be found by a stranger, even one calling out his name. This made efforts to locate him extremely difficult, and it's how Robert managed to elude what would soon become one of the largest search-and-rescue operations in Virginia history.
---
When he disappeared that day, Robert began an unlikely adventure that placed him at the center of the newest concern in the search-and-rescue (SAR) world: lost autistic children. Why autistic kids have the tendency to run off is not known, but the urge is strong in half of all children diagnosed with the disorder.
A neurological condition present from early childhood, autism is characterized by difficulty communicating and forming relationships, as well as cognitive abnormalities. The condition is measured on a spectrum, from high functioning to low functioning, from those with Asperger's syndrome—-associated with above-average intellectual ability, impaired social skills, and restrictive, repetitive patterns of interest and activity—to the 40 percent who, like Robert, are nonverbal. The Centers for Disease Control and Prevention reports a staggering increase in the number of autistic children in recent years. In 2008, 1 out of every 178 children had some form of autism. By early 2012, that number had risen to 1 in 88. Little is known about the sudden upsurge of cases, but researchers at the National Institutes of Health believe that a genetic predisposition to the disorder may be exacerbated by an unknown environmental component. The condition affects five times as many boys (1 in 54) as girls (1 in 252).
Unable to filter out distractions and easily overstimulated, autistic kids don't like noisy environments or group settings. "Usually, when we see a child wander off, bolt, or elope, they are on the severe side of the spectrum," says Lori McIlwain, mother of a 12-year-old autistic boy, Connor, and executive director of the Boston-based National Autism Association. She helped found the organization in 2003 to advocate for policy change in medical care for those with autism. Connor has run off nine times from three different schools. "Autistic kids can't tell us, 'Hey, the sunlight is bothering me' or 'I saw a pool I want to check out' or 'There's a swing I want to see.' "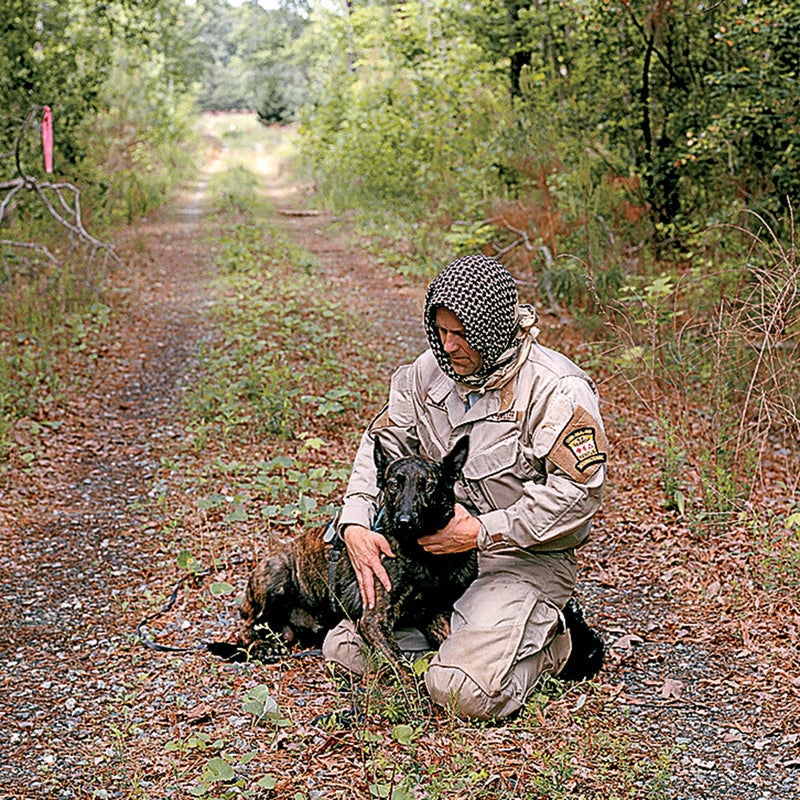 McIlwain estimates that 40 percent of children with autism will go missing at some point in their lives.
It was the case of nine-year-old Logan Mitcheltree that alerted McIlwain to the budding crisis. In December 2004, at 5 p.m. on a Saturday, the four-foot-tall, 55-pound boy with reddish-blond hair and dark brown eyes slipped out of his home in South Williamson, Pennsylvania. For two days, firefighters, forest rangers, state troopers, civil air pilots, police, and hundreds of volunteers searched around the clock. A snow squall hit, and the temperature plunged to 15 degrees. Logan, who was wearing a long-sleeved shirt, blue jeans, and slippers and was carrying a knapsack, died of hypothermia a mile and a half from his home. He was headed up a nearby mountain, probably attracted by the flashing lights of a radio tower.
Since September 2011, McIlwain says, 143 cases of missing autistic children have been reported around the world. Circumstances vary widely. In February 2012, outside Melbourne, Australia, seven-year-old Ryan Pham, who had disappeared overnight, was found naked and shivering in the reeds, about to wade into the swift Kororoit Creek. In April, 13-year-old Ross Harrison bolted from his home on West 182nd Street in the Bronx and rode New York City subways for three days while his parents, friends, and the authorities searched for him. Two riders eventually found him late at night on a J train in Brooklyn.
Once Robert Wood was off and running, he was quickly lost, too. Dashing up and over trenches, through thickets of mountain laurel and briars, he caught spiderwebs in the face and picked up ticks and chiggers as he ran. The forest floor was littered with large trees, branches, and piles of deadfall caused by recent hurricanes and tropical storms. Robert likely moved from one thing that provoked his curiosity to the next—boulders to climb, trees to examine, the allure of a train-whistle blast. If it weren't for the profusion of copperheads, black snakes, and corn snakes, it would have been the ideal place to play paintball or hide-and-seek.
Over the age of four, normal children recognize that they are lost and will look for their parents. Their spatial maps are flawed, but they will devise strategies to get found. "The biggest difference," according to SAR expert Robert Koester, is that nonautistic kids are "a lot less likely to be evasive. Once they get hungry or cold, they will call out to searchers."
But Robert doesn't feel pain the way normal children do. He could sprain an ankle or suffer cold and dampness without complaint. The pangs of hunger wouldn't make him cry. He'd harbor no fear of the dark or the bogeyman and wouldn't dread solitude, so he wouldn't get panicky at dusk.
He is also in possession of a healthy dose of determination. One educator called him "a very tough kid," "a very resilient kid," and "resourceful, in his own way."
---
Robert's father and his girlfriend had been sitting on a bench in the park at observation deck number seven when Robert bolted. The north-facing bench looks out on a ravine up which a futile Union assault had been made on May 24, 1864. A sign describing the battle, and the kindnesses rendered to a fatally shot Union officer afterward, is entitled SAVE YOURSELF IF YOU CAN.
From there the police dogs had tracked the boy going toward the river. Like many autistic children, Robert is obsessed with water. Autistic kids can be hypersensitive to certain stimuli, and some experts believe that water is soothing to them. Though Robert can't swim, he thinks he can. According to the National Autism Association, from 2009 to 2011, 90 percent of the deaths of missing autistic kids were by drowning. The river would remain an area of major concern throughout the search.
Typically, after a 911 call is received for a missing person, police officers report to the scene and evaluate the situation for foul play and other factors. When a minor is involved, any adults associated with the child, including parents, are routinely assessed as to whether they should be considered suspects. The reporting officer usually has discretion to initiate a search.
Robbie Wood, an unemployed maintenance worker, has weekend visitation rights with his sons, and they'd stayed with him the night before. The day after the trip to the park, he was due in court. He had been summoned by a judge in Caroline County, where the boys and their mother live, for failure to pay child support amounting to $6,698.01. Locker was seeking a court order and possible jail time to get him to pay up. But while the family has its troubles, authorities ruled out either parent as a suspect and quickly initiated a search for Robert.
Once a person is officially declared missing, often it is a combination of police officers, fire department personnel, and other specialized units who conduct the search. Decisions are made as to which resources to tap, usually SAR units—dive teams, technical teams, dog-tracking teams—sourced from local and regional emergency services. State police specialists, including air support, are the next level.
Robert's unlikely adventure placed him at the center of the newest concern in the search-and-rescue world: lost autistic children. The urge to run off is strong in half of all children diagnosed with the disorder.
Half of all searches are concluded within three hours and 10 minutes—an overdue hiker, having sprained her ankle, finally surfaces or a hunter emerges from the woods after a prolonged search for a lost hound. Within 12 hours, 81 percent of all lost-person cases are wrapped up, and 93 percent of the time the case is closed within 24 hours.
As the hours passed without any sign of Robert, Hanover County authorities called in more and more support from neighboring Caroline and Henrico counties, Virginia State Police, and local search organizations. They issued a reverse 911, using computers to send a message about the lost boy to all the landlines in the area. Neighbors started searching their yards and beyond.
Norma Jean Williams, Robert's maternal grandmother, a dialysis technician who lives next door to Locker and the boys and often
cares for Robert and Ryan, found out on Monday morning, while she was at work, that Robert was missing. One of her coworkers had heard about it on the radio.
A salt-of-the-earth Baptist whose family has beaten a living out of the land in Ruther Glen for three generations, Williams, 58, jumped into her 2003 Dodge Dakota quad-cab pickup—she has a backseat for Robert and Ryan—and drove to Battlefield Park. A deputy sheriff stopped her at the entrance. No one was being allowed in; the park was being treated as a crime scene. She parked her truck outside, as near as she could to the entrance.
Locker had found out the evening before, when she received a phone call from Wood. Late that night, a sheriff and a dog tracker came by her home to pick up some of Robert's clothes and toys to use as scent articles for the dogs. Locker stayed with her mother by the truck during the day and left in time to bring Ryan home from school. Because Williams, Locker, and Wood were emotionally distraught and the park terrain was strenuous, authorities declined to have them participate in the search. (Williams and Locker talked to me for this story. I also spoke with Robbie's father, Roger, but was unable to reach Robbie, who, Roger told me, had been hospitalized with kidney failure.)
As Monday afternoon wore on, the area around Williams's red pickup looked like Armageddon. County and state-police dog teams deployed in the woods and nearby fields. Tactical dive teams headed for the river. Helicopters thundered overhead, sometimes only 500 feet or lower, using infrared cameras designed to detect heat through smoke, fog, or haze. Because autistic children are often drawn to bright objects and certain noises, fire trucks twirled their lights and ran backup sirens, audible across hundreds of acres, hoping to attract Robert. With the same goal in mind, searchers hung glow sticks in the trees. They also put out water and blankets for him.
Williams hung glow sticks, too, and she refused to leave until the boy had been found. She slept in her truck.
---
Monitoring from the sidelines, Billy Chrimes, deputy SAR coordinator for the Virginia Department of Emergency Management (VDEM), kept abreast of the search from his home in Roanoke. Chrimes, a 36-year-old search-and-rescue training specialist, helped build Virginia's SAR system, one of the nation's best. But there are strict protocols and codes of behavior in the field. Representing a state agency, Chrimes had to be invited in by local authorities before he could help. "There are 134 localities in Virginia," he says, "and 134 different ways to do things. Some of them call to alert us the minute they know someone is missing and call us again within a few hours to bring resources." But after 24 hours, the state still hadn't been called.
Nevertheless, Chrimes and his colleagues spent Monday night preparing and planning their version of the search, sectoring off a map of the area and parsing the first 40 tasks to be accomplished if they were called. Finally, Chrimes decided to seek an invitation to help. At 2 a.m. on Tuesday, he got out of bed after two hours of sleep. As he prepared for the three-and-a-half-hour drive east to Battlefield Park, his mind churned. Originally from Wise County, in the southwestern reaches of the state, Chrimes had gone on his first rescue operation at the age of five, with his father, a firefighter and EMT, to save an injured caver. When he was 13, he started working for the volunteer rescue squad. Chrimes never played high school sports. On weekends, when a call came in, he either was already at the station or would speed the quarter-mile there on his bike—and often be the first person to arrive. He skipped college to work in the Coast Guard in Alaska and at jobs as a deputy sheriff and fire department captain.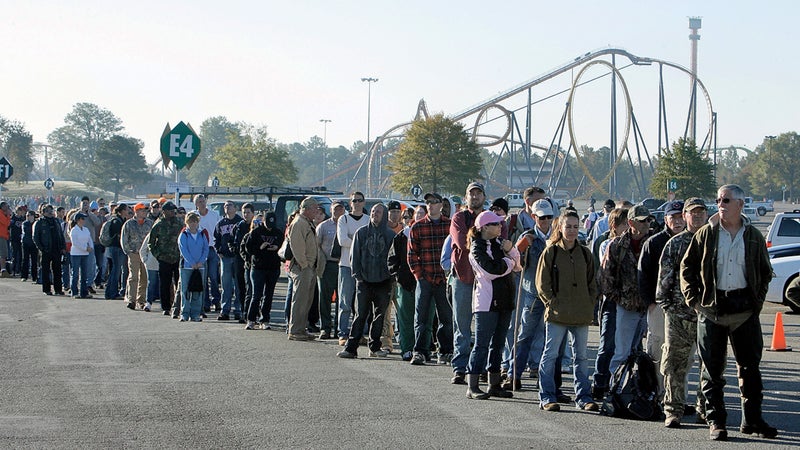 In the fall of 2008, Chrimes began to overhaul the training for Virginia's 700-plus volunteer system, a corps of dog handlers, visual trackers, cavers, case analysts, and other search experts. He's currently rewriting the state's SAR training manual, which VDEM will share across the country and internationally. He sometimes operates for weeks on end out of his Ford F-350 four-door long-bed pickup, which doubles as a mobile command center. He hauls around all sorts of rescue gear—ropes, litters, a SAT phone, a dozen two-way radios, a laser printer for producing topo maps, and a PowerPoint projector for briefing searchers. He handles more than a hundred SAR operations a year for people who need help—ranging from campers, climbers, and boaters to natural-disaster and crime victims to autistic children and elderly people suffering from dementia.
The search for Robert had become statewide news. Tuesday morning, Chrimes showed up at the Hanover County sheriff's department command center and requested a meeting with Sheriff David Hines. A high-profile search can become a turf war, and Chrimes wanted to avoid that. He sat and waited three hours—watching silently as the overwhelmed deputies and their staff tried to process and deploy hundreds of untrained "emergent" volunteers—before making his pitch to two majors.
---
By noon on Tuesday, the first ground pounders—as emergent volunteers are known to SAR veterans—were in the field, and Sheriff Hines gladly ceded search-operations management to Chrimes, though he would still maintain his own base at Battlefield Park. Chrimes set up shop in a public-safety building at the nearby Kings Dominion amusement park, where he'd deal with the processing and deployment of volunteers and manage the state's resources.
"Given the circumstances," says Chrimes, a blunt, optimistic country boy, "I felt like we were going to find him the first night."
Chrimes had modern technology, dogs, choppers, and thousands of searchers—including equestrian, kayak, and rappelling teams—at his fingertips. He also had Professor Rescue, the man who revolutionized the field of search-and-rescue, to lean on.
Charlottesville, Virginia-based Robert Koester had joined the Appalachian Search and Rescue Conference in 1981. He is a VDEM incident commander and a former president of the Virginia Search and Rescue Council. He has conducted SAR operations and research for NASA, the U.S. Coast Guard, the National Park Service, and FEMA. Over the past two decades, the 49-year-old self-avowed "numbers guy" has almost single-handedly codified the search-and-rescue world by collecting SAR cases and feeding them into his international incident database. Published in 2008, Koester's handbook, Lost Person Behavior: A Search and Rescue Guide on Where to Look—For Land, Air and Water, is regarded as the field bible. Using the book's 40 categories to create a lost-person profile, a searcher can better predict whether a victim is alive and, if so, where to find him or her.
According to Koester's book, where lost hikers are concerned, 97 percent of those found on the first day are recovered alive, while just 49 percent located on the fourth day are. Although it varies by terrain and climate, about 25 percent are found within a mile of where they were last known to be, 50 percent within two miles, 75 percent within four miles, and 95 percent within 12 miles. Half of all hikers are found within 100 yards of a trail or road. Similar data can be found for cavers, climbers, horseback riders, hunters, mountaineers, mountain bikers, runners, skiers, snowboarders, snowshoers, snowmobilers, and ATV riders. There are also statistical breakdowns of children, organized by age, and sections on people with dementia, mental illness, and autism.
Koester's stats told searchers that 50 percent of autistic kids in temperate environments are found within one mile of their last known location and 75 percent are found within 2.3 miles; that even in the wilderness, 45 percent are found inside structures and 20 percent on roads; and that 50 percent are found within 15 yards of a linear feature—a river, railroad, trail, or road—and 75 percent within 22 yards. "That gives you a model that sort of looks like spaghetti thrown against a plate," Koester says with a wry chuckle. Nonetheless, it is a searcher's road map.
Despite identifiable tendencies, autistic kids are considered highly unpredictable. As the saying goes in the field, "When you meet one autistic person, you meet one autistic person." The bottom line for Robert's profile was troubling. The model went out only 48 hours, at which point there was only a 56 percent chance of finding him alive.
It would have seemed even worse if it hadn't been for a remarkable case 18 months earlier in the Florida swamplands north of Orlando. There, 11-year-old Nadia Bloom, who suffers from ADD, anxiety, and Asperger's syndrome, wandered off from home and was lost for four days. She slept in an "itchy" bush the first night, managed to evade snakes and alligators, and ate spongy plants until a rescuer found her, dehydrated but otherwise OK. How did she spend her time? She took photographs, many of sunlight flashing hotly off water.
---
By 2:30 p.m. on Tuesday, Robert had been missing 48 hours. At home he took medication to help him sleep on a normal schedule. "He would wake up at 3 a.m. and start playing like it was the middle of the day," Locker told me. In the wild he might be seminocturnal, roaming for several hours and then sleeping for several, making him harder to locate, since he would be hunkered down for at least part of the daytime, when he'd be easiest to spot if he were moving around.
Based on their research and experience, Chrimes and Koester figured they still had some time to find Robert, as long as he hadn't gone to the river and the relatively mild weather didn't take a turn for the worse. Temperatures were dropping into the forties at night, and the forecast called for rain and colder weather later in the week.
Thirst was much more of a threat to Robert than hunger. People can go weeks without eating, but dehydration will start to weaken and disorient them within 48 hours. There were plenty of streams to slake Robert's thirst, but no one could be sure he would know to drink from them.
"I've seen a lot of searches where they give up after two or three days," Robert Koester says. "That always makes me cringe. Search-and-rescue is about everybody coming together and not giving up."
Chrimes, Koester, and two others analyzed data and factored in various likely scenarios—Robert had initially gone down to the river or over to the cliffs, or he had wandered outside the park. They circled areas of special interest on the map, giving various chunks of real estate priority in the search, especially the nearby quarry, which would be searched repeatedly by ground and dog teams. "There is a methodology," says Chrimes. "It's all about putting resources in the right place at the right time."
If Robert had not gone to the river and drowned, then, given the searches that had already gone on, he was probably either hiding from them or on the move or both.
In the field, searchers need to nail down the initial planning point (IPP), which is either the place last seen (PLS) or the last known position (LKP)—say, where a lost person's wallet was found or where his car turned up. "If you don't get your IPP right, you're going to have problems," Koester says.
Chrimes had already dispatched Rob Speiden, who runs his own man-tracking and land-navigation school in Christiansburg, Virginia, and is one of the nation's top visual trackers, to GPS-map the PLS and LKP. Hanover sheriff's department canine handler Matt Crist, the first man in on Sunday, showed Speiden where his dog had tracked Robert and where Wood said he had last seen him, on the park's observation deck number seven. As he wandered off, Robert had dragged a walking stick he'd picked up in the woods. Crist found scuff marks in the path. This LKP indicated the direction of travel: northeasterly toward deck number eight, some 50 yards away.
Then Crist led Speiden to some footprints that had been found about a half-mile east of the PLS, on a sandy bank about 10 feet above the river. Robert and Ryan had been wearing the same kind of Nike shoes. Speiden knelt down and took measurements. They were the right size. Ryan's shoe, which they had a cell-phone image of, had small half-inch square patterns, but this track was scored with bars and flex grooves. The match was negative.
Tuesday evening, Koester helped brief some 75 core SAR volunteers in the public-safety building. At 11:30, he called it a night. He was flying to Winnipeg, Manitoba, the next morning to speak at a SAR conference on searches for autistic children. He had worked with Chrimes long enough that he could read him. "He was under a lot of stress," Koester says, pointing out that Chrimes was struggling under the weight of so many emergent volunteers. "Things weren't going the way they normally go."
At 1:30 Wednesday morning, a glimmer of hope came. As a member of the mounted search team combed an area about half a mile northwest of the PLS, he heard a strange noise in the woods. It was brief and inscrutable, but it sounded human to him, like someone yelling out. Then nothing. The searcher investigated but saw no sign of the boy.
During a 3 a.m. debriefing, the command team turned to the Internet and listened to the sounds of various indigenous nocturnal animals—raccoons, opossums, owls—to see if the searcher could identify a match. He couldn't.
Was it possible that Robert was still alive? "I've seen a lot of searches where they give up after two or three days," Koester says. "That always makes me cringe. Search-and-rescue is about everybody coming together to find the person—and not giving up."
---
When it comes to a lost child, communities will rally in astounding numbers, making great sacrifices of time and resources. Wednesday morning, people began registering at the Kings Dominion volunteer center before daybreak—at least those who came through official channels. Search teams would report well-meaning neighbors combing the grounds and the river on everything from ATVs to horseback to paddleboards. The first official teams headed into the woods at 8 a.m. In all, 940 volunteers would be deployed that day. This was a blessing and a curse.
"A lot of times, they bring local knowledge and know things that don't appear on a map," says Koester. But it's remarkably easy to miss what you're looking for. Koester calls it screening—the eye stops at the outer layer of foliage and doesn't register what's beyond the screen door. "Searchers are looking for a full-blown human being," he says. "If the subject is hiding, they might see part of a shoe or a patch of flesh, and subconsciously it doesn't register. They don't recognize that's what they're looking for."
For Chrimes, the volunteers presented a massive logistical challenge. The extra traffic tramples footprints and contaminates the scent pools that tracking dogs are trained to find. Then there are safety issues in tramping off-trail through the woods: ticks, snakes, tricky slopes, hazardous water crossings, and tree limbs that can poke eyes. Volunteers have to be screened for fitness and gear. Some show up in sandals. Others become exhausted and need medical treatment for fatigue.
There was a benefit to the numbers, though. "We were able to search a monumental area," says Chrimes, who over time extended the perimeter several miles in every direction.
All day Wednesday, hundreds of volunteers conducted 74 search missions, some over the same ground twice, tackling a 22-square-mile area north and south of Verdon Road, which contains the entrances to both the park and the quarry. Searchers walked in grids for miles through thick, swampy woods, many carrying treats and toys for the boy and squeezing empty plastic bottles, making a crinkling noise Robert was known to like. They fanned out in long lines, combing woodlands and harvested cornfields. They paced through rows of soybeans, climbed over Civil War trenches, and crawled under farmhouse porches. One searcher fell and had to be treated for a sprained knee.
Many of the volunteers worked in emergency services or were themselves parents of autistic children. A Pennsylvania Turnpike worker came for two days. His 11-year-old son is autistic and had once evaded the watching eyes of four adults at the beach. The boy had taken off in a flash, zipping through the sand so fast that it took the adults an hour to run him down. A Dallas businessman, also the father of an autistic child, skipped his return flight after a meeting in Richmond, visited a Walmart for blue jeans and boots, and joined the line.
"I have two autistic kids, so it hit really close to home for me," volunteer Tammy Rogers of nearby Powhattan County told the Richmond Times-Dispatch. "As a mother you ache. This is the best medicine, just to get out here."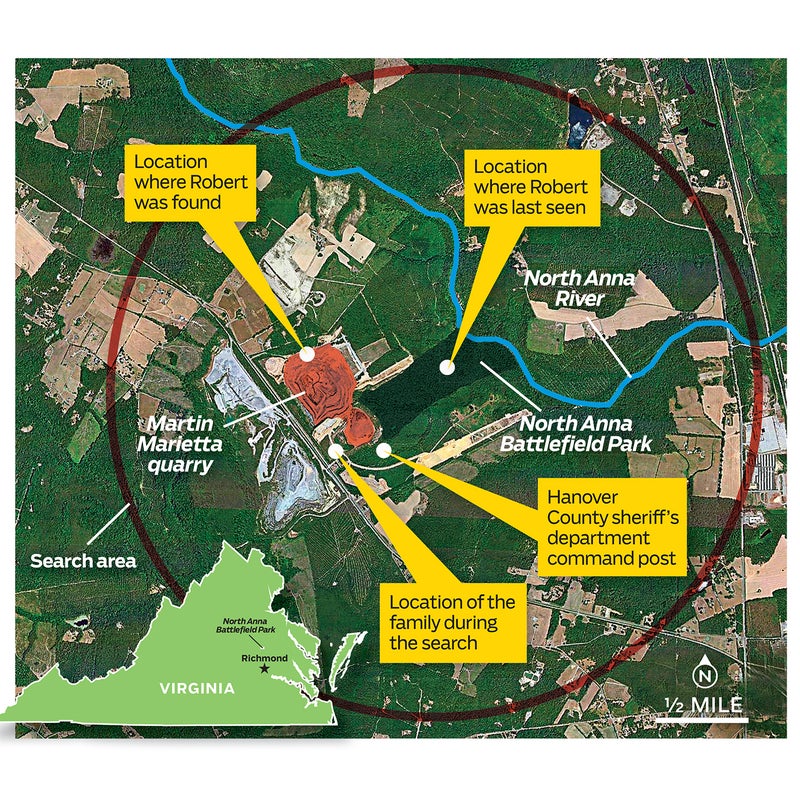 Another volunteer, Donald Turbin, 47, from Chesterfield County, is a father of four and has an autistic cousin. "Soon as I heard about it, something told me to go help," he says. "We went through thicket after thicket, stuff so dense you almost needed a hunting dog. And some swamp, too, with knee-deep water and lots of bugs. It was worth every step as long as that boy got out of there fine."
"I was worried about copperheads," says volunteer Rodney Clifton, 65, a retired glazier. "A black snake will run from you. A copperhead will bite you." Clifton showed up underdressed, in shorts and a short-sleeved shirt, and scratched up his arms and legs, but that didn't matter to him. "My grandchildren, I worry so much about them," he says. "If something happened to them, I hope someone would go out and hunt for them."
---
Two o'clock Wednesday afternoon marked the 72nd hour that Robert had been missing. Chrimes believed that, if he hadn't drowned, he was playing hide-and-seek and playing it well. He thought the boy was mobile, meaning that the areas they swept could be considered clean for only a short time. After every sector search, team leaders reported in and graded the effort.
"The way to picture it is if there were 100 milk bottles in your sector. Given the number of searchers, the time of day, weather conditions, and other factors, how many would you have found?" Chrimes says.
Rappelling teams descended the steep bluffs to the North Anna River, searching for clues—or a body. A helicopter-assisted state-trooper dive team was taken in hard hats to the center of the Martin Marietta quarry, where it searched along the surface edges of pits that plummeted 75 feet to dark pools of water.
"We were seeing nothing," Chrimes says. "We weren't finding any clues to follow up on." But Chrimes is no quitter. In 2000, he saved the life of a teenage hiker who had been missing in snow and freezing rain for eight hours on the Appalachian Trail, near the Dragon's Tooth rock pinnacle on Virginia's 3,000-foot Cove Mountain. Severely hypothermic and unconscious when found just off the trail, the teenager was nearly given up for dead by other rescuers. But Chrimes determined that he still had a pulse. He and another rescuer stripped off the boy's wet clothes and their own and did body-to-body warming. The boy was talking and coherent as they carried him off the mountain wrapped in their jackets.
Early Wednesday evening there was another glimmer of hope. Independent tracker Scott Forbes' Dutch shepherd, Da Wu ("big warrior" in Mandarin), found a human scent. Dogs play a major role in any wilderness SAR mission. Robert's was no different. "Dogs are huge in that one dog can cover what a team of half a dozen searchers can cover," says Chrimes, noting that humans shed 40,000 cells a second. "What the dog is doing is finding the most abundant thing we leave behind. They don't have to lay eyes on the person."
Da Wu is trained to find cadavers but can also follow living scents. However, on Wednesday evening he was frequently thrown off by some other smell. Then Forbes saw something he didn't like. A bold coyote was paralleling him and Da Wu in the shadows. "The boy would be easy opportunity for a pack of coyotes," Forbes recalls. An awful thought crossed his mind: Maybe they took him and buried him somewhere. Even the veteran searchers were beginning to get spooked—and to think the unthinkable.
By ten o'clock Wednesday night, Chrimes was spent. He had not had more than a catnap at his post since Monday evening. At a nearby Best Western, which had generously provided free rooms for the searchers, he took a hot shower and collapsed into bed.
---
On Thursday morning the mood turned darker. At around 11 a.m., an explosion shook the ground under Norma Jean Williams' truck. The Martin Marietta quarry, part of the nation's second-largest producer of construction aggregates, had delayed a scheduled blast next to Battlefield Park for as long as it could. Quarry officials said they had searched the area twice that day and needed to go ahead with the detonation. Then volunteer Rodney Clifton, who uses a pacemaker and had shown up for another four-hour search, suffered a massive heart attack at the end of his shift. (A quick-moving medical student would revive him.)
Later that day, searchers learned Williams' special nickname for Robert. They swept the area close to the PLS once again, calling out for Bud. At around 8:30 that evening, two of the state's top trackers, Randall Burleson and Mark Gleason, from Appalachian Professional Tracking Group, heard something near the PLS that made the hair stand up on the backs of their necks. It was human sounding: a high, guttural noise—bepp, bepp—coming from the woods. They looked at each other and called out Robert's nickname again. They heard the same noise, but fainter. "Hey, Bud, let's go see Daddy," they called. "Let's get something to eat." No response. The searchers thrashed into the bushes. They found nothing but were sure that they had been within yards of Robert.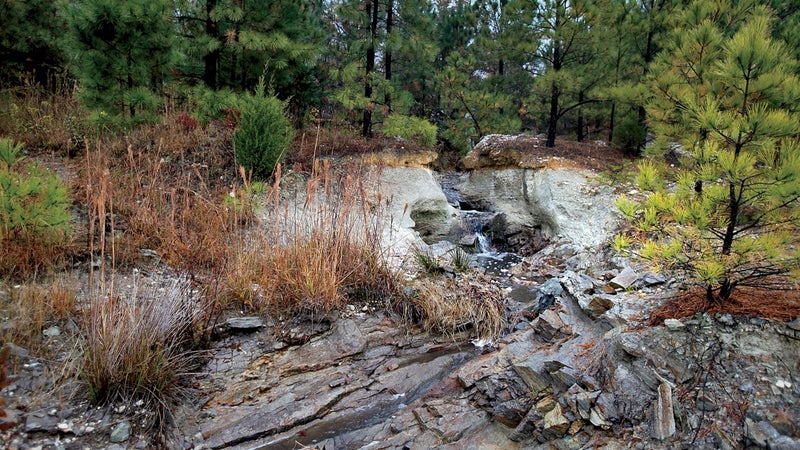 Chrimes responded with everything he had: canine teams and searchers with night-vision goggles and thermal-imaging cameras. They scoured the area for four and a half hours. At 1 a.m. they gave up. If it was Robert, he had pulled another amazing vanishing act.
That night, as predicted, it started to rain and it got colder. Williams had to turn on the heat in her truck. Each night she had parked it in a slightly different place, shining the lights into the woods at a new angle, hoping in vain that they would attract Robert. It was her fourth night in her cramped Dodge, and her nerves, her body, and her will were shot. "I gave up hope," she says. "I cursed the Lord. I told him he wasn't any God to children."
By 9 a.m. on Friday, 350 trained workers were in the field. At this point, Forbes says, "I was thinking it was much more likely we were doing a recovery than a rescue."
That afternoon, local authorities finally let Robert's father, Locker, and Williams into the park. They drove Williams in on an ATV because she does not get around well. The three hurried down the paths calling out "Robert" and "Bud." There was no answer. For Robert to be found alive at this point was going to take a miracle.
---
That's exactly what happened in the case of Nadia Bloom, the 11-year-old autistic girl lost in the swamps north of Orlando for four days. A man named James King, a member of the church Nadia attended, had a dream. In it he saw the girl sitting on a log in the swamp. God told him to "follow the sunrise."
"He directed my path," King later told Good Morning America. "I would be praying and calling out Scripture, and at one point I called out 'Nadia,' and I heard 'What?' "
Could lightning strike twice?
A Richmond-area man, who would insist upon remaining anonymous, said he was reading the newspaper Friday morning over breakfast with his wife when he saw that the temperature was about to drop and that it was going to rain. He told his wife he wanted to go look for the boy. On the way, he stopped at a store to buy a coat, gloves, and a hat.
The man drove to the volunteer processing center to join the search. But he was too late for that day's training session and was turned away. Instead, he drove himself to the search area, parked, and followed his instincts. They led him to Misty Morning Lane, a dusty road beside the Martin Marietta quarry. Somehow he evaded the quarry guards, who at other times had been posted at entries to the property. Chrimes' searchers saw the man in the new coat. They left him alone.
Less than a mile from where Robert had last been seen, the man walked between an agricultural field and the quarry. At some point, he either climbed a wire fence posted with no trespassing signs and two strands of barbed wire strung across the top, or he found one of two openings where the fence had been breached by fallen trees. He then pushed his way through scrub brush and onto the backfill from the quarry, scrambling over soft gray earth toward a vast, deep quarry pit. He scanned the pocked, gravel-piled, eroded quarry moonscape. There, near a sheer chasm, in a deep, wet gully, he saw a figure lying on its left side, tucked into the fetal position.
---
Barbara Locker was with her friend Carolyn Coutts, in Coutts' RV, where she had gone to get coffee. Coutts got a phone call and told Locker that Robert had been found. "The look on her face and the screech she let out," Coutts told a Richmond Times-Dispatch reporter, "that was worth every second of every minute we were there."
When Williams saw a sheriff's car speed up and then heard the news from a plainclothes detective that Robert had been found, she dropped to her knees. "I thought he was going to tell me he was dead," Williams says. When she found out that her grandson was alive and was being flown to Richmond for treatment, she said, "I've got to get to the hospital."
The man in the new coat had found Robert, still dressed in all of his clothes except his shoes. The boy was cold and scared. His hands and feet were purple and swollen. He had been mauled by insects and spiders and inhabited by chiggers and ticks. His body was covered in dirt, bruises, and scratches, and his head was skinned up. But he was alert and breathing without trouble. The man took off his new hat—a stocking cap—and put it on the boy's head. He slipped his new gloves over the boy's bloated hands and wrapped him in the new coat. He gave Robert some water, which he gulped down. Then he called 911.
"I don't think Robert would have lasted one more day," his grandmother later said.
News spread among the searchers. Word went around summoning all the volunteers back to their base stations. There they learned that Robert had been found. There were hugs and tears and shouts of joy.
A bold coyote was paralleling tracker Scott Forbes and his search dog. "The boy would be easy opportunity for a pack of coyotes," he recalls. An awful thought crossed his mind: Maybe they took him and buried him somewhere.
Several men, including a firefighter and Sheriff Hines, had formed a chain and passed the boy up out of the gully to where others stood with a litter. "Bud, Grandmother loves you. She misses you," one of them told Robert. Shortly after 2 p.m., Robert was airlifted in fair condition to Virginia Commonwealth University Medical Center Children's Hospital by a Virginia state-police helicopter. By that evening, his condition was upgraded to good. At some point, he had eaten something that had torn his esophagus, probably a stick, but the abrasion would heal itself.
As soon as the man called in his find, the sheriff's department sealed off the area. Neither press nor other searchers were allowed in. 
Like James King, the man who found Robert wanted no credit for finding him. Instead, he issued a statement through the Hanover sheriff's department: "I was guided by the Holy Spirit," he said. "To take any recognition for finding Robert would take credit away from God."
Despite repeated efforts by me and others, the man has never been identified, and he has never spoken publicly. The Hanover sheriff's department refuses to forward him a message. Few if any questioned the story in the tsunami of praise that came for the humble man.
Norma Jean Williams tried several times to learn his identity through the sheriff's office. "They said they would deliver a message," Williams says. "But they never would tell me who he was."
---
How had Robert beaten the odds and, for five days, evaded multiple searches of the area that he was ultimately found in? There are rumors that a quarry employee actually found Robert, but Martin Marietta officials aren't talking. Nor is the Hanover County sheriff's department, which refused my request to discuss the search with its officers other than a spokesperson.
The expert searchers want to know, too. "Our hounds checked this man's steps," says Forbes. His story checked out. "We tried to backtrack on the boy but could not find a scent," he says. "A dozen dogs on the ground … I'm still baffled by it."
The only explanation is that anytime Robert heard someone nearby, he ran and hid. And he was damn good at it.
Chrimes and Koester are taking it in stride. "I'm a gut-instinct kind of guy," Chrimes says. "In this case, someone listened to his gut and happened to be in the right place at the right time." He adds, "Everything Robert did fell into the file of what would be expected of him. The area where he was found was searched anywhere from six to 10 times."
Koester agrees. "It didn't strike me as a particularly unusual outcome," he told me. "It ultimately fit the model well. Being evasive fit the model well. His survivability doesn't actually surprise me all that much. Lost people last longer than the general public thinks they will. There's a big difference between being uncomfortable and being dead."
Robert is alive and well, living at home with his mother and grandmother and going to school. He still can't tell us where he was all that time or what he was doing. He and Ryan now wear miniature transmitters on snug vinyl straps around their ankles, acquired for them through Project Lifesaver, a program that helps those suffering from Alzheimer's, dementia, or autism, and through the Caroline County sheriff's department. The transmitters send out a signal for up to a mile and can be tracked by law enforcement.
But Robert has also changed.
"You can touch him now. You can hold him," says Williams. "Before, he would never let you. When I say, 'Give me a kiss,' he gives me a kiss. And he doesn't run off like he did before. He would run out in the field or toward the road. Now, if he runs, he runs to the front door to go inside or to the door of my truck."
Robert's time in the woods might change things for other autistic kids, too. "Robert's case brought it to a national level," says Lori McIlwain of the National Autism Association. "Law enforcement is now asking more about autism. And it showed that you shouldn't give up too easily. These children can be found. We would hate for our kids to be left out there."
Sometimes it just takes a little luck—or a divine act. "I don't dismiss the religious side," Koester says. "A few protracted searches for a child with autism had very similar outcomes, where somebody had divine guidance and just went somewhere and looked."
Dean King (@deanhking) wrote about trekking in China in the April 2010 issue. He is the author of Skeletons On The Zahara.