Colin O'Brady Wants to Tell You a Story
The explorer's crossing of Antarctica put him in the spotlight. His skill in presenting himself to audiences hungry for vulnerable heroes will keep him there.
Heading out the door? Read this article on the new Outside+ app available now on iOS devices for members! Download the app.
Colin O'Brady was fully aware of the flow. For years he'd felt it on long runs and grueling rides, but usually it was only after the trance had passed that he recognized he'd been in it at all. During those moments of extreme exertion, the pain disappeared and time became less of a river, more of an ocean. How wonderful it was now to be in it and aware of it, too. He could hold the sensation and study it like a piece of sea glass plucked from the sand.
For hours—or had it been days?—scenes from his life scrolled by to the rhythmic, scratchy hiss of his skis on ice. He was a kid at a swim meet, his mom holding an orange towel on the far side of the blocks. He was on one knee in Ecuador, asking his girlfriend to marry him. He was on his back in a grimy Thai clinic, a cat crawling around his purple, gooey legs, which he'd just burned to a crisp in a freak accident.
Kicking and gliding his way forward, mile after mile, he began repeating a phrase that gave him strength. Infinite love. Infinite love. Infinite love. 
A wooden post appeared on the horizon and he snapped to. It was the day after Christmas in 2018, and O'Brady, then 33, was in Antarctica. Staffers from the Antarctica Program at McMurdo Station, an American research outpost, had placed the post here to mark the edge of the continent, the boundary where the land below the snow and ice ended and the sea began. For 54 days, O'Brady had trudged alone, fighting whiteouts and howling wind. He'd hauled a sled of food and fuel some 566 miles and up 9,000 vertical feet to the South Pole, then veered hard to the west and made his way another 360 miles to this spot. He'd shed 25 pounds. Superglue caulked the deep, painful cracks in his fingers and hands. In Antarctica, skiing 20 miles is a Herculean day. In a deep flow state for much of the past 32 hours, O'Brady had covered nearly 80.
He touched the post, called his wife, and cried as the weight of what he'd done settled in. O'Brady could now claim one of the last great adventure firsts: a solo crossing of the Antarctic landmass, under his own power and with no resupplies. He collected himself and shuffled about a mile away to a spot where a plane could land. He was out of food but found a cache that had been left there a year earlier by Antarctic Logistics and Expeditions, or ALE, a Salt Lake City outfitter that operates flights and guided services into the interior of the continent. They would come for him in a few days. Inside the box he found some chocolate, freeze-dried meals, and a note: "Congratulations, Ben!"
Ben Saunders, a Briton and star polar adventurer, had attempted his own solo crossing of Antarctica in 2017 but had stopped at the South Pole after realizing he would starve before completing the route. The goody box had been waiting ever since.
O'Brady set up his tent and slept. Somewhere in the white enormity behind him, British Army captain Louis Rudd, 49, was steadily grinding toward the same wooden post. Rudd had been friends with Henry Worsley, a fellow army officer and distant relation of Frank Worsley, the captain of Ernest Shackleton's doomed ship, the Endurance. In 2016, Worsley was just 30 miles short of completing an unsupported crossing under his own power, but he suffered an infection and had to be airlifted to Chile, where he died of organ failure at age 55. The following year, Rudd led a team on a traverse of the continent. Now he was back to do it again, alone, to honor his fallen friend. "It's really important it's a Brit that cracks this journey first," he told the Telegraph shortly before leaving. Now a hippie from Oregon had beat him to it. 
O'Brady hadn't seen Rudd since day six, when the captain had shuffled up beside him in a whiteout.
"Morning, mate," Rudd said. "I've got a bit of a suggestion for you."
O'Brady cut him off. "We both know the score out here," he said. "I'm wishing you well, but let this be the last time we speak."
Rudd removed his glasses and stared into the American's cool blue eyes.
"OK," Rudd said. "Suit yourself."
---
What was Rudd going to say over the screaming wind? Was he trying to get in O'Brady's head? Hoping to offer advice as a more experienced explorer? To this day, O'Brady doesn't know. What's certain is that both men were feeling the tension of their contest, as Will Ferrell once put it, all the way down to their plums. 
And yet their race across Antarctica wasn't intentional—not initially, at least. When they started planning their expeditions, neither knew that the other was preparing to go. Rudd announced his bid in April 2018. O'Brady, wondering who else might be going for it, strategically waited another six months. He went public on October 18, just a few weeks before both men would be dropped on the ice.
"Lou was a little short with me when I reached out over e-mail," O'Brady recalls. Rudd no longer wants to talk about it, but Wendy Searle, his expedition manager—who will be attempting a South Pole speed record in November—says that "Lou was never going to do anything but his own thing. It was all terribly British."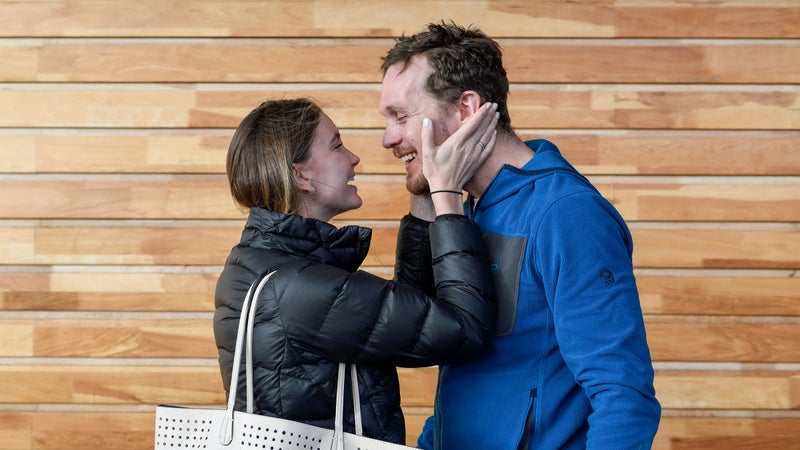 The battle between an upstart Yank and a hardened Brit caused an international media storm. Here was a rivalry reminiscent of the classic 1911 race to the South Pole between Roald Amundsen and Robert Falcon Scott—this time chronicled online. O'Brady and Rudd sat next to each other on the small plane that delivered them to their starting points, which were roughly a mile apart. They began their crossings almost at the same moment. O'Brady knew he couldn't match the captain's experience and that Rudd had a lighter sled, so he decided he had to go longer. If Rudd traveled for 12 hours, O'Brady would go for 13. By day 11, he'd built up a ten-mile lead. 
In the UK, reporters filed dispatches for the BBC, the Independent, and the Guardian. The New York Times published ten stories, including a study guide for young readers and a slick web page tracking the explorers' progress. O'Brady posted a photo on Instagram almost every day.
All the hype had many veterans in the polar community raising their bushy eyebrows. As critics pointed out, O'Brady and Rudd were following shortened routes that crossed only the landmass of Antarctica and none of the ice that extends over the surrounding seas. They weren't the first to do this. Both Ben Saunders and Henry Worsley had also followed shorter routes, though both included at least some of the ice shelves. O'Brady and Rudd, some argued, were looking for the easier way. "It's a pretty simple equation: the longer the distance, the harder the trip," says Eric Larsen, 48, who has led guided expeditions to the polar regions for two decades.
Larsen and others point to Norwegian Borge Ousland, who crossed Antarctica—and its ice sheets—alone and without resupply in 1997. That 1,768-mile sea-to-sea endeavor, which he completed in 65 days, was nearly twice as long as O'Brady's. But because Ousland had at times used a small sail to scoot himself along when the wind was right, he left the door open for someone to claim a truly unaided trek.
As news of O'Brady's victory made its way around the world, ExplorersWeb, an online hub for expedition news that "makes sure credit is given where credit is due," pushed back and noted what many in the media had failed to mention—that for the last 300-plus miles of the crossing, O'Brady (and Rudd) had followed a man-made "snow road," the South Pole Overland Traverse. Used to ferry supplies between McMurdo Station and the pole, it's routed around crevasses and sometimes graded and marked with flags. In 2013, a British woman named Maria Leijerstam had ridden the road to the South Pole on a three-wheeled recumbent fat bike.
"Expeditions aren't just about doing the best thing anymore," Larsen laments. O'Brady largely ignored the criticisms, focusing instead on his messaging to a much wider, mainstream audience. He had barely changed out of the underwear he wore for the entire crossing when he flew to New York to meet with 20 publishers competing for the rights to his memoir, The Impossible First, which will be released in February 2020. He did the TV circuit and later got a hug from Julia Roberts in the NBC Universal greenroom before giving a speech to the broadcaster's executive team. He filmed a segment of HBO's Real Sports with Bryant Gumbel. He talked music with Paul Simon. He started charging tens of thousands of dollars for keynote addresses. His message: we all have a reservoir of untapped potential within us, and only our own minds can prevent us from accessing it. 
Matt Sharkey, global sports marketing director at the North Face, says that putting this kind of spin on an extreme adventure triumph is the natural evolution of the 21st-century expedition narrative. The feat or record still matters, but it's the backstory that people crave.
"Now we say to our athletes, Hey look, we don't want to pressure you for the fastest known time," Sharkey says. "But we want to know, what are you struggling with?"
---
On a rainy May afternoon in Bend, Oregon, O'Brady is sitting comfortably in a windowless room at the Riverhouse on the Deschutes, a hotel and conference center. He's wearing a tight T-shirt stretched across a model's torso, dark jeans, and a borrowed Rolex. His dirty-blond hair is closely cropped.
Earlier in the day, during a break in the weather, O'Brady had been outside with Oregon governor Kate Brown, the two of them chatting about vipassana meditation while the governor's staff filmed the moment for Brown's social-media channels. Soon he'll head downstairs to deliver a version of his well-practiced keynote address—he's already delivered it some 30 times this year—to a couple of hundred attendees at an outdoor-recreation conference. Right now, though, O'Brady and Blake Brinker, 35, a former tech entrepreneur turned brand consultant with a Zach Galifianakis beard, are brainstorming approaches to his upcoming commencement address at Pace Academy, a private K-12 school in Atlanta. The bar is set high: Robert Downey Jr. gave the 2015 address after arriving by helicopter.
"From a storytelling perspective, the way I'd like to do this would be…" O'Brady trails off. Brinker jumps in, and they circle around a metaphor about O'Brady being on the ice, alone and afraid, with no traditional path to follow. "Yeah, yeah," O'Brady says. "It feels a little bit like, What's your Everest? Not what's hers or your mom's or what the school thinks or the guidance counselor, but what is your answer to that question?"
This idea—mustering the courage to set a big goal and then embracing the fear that comes with going for it—is nothing new on the motivational-speaker tour, but O'Brady has credibility that few can match. He was born on a commune in Olympia, Washington, to natural grocers Tim O'Connor and Eileen Brady, who bestowed a blended surname on both him and his elder sister, Caitlin. A dozen family friends were present for his home birth, which happened on a futon while Bob Marley played on repeat.
The family, poor but comfortable, moved to southeast Portland when O'Brady was nine months old, and early on it became clear that he possessed extraordinary athletic ability. He scored so many goals as a young soccer player that his coaches had to stress "the value of the assist," according to his mom. He won his first state swimming championship at age eight. When he was in high school, Yale recruited him to swim breaststroke. "I was so clueless when they called with an offer," he says. "I was like, Yale, where is that?" At one point, he was ranked fifth in the U.S. for his age group in the 200-yard breaststroke, not far behind Michael Phelps. 
Here was a rivalry reminiscent of the classic race to the South Pole—this time chronicled online.
In 2008, his life took a dramatic and horrific turn. A little over a year after graduating with a degree in economics, O'Brady was on a tour of Pacific surf breaks. He met up in Thailand with David Boyer, his best friend from childhood, so they could learn to scuba dive on the island of Ko Tao. One evening on the beach, a few local guys came out with a rope soaked in kerosene, lit it, and started twirling it to make a flaming jump rope, a strange but popular pastime at backpacker parties in Thailand. 
Boyer went first, the rope hissing in the tropical air as it circled above him. O'Brady jumped in but mistimed his leap and landed straddling the rope. Flaming kerosene splattered up over his torso and neck; the rope got tangled around his legs and burned them badly. O'Brady collapsed into the sand and freed himself, burning his right hand, then ran to the sea and dove in.
"Salt water on a wound like that is the most excruciating pain you can imagine," he recalls. "I got out and looked down, and the skin on my legs was charred and peeling like a hot dog."
O'Brady spent three months convalescing, first in a grimy rural clinic, then at a hospital on the more developed island of Ko Samui, where he endured eight surgeries as doctors cut away dead flesh and debrided the deep second-degree burns that had exposed nerves on a quarter of his body. They weren't sure he would ever walk normally again, given how scar tissue contracts.
When O'Brady takes the stage during lunchtime at the Riverhouse, he tells his story masterfully. Pacing back and forth in front of a large screen and wearing a lapel mic, he lingers on the key moments that underlie his hero's journey. When he describes his accident, the audience is visibly moved. A woman near the front puts her hand over her mouth. A man toward the back squints and looks away from the stage.
O'Brady tells the crowd that the mishap, and his dashed future as an athlete, sent him into depression. His mother, sitting by his hospital bed, told him to set a goal for himself:"Life's not over, Colin. What do you want to do when you get out of here?"
"Life's over, Mom."
"Just visualize something."
He saw himself completing a triathlon.
"That wasn't something I'd ever done in my life, but I started training right then," he tells the audience. A picture of him doing dumbbell presses while bandaged in a Thai hospital bed flashes on the screen. The crowd roars with laughter. 
Months after the accident, back in Portland, he took a step, then five, then ten. He got a job as a commodities trader in Illinois. A year and a half after the accident, he crossed the finish line of the Chicago Triathlon. Four hours later, he checked the amateur results. He'd won.
---
At this point, the story of Colin O'Brady takes off in a rocking montage. Imagine it set to any track on Graceland, one of his favorite albums. He quits his job and becomes a professional triathlete, backed by a benefactor who believes in him. He races in 31 events in 25 countries on six continents. He shares hotel rooms with other athletes in Australia and China. Over four years, he has seven top-ten finishes, placing fourth in Zimbabwe. Often he has the love of his life at his side. He'd met Jenna Besaw in Fiji a couple of months before the rope accident. She was 20, on spring break while studying abroad in Australia. They kept in touch during his recovery, and in 2010 she moved to Portland to live with him. In 2014, O'Brady proposed atop Ecuador's third-highest peak, 18,996-foot Cayambe. 
A few days after the conference at the Riverhouse, I meet the couple in Jackson, Wyoming, where they plan to spend half their time. It's cool and wet outside, the Tetons hidden in clouds. Besaw, who has long brown hair and an athletic build, opens the door of their modest red townhome, which sits on a quiet street near Snow King, the local ski area. They're still moving in, and the couch just arrived. A small painting of O'Brady in Antarctica, a gift from a fan, hangs near the kitchen. Their goofy wheaten terrier, Jack, toddles over to have his haunches scratched. 
Every morning they take Jack for a steep hike up the ski slopes, and today I'm sweating profusely as I try to keep up. "Tell him what you're training for," O'Brady says to Jenna as we punch up blotches of late-spring snow. She hesitates. "It's Everest," O'Brady says.
Besaw studied international relations but is a naturally talented marketer with a sharp mind for business and communications. In 2012, when Eileen Brady ran an unsuccessful but spirited campaign to become Portland's mayor—one of her TV ads, called "Put a Job on It," parodied Portlandia—she asked Besaw to be a key member of her staff. In the early days of his triathlon career, O'Brady made Besaw his manager. She quickly realized that his athleticism wasn't his only valuable asset. Looking around at races, she noticed that a number of competitors with little chance of reaching the podium had sponsors, usually because something about them appealed to a particular ­audience. O'Brady, she believed, was a figure who could speak to all kinds of people. "If you're thinking about this as storytelling," she says, "then obviously Colin has his incredible comeback."
Around 2014, just as O'Brady was coming into his prime as a triathlete, the two got the itch to do something more meaningful than just "high-fiving each other at the finish line," as Besaw puts it. O'Brady sensed that he had a massive reserve of power and wondered how he might tap into it to do something big and fulfilling. "I'd always been drawn to the mountains, so that's where we looked," he says.
By 2015, O'Brady was laying the groundwork to break the speed record for the Explorers Grand Slam, a challenge that entails climbing the highest peak on each continent and skiing the last degree to the North and South Poles. Their goal was to use the effort to inspire kids to be more active and pursue their dreams. With $10,000, O'Brady's life savings, the couple built a website and launched a nonprofit called Beyond 7/2. Initially, they struggled to attract sponsors. Just a month before O'Brady was scheduled to begin, they had secured only half of the $500,000 the project required. 
"I kept thinking, We're going to find a way," he says. "And sure enough, we ended up in a conversation with Nike, and they were like, We love this."
At the time, only two people had completed the Explorers Grand Slam in under a year, but O'Brady did it in 139 days, beating the previous record by 53 days. Along the way, he set a new record for the fastest time up the Seven Summits, 131 days, bagging both Everest and Denali in an eight-day stretch in May 2016. Following a suggestion from his cousin, he sent the first-ever Snapchat from the summit of Everest. It became one of the platform's most popular posts of the year, with 22 million views. All told, the project racked up half a billion media impressions, while their nonprofit partners brought O'Brady's go-bigger message to kids in 29,000 schools. 
O'Brady had proven his ability to reach an enormous audience. He and Besaw wondered, what else can we do?
---
At the top of Snow King, Besaw reminds O'Brady of the day's schedule. He has an 11 A.M. call with Pace, the private school in Atlanta. The executives at a freight-logistics company want to talk about a keynote. He needs to work on his book.
Of all the appointments, O'Brady is most excited about speaking with Ross Bernkrant, a Florida man who won a 30-minute phone call with him at a fundraising auction. The guy beat Stage IV esophageal cancer, heard O'Brady on a podcast, and became inspired to take on his own Everest—hiking laps on a mountain in Vermont totaling 29,029 vertical feet. It took him about 24 hours. 
"Knowing what you know now, do you ever wish you hadn't had cancer?" O'Brady asks him.
"No, man. I think I'm much happier now because of it, doing what I want to do."
"I feel the same way about the fire," O'Brady says, gazing at his scarred legs. "I wouldn't wish that on my worst enemy, but there's something about coming out the other side, when you look back on it, the strength and perspective it gives you to take advantage of every day."
After the Explorers Grand Slam, in June 2018, O'Brady climbed to the highest point in all 50 states in just 21 days, breaking the previous record by almost half. Along the way, he and Besaw sought to create what they called a "Forrest Gump effect" by inviting people to join him for portions of the climbs. (Roughly 1,000 people came out.) The project doubled as training for the Antarctica crossing. For months, O'Brady had been visiting a Portland coach and Navy officer named Mike McCastle, who once did 5,804 pull-ups in 24 hours while wearing a 30-pound weight vest. Under McCastle's guidance, O'Brady worked to hone more than just his muscles. He submerged his hands in ice baths and then untied knots and solved Lego puzzles. On his own initiative, he went on ten-day silent-meditation retreats. 
"I got out and looked down, and the skin on my legs was charred and peeling like a hot dog."
He also set about refining his diet—a crucial aspect of an extended polar expedition—with help from one of his sponsors, a Wisconsin supplement company called Standard Process. O'Brady figured he'd burn at least 10,000 calories a day on the ice, which meant he'd have to pull a lot of weight just to keep from starving. "The primary thing that goes into the sled is food and fuel," says Besaw. Add food and you can last longer, but you'll move slower, and the window to complete an Antarctic expedition is less than 90 days. "The margins are extremely tight," she says.
Before O'Brady had begun his high-points project, the medical staff at Standard Process put him through a battery of tests that revealed a nutrient deficiency and disfunctional digestive system, plus, on the positive side, a resiliency gene that allowed him to recover rapidly from extreme exertion. They put him on a supplement regimen that included, among other things, probiotics, protein powder, and ashwaganda. Still, after O'Brady finished all his climbs he felt desperately fatigued, and new tests showed him to be in an even worse state.
"We had to sit him down for a very serious conversation," says John Troup, a vice president for clinical innovation at Standard Process. "With too much inflammation, the underlying systems of the body can become dysfunctional. This is why we believe Worsley died."
Just weeks later, however, O'Brady cast off on another adventure, a 400-mile trek across Greenland. This time, though, he incorporated oranges into his nutrition, and a slower pace afforded him daily recovery time. Blood work confirmed a major improvement. Standard Process eventually sent him slabs of custom-made "Colin bars," a 4,500-calorie plant-based gut bomb that's 70 percent fat and palatable enough to eat all day every day for nearly two months in Antarctica. (At the end of the crossing, doctors examining him were amazed he'd lost only 25 pounds.) 
On my last night in Jackson, we go to a brewery to watch O'Brady's beloved Portland Trail Blazers lose the NBA Western Conference finals. Afterward he runs through some of the highs and lows of the effort. Bluebird days with no wind that felt like a gift. Storms that left him weeping in his tent. In his greatest moments of doubt, he'd hold his arms up like a champ and channel the love and support of millions of people rooting for him. "I'm sure I looked like a fool," he says. 
As for what's next, he won't say, but one assumes it will involve supreme athleticism and human connection. "I love the accolades and being out there, but that's not what endures," he tells me. "When you strip it all away, it's the fabric of the experience that stands out."
A few days later I reach out to Rudd, who is busy planning an adventure that he wants to remain secret for now. I ask him what he was going to suggest to O'Brady that day on the ice. He tells me, and I debate whether to share it with O'Brady. In the end, I keep it to myself. Some stories are better that way.
Correspondent Tim Neville (@tim_neville) wrote about ­China's ski-resort industry in January/February 2018.
Lead Photo: Tamara Merino