When COVID Came to Nepal
Despite Base Camp's status as a super-spreader location, guides actually might have been safer on Everest than they would have been back home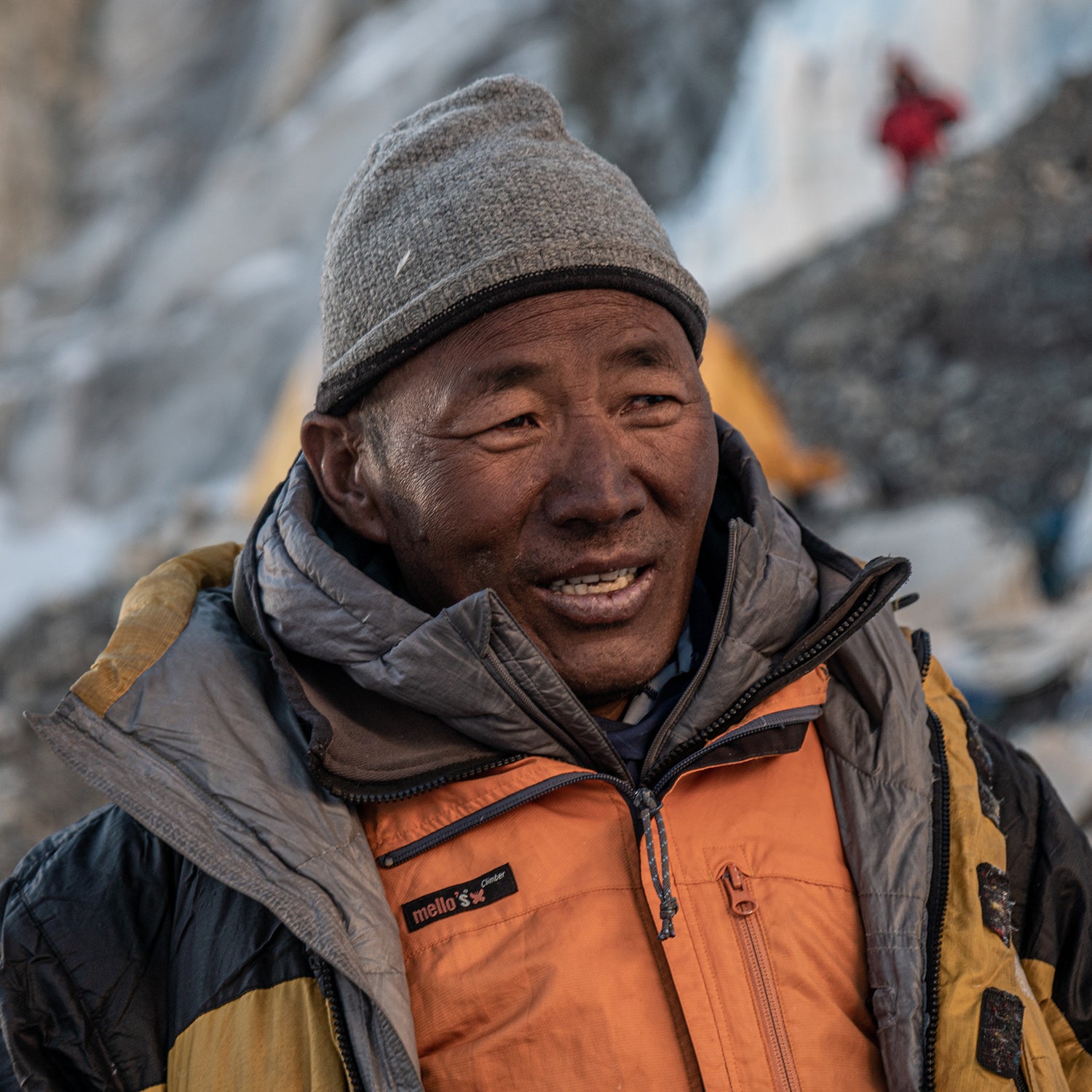 Abiral Rai(Photo)
Heading out the door? Read this article on the new Outside+ app available now on iOS devices for members! Download the app.
From high on the side of Mount Everest, Bishnu Gurung could hear the steady drone of helicopters landing in Base Camp, nearly 6,000 vertical feet below. The 52-year-old guide couldn't tell if the flights were rescuing sick climbers or possibly shuttling in more people from COVID hot spots like Kathmandu. Either way, it wasn't good. He looked down and could see his client ratcheting painstakingly up the Lhotse Face. Bishnu edged his crampons against the slope as he moved slowly into Camp III and dropped his load of supplies. After 30 years of working on Everest, the mountain had become almost like a second home. Although he couldn't see Base Camp, he had heard rumors from other guides and climbers that the coronavirus was raging across the nylon metropolis. 
His client was a Nepali climber named Gobinda Prasad Devkota. Bishnu was impressed with the speed and dexterity he'd shown on this initial acclimatization trip, despite having lost the use of one leg to polio as a child. Gobinda had planned this climb for six years. Unable to raise funds, he finally mortgaged his family property in Kathmandu to pay for the expedition. After a rest, the pair turned around from their high point and descended toward Base Camp. As they entered the Khumbu Icefall, the route became increasingly congested with guides and clients all sharing a single fixed rope. Traffic jams formed on either side of creaking aluminum ladders that were lashed together to span the gaping crevasses. Crowds in the Icefall are always dangerous, as they slow progress and increase exposure to unpredictable falling frozen debris or avalanches. This year the threat was amplified by the risk that other climbers could be infectious. As he passed others, Bishnu tried to pull his neck gaiter up over his nose like a mask, but his sunglasses quickly fogged in the cold mountain air. As soon as they pulled into Base Camp, Bishnu found his phone and called his wife. 
---
A month earlier, Bishnu sat with her in the crowded two-bedroom apartment that they share with their 25-year-old son in Kathmandu's Baluwatar neighborhood. He didn't know what he was going to do. His last expedition to Everest, in 2019, had been a bust: his client fled the country without paying his summit bonus or tips, even though the expedition was successful. Then COVID canceled the 2020 climbing season. Bishnu's funds quickly ran dry. He borrowed what he could from friends to cover food and rent. When a local outfitter, Himalayan Ecstasy, called, he jumped at the chance to work. The company specialized in budget expeditions, so the wages offered were relatively low, yet Bishnu still stood to make over twice Nepal's average annual per capita income in just two hard months. It would be enough to carry his family through the year. Contract terms were quickly negotiated—$3,800 for the climb and a $2,500 summit bonus. The company provided him with nearly the entire amount, including the bonus, in advance and in cash. He was committed to go all the way to the top. Bishnu immediately paid down his loans, then purchased a new headlamp and a pair of expedition gloves. He knew that going back to Everest during a pandemic was a risk, but risk is nothing new for a climbing guide in Nepal who needs to put food on the table.
Nepal had dodged the worst of the first wave of the coronavirus. As cases dropped steadily in the early months of 2021, newspapers celebrated days of zero deaths. Kathmandu buzzed with traffic. The airport grew mobbed with travelers as the government reduced, and then dropped, all quarantine requirements. The health department launched a nationwide vaccination program and gave priority to frontline workers in the tourism industry. Like many climbing guides, Bishnu stood in the queue for hours to receive his first dose of the Chinese-made Sinovac vaccine. A record number of climbing permits were issued on 8,000-meter peaks, including Everest, Annapurna, and Dhaulagiri.
In mid-April, while the industry was in overdrive preparing for the most crowded season in Everest history, a new variant of COVID was sweeping India and charging northward toward Nepal. As Singapore and Hong Kong banned direct flights from India, thousands of migrant workers crossed the open border and flew from Kathmandu instead. Nepal's former king and queen both tested positive after returning from a religious festival in India and checked in to the hospital the following day. A week later, the queen was fighting for her life in the ICU. 
The variant plowed through Nepal. In the two weeks following April 11, reported cases of the virus grew tenfold, and the number of reported deaths followed suit. The Pasupathi temple complex in Kathmandu added 51 makeshift pyres along the sacred Bagmati River to keep up with the increased demand for cremations. Critical COVID patients began dying in ambulances and at home, unable to secure hospital beds, steroids, or medical oxygen. In Kathmandu, the public hospitals set up makeshift beds on sidewalks, at construction sites, and in hallways. At some private hospitals, patients were asked to purchase oxygen on the black market. 
The first cases of COVID at Base Camp were initially dismissed as altitude illness or a catch-all known as the Khumbu cough. Early on, a few mountain workers and climbers were evacuated to Kathmandu; in subsequent interviews, they said that they tested positive for the virus. The tourism department took an aggressive public stance, denying that the virus had spread to Everest, then issued a sternly worded gag order forbidding anyone working on the mountain from "publish[ing] or circulat[ing] any information that would create fear amongst mountaineers and their families without coordinating with government agencies first." Expedition leaders did what they could to contain the spread and cordoned off their camps with rope barriers and handwritten signs. Those who could afford it used rapid antigen tests and isolated their clients from anyone who arrived from outside. 
Still others, like climbing celebrity Nirmal "Nims" Purja, flaunted the rules with abandon, hosting a maskless jam session with American pop star Mike Posner in a crowded dining tent. Elite climbers from multiple teams attended the party, laughing and posting live videos on social media. At the time, few knew that Everest Base Camp was on track to become a major super-spreader event.
On April 26, Kathmandu entered into a second lockdown. Bishnu's wife could now only leave the tiny apartment for two hours each day to fetch food, supplies, and her diabetes medication. On May 3, the government banned all nonemergency domestic flights, and two days later the international airport grounded commercial flights. The first wave of Everest clients set foot on the summit the following week. 
---
As Bishnu spoke with his wife in Base Camp, the dangers on the mountain seemed to disappear. Four of his close relatives had died from COVID complications during his short rotation to Camp III—a young nephew, an uncle, an aunt, and her daughter. The last two died at home together, unable to find oxygen or an ICU bed. The daughter was Bishnu's age. Bishnu felt trapped. He slumped into his tent. There was no point in returning home: he couldn't afford a helicopter, and the bodies had already been cremated. The monks, the prayers, and the final rituals would have to wait. 
Instead, Bishnu prepared for a summit push. He checked and rechecked his gear, including 40 pounds of oxygen in five cylinders, only one of which was for him. Each cylinder was placed gently alongside the others in his backpack; it was the very thing his family had died without, the very thing he would carry so someone else could live.
Lead Photo: Abiral Rai