"Cougar Guy" Tells the Story Behind His Viral Video
Kyle Burgess was on a trail run when he came upon a protective mama mountain lion. Using his phone, he filmed her as she escorted him away from her cubs for six terrifying minutes. He had no idea he'd just shot internet gold.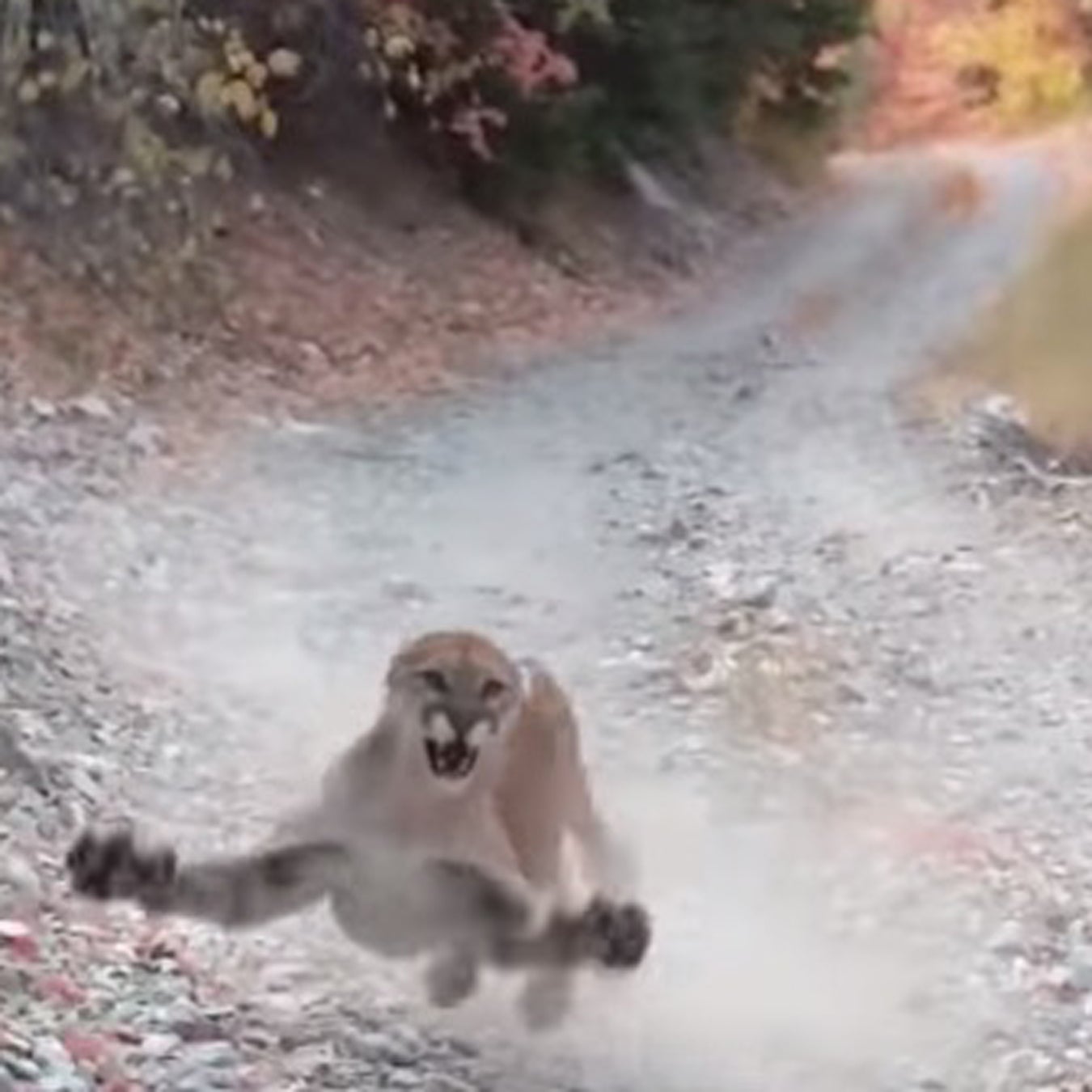 Heading out the door? Read this article on the new Outside+ app available now on iOS devices for members! Download the app.
Last Saturday started out normally for Kyle Burgess. The 26-year-old got off work at UPS, changed into his running gear, and then headed to one of his go-to trails in the Wasatch Range on the edge of Provo, Utah, where he was born, raised, and still lives with his wife. Near the end of his ten-mile trail run, however, his day took a very scary turn. He encountered mountain lion cubs and, right behind them, a very protective mother. Burgess, who had pulled out his phone, began walking backwards while filming the mama cougar leading him away from her babies, pouncing at him each time he started to crouch or turn away.
Human encounters with mountain lions are extremely rare and typically last only seconds. The six-minute video Burgess captured is extraordinary, as riveting as a Planet Earth segment—just with Burgess shouting, "Oh fuck! Oh fuck!" and "You're a fucking scary kitty cat!" instead of David Attenborough's soothing narration. So it wasn't surprising when, after Burgess decided to upload it to Instagram the following morning, it quickly went viral. By Monday afternoon, he was appearing on local TV shows and mentioned in Salt Lake City's newspaper. On Tuesday, Good Morning America did a segment on him, and that evening he was interviewed by Anderson Cooper on CNN. As of publication, the video has been viewed 1.6 million times on Instagram and 4.5 million times on YouTube. 
Burgess told Outside the story of that harrowing afternoon amid an onslaught of media requests from around the world. Here's what happened in his own words. 
---
I got off of work at UPS in the morning, and I decided to go on a trail run that afternoon around four o'clock. My plan was to go up the Y Trail and then come down Slate Canyon Trail to do a full loop. That's about ten miles. 
It's a trail that I run a lot, especially the Y Trail. It's steep—1,000 feet up in the first mile—so it's just tons of vert, and it's good training, good conditioning for my legs. I would like to say I'm a big trail runner, but I don't get out as often as I'd like to. I have two jobs—I work at a knife company called Blade HQ, too—so I end up spending a lot of my time in the office. 
Around seven miles into the run, two or three miles from my car, I was coming down the Slate Canyon Trail, and I stumbled across some wildlife. Usually when I see wildlife on the trail, I pull my phone out and start taking pictures to show my family when I get home. So that's why I pulled my phone out and started taking some video. I had no idea I was about to start filming a viral video. I started videoing these animals, and I thought for sure they were bobcats, because I have previously seen bobcats on this trail. They normally just kind of walk around, and once they see you, they scamper off. But this time, obviously, it was very different. It ended up being some baby cougars. Before I could react, it was too late, and the mama cougar saw me. 
When the video starts, that's when all the action starts. I saw the cubs, and I was like, Oh, super cute! And then reality hit me—Oh fuck. That's a mama cougar. And she's coming straight toward me, and she wants nothing to do with me. As you see in the video, she comes jolting toward me and then kind of dips down into a ravine to my left. And I'm hustling back, not taking my eyes off of her. I didn't want to turn around, because I knew if I turned around, I wouldn't be able to see her, and there's no way I could have either jumped out of the way or protected myself. And so my plan was to just keep my distance between her and me and to make myself look as big as I could. I started walking back up the canyon, the opposite direction of my car. 
While I was backing up, the mama kept swiping at me and doing her little paw thing. Every single time I either bent down to grab something, or if I looked away, I looked weak at that point, because I was either smaller or I wasn't looking at her. She knew exactly what was going on. These animals, I think we underestimate that they're so, so smart, and they know exactly when to attack. And that's kind of what she was doing, she was waiting for the opportune time to take her swipe.
There's that point in the video where she does those three pounces, and there's one of them where she gets within, I'd say, four feet of me. That's honestly when I thought she was going to get me. I tensed up and kind of squinted my eyes a little bit like, Ooooh, this is going to hurt. My heart rate was going. I was able to keep myself relatively calm, though, for the most part, because I knew if I psyched myself out, I'd probably make some irrational decisions. I knew I had to keep a level head and stay in the moment and kind of just keep making rational decisions so that I could get out—and the mama cougar could get out—of the whole situation. I knew that she just wanted me away from her kids. She was just doing her job as a mom. There's nothing wrong with that. I just happened to roll up on the baby cubs at that moment.
Six minutes felt like forever. I was getting kinda tired, and eventually I was like, I think I'm in a good spot. It was probably the most distance I had between me and her at that time. And so even if she did take another pounce, I think I could have grabbed the rock quick enough to have time to toss it. So that's what I did. I was able to toss the rock, throw it in her way, and it startled her enough that she went away. 
I laugh at myself when I watch the video at that part, because I'm just like, "Oh yeah, get away from me! That's what's up!" It was me just being super excited that she'd left. I was so relieved it was over.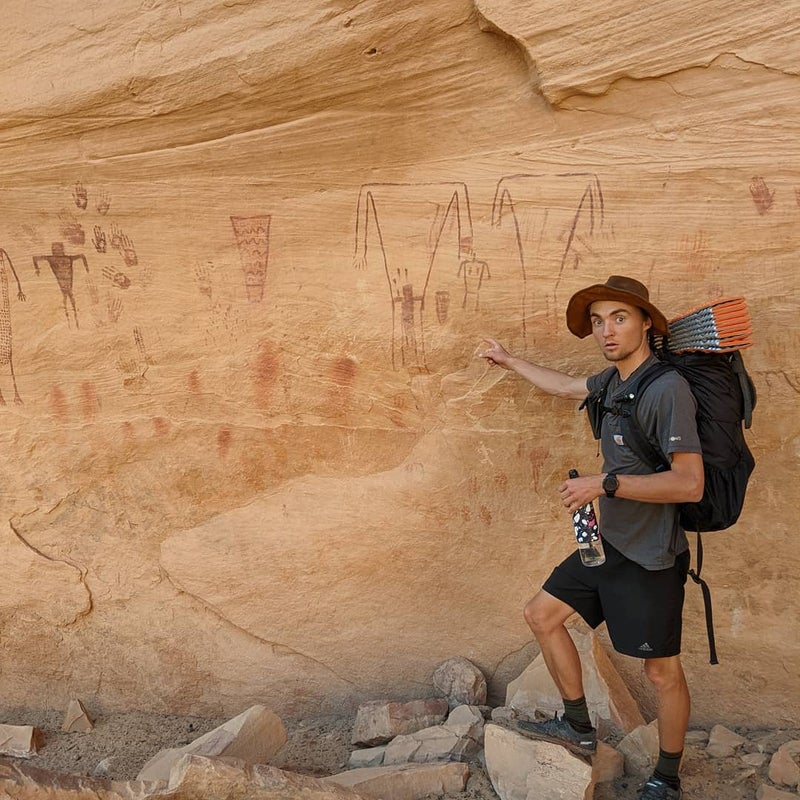 At that point, if I'd backtracked all the way, the other way around the loop, it would have been another seven miles of steep vert. It was coming up on six o'clock and getting to be dusk. I would have been hiking in the dark, and it was a little bit thicker brush going that way.
I had service, because I was only around two miles from the trailhead. So I actually ended up calling my father-in-law. He goes hunting quite often, and I was like, "Hey, like, what do I do?" He's like, "Well, wait it out. If there's babies, that means they were probably heading somewhere. And so if you just wait it out, they should leave, and you should be able to go down at a slower pace and just be careful."  So that's exactly what I did. I was able to wait it out for 30 minutes once the mama cougar left me and was able to finish the loop to my car. 
I actually ran into two other hikers who were coming up the trail. I stopped them and was like, "Wait a second, did you guys see the cougar?" They laughed a little bit, thinking I'm joking with them. I'm like, "No, for real," and pull my phone out and start showing them. And they're like, "No way!" They had no clue. The cougar had left. The next day, our Department of Natural Resources, the wildlife service out here, actually went up to try to look for the cougar, and they said they couldn't find anything. 
I've always watched those documentaries with Bear Grylls, and you always think, like, Wow, I could use that, but you never get the chance to. You hear about, like, "Oh yeah, my buddy saw a cougar or bear one time." But you never really think something like that will happen to you. I feel like I did what I needed to do. Obviously, there could have been different outcomes if I'd done something different or if I'd thrown a rock sooner. There's always the what-ifs. But if I could have thrown a rock sooner, what if I made her mad? And she would have just come straight at me, because I was only 50 yards away from her cubs and I'm throwing rocks at her. It could have ended different ways, but I'm happy with the way it ended—I'm home with my family, and the cougar is out there in the wild where she's supposed to be, with her cubs. 
When I got home, I just kept watching it over and over and over. It's such a cool video. I mean, you just don't see that. My family was like, "Wow, that was so crazy! You should post it, you should post it!" And I'm like, yeah, whatever. So I waited until Sunday morning to post the video. And then that night is when this complete mayhem erupted. I got 1,000 views within a couple of hours. And then it just kept growing and growing and growing. Eventually, news people after news people started calling—local, national, and international outlets. Right now I'm on like three hours of sleep in the past three days. It's just been interview after interview after interview. When I'm done with the national people, international starts calling me, because that's when they're waking up in Australia and the UK. 
No way will it prevent me from going back outside. If you get in a car wreck, you're just going to go fix your car and get in your car again the next day. It's something you have to do. And I think it's kind of that same mentality. You have to deal with what you are given, and take it as an experience, and learn from it. When we're out there, we're in their home, and we just gotta be aware of what we're doing and be respectful to them.