The Curious Case of Andrew Badenoch and His Zero-Fuel Arctic Expedition
Heading out the door? Read this article on the new Outside+ app available now on iOS devices for members! Download the app.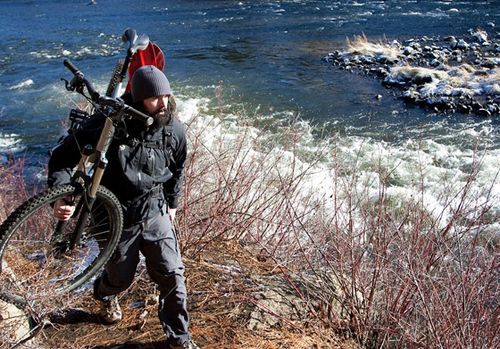 Badenoch, training. Photo: Joe Bell
This spring, Andrew Badenoch plans to launch a 7,000-mile trip from Bellingham, Wash., up to the southern coast of the Arctic Ocean, before looping back. His locomotion will be a fatbike and a small packable raft. The former marketer, who ditched his corporate job to live aboard his sail boat and write, has never done an expedition like this before. But that hasn't stopped around 200 individuals—many of whom don't even know Badenoch—from raising nearly $10,000 $10,500 to support his mission, via Kickstarter.
Whether they're driven by a quest for fame, a search for answers, or a politcal (awareness-raising) objective, major expeditions attract attention and make for good headlines. Oftentimes, corporations sponsor trips, and/or the trips act a fundraising vehicles for nonprofit organisations. Not so for "Fatbikerafting the Arctic," Badenoch's Kickstarter campaign. His benefactors are people who just think his trip sounds interesting, and who want dibs on the things—from a documentary movie to an expedition training guide—that he plans to create once the trip is complete. And Badenoch, by his own admission, is just a guy who wants to prove a point.
The point he wants to prove is that "zero fuel" transportation is possible. By fuel, he is referring to fossil fuels and biofuels, such as ethanol. "I don't think food crops should be used for transportation fuel," he says.
He says he's surprised by how quickly his Kickstarter campaign drummed up support. He exceeded his fundraising goal of $7,700 well before the campaign's February 17 deadline. Many of his supporters came through his nearly 6,000 Twitter followers. Depending on their funding level, supporters will receive a raft of rewards, from a copy of the documentary Badenoch will shoot during his trip to priority access to a training outside-focused, anti-gym fitness guide, and a lightweight documentary gear guide.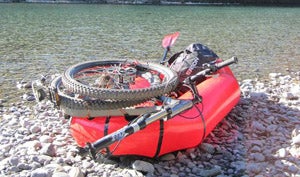 "I have no way to suss out how much the support comes from people who are excited about the process and how many are doing it for the incentives," he says.
One thing that is clear, however, is that they've been sold on Badenoch's enthusiasm and his Kickstarter video. Because if they're looking for a long list of expedition or videography or endurance training bona fides, they won't found one. He studied multimedia in college, but admits: "I don't have a huge portfolio. I did go to art school for this stuff, but it's not what I do every day." As for his training guide, Badenoch's approach to fitness consists of "spending a lot of time outdoors" and doing "high intensity intervals." As for endurance training, he says that will come during the thousands of miles he'll be biking.
The Arctic trip is one part of a larger mission to which Badenoch is devoted: The "77Zero" goal of traversing all seven continents and seven seas with zero fuel. He chronicles his efforts on his website, and he likes to evoke the nostalgia and wonder of early explorers such as Amundsen. But Badenoch also acknowledges the ego and bravado that comes with expeditions (the "look what I did!" element) and is trying to add meaning and usefulness to his efforts. 
Toward that end, Badenoch will spend part of his Arctic trip as a citizen scientist for Adventurers and Scientists for Conservation, a Montana-based organization that recruits athletes, mountaineers and weekend warriors to collect data—that conservation researchers and climate scientists would otherwise not have the funding or manpower or time to collect. 
In its first year, the group connected more than 250 athletes with 50 scientists. Everest climbers collected samples of a plant that grows at an elevation higher than any other known plant. Athletes collected data regarding everything from microbes to ice worms to geese to help scientists conduct field research.
"We're looking at two projects for Andrew, and maybe a third," says Gregg Treinish, Adventurers and Scientists for Conservation's founder and director. A scientists from Kansas State University believes Badenoch may be able to find new species of milipedes along his expedition route. A Montana State scientist hopes Badenoch can collect fragments that will serve efforts to chart the movement and timelines of various species through the northern regions, as part of a larger study to track how animals' habitat is changing as a result of climate change.
"I know a lot of people like Andrew," says Treinish. "There are people who want to make a difference and we give them the tools to do that. We link them with researchers who need data to conduct research."
— Mary Catherine O'Connor
@mcoc 
Trending on Outside Online