A Dog Left to Die on the Mountain
A German Shepherd is found at 13,000 feet, and rescued after surviving seven nights in the cold. How did she get there, and what happened to her owner?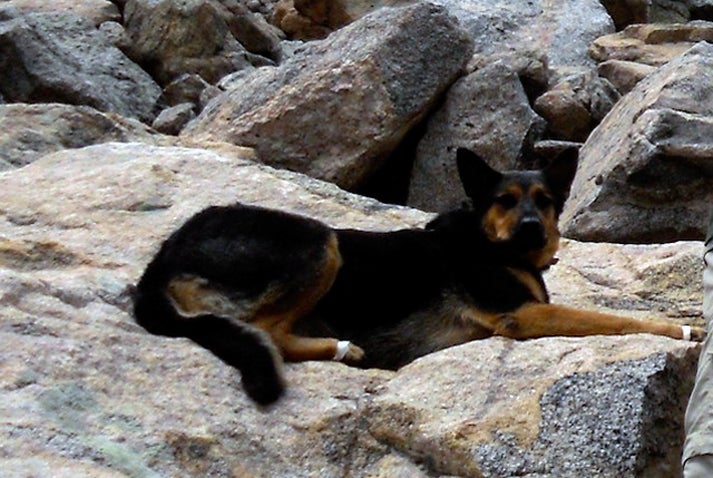 Heading out the door? Read this article on the new Outside+ app available now on iOS devices for members! Download the app.
Two men struggle with a dog. The rocks are large and unstable, her paws are shredded, and a storm is coming. They lower her from boulder to boulder. Each time she touches down, she lands in pain. The clouds are growing, and now she doesn't move. So one man drapes her across his shoulders. He jumps from boulder to boulder on blistered feet, and he drops her. They give her the last of their water. Then, they leave.
She couldn't walk, but she could wait. At first, for her owner, then for the couple that found her on the verge of death—and vowed to bring her down the mountain alive. They returned expecting to carry her the entire way. She refused. After surviving eight days and seven nights alone at 13,000 feet, Missy traveled the final miles of Mt. Bierstadt as she had climbed them—under her own power.
Missy is now called Lucky. And she is a celebrity. But in the early hours after Scott and Amanda Washburn found her, she was just a nameless German Shepherd with paws more like bloody ribbons of flesh and a case of dehydration so severe that her saliva was blue. The Washburns tried to carry her down, but they didn't have the strength—the terrain was just too taxing. So they bandaged her paws, and left her with water. And they made their way off the mountain.
"We figured we'd find a Park Service Ranger to help us carry her out," Scott says. But the first Ranger they met dashed their hopes. He said they couldn't risk people to save a dog. The Washburns would have to let nature run her course.
Amanda wasn't willing to accept that answer. So on their drive back to Denver, she called everyone she could think of—from animal control to search and rescue—to no avail. Out of ideas, they went to the 14ers forum, an online community of hikers.
Scott made the first post. It included a picture of Lucky along with a description of her condition and information where she was found. He asked people to give Lucky food and water if they came across her, and he gave out his phone number to organize a rescue.
Within half an hour, his phone was ringing. People offered advice and help. Online, they expressed their suspicions. Scott's area code was from San Mateo, California. Had he really been on the mountain? And his post was made only minutes after he first joined the site. Was it all a sick hoax?
Brandon Vail didn't think so. He saw the post at 8:00 p.m. and had a gut reaction. "I knew I needed to do something, and I knew I had to do it right now," he says. After all, had it been his dog up on the mountain, he'd want someone to do the same. At 9:30 p.m. he made three calls—one to a friend, and two to strangers who had offered their help on the thread.
At 11:30 p.m., they met at the trailhead and set off into the night. Over on the website, some called it suicide. To get to Lucky, they'd have to climb 3,900 feet up Mt. Bierstadt—a climb peaking at 14,264 feet—and then descend down 900 feet to Sawtooth Ridge, which wouldn't be easy going—it's Class III terrain.
If they managed to find her at night, they'd have to figure out a way to carry her (she had been uncooperative with the Washburns), make their way back across the ridge, and up 900 feet before descending the mountain. For strong hikers in the day, it would be difficult but doable. Under penalty of darkness, it was anyone's guess.
But Vail had done Mt. Bierstadt before and was a strong hiker. He was confident in his plan as the foursome rushed up the mountain. Scott had planned an assault for the following morning, but with the weather dipping to 20 degrees, it wasn't clear Lucky could wait that long. With all the manpower dedicated to Vail's mission, they were going for broke—there would be no try the next morning.
Vail and company summited the mountain at 1:15 a.m. The four men broke off and began searching in a grid pattern—down, then across, then up, and across again. They hoped to catch Lucky's eyes with their headlamps and spot the reflection. But they also had to be careful. A false step on unstable rock wouldn't be pretty.
For three hours and fifteen minutes they scoured the mountain in 20-degree weather. Around four in the morning, they made the excruciating decision to abandon the search. They thought they had been too late. "It was devastating—a quiet hike back down."
Eleven hours after Vail saw Scott's post on 14ers.com, Vail made it back to Denver.
OVER ON THE FORUM, a man comes forward with disturbing news. He writes that he passed two men struggling with a dog on the mountain seven days ago. The dog was panting, and the men were using a rope and harness to lower her from boulder to boulder. Eventually, one of men says "I think I'm going to bail." He's 95 percent sure the dog is Lucky.
Nobody knew what to make of the story—what happened to Lucky's owner, how long had she been on the mountain, and was she still alive. A few posts later, Scott chimes in with a plan. Eight strangers will meet at the Guanella Pass trailhead at 5:00 a.m. on a Monday.
They'll bring their packs and hope to find one that Lucky will fit in. Then they will make their way up to find her, and they'll hope she's alive. Based on Vail's failed attempt and the post detailing just how long Lucky has been on the mountain, expectations were low. "I was trying not to get my hopes up," Scott says. There was no guarantee they'd find her, dead or alive.
Nestled between the rocks and sheltered from the wind, Lucky waits, practically impossible to see. But Amanda was careful to take her bearings before leaving her two days ago, and it pays off. Stefan Kleinschuster spots her almost immediately.
They give her a liter of water to drink and some food to eat. Then, the hard part; they have to carry her up 900 feet and then down the mountain. After loading her into the pack, they set off with each taking his turn. The going is tough. Ten minutes of work leaves Scott exhausted. It starts to rain and snow—no blizzard, but just enough to make things slippery. A fall probably wouldn't be deadly, but it wouldn't be good for Lucky.
They push on, and the news reaches the forum. A volunteer who chose not to follow Scott onto the Sawtooth reports that they've found a dog. A post on Amanda's Facebook pages confirms the good news.
Several hours later, it looks like the story has run its course. But critical questions remain unanswered: How did a dog get stuck at 13,000 feet, and what happened to her owner? Was Lucky left to die?
At first, it wasn't clear we'd ever find the answer. Each year, millions of unknown animals are killed in pounds and shelters. Some owners turn their pets in—the costs go up, their pay goes down, and the dog has to go. Others are abandoned and nameless when they arrive.
It is safe to say that Lucky's owner could have stayed anonymous. But in the hours after she was rescued, he did something courageous and unexpected. Anthony Ortolani came forward to the 14ers forum. He posted his story, thanked the rescuers, begged for forgiveness—and asked for Lucky back.
Ortolani isn't talking anymore, but it's hard to blame him for that. Over the past few months, he's been vilified on the Internet and been the recipient of death threats. He has a case pending in the courts. And the media hasn't tried to tell his story. So he isn't talking. But in the beginning—before things blew up—he was. And from what he wrote, we know some things.
Ortolani and a teenage companion hike up Mt. Bierstadt and make their way over the Sawtooth ridge. Looking back, it's unclear when the problems truly began, but they reach a critical point as "[Lucky's] paws got bloodied up right in the belly of the Sawtooth." A few hikers stop to offer help and then leave because of the weather. Ortolani and his friend use ropes and a harness to lower Lucky from boulder to boulder but "she was hurting herself worse against the rocks sprawling out and catching them with her legs." Eventually, she stops moving and Ortolani picks "her up on my shoulders and was hopping from boulder to boulder." But Lucky falls, and he nearly does too. He realizes he cannot carry her down the mountain.
Meanwhile, he's worried about the weather. He's worried about himself. And he's worried about his friend. Human lives are at stake.
"At this point, I made the decision that I honestly never thought I would ever be faced with," he writes. "I left her there so that my friend and I could get down safely with intentions for calling S&R when we were off of the mountain."
So after two exhausting hours of trying to save Lucky, Ortolani gives up. Once down, he calls 911, the Sherriff's office, and search and rescue. He receives the same answer as Amanda. Nobody is going to send up a human crew to save a dog.
Almost every story has an inflection point, a moment that could have changed everything. For Ortolani and his critics, this is undoubtedly it. Rather than making his way back up the mountain to save Lucky, posting flyers, or reaching out on 14ers.com, he holds tight. Bewildered and emotionally devastated, he Googles "Dog found on Bierstadt" for a few days after leaving her on the mountain. That's all he does.
THE ESTABLISHED STORY DOESN'T look very good for Ortolani. He forces his dog over dangerous terrain, gets her injured, leaves her exposed at 13,000 feet, fails to mount any rescue attempt, and then asks for her back once somebody else finds her.
The details paint a far more complicated picture. Lucky wasn't new to hiking. She and Ortolani hiked six 14ers before tackling Bierstadt. And they didn't approach the mountain on a whim. Ortolani did "a Web search on crossing the Sawtooth with my dog" before setting out on the hike—which is more than many hikers do. The site he found was supportive of his plan. It suggested hikers have a rope and harness—which he did—but that's all. Needless to say, it was terrible advice.
When the going got tough, Ortolani didn't just leave Lucky. He struggled with her for over two hours on the mountain. He didn't drop her off at a shelter or abandon her in the streets. And when he made the decision to leave her, he gave her three bottles of his water—reserving only a liter for himself and his friend.
The more you hear, the easier it is to picture yourself in his position. Every dog owner has made mistakes. We've all been in over our heads before. But for some reason, the empathy doesn't last. We always return to the most basic question: Why didn't he go back?
Once more, the devil is in the details. He didn't have a choice. Not only was Ortolani physically unable to attempt another climb—his sister, a close friend, and his employer all mentioned he had trouble walking post-Bierstadt—but his employer had him traveling out of state the next day.
On the 14ers forum, Ortolani's boss came to his defense, writing: "I had the misfortune to demanding that he go out of state to work on a project that involved many other people and could not be postponed or cancelled. He wanted to return to look for Missy but he had no choice in the matter. My heart was breaking for him."
It seems that Ortolani couldn't make it back up the mountain himself. But why couldn't he put together a rescue attempt? Posters on the forum forgave his decision to hike Bierstadt with Lucky, they can understand that he had to leave her. Some may even realize that he couldn't skip work to save her. But no strangers came forward supporting his decision to sit quiet.
Unless he speaks up, we may never know exactly what Ortolani was thinking at the time. But he did explain one thing after the fact: He believed Lucky was dead. He knew his friends were not "outdoors people." And he wasn't going to risk their lives on a doomed mission.
"There are a few that I could have called, but seriously I just lost hope, and bringing others into it seemed as bad as good," he wrote. "If the rescuers will not put their lives in jeopardy, it didn't really seem all that wise to ask my friends and family to do the same."
Ortolani wants his dog back, but that's not happening. As part of a plea bargain, he gave her up to Scott and Amanda (and also paid $5,000 in veterinarian bills to cover her recovery). Instead, he faces up to 18 months of jail time for charges of animal abuse, and will be sentenced November 20.