Why Some People Obsessively Hunt Elk Antlers
One crazy night in Bridger-Teton National Forest with hundreds of people who just want to find the horns that elk have left behind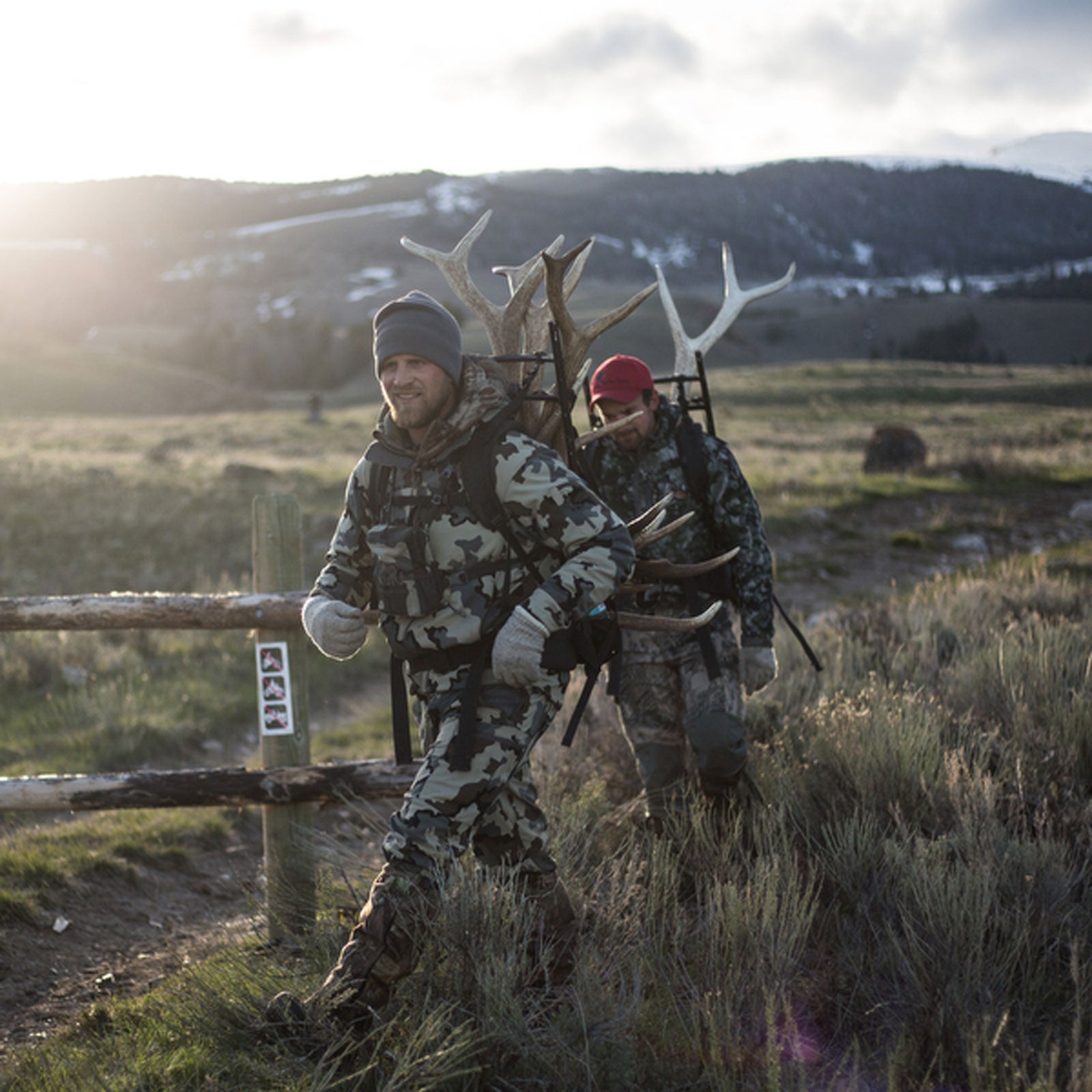 Heading out the door? Read this article on the new Outside+ app available now on iOS devices for members! Download the app.
I'm sitting in the back seat of a truck bullying its way down Broadway Avenue in Jackson, Wyoming, minutes before midnight on the eve of May 1. Ahead there are at least a hundred vehicles, with many more behind, and plenty idling on residential side streets with license plates from Utah, Colorado, Montana, and Idaho trying to cut in line. Our driver, Ryan Fetherston, won't allow it. He accelerates, then brakes, accelerates, then brakes, pushing his truck within inches of the rear bumper ahead.
"Whoo-hoo! Want to talk about competition?" he yells in the direction of a car full of guys wearing matching camouflage gear who are desperately trying to merge.
"Be aggressive dude, don't let them in," Joey Paulsonmorgan barks from the back seat. "It's every man for themselves, brah!"
We're all headed toward the same place, a dirt road that will lead us to Bridger-Teton National Forest. The road opens about ten minutes from now, and the sooner we get to the trailhead, the sooner we can start searching for the very thing these hordes of visitors have traveled here to find.
Elk antlers.
People call them "sheds," because every spring, a bull elk will shed its pair. On some public lands, if you find a shed, it's yours to keep. Some folks use them for art purposes—to make furniture or knives with antler handles. Others have massive collections and keep their sheds in large piles in a garage or mount them on taxidermy. But many are looking to sell.
A brown shed is the freshest and most valuable type of antler, still streaked with a coating from when the animal rubbed its horns on bark, sap, and dirt but not yet bleached by a summer of sun and rain. Those can sell for $12 to $15 a pound. An average six-point antler weighs eight pounds, which is why browns have earned a nickname from those who seek them: brown gold. 
"It's like a big Easter-egg hunt. The adult version of it."
The guys I'm with are three experienced shed hunters from Helena, Montana, who drove five hours to get here, with Paulsonmorgan arriving separately at 11 A.M. to jockey for a parking spot down Broadway all day. We're here because of what sits to our left: the National Elk Refuge, where roughly 6,000 to 10,000 elk winter every year. And while it's illegal to pick up a shed on refuge land, or at Grand Teton National Park, it's fair game on the neighboring 3.4-million-acre Bridger-Teton National Forest once the winter wildlife closure is no longer in effect come May 1. By midnight, we want to be part of the earliest wave of shed hunters to venture into grizzly bear country, scanning the ground for miles on a night that's unofficially called the Jackson Antler Opener.
"It's like a big Easter-egg hunt," Andy Dahl says from the front seat. "The adult version of it."
His crew of buddies is a mishmash of collectors and sellers who travel to hunts like this around the Mountain West. Paulsonmorgan, an elementary school PE teacher, keeps most of the sheds he finds, especially the big ones. A couple years ago in Jackson, he found eight browns in one night. The next year he found nothing. Fetherston, a middle school social-studies teacher, keeps most of his, too, and he writes a journal entry about where he discovered each one. Dahl lives on a ranch and sells some of his sheds so his family can buy appliances. Currently, they're in the market for a new meat grinder.
Me? I flew in from Dallas, and I'm just trying to find my first. 
These Montana guys graciously offered to give me a ride to the trailhead. The clock strikes midnight, and the gates open. As we snake down the dirt road in what looks like postconcert traffic, Paulsonmorgan is giving me advice on how to spot a shed. "You're not looking for the whole thing," he says. "You're never going to find it. You're looking for tips or the white button on the end." 
The temperature is in the teens, it's pitch-black, and it snowed a couple inches hours ago. Some people brought horses to cover more ground, while others brought dogs trained to sniff out sheds. Paulsonmorgan provided walkie-talkies in case we stray too far. We park and grab our backpacks from the truck bed as the competition all around us does the same. The hills are already lit with swiveling searchlights, like there's a Hollywood movie premiere happening on the mountain. I hook a canister of bear spray to my belt and turn on my headlamp.
"People are running!" Fetherston yells.
So we run.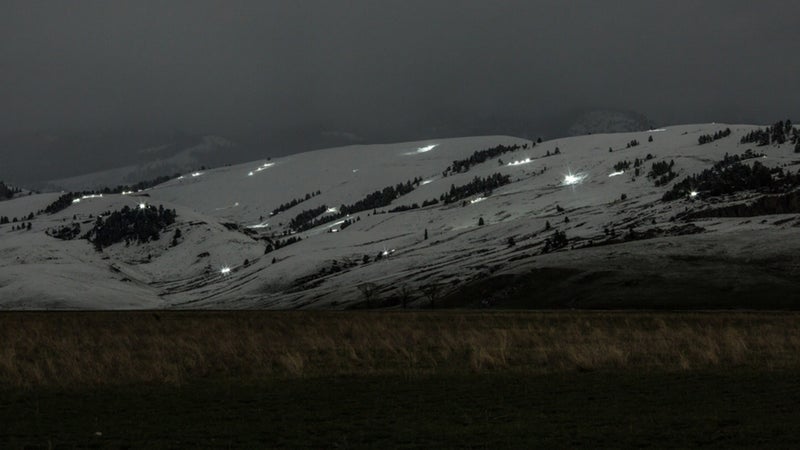 ---
This is not a sanctioned event, even though it's gotten bigger over the 40 or so years it's been happening. Instead, it's the byproduct of two Wyoming regulations made to protect wildlife.
Winter is the toughest time of year for big-game animals like elk. They're trying to survive and expend the least amount of energy. Come December, most of the Jackson herd will migrate to the National Elk Refuge to forage for native grasses and be fed supplemental alfalfa pellets during the harshest winter months. By March and April, when the elk shed their antlers, they'll begin seeking south-facing slopes where there's more sun, less snow, and better vegetation to eat.
But their energy reserves are still critically low, "to the point where any extra stress during that time can really compromise their ability to survive," says Mark Gocke, a public-information specialist at the Wyoming Game and Fish Department in Jackson. "If a shed hunter spooks them and they run off, they might look fine, but they may be dead in a week." So for more than 20 years, areas of Bridger-Teton National Forest deemed crucial big-game winter ranges, including the chunk of land alongside the National Elk Refuge, are closed to the public from December 1 through April 30.
That regulation doesn't include elk-populated areas outside of Bridger-Teton National Forest, though, which meant that for years people were stalking elk and grabbing antlers just as they hit the snow. Gocke has even heard stories of hunters forcing animals into forested areas, hoping a branch might knock one off. So in 2009, Wyoming Game and Fish passed a regulation: it's illegal to pick up an antler (be it elk, moose, or deer) on public land west of the Continental Divide—where shed hunting is most common in the state—until May 1, creating a de facto opening day.
But just because there are rules doesn't mean everyone abides. After all, there's serious money in shed hunting, with brokers across the Mountain West buying antlers in bulk to be sawed into dog chews that then sell for $20 to $40 a pound or sold to brokers in China for medicinal purposes. A matching set of antlers, depending on the size, can net you hundreds or thousands of dollars from a collector. 
But just because there are rules doesn't mean everyone abides.
So agencies like Wyoming Game and Fish deploy their own methods of policing—tactics they like to keep discreet. Some say one method is drilling tracking devices into certain antlers to see if they're snagged before May 1. Or planting sheds in areas where it's illegal to pick them up and using hidden motion-sensor cameras to alert the authorities. "I'm not going to confirm nor deny any of that," says Kyle Lash, game warden for the Wyoming Game and Fish Department. "But there is technology out there that we are using."
The best policemen, Lash explains, are the public. He says he gets more calls about shed enforcement than anything else he does, especially when people suspect a poacher is sneaking into the woods and building secret piles to retrieve on opening day. "We have tactics to prevent that, too," he says. If you're caught poaching, it's a low misdemeanor, which can come with a fine of up to $1,000 per antler, as well as potential jail time and the removal of hunting privileges.
Those who wait until May 1 play it fair. But the Black Friday–esque antler rush doesn't come stress-free for wildlife officials and the town of Jackson. For one, it puts humans in bear country at an hour and time of year when they're active. It also costs taxpayer dollars to bring in additional law enforcement to patrol. Plus there's potential resource damage, such as reckless driving rutting the dirt road, not to mention the congestion that traffic causes on Broadway.
"Just because you're the first person out there doesn't mean you're the person who's going to find the most antlers," says Lori Iverson, spokesperson for the National Elk Refuge. "People who wait until 5 A.M. or a day or two later are every bit as successful, if not more successful, than the people who went out at midnight and walked right by antlers they couldn't see."
---
I run into the darkness. The crew I rode here with is already 50 yards ahead and fanning out. I try to track their movements, but after three minutes, they're gone.
I pump my legs up a steep hill, seeking a more secluded stretch of land before slowing my pace. "Tips and buttons," I repeat to myself. "Looking for tips and buttons." I scan the ground with urgency, wading through calf-high grass and stiff sagebrush, not sure of where I am or where I'm going next. Then, after 20 minutes, I see it. The brown object points awkwardly from the ground five yards away, its odd curvature undisturbed under a thin bed of snow. I race its way and give it a gentle kick. The snow blinks off—revealing a large, thick branch.
"Got one!" my walkie-talkie buzzes moments later, from a voice that sounds like Fetherston's, who's found an antler somewhere nearby. I shrug off the disappointment and keep moving, coming across someone else who seems to be taking his time.
"Any luck?" I ask.
"Not yet," Dale Keller grumbles. "How about you?" I shake my head and tell him about the branch. Keller is a truck driver and an experienced shed hunter from Kalispell, Montana. He has a big antler collection and even bigger plans—one day he wants to retire off the ones he's found. "My buddies laugh at me, but when I can't walk anymore, I'd like to make stuff out of them and sell it," he says. "That's where the money's at." 
Once, Paulsonmorgan saw a guy dive toward a six-point, belly-flopping onto the spiky tines.
Keller and I wish each other luck, then drift apart, because there's no sense in looking for sheds together. If two people spot one at the same time, the unwritten rule is that whoever snags it first gets it. Once, Paulsonmorgan saw a guy dive toward a six-point, belly-flopping onto the spiky tines.
Up ahead, I see someone who's hit it big. Her name is Kilmeny Hall, and she's gripping a six-point brown, found moments ago just up the hill from me. "This is my first time antler hunting!" she says with a huge grin, and as she lets me hold it, I try to hide my jealousy.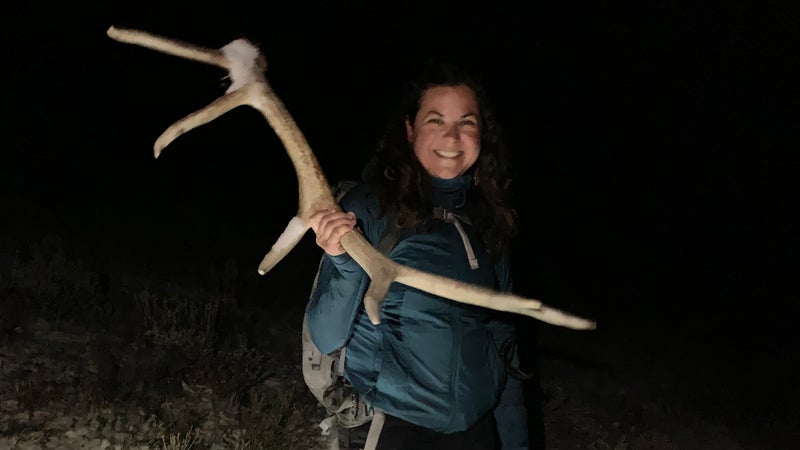 After Hall walks away with her prize, I decide to take a break and turn off my headlamp. For the first time all night, I realize there's a clear Wyoming sky, with the Milky Way and Big Dipper in full view, and oddly enough, as I look out toward the surrounding black foothills dotted with hundreds of lights, the two look similar.
The sky begins to brighten around 5 A.M., illuminating the snowy terrain I've aimlessly trekked on for ten or so miles, as well as the Tetons, which seem to appear out of nowhere. Feeling optimistic, I hike up a hill. The hordes are long gone by now—either back in their cars or somewhere deep in the forest—and I wonder if now is my chance to find a shed that all of us walked right past. I swap my headlamp for a pair of binoculars, knowing this is the dramatic moment in any adventure story that leads to a grand discovery.
But today it isn't.
By 7 A.M., I quit. Tired, cold, and defeated, I trudge back to the parking lot, now in search of a ride back to town. On my way, I meet two well-rested women from Salt Lake City at the trailhead, first-timers who are just beginning their hunt. "It's about the experience," Valerie Larabee says after learning of my failure. "That's kind of what we figured. Just come on out, hike for a couple hours, and enjoy the outdoors."
Larabee is right. I wish them luck and am weaving between parked cars and horse trailers when I hear a loud clank on the ground, like wooden baseball bats knocking together. A guy dressed in camouflage gear has unhooked the straps to his backpack to release the four sheds he's found.
David Wilson proudly stands over his antlers, including a six-point and a five-point, both browns. He road-tripped here from Great Falls, Montana, with one of his friends from church. I ask for a ride, and they kindly invite me in, providing chocolate Twizzlers and Rice Krispies Treats as we head down the dirt road back to Jackson. Wilson's been shed hunting for seven years now, and his collection is locked away in a safe place. Today he covered about 20 miles on foot, hunting with an $800 headlamp and a hand light, which he credits for finding the five-point, my favorite of the bunch. "I was in some timber, and there was a guy right above me," Wilson says. "He started coming toward me, and I turned around and saw that five-point, tines up, between three trees. It was cool." He lets me hold it for the entire drive, and by the time we get to my hotel, I can't let go.
"Would you sell it?" I ask.
Wilson pauses. He's not sure if he's ever sold an antler, especially a brown. But after learning that I came up empty-handed, and that he could use the gas money, he's reconsidering his stance.
"Hmm," he says with a smile. "I'd part with it for $50."