Empowerment Plan: High-Tech Coat is Catalyst for Rebuilding Detroit
Heading out the door? Read this article on the new Outside+ app available now on iOS devices for members! Download the app.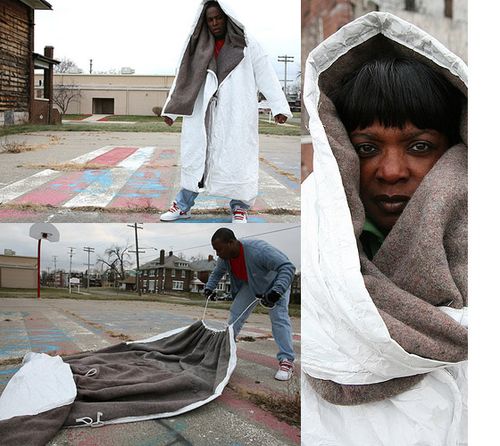 Veronika Scott's initial coat design, with Tyvec shell. Photo: Brittany Thomasson
In 2010, while pursuing her degree in product design at Detroit's College for Creative Studies, a single idea changed the course of Veronika Scott's life. She decided to make a coat.
Not just any coat. She designed and prototyped a coat to withstand the frigid, snowy winters in Detroit. And we're not talking about walking or ice skating or playing hockey or commuting in Detroit winters. We're talking about living in Detroit winters, without a home.
Scott was volunteering at a Detroit shelter when she conceived of the idea, as a project for a design class focused on developing products to address social problems. She says she found that some of the homeless people she interacted with at the shelter where choosing to sleep outside rather than staying in shelters. She wanted to create a coat that would double as a sleeping bag while also keeping them warm and dry.
Because they're so expensive, Gore-Tex and other high-end fabrics didn't fit into her plans to produce hundreds of the coats and distribute them to some of Detroit's 20,000 homeless residents. She needed materials that were both bomber and cheap. After testing many different fabrics and designs, her first prototype was a shell made of Tyvec — yes, the water barrier often used as "house wrap" in new building construction — and with insulation she was able to secure from Carhartt. 
She designed an extension into the coat that can be folded out to convert it into a sleeping back, and also added toggles and cords that transform the coat into a carrier bag.
The coat project spiraled out from being a classroom assignment to being a real enterprise. But it quickly became clear that giving coats away wasn't going to be enough. Scott teamed up with Cass Community Services to start distributing the coats but also secured donations to be able to hire two unemployed and homeless Detroit women to help her produce the coats. And The Empowerment Plan was born.
But Scott is continually tweaking the design and fabrics she uses, based on feedback from coat recipients. She currently uses Thinsulate insulation and chair upholstery material provided by Steelcase. "I had to figure out lighter ways of doing things. These people can't tote this coat around in a car, or on a bike," Scott says. "They're always wearing a lot of layers and they need to carry it around."
To improve and refine the bulky, noisy Tyvec design, Scott worked with another unlikely source, but one that's a natural for Detroit: a manufacturer of automobile interiors, Acme Mills. 
"Acme helped me narrow my focus into types of insulation," says Scott, "and getting more cloth-like material, because the Tyvec was really stiff and loud."
Future Seasons
The Empowerment Plan has made a difference in the lives of the coat recipients — 275 were distributed to homeless advocacy groups last winter — and in the lives of the people producing the coats. But it's also improving the lives of the women Scott has hired to help her sew the coats, including Elisha Carpenter, one of her first employees. "Elisha is doing amazingly well, she's my biggest point of pride," says Scott. "She's now been employed since December of 2010. She found her own apartment and her three kids are enrolled in charter schools."
In the near future, Scott (who, by the way, is only 22 years old) hopes to begin transitioning The Empowerment Plan from a nonprofit to a for-profit venture, using a "buy one get one" or "one for one" model, a'la Tom's shoes. "But we want to make the model more transparent," Scott explains. Whereas consumers don't know anything about the pair of shoes that Tom's gives to needy children for every pair they purchase, purchasing a coat from The Empowerment Plan would come with a backstory.
As she sees it, this could play out in a way that really transcends social class. Scott recently attended Aspen Fashion Week to demonstrate her coat and talk about her plans, which buoyed her hopes that the one-for-one model will work and that someday residents of towns like Aspen might pay a high dollar for an Empowerment Plan coat, which would subsidize a counterpart coat to be given to a homeless person in Detroit, whose story could be shared with the buyer. 
Homeless people are often erroneously labeled as lazy or inept, whereas the world's wealthy tend to be revered. But what happens, she asks, when "someone who has a $6 million home and someone without a home are wearing the same coat?" 
–Mary Catherine O'Connor
@mcoc