Eric Larsen Abandoned His South Pole Solo Speed Attempt
Soul-sucking whiteouts and not enough food stymied the polar explorer's best efforts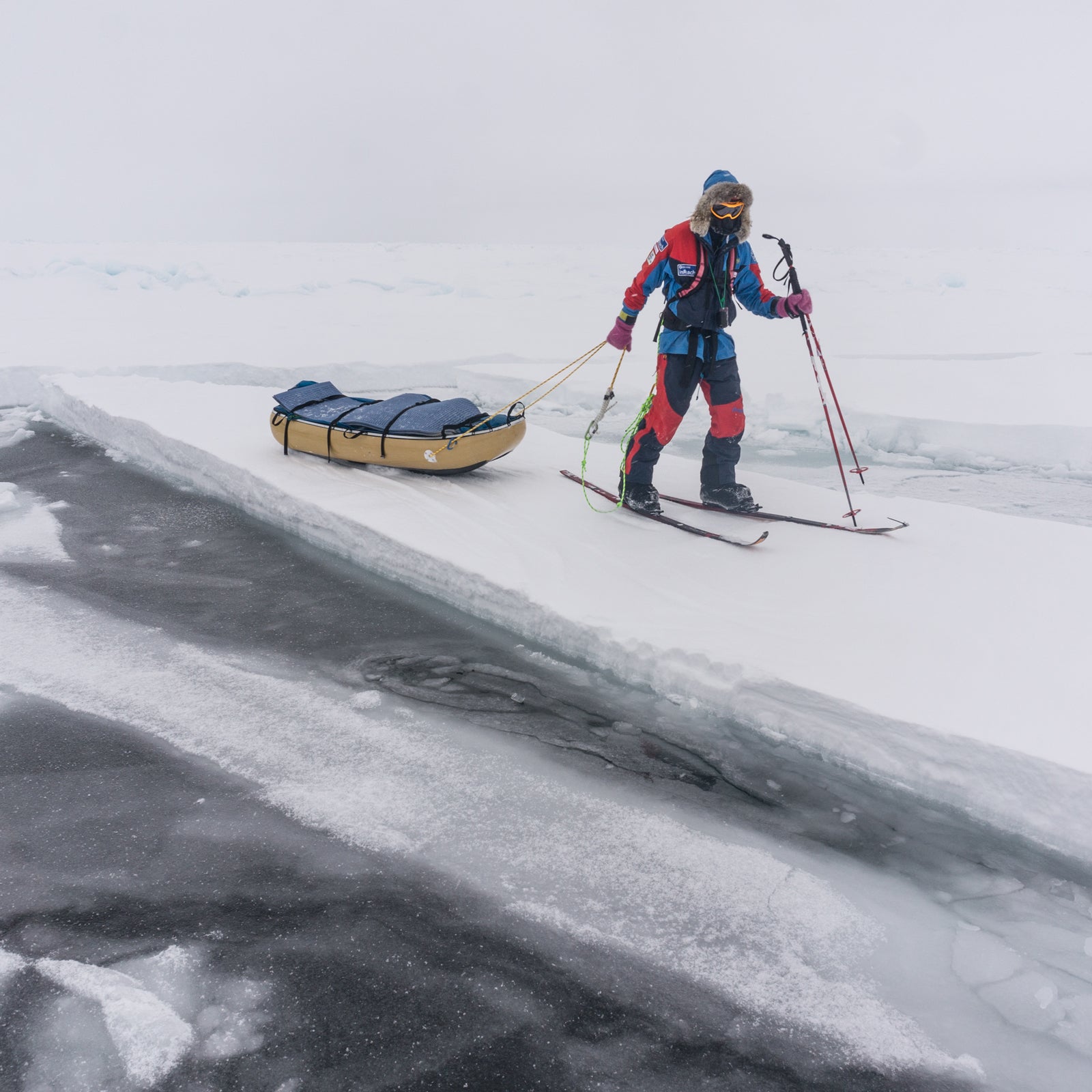 EmmaHill13/Wikimedia Commons(Photo)
Heading out the door? Read this article on the new Outside+ app available now on iOS devices for members! Download the app.
For three weeks, Eric Larsen slid one foot in front of the other on his way to the geographic South Pole. But more than 400 miles into his journey, the 47-year-old from Crested Butte, Colorado, is calling it quits.
Larsen, who has been to Antarctica five times before (and has successfully reached the South Pole four times), was hoping to break the solo, unsupported (no outside resupplies), and unassisted (no aid from sled dogs or a kite) speed record on the 700-mile Hercules Route, set in 2011 by the Norwegian Christian Eide at 24 days, 1 hour, and 13 minutes.
Since the day he set out from the Hercules Inlet on November 23, however, Larsen battled frequent whiteout conditions. "The weather this year has been my biggest adversary," he posted to his blog on December 16, the day he abandoned his attempt. "The constant snow (Antarctica is a desert ironically) has impeded my progress significantly." Weather in Antarctica is always a mixed bag, but this season has been far from normal, according to Larsen. During his first nine days on the trail, he rarely saw the sun, even though it never sets in the austral summer.
Larsen needed to ski an average of 30 miles per day to break the speed record, but because of the conditions, he fell short of that target over the first week of his journey. For the past two weeks, he attempted to make up time by skiing 15 hours per day and cutting sleep to four hours a night. But he started the expedition with only 23.5 days' worth of food and fuel—which he could stretch out to 26 if need be—leaving him only a narrow margin of error if things did not go according to plan.
"I am a firm believer in failing forward."
Twenty-one days into his journey, with supplies running out and 290 miles still to go, Larsen gave up hope of reaching the South Pole. "Even with my miserly saving on rations over the past week to extend that timeline even further, I don't have enough to reach the pole," he wrote. "It would be close, but it would also be outside the realm of what I consider safe."
His attempt may be over, but he's not out of the snow globe just yet—he's still hundreds of miles from any semblance of civilization. For now, he'll about-face and backtrack to the Thiel Mountains Skiway—an unattended ice landing strip and aircraft fuel cache located halfway between the Union Glacier Camp and the Amundson-Scott South Pole Station—to await pickup by a Twin Otter or Douglas DC-3 plane.
He can reach the skiway in two days of skiing, but once there, he'll be at the mercy of Antarctic weather. Antarctica is the windiest continent on earth and it's anyone's guess as to when a plane will be able to fly. "Luckily," he writes, "there is an emergency stash of food and fuel there so I won't go hungry."
Even though this expedition got the best of him, he'll be returning home with all of his fingers and toes, and a positive attitude. "I am a firm believer in failing forward," Larsen writes. "To me any great undertaking is a process not a singular destination and I have come up short on grand adventures many, many times before. (It never gets easier). The insights gained here and now will, in the not so distant future, provide valuable insights into overcoming the next difficulty I encounter."
Lead Photo: EmmaHill13/Wikimedia Commons
Trending on Outside Online