Fatbike Expedition Comes to a Quiet Halt
Heading out the door? Read this article on the new Outside+ app available now on iOS devices for members! Download the app.
Andrew Badenoch raised nearly $10,500 via Kickstarter to fund his zero-fuel Arctic adventure, but he abandoned his trip and left his backers in the dark.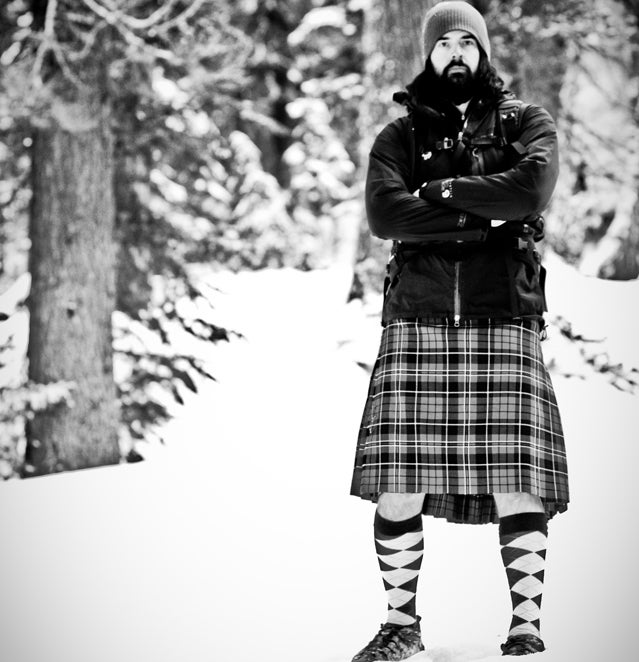 Andrew Badenoch. Photo: Joe Bell
Back in February, I wrote about Andrew Badenoch, an
ambitious Portlander who had just raised nearly $10,500, via Kickstarter, to
fund a solo fatbike and packraft trip from Bellingham, Washington, to the southern
coast of the Arctic Ocean and back—a staggering, 7,000-mile journey. All
this was despite the fact that Badenoch had no appropriate expedition
experience. What he did have was a snazzy website, a compelling pitch video on
Kickstarter, and a lot of ambition. I called that story "The
Curious Case of Andrew Badenoch."
Since then, the story has gotten more and more curious. Due
to logistical challenges, he launched his expedition many weeks after his
target departure. He made it up to a small town in north central British
Columbia, roughly 830 miles from Bellingham. He holed up there for at least a
couple of weeks, apparently trying to arrange for food and gear deliveries, but
then turned back south sometime in mid-August, it appears. I do not have exact
dates or specific details of his trip because Badenoch has never provided them
to me, or to his 212 Kickstarter backers.
In fact, his Kickstarter backers have not heard from him
since May 3.
In mid-September, I received an email from an expedition
biker based in Alaska who had been tracking (or at least trying to track) the
expedition. He raised some questions that I had already been pondering, namely:
Whatever happened to Andrew Badenoch? In his Kickstarter video, the
kilt-wearing Badenoch said his projected departure had been March or April "depending
on ice conditions," with an end date of October or November.  
According to his Twitter feed, on which he had been very
active throughout the spring and summer and on which he told backers to watch for
updates, he apparently hit the road in late May. The tweets that
followed gave some snippets into the reality of expedition cycling: torrents of
rain, stretches of hunger and fatigue, etc. But then in early June, if you go back and look, there are
some real signs of stress, related not so much to the cycling but to his
efforts to arrange shipments of wheat-free food, and arranging for money
transfers. All along, he never gave specifics about where he was, nor did he
post photos—but a few tweets linked to a mapping service that showed him to
be in central B.C.
Occasionally, he made pitches for additional donations via
his PayPal account, though I could not find any related news about how he had
used his Kickstarter funds. Around June 9 he wrote a post called "Not What
I Signed Up For" in which he described feeling like the character K in
Kafka's The Trail. The gist was that
while he expected the trip to be arduous, it was turning out to be, at times,
untenably challenging.
When I reached out to Badenoch via email and phone on
September 18, the tracking map on his website showed his last check-in to be
Pink Mountain, a small town about 140 miles north of the southern terminus of
the Alaska Highway. But without any dates or details, the map didn't offer much
by way of when he started and how long he spent at each check-in, let alone in
Pink Mountain.
BREADCRUMBS
Having heard nothing anything back from Badenoch (though he
was occasionally online, based on his Twitter activity), I tracked down Chris Figureida,
an expedition cyclist who goes on epic rides to raise money for the American
Heart Association and whom Badenoch tweeted about having met.
"Yes, I met Andrew at the Pink Mountain Motor Inn,"
Figureida told me. "I had biked up from Death Valley and attempted to
climb McKinley and when I met him I was headed south again. He was stuck there,
waiting for supplies—camera and other gear that is really expensive and he
didn't want to go further without it. He was in the café, using Wi-Fi. He was
eating what he could afford, but I guess he has a really restrictive diet. At
night he was sneaking into empty cabins to sleep. He had been there for one or two
weeks."
"He struck me as really light on supplies," Figureida
added. "He didn't have a tent, just a tarp and canopy. When I looked at
him I thought he didn't really know what he was doing. The impression was
that he was a little too idealistic. He was definitely down, really
disappointed. I think he felt like he was stuck between two rocks."
In his tweets throughout this time, Badenoch never gave any
specifics about where he was, nor his exact predicament. He only reiterated the
problems he was having with Canada Post—issues that Figureida and other
expedition cyclists say are common ones for Americans traveling throughout
Canada and trying to arrange supply pick-ups. On July 26, Badenoch tweeted "AWOL."
Tweets and Facebook posts sent to Badenoch, from Kickstarter backers and other
watchers, were largely ignored. When he did respond, Badenoch was markedly
vague.
On September 11 he tweeted "packing a Super Magnum Bear
Spray in non-bear country is a nice blend of weight training and masochism."
This and other tweets made it clear that he wasn't still on his expedition, but
he offered no real explanation on Twitter, Facebook or his website.
OFF-PISTE
I called the Pink Mountain Motor Inn and an employee
confirmed that Badenoch had been there, for a number of weeks, and that he left
some time around mid-August, heading south.
On September 24, Badenoch responded to my email requesting
an interview. "Had to postpone the expedition after logistical nightmares
made me miss the weather window," he wrote. I've called and emailed,
asking for more details, but he has not responded.
It's one thing to fail to quickly respond to a reporter.
It's another that Badenoch has not communicated his status to the 212
micro-investors who ponied up a collective $10,437 to support the
fossil-fuel-free expedition. Even
if he is planning a do-over next spring, doesn't he owe his backers an
explanation? According to Kickstarter, 41 backers paid $50 or more, 28 paid
$100 or more and six of them exceeded $250. In return they're expecting to
receive incentives ranging from a film that Badenoch said he would be shooting
from the trail, to a membership in "Hyperlithic," some kind of
nature-based training and wellness system, tied to Hyperlithic.com, a site that
Badenoch owns but hasn't launched.
I asked Toni Lund, a Finnish fatbike enthusiast who donated
to Badenoch's campaign, what compelled him to support the trip. "[Badenoch]
has a very good website," he said. "It sounded to me very ambitious
and interesting. Actually, I think I would define it as jaw-dropping,
because his aim was to do 7,000 miles."
Lund said that he has done some short, multi-day fatbike
winter rides in Finland, so he was also hoping to get some tips based on
Badenoch's experiences, which Lund expected Badenoch to share during the trip,
and from the documentary resulting from the trip. I asked Lund if Badenoch's
mission to consume zero fuel on the expedition also compelled him to donate. "Not
really," he said.
To be fair, Badenoch has been posting commentary—some
complaints, some praises—about the bike and other gear, on his Twitter feed
and Facebook page, but again, he's short on details. When I told Lund that
Badenoch had given up on his Artic bid, Lund said he was really disappointed. "It's
really understandable, when we speak about this kind of expedition of this
magnitude. I have been thinking myself of doing this kind of trip," he said. "The harder
the expedition, the more risk. There are no guarantees that it will work all
the way."
"But if you have to stop, it should be quite clear and you
should do an announcement and tell everybody 'OK it did not work out,'"
Lund explained. "Tell people why."
Beyond that, Badenoch actually appears to be perpetrating
the notion that he is still on the trip. In response for a September 25 request
via Facebook for a more detailed diagram of his route, Badenoch replied "The
most current map will always be at FatBikeRafting
the Arctic Map (2012) | 77Zero. It's really difficult to update from the
trail though so there's usually a lag."
SPONSORS IN THE DARK?
Aside from Kickstarter money, Badenoch also attracted gear
and food sponsorships, including Alpacka
Raft, a gear shop called Nature Shop,
and 9ZERO7, an Anchorage-based fatbike
manufacturer that provided Badenoch with his trip steed. Badenoch tends to
dutifully praise 9ZERO7 and his other sponsors on Twitter.
I asked Adam Miller, 9ZERO7's brand manager, whether he has
been in touch with Badenoch. "No one has any real good idea where he is,"
Miller said. But when I said Badenoch abandoned the trip after logistical
problems delayed him, and then asked whether he thought Badenoch's failure to
communicate his decision to his backers reflected poorly on 9ZERO7, Miller said,
"I don't feel comfortable answering that question, because I'm not
familiar with how things worked out."
Prior to his departure, Badenoch also announced that he had
secured an agreement to have the Public Broadcasting Service air videos he'd be
shooting during the trip. He asked followers to subscribe to his YouTube page for more on
that, but to this day the channel contains nothing but his Kickstarter video.
Badenoch was also recruited by Adventurers and Scientists
for Conservation to search for diatoms and millipedes while he was on his
trip, and to collect samples of them on behalf of a couple different research
scientists. Last week, Badenoch did respond to calls from Gregg Treinish,
executive director of the citizen science organization, and told him he had
turned back. "I can't fault anyone for abandoning a mission that he feels
he can't safely complete," Treinish told me, adding: "This is only
speculation, but I would think that Andrew is really struggling with this. And
it might be taking him a while to find the best way to tell people that he had
to abandon the trip."
BIGGER PICTURE
Not everyone is quite so sympathetic, however. A long
discussion about the Arctic trip on the mountain bike forum MTBR, in a comment
thread Badenoch actually started this winter to discuss the expedition,
contains some harsh language. Last week, a commenter who goes by "Doughboy" wrote: "Just spent
about 10 minutes looking at [Badenoch's] site trying to figure out what is going
on with him and it makes no sense. Seems like a big scam, especially if he took
a chunk of money from people to fund it. Nothing like screwing things up for an
honest, capable person who may want to go this route for funding an
expedition…."
This touches on a concern that others in that forum have
echoed. Whether due to logistics or weather or health or other reasons, major
expeditions sometimes fail. But like any other niche sport, fatbikers have a
tight community, and to some, Badenoch is seen as a bit of an interloper who
took on a challenge beyond his abilities. Instead of reaching out to others who
have fatbike and packrafting experience and seeking their advice, he acted
alone. In fact, Badenoch was reticent to discuss various aspects of his expedition
on the MTBR forum, such as his cooking and food strategy, on the forum, saying
he wanted to stick to the discussion of his fatbike. In reaction to that, and
in reference to his Kickstarter campaign, a commenter named Anthony DeLorenzo
posted to the thread that Badenoch was "using access to his travel
techniques as part of his revenue stream, hence a reluctance to share
information here for free."
Badenoch replied: "That has absolutely nothing to do with it." (Emphasis his.)
Kickstarter campaigns are based on incentives, and aside
from the documentary that Badenoch said he would be shooting during the trip
(editing and producing after his return), he also promised to create a how-to
guide for others interested in tackling fatbike/packraft expeditions. This
expedition was to be the first of a many, Badenoch told me back in February,
all of which would make up his "77Zero" moniker.
"77zero, on larger scale, stands for seven continents,
seven seas, zero fuel," he told me. "That's my larger goal:
Connecting the dots via sailing and using zero fuel, and fatbike/packrafting
the Arctic is one component of that." But, he conceded, Kickstarter "doesn't
allow awareness campaigns" (more precisely, Kickstarter does not allow
non-profit campaigns) so he said he had catered the Kickstarter as being "more
for adventure."
That raises a couple different questions. By framing the
trip as an adventure and raising funds only to enable the trip rather than for
educational efforts, can an individual who takes on a major expedition using
human power really advance the conversation around global energy use?
Furthermore, if he would rely on receiving supplies shipped to him under the
power of fossil fuels, is this expedition actually about displacing fossil
fuels?
Lastly, once on the trip, why was he soliciting additional
money via PayPal? If there are legitimate reasons he could not access the
Kickstarter funds he raised, why wasn't he clearly communicating these?
These, and many other questions, remain unanswered.
—Mary Catherine O'Connor
@mcoc