Get Your Props
Widen the horizons of adventure by taking the controls and becoming a pilot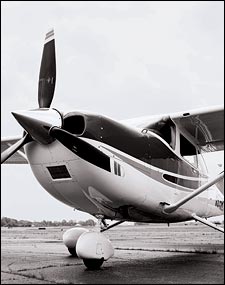 Christopher Griffith
Heading out the door? Read this article on the new Outside+ app available now on iOS devices for members! Download the app.
THE ENGINE BUZZED noisily as I taxied the Diamond Evolution single-prop airplane toward south-facing runway 17—the correct way to be aimed this morning, since the wind was coming from that direction at ten miles per hour. I steered using a pair of brake pedals: Stepping on the left one pulled us left, while the right one sent us right. My instructor—the appropriately named Spencer Bird—radioed other pilots in the area to make sure the runway was clear. As we rounded the taxiway at Double Eagle II Airport, in Albuquerque, New Mexico, and pulled onto the apron at the start of 17, I released my death grip on the stick just long enough to wipe my sweaty palms on my pants. Bird, 27, told me to move the throttle all the way forward. I did, the engine buzzed louder, and the two-seater started down the tarmac.
The Cessna Skylane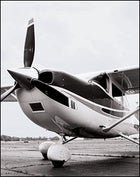 FLIGHT CLUB: The Cessna Skylane, a true classic of American aviation design
My stomach somersaulted. I'd done reasonably well during my first lesson—which mostly involved doing midflight turns after Bird had gotten us airborne—but takeoff was different. Within seconds, the Evolution was weaving like a car with a drunk at the wheel. I struggled with the pedals and nearly ran us off the runway. The engine buzzed louder. We were all over the place and approaching 50 miles per hour.
Bird kept his cool: "Pull back on the stick." I hesitated. "Pull back on the stick!" he yelled, sounding a little less cool. I willed my arms to follow his order, and the plane jumped into the air like an eager toad.
I'LL NEVER FORGET my first takeoff. You won't forget yours, either, and if you've ever had a yen for true travel independence—free of security pat-downs and the related frustrations that define commercial air travel in America today—there's never been a better time to join the ranks of the 600,000 licensed pilots flying in the United States. That's especially true for adventurers, who can expand their options exponentially by charting their own course. Just ask professional kayaker Brad Ludden, 24, who frequently tucks his playboat into his 1962 Cessna Skylane 182 and barnstorms all over the West, scouting and paddling obscure rivers. Another frequent flier is triathlete David Lee, the 36-year-old CEO of AirShares Elite, which sells partial-ownership shares of aircraft.
"Three friends and I fly down to Florida, Hilton Head, Savannah, and Key West to do our ocean training swims and compete in triathlons," says Lee, who's based in Atlanta and usually pilots a Cirrus SR-22 or Piper Malibu. "We're a six-hour drive from the ocean, but only a 70-minute flight, so we get up at seven in the morning, head for the coast, swim until 10:30, take a quick run and grab a bite to eat, and we're back in Atlanta by two in the afternoon."
If that agenda sounds appealing, there are two hurdles ahead: earning your wings and buying or securing access to an aircraft. Neither goal is a snap, of course, but they're more doable than you might expect. There are 3,500 flight schools in the U.S. To earn a private-pilot certificate, which allows you to fly a single-engine plane, you have to be at least 17 years old, write and speak English, and pass an FAA physical. You also need to log 40 hours at the controls: 20 with an instructor, ten solo, three at night, and three while wearing a hood that blocks your view out the windows, simulating instrument-only flight. You have to complete a pair of long-haul trips with an instructor—one at night—and a 150-mile solo jaunt. Finally, you have to pass a 60-question written test, plus a check ride—the airborne equivalent of a driver's-license road test—with an FAA examiner riding shotgun.
It sounds like a lot of work, but it can be accomplished during a two- to three-week course for around $8,000. Incredibly, you might find yourself soloing after just 12 to 15 hours in the air—less than halfway through the program.
Then there's the question of your ride. The current generation of single-engine airplanes, made of high-tech, lightweight composites, are safer and easier to fly than planes from a generation ago, and they go faster, fly farther, and burn less fuel. And though aircraft aren't cheap—a new base-model Cessna Skylane 182 runs more than $250,000—you don't have to be a successful real-estate investor, like Ludden, or the chief executive of a thriving company with branches up and down the East Coast, like Lee. A variety of financing schemes (see "First Class, With Economy") can clear you for takeoff with an investment similar to what you might make for a second home.
TO GET A TASTE of the training, I signed on for a three-day familiarization course with Albuquerque's West Mesa Aviation. With Bird looking on, I performed the preflight check on the altimeter, tachometer, and the rest of the instruments; I walked around the aircraft, eyeballing flaps and ailerons for structural damage. He taught me how to read the weather, what to do if I found myself staring down a massive thunderhead ("fly at least 20 miles away from the storm"), and how to select a runway based on the current wind conditions (you always want to take off with the wind in your face; ditto for setting it down).
By day three, I'd absorbed so much charlie-alpha-bravo jargon that my head ached, but that was a good thing, because the morning agenda involved a "cross-country" trip of about 100 miles, from Albuquerque, across the foothills of the Sangre de Cristo mountain range, to the small railroad town of Las Vegas, on the mountains' eastern slope. It was during this lesson that I discovered something that instruction can't prepare you for: turbulence. After an hour of pitching and rolling like a yacht in big seas, I was turning green.
Nothing seemed to rattle the Birdman. He calmly produced a white paper sack.
"Don't worry," he said, "it happens to the best of us up here." I flew the Evolution with one hand on the stick and the other clutching the bag. Thankfully, nothing ever came of it. An hour and a half later, Bird took the controls back and gently set us down back at our home base.
Maybe someday I'll learn how to land an airplane, but I was really jazzed about what I'd accomplished in just three days. I folded up the bag and tucked it behind the seat.
"We'll save that for the next newbie," I told the Birdman.
The Sports Car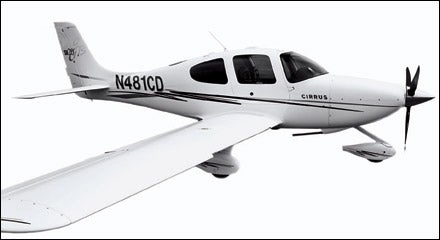 THRILL RIDE: Cirrus SR20-G2 With sweeping lines and the most advanced safety features available in single-engine aviation, the Cirrus SR20 is part Volvo, part Alfa Romeo, and all purring sex appeal. "It's a fresh design, and it's such a pleasure to fly," says Mike Radomsky, 52, president of the Jupiter, Florida–based Cirrus Owners and Pilots Association. "It looks like a modern plane on the ramp, whereas others look like they did 40 years ago." This aircraft's exceptional style, maneuverability, and speed have propelled relative newcomer Cirrus to wild success; over the past 21 months, the company has sold more planes than it did in the previous three and a half years combined. Strap into the cockpit and you'll see why: Color LCD displays convey crucial flight data, while a side-mounted, joystick-style yoke evokes a jet-fighter setup. Maximum cruising speed: 156 knots (180 mph) Maximum range: 882 nautical miles (1,015 miles) Capacity: Pilot plus three passengers Carrying capacity, including fuel: 930 pounds Flight time, San Francisco to Reno: 64 minutes Bonus: Should something go very wrong, a Cirrus pilot can pull a red handle to deploy a 55-foot-wide parachute that will float the entire aircraft, occupants and all, back to earth. The company says the system has saved eight lives to date. $236,700; www.cirrusdesign.com
The SUV
Cessna Skylane 182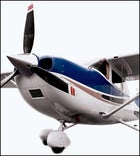 Cessna Skylane 182
RUGGED ICON: Cessna Skylane 182 The Skylane 182 combines burly functionality with practical adaptability; 25-year-old versions of the plane are still at work in the Canadian backwoods and running charters in the Caribbean. Its fixed landing gear can handle the rough treatment of gravel and grass airfields common in places like rural Wyoming and Alaska, and thanks to its combination of raw horsepower and aerodynamic design, it needs less runway to take off. Entry doors on both sides of the fuselage mean easy cabin access—made even simpler by over-the-cockpit wings—and pilots with seaplane certification will be happy to know the Skylane accepts floats or amphibious landing gear (that is, pontoons with retractable wheels). Goddard, Kansas–based professional pilot Charles Lloyd has racked up about 1,500 hours in various Skylanes, and his dream plane is his updated 1966 model. "It's a faithful airplane that just keeps going," says Lloyd. "With four people aboard, it easily gets in and out of Leadville, Colorado, at 10,000 feet." Maximum cruising speed: 149 knots (171 mph) Maximum range: 968 nautical miles (1,114 miles) Capacity: Pilot plus three passengers Carrying capacity, including fuel: 1,213 pounds Flight time, San Francisco to Reno: 67 minutes Bonus: You never have to go far for spark plugs—Cessna operates more than 235 repair-and-maintenance centers in the Unites States alone. $258,500; www.cessna.com
The Luxury Sedan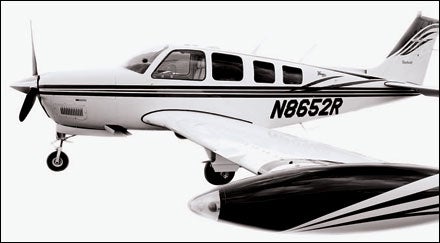 FULLY LOADED: Beechcraft Bonanza G36 This is one spiffy ride, boasting leather upholstery, a mahogany-trimmed snack table, a digital audio entertainment system, and an optional satellite weather-monitoring system. Bonanza pilots appreciate the trimmings but really love the handling and reliability. "It has an unparalleled combination of consistent quality and handling characteristics that make it so enjoyable to fly," says Tom Turner, 44, the technical-services manager for the American Bonanza Society. Beechcraft has been perfecting its formula for a long time; introduced in 1947, the Bonanza has been in production for more than five decades—one of the longest pedigrees in aviation. The plane also offers one of the largest cabins in its class, with generous headroom and 137 cubic feet of total interior volume. And with removable cabin seats—so you can swap out passengers for duffel bags—the Bonanza is an outstanding gear hauler. Maximum cruising speed: 176 knots (203 mph) Maximum range: 922 nautical miles (1,061 miles) Capacity: Pilot plus five passengers carrying Capacity, including fuel: 1,133 pounds Flight time, San Francisco to Reno: 57 minutes Bonus: Starting in 2006, the onboard Garmin GPS-and-avionics system will include a terrain-and-obstacle-warning feature; fly too close to mountains or buildings and the onscreen map will turn yellow, then red. $690,910; www.raytheonaircraft.com
First Class, With Economy
Getting a license is one thing; getting a plane is another. Here's how to start.
IT'S NEVER EXACTLY CHEAP to claim your own piece of the sky—with 10 percent down, payments on a Cessna Skylane will run about $2,000 a month, and maintenance, insurance, fuel, landing fees, and storage add thousands a year. Fortunately, there are alternatives to buying, and flying, solo; below are three cash-saving schemes that could help smooth out the financial turbulence.
FRACTIONAL OWNERSHIP
The Deal: In this arrangement, a company offers shares of an aircraft for a fixed price and then takes care of everything else, from storage to changing the oil. Ourplane (www.ourplane.com) and AirShares Elite (www.airshareselite.com) both offer partial ownership of single-engine planes. The two firms have similar requirements for prospective clients: Pilots must hold a license, they must pass a flight test, and most will have logged more than a hundred hours of flight time.
Bottom Line: An entry-level buy-in on a Cessna 182 at Ourplane runs $40,000. Tack on an additional $400 a month for insurance and storage, plus $125 for each hour of operation.
PARTNERSHIPS
The Deal: It's simple—you and a few buddies go in on a used airplane together, share the costs, and take turns at the stick. Don't know any fliers? Look to Web sites like that maintained by the Aircraft Owners and Pilots Association (www.aopa.org). Strike your own agreement and make sure you iron out all the vital details, like who gets the bird on which long weekends.
Bottom Line: A used 1980 Piper Warrior II runs about $59,000. Divided four ways, that's $14,750, plus insurance, fuel, storage, and maintenance.
RENTING
The Deal: A final option is to rent your ride by the hour. Flight time is monitored by a type of aircraft odometer called a Hobbs meter, which means that pilots pay only for the time that the propeller is actually spinning. At Kissimmee, Florida–based SunState Aviation Flight School, pilots renting the Cessna 182 are required to have an instrument rating and 300 hours of flight time, plus an instructor's endorsement.
Bottom Line: Cessna Skylanes rent for $159 per hour for fewer than ten hours, fuel included.
Trending on Outside Online