Indefinitely Wild
How to Live Out of Your Car
Professional vehicle dwellers share their tips for making the most out of life on the road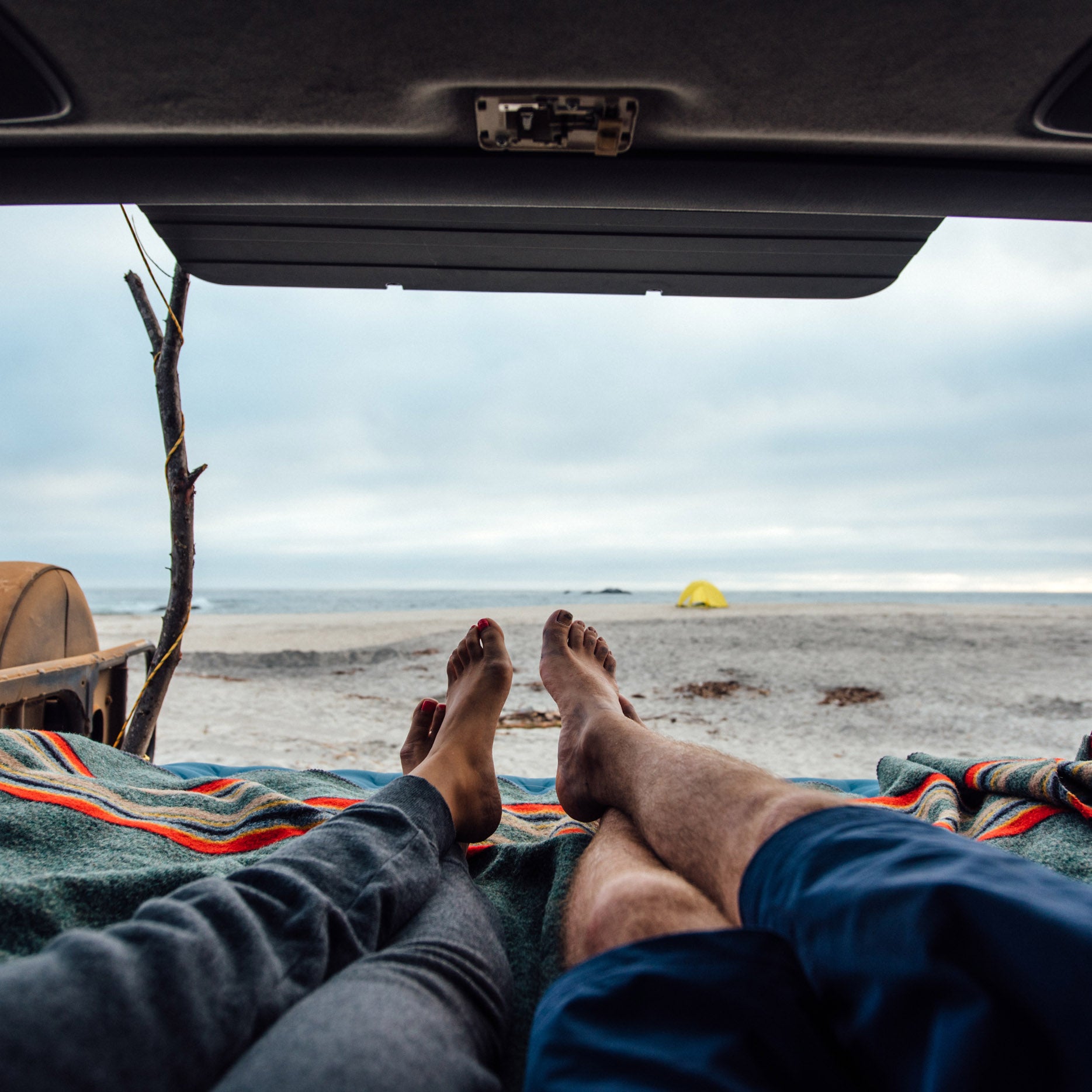 Heading out the door? Read this article on the new Outside+ app available now on iOS devices for members! Download the app.
Want to give up on being stationary and move onto the road? Living in your car can be as simple as finding a quiet place to park, but with these tips from veteran road warriors, you can be comfortable and safe while visiting places you never thought you'd see.
Living in a Car: Why Do It?
Increasing numbers of people are willingly giving up their apartments for a home on the road—or, at the very least, adapting their lives to be more mobile. Their reasoning often comes down to these core symbiotic benefits: financial freedom, mobility, and simplicity.
Consider this: You can buy a used Dodge Sprinter (the ultimate vehicle for van dwellers) for about $10,000 and outfit it for life on the road for another few thousand. That's equivalent to less than a year's rent in Los Angeles; less still for those living in New York or the Bay Area. A long-wheelbase Sprinter is going to give you about 110 square feet of living space—and access to millions of acres of state and national parks, public land (including national forest and wilderness areas), as well as our neighbors, Canada to the north and Mexico (and beyond) to the south.
Not being tied down by rent while living out of a vehicle allows for near-infinite mobility. For Reed Rombough, the 26-year-old who runs Nomad Construction, a contracting business that's as mobile as it sounds, moving into a 2003 Dodge Sprinter finally gave him the freedom to accomplish many of his travel goals. Last year alone, he spent three months climbing in Patagonia and another three months trekking in Nepal and climbing in Thailand. (He also climbed in 14 different states between those trips.) For Rombough, work and life are closely tied together: wherever he parks his van, he picks up contracting jobs; sometimes it's the other way around. The former allows him to work wherever he wants to be; the latter allows him to explore places he might not otherwise see.
If 110 square feet doesn't sound like much space, that's because it isn't, and even that's luxurious compared to most vehicles. Crystal Tan, a climber and photographer who lives out of her Subaru Forester on long trips between work and school, praises the simplicity associated with life on the road. Since there is limited space in her Forester, Tan is forced to travel with less stuff and brings only the things she really needs (which usually includes a trad rack and sleeping bag). This habit has even influenced her everyday life when she's not traveling.
To best utilize the limited space in her Forester, Tan and her boyfriend removed the rear seats and built a custom bed with drawers in the back, which provides storage space for gear and cooking supplies as well as a place to sleep. The combo eliminated their need for eating out and staying in hotels while traveling, which makes extended trips even more accessible.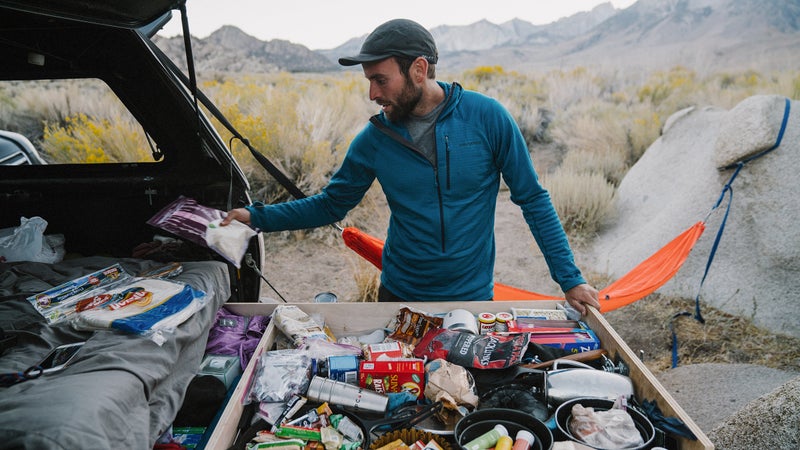 For Andy Cochrane, director of marketing at Oru Kayak and inhabitant of the TacoMama—a built-out 2015 Toyota Tacoma—living out of a truck is a rebellion against the status quo. "People perpetuate norms about the right way to live without being conscious of them. Specifically home ownership. Very few people question the American dream to buy a house. It's a rite of passage. It offers security and comfort; it's a spot for your growing family; it shows your affluence," Cochrane says. "Or maybe all it shows is your willingness to follow someone else's dream. Maybe it only makes you happy because it helps you fit in." For the 28-year-old, it does the opposite: "[Homeownership] takes away the greatest joy in life—serendipity—and replaces it with monotony."
Truck life, on the other hand, facilitates simplicity. "When you don't own many things, you don't worry about many things," Cochrane says. "I'm the happiest I've been in years, and this is surely part of that function." That happiness also probably stems from his now-enhanced ability to run, ski, and adventure more freely, as well as greater flexibility to spend more time visiting friends, meeting new people, and taking more ocean swims and fewer actual showers.
Living out of a truck may defy the status quo for Cochrane, but in some ways it provides the same security as a traditional home—albeit with a mobile spin. Lizzy VanPatten, a climber who spent the past summer guiding at Smith Rock, makes the case: "I can live wherever I want within driving distance without having to first worry about finding a new home, moving, and getting a job. For me, it's as simple as picking a place on a map, fueling up, and driving. It makes trying new things a whole lot less intimidating knowing that I can always leave if it doesn't work out." Feeling the tug of that sort of freedom? Here's how to go about it.
Storage Tips
Chances are that if you're reading this, your idea of life on the road will be defined by adventures in the outdoors. Those adventures require gear. And gear takes up space. Lots of space. When you're living out of—and often sleeping in—your car, every inch matters. Use them wisely.
Get a Cargo Rack
The easiest way to increase your storage space is by adding a roof rack to your rig. We've been using Yakima's recently updated StreamLine System. We love it for its compatibility (the company custom-designed brackets for almost every vehicle dating back 35 years), easy installation (adding the Base Rack System to the naked roof of my 1995 Pathfinder took less than two hours and was doable solo), and for the wide array of carry and cargo accessories—Yakima offers multiple solutions to haul everything from a kayak, canoe, or SUP to skis and boards to every type of bicycle imaginable.
Plan on doing a lot of off-roading? Check out the LoadWarrior, which provides plenty of lash points for jerrycans, drybags, bikes, or just about anything else. The SkyBox 18 Carbonite offers enough extra space to securely haul bulky camping, climbing, and snow gear for four people.
Plastic Storage Bins
The quickest, cheapest, and easiest way to organize stuff inside your vehicle is with plastic storage bins like the ones you can buy at Target. They aren't pretty, but they provide a great temporary solution that's as inexpensive as it is convenient. If you'll be spending much time living out of your vehicle, though, you might want to read on for further for inspiration.
Do a Custom Build-Out
Feeling ambitious? This solution is costly and time consuming, but it offers the most personalization for specific vehicles and specific needs. Cochrane, for example, removed his truck's backseats to install a mini-fridge and propane tank and built a small closet and dog bed. He then added an ARE commercial cap to the Taco's bed. A six-by-six-foot drawer in the back acts as his kitchen, pantry, and storage, and a four-inch-thick memory foam mattress on top is his bed. Two Goal Zero Boulder 30 panels charge a large battery that provides electricity if he needs to stay up late to work, and LEDs strung around his ceiling provide light at night.
Rombough took advantage of his Sprinter's voluminous interior (as well as his own construction skills) to build what he describes as "a tiny cabin on wheels." When he got the van, it was just an empty metal box. (The 158-inch wheelbase version used to be a DHL delivery truck; the yellow paint is still visible in the doorjambs.) He quickly went to work, spending 16 long days and $3,200 to complete the inside.
The walls and ceiling are made from quarter-inch beadboard stained with an espresso varnish and coated in two layers of polyurethane for durability. Three cabinets store his clothes; a three-foot-long bookshelf above the bed is stocked with guidebooks and reading material. The bed itself is just four inches shy of a queen (Rombough cut a memory foam mattress topper to size). Beneath the bed and behind the shelf is enough storage space to accommodate all of his construction equipment, three crash pads for bouldering, and enough climbing and mountaineering gear to send gnarly lines all over the world. He also keeps a full-hydraulic jack down there for on-the-fly repairs.
Don't know where to start? Home Depot rents tools, and YouTube will show you how to use them. Have a popular vehicle? You can probably even find diagrams or blueprints online to build it out. Or just hire Rombough to do the job.
Sleep System
If you're doing a full build-out, you'll probably put a lot of thought into your bed since that's where you'll likely spend the most time inside (besides the driver's seat). Your sleeping system can also be as simple as folding down or removing the seats and inflating a luxurious sleeping pad. Pair that with a down quilt and you'll be good to go. Looking for a quick and easy solution that doesn't take up much space? Check out the Therm-a-Rest NeoAir Dream and a Rumpl Down Puffy Blanket. Together, they won't take up more than a few liters of space yet will provide a great amount of comfort and warmth.
Tires
Tires are the only part of your car that touches the road. And they're especially important when logging tons of miles, particularly when those miles are on dirt or gravel roads or in extreme weather. Tires that come stock on most vehicles are usually garbage and underperform in virtually all road conditions. Instead of refitting the stock rubber when it wears out, upgrade to something more suited for the road less traveled. Upgrades are often cheaper than the tires your van came with.
A lightweight all-terrain tire is a good option for people doing stuff outdoors. You'll get better grip on loose surfaces as well as vastly improved puncture resistance. We really dig the Maxxis Bravo 771 on lighter vehicles like Subarus, while the slightly heavier BF Goodrich K02 remains the best all-around option for trucks, vans, and SUVs and is great on snow.
Better yet, let the tires come to you. In some areas, Tire Rack has partnered with mobile tire installers who will accept shipment of your tires, and then come fit them wherever you are: in a driveway, parked on the curb, or in a lot.
Power
Wherever you go, you'll likely need power. A DC-to-AC inverter can provide electricity to your larger devices, like laptops and small refrigerators, while driving, but you'll need to depend on something else when you're parked. Enter the Goal Zero Yeti.
The smallest Goal Zero solar-powered generator, the Yeti 400, is capable of storing enough juice to recharge your laptop five times. The largest, the Yeti 1250, will recharge it 20 or more times. Pair those with a couple solar panels—the Boulder series pairs great with Yeti generators—to fully sustain your AC-power needs without ever taxing your vehicle's battery or alternator.
BJBmUSzAKLm/
Where Should You Park if You're Living in a Car?
So you've got a home that lets you adventure anywhere. Sleeping anywhere, however, is not advised. These places are usually a safe bet:
Public Land
Public lands—including national parks, national forests, BLM land, and similar—are among our country's greatest resources. Nearly every state has them. They're often a gateway to some of the best hiking, climbing, biking, boating, fishing, and hunting around. They're also a sure bet for a good night's rest and an occasional shower if your odor requires it.
Walmart Parking Lots
If you're traveling through a town or city, Walmart parking lots are generally considered a safe place to sleep. Legally, this might be a gray area, but many people do it.
Highway Rest Areas
These make a great place to stop for the night or a nap when you're on the long haul between destinations. Most rest areas also have restrooms, making them ideal for freshening up.
Truck Stops
Certainly less ideal than a beautiful forest lot, but truck stops can make a good last resort when it's time to rest for the night.
Make your vehicle as inconspicuous as you can. Always lock your doors when going to sleep for the night, and if something doesn't feel right, trust your gut and move. Another tip from VanPatten: always sleep in your clothes when parked in a public area.
Get Ready for the Bumps
Living out of a vehicle will certainly be an adaptation for most. It's not always going to be easy. Entirely new challenges will present themselves on a regular basis: Where to sleep? Where to poop? Where to eat? Get used to not standing up in your home. It's going to be harder to have friends over for dinner. Not to mention, being homeless is generally looked down upon.
Your vehicle is going to break down at some point. Maybe it will even get broken into. These are the realities of your newfound freedom. In time, you'll learn to embrace them—or maybe you won't. Whatever happens, keep your cool and go with the flow.
While Cochrane is not the first to articulate this idea, he's a firm believer in it: routine is the enemy of time. The more routines you create for yourself, the less you actually live and the more you turn into a robot. If you want to create a superficial floor and ceiling for your emotions, if you want to limit your creative power, if you want to stomp out your curiosity, then stay in the same house, work the same job, repeat the same commute, eat the same foods, and keep the same insular group of friends. If you want to really live, then let go of as many routines as you can and do something that scares you every day.
BNDrnftB4No/
If you're anything like Cochrane, the biggest reason you're not doing it already is social pressure and a few logistical questions. But mostly, you think people will think you're weird. After a few months in your car, though, you'll think they're weird.
Lead Photo: Chris Brinlee Jr