How to Live in the Wilderness for a Whole Year
Adventurers Dave and Amy Freeman today emerged from 12 months living in the Boundary Waters wilderness in northern Minnesota. One of their top challenges? Filing their taxes on time.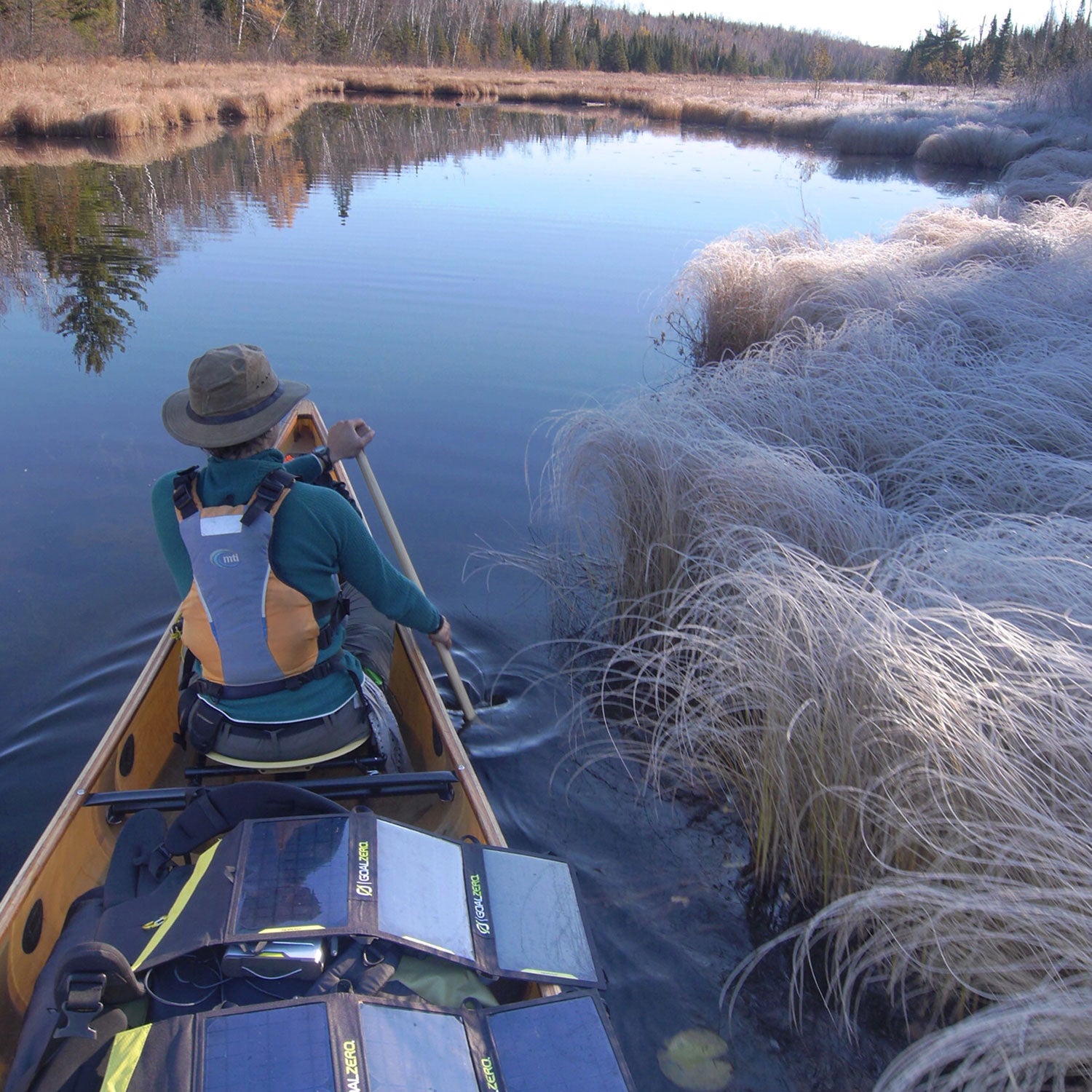 Heading out the door? Read this article on the new Outside+ app available now on iOS devices for members! Download the app.
On September 23, Dave and Amy Freeman will walk out of Minnesota's Boundary Waters Canoe Area Wilderness after 366 days of paddling, portaging, dogsledding, skiing, and camping their way through this 1.1-million-acre playground of more than 1,000 famously pure lakes.
National Geographic named the Freemans "Adventurers of the Year" in 2014 for the completion of their three-year, 11,700-mile paddle and dogsled journey across North America. Their year in the Boundary Waters—which they spent shivering through -30-degree temperatures, eating dehydrated veggies, and moving camp every few days constantly in search of fuel—wasn't a bid to pull off the latest in reality TV survival porn. Their mission was to showcase the Boundary Waters's beauty—before it may become irreversibly polluted.
The area is in jeopardy: since 2008 several multinational mining companies have applied for more than 100 permits to conduct drilling on state and federal lands near the Boundary Waters. The region is rich in copper, nickel, and other precious metals; but pulling them out of the ground creates toxic pollution. When sulfide ore, the body containing the precious metals, or its waste is exposed to air and moisture, it generates sulfuric acid. The acid compounds can leach from mine sites and become the toxic sludge known as acid mine drainage that contaminates lakes, rivers, groundwater, and everything living in them. The Freemans worked with the Campaign to Save the Boundary Waters, in conjunction with a host of national environmental organizations, to raise awareness of the situation.
The Freemans have produced a series of sublime Instagram photos, but their year has been anything but.
One company, Twin Metals Minnesota, a subsidiary of Chilean conglomerate Antofagasta, has invested more than $250 million to develop the largest underground mine in Minnesota's history. It has yet to submit a detailed plan of operations, but independent hydrological studies show that acid mine drainage from the proposed mining site could seep into the nearby Kawishiwi River, flow past 30 resorts, lodges, and camps on the Birch and White Iron lakes, 1,200 miles through the western Boundary Waters, Voyageurs National Park, and into Canada.
"The potential damage is environmental and economic," says Steve Piragis, owner of Piragis Northwoods Company, an outfitter in Ely. "It's a huge threat to us. The process of sulfide-ore mining almost universally pollutes water and that kind of pollution just can't happen in a place like the Boundary Waters. It's equal in stature to the Grand Canyon, Yosemite, or any of the great parks."
The Freemans have produced a series of sublime Instagram photos, but their year has been anything but—more like an experiment in surviving an increasingly fickle northern climate. During a brief cellphone conversation that required them to bushwhack to the top of a ridge, the Freemans laid out their top five challenges—including traveling over unpredictable ice and spending countless hours gathering firewood to get through each night in the wilderness.
Traveling on Ice
DAVE: We had to figure out how we could travel safely when there were marginal ice conditions. We would have a mile of super-solid ice that was fine, then 30 feet of ice that wasn't safe to walk on, then we'd have open water, and then we'd encounter the same thing in reverse. We developed this technique that we call "Boundary Waters Bobsledding," where the person in front sits in the bow of the canoe and the person in back runs with Yaktrax. When the ice started to sag, the back person would hop in the canoe, paddle into open water and jam the canoe up onto the next frozen section.  
AMY: Slush is a nasty thing that tends to form in the Boundary Waters and this was a bad slush year. The lakes started to freeze, then they got snow; the snow weighted down the ice, then water seeped up through cracks in the ice and inflated the layer of slush underneath. It was kind of like walking through a minefield. We would look out at the lake and it would be impossible to see where the slush was until we were in it. If it was really cold, it would be like skiing through quick-setting cement because it would freeze to the toboggan and the dogs' paws. That really slowed us down throughout the winter.
Posting to Social Media
DAVE: The whole reason that we're out here is to share it. We were constantly trying to get out photos, videos, and blog posts. Almost all the power that we're using, we generate ourselves through solar panels. Everything we do is around figuring out how we can share the story, even if that means walking onto Saganaga Lake in a blizzard to set up a satellite terminal to send a daily update. We climbed up to this hill on Thunder Point that's several hundred feet above Knife Lake so we can talk to you right now.
AMY: It's also worth noting that it's this weird paradox that we're living. We want to encourage people to get out here and unplug, but at the same time we need to communicate with the outside world.
Filing Our Taxes
DAVE: We're really lucky because we have Levi Lexvold in Ely from the Save the Boundary Waters Campaign. He's like our eyes and ears and hands. We would email him a grocery list and write "Okay, we're sending out our snowshoes and down parkas and we need our waterproof boots." Before we left, we organized a whole bunch of Rubbermaid tubs with all the equipment in them. He pulled out things we needed, packed all of our food, and organized well over 100 volunteers who brought supplies into the wilderness. But Levi couldn't help us with our taxes. We filed via Turbo Tax from Knife Lake. We even brought some cash with us. It was pretty interesting to use money for the first time in eight months. Some people were bringing in a resupply from Poplar Lake, and we asked them to pick up burgers at Trail Center.
Privacy
DAVE: There were several times where we had overnight guests for seven to ten days in a row. Sometimes we even had folks sleeping in our tent with us, snoring and farting. Cramped conditions can be hard and the fact that we had been out in the wilderness for months in the winter and were tired and physically taxed from living out in the cold, made it harder. We had very little personal space or time to ourselves to just be a married couple or write blog posts and keep up with our daily tasks of sharing our journey with the world.
Leaving the Wilderness
DAVE: We're very nervous about leaving the Wilderness. We're excited to see friends and family and share our story through speaking engagements, a film, a book, and other outlets, but adjusting to life outside the Wilderness is going to be jarring. We've spent months alone on many of our past expeditions, but this year has truly changed us. Our senses have become heightened in a way we have never experienced. We expect leaving will be similar to returning from war, the international space station, or a year spent with an uncontacted tribe in the Amazon. We exit on a Friday and that Monday we will be in Washington D.C. for the first of many meetings with elected officials and government agencies.