How to Trailer Camp in the Cold
A few tips and tricks to keep you comfortable and your trailer in working order when the mercury drops and the snow starts to fall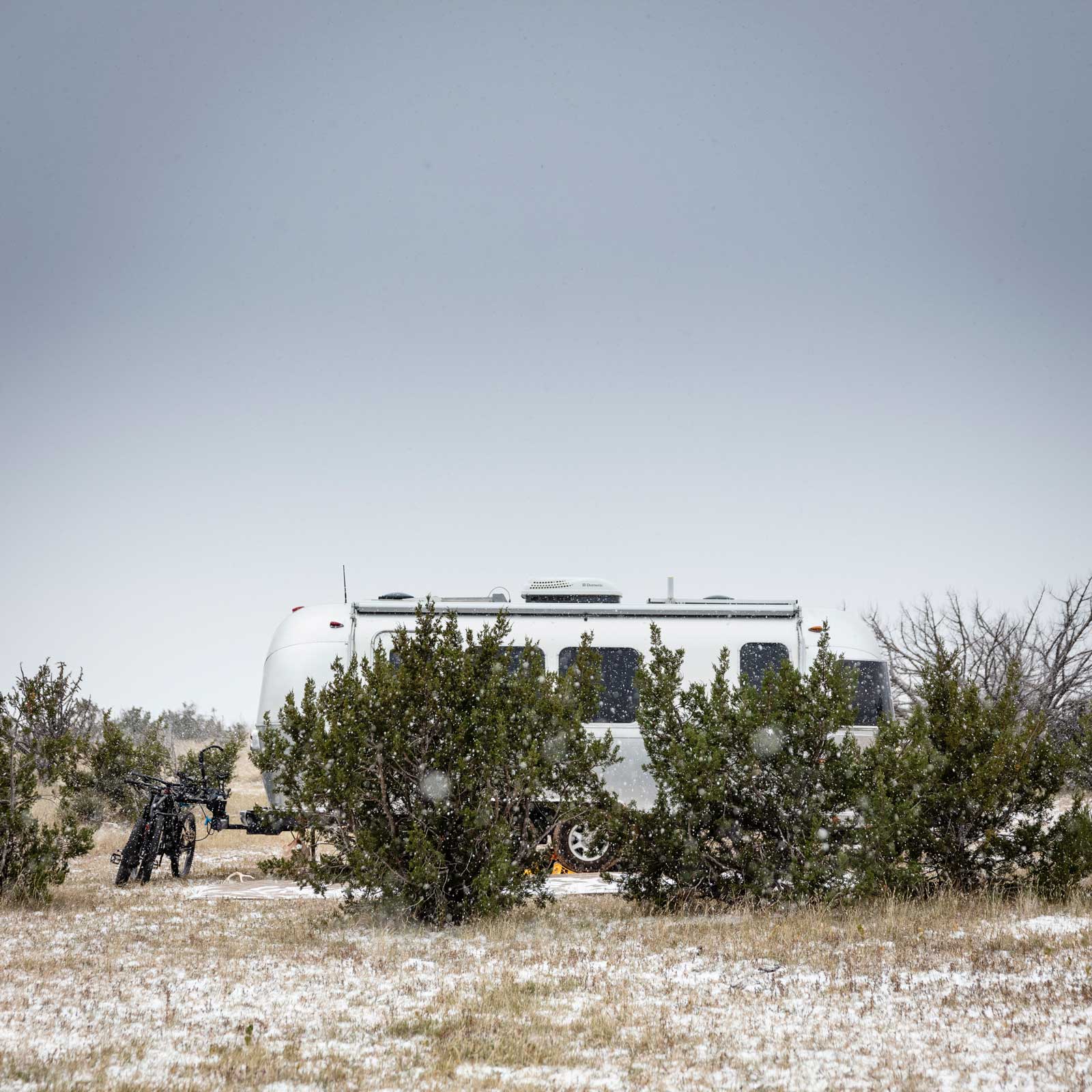 JJAG Media(Photo)
Heading out the door? Read this article on the new Outside+ app available now on iOS devices for members! Download the app.
For three years, Jen and I have been doing our best to avoid winter conditions in Artemis the Airstream. Part of that is to avoid discomfort—in below-freezing conditions, an uninsulated metal home can feel like living in a refrigerator. We've also been warned that unless you winterize your trailer by blowing out the water, the risk of frozen pipes and cracked tanks is high. (And a winterized trailer is about as comfortable as a tent, since you have to wash dishes, bathe, and use the bathroom outside.) You can avoid some of those issues by staying in parks with electric sites, but since we spend 90 percent of our time dry camping in off-grid locations, that doesn't really help. So we've always just avoided the risks and hassles and fled to warmer climes come November.
This year, though, winter came early to New Mexico, and we have some commitments we can't miss up north. Last week, while boondocking on BLM land down near Carlsbad, on the Mexico border, two storms converged and produced the most frigid conditions Artemis has ever experienced. Temperatures dipped into the single digits overnight and barely touched 20 during the day, winds were 30 miles per hour and arctic, and we had snow and sleet for several days.
I'll admit, we were anxious over how we would fare. We had visions of burning through all of our batteries and propane on the first day or two, springing major leaks in our water system, and being forced to retreat to a crappy RV park with electric hookups. But as it turned out, we were actually pretty cozy, and we found the tranquility of snowy camping to be mentally replenishing and restful since we went to bed early for lack of anything else to do. We learned a lot from preparing for the experience and weathering it. Here are some of our top takeaways.
Fill Your Propane Tank Before Cold Weather Strikes
That might sound obvious, but the one thing that will lead to frozen pipes and send you scurrying for a hotel is zero heat, so you don't want to run out of liquid propane. Also, if you have two propane tanks, open only one at a time. This will ensure that you never inadvertently empty both. Once the first tank goes dry, switch to your second, and get the alternate filled the next time you're out. We ran the furnace for seven days throughout the cold snap, keeping it between 50 and 60 degrees when we were in the trailer and 40 degrees overnight and when we weren't at home. We also used the water heater, boiled a lot of water for tea and coffee, and cooked frequently. In that week, we went through one seven-gallon LP tank. In normal, temperate conditions, it would take one to two months to drain that tank.
Weather Seal Your Doors and Windows
Our front door, in particular, is as porous as Swiss cheese. We could feel the cold air seep in, and we could see light leaking in. A trip to Home Depot for basic rubber weather stripping made a world of difference in how warm we felt. Also, since many trailers, including Artemis, have little to no insulation, cutting thermal shades to fit over windows, ceiling vents, and fans helps retain heat.
Keep the Pipes Warm
Because a trailer's tanks and pipes are exposed to the elements, they are more prone to freezing than those at home. Simply running the furnace to keep some ambient heat in the trailer goes a long way to prevent that. (Solar gain does the same, so even if it's icy outside, a sunny day is a good thing.) We also ended up running the water heater before bed and at dawn and put a cup of nontoxic RV antifreeze into our black and gray tanks (not fresh) to counteract the cold. Finally, at night, we left cabinets and shower doors open to keep pipes and plumbing exposed to the ambient heat in the trailer.
Turn Off Your Water Pump When It's Not in Use
This is always good practice when you leave the trailer, lest you spring a leak and it floods while you're away. But it's especially important in winter, when a cracked pipe could wreak havoc.
Get Solar and a Generator
We ran off our batteries a lot more than normal, especially with the heater on, to the point that we were often down to around 60 percent battery life by morning. But when the sun came out, our dual-panel solar setup ensured that stores were full by midday. And on the gray, snowy days, having a generator to power our work and keep everything topped up was a godsend. Our Generac iQ2000 holds just over a gallon of gasoline, but a single tank powered the trailer all day long. When you're running the generator, fire up the electric water heater instead of the propane, and plug in your external space heater if the generator will support it.
Get Blankets and Warm Slippers
To keep propane consumption down, we tried to minimize the heat usage, which meant Jen and I constantly fought over the Rumpl Puffy Blanket. Before the next wave of cold hits, we'll be investing in another one. Also, with air circulating beneath the trailer, the floor tends to be cold all the time, even when it's not that cold outside. I wear my Glerups almost constantly.
Have Water Ready to Boil in the Morning
Probably the hardest part of cold-weather camping is getting up when the trailer is still frigid. One easy trick is to fill your kettle with water for coffee or tea the night before, so you can fire it up as soon as you crawl out of bed. The space inside Artemis is so small that the flame to heat the water goes a long way toward warming up the whole trailer quickly. You'll just have to ro-sham-beau with your partner for the ignominy of who has to take those first frosty steps out of bed.
Lead Photo: JJAG Media
Trending on Outside Online