How Volcano Boarding Transformed Nicaragua Tourism
It's simple enough: put your butt on a piece of plywood and skid down the 1,600-foot slope. But it's had profound economic effects on a Central American city.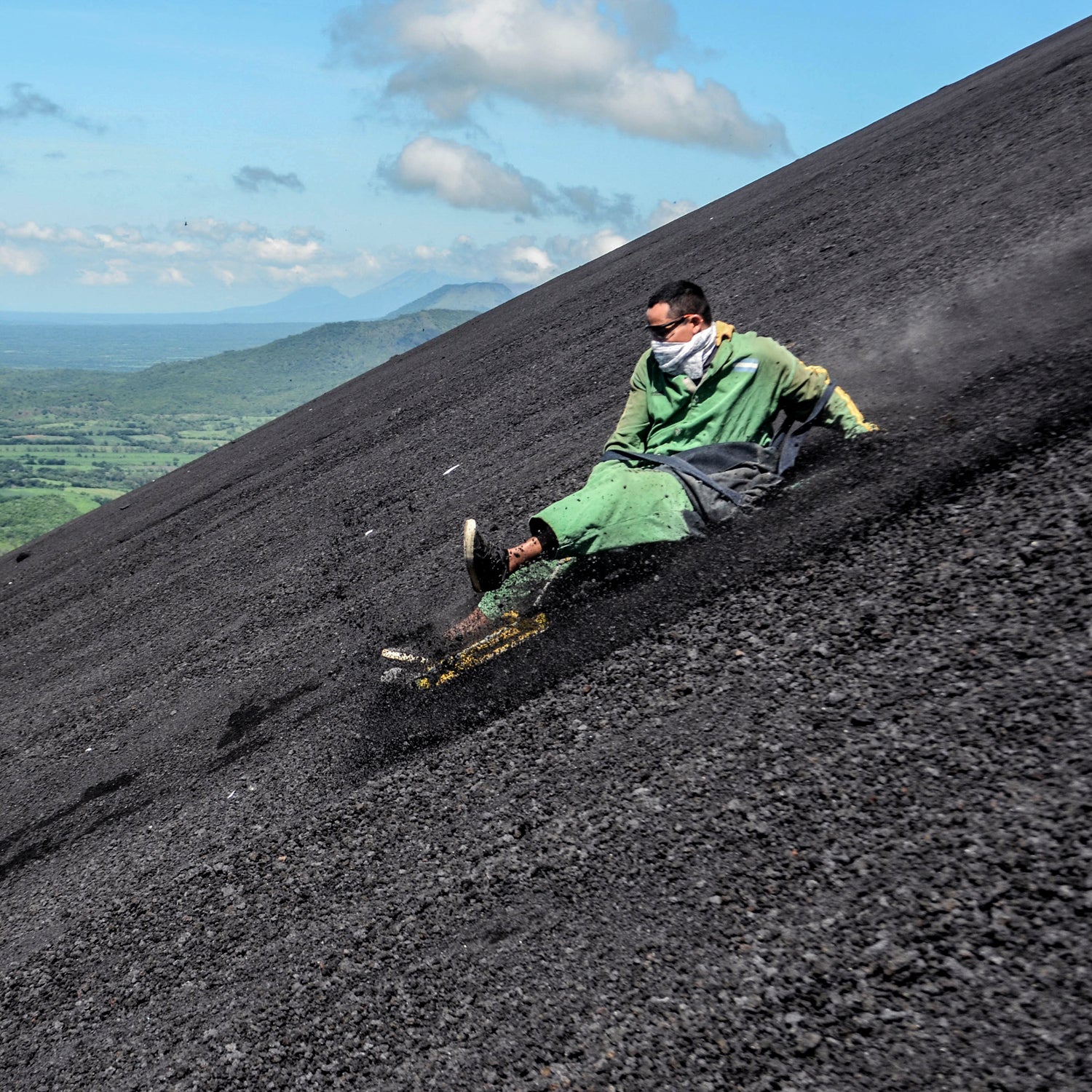 Clarissa Wei(Photo)
Heading out the door? Read this article on the new Outside+ app available now on iOS devices for members! Download the app.
In 1999, a series of earthquakes in western Nicaragua set off the 2,388-foot-tall Cerro Negro volcano outside the city of León. For two straight days, the volcano gushed magma and spewed steam and ash, prompting evacuations in surrounding villages and crumbling parts of Leon.
"Everything around here was destroyed," says Flora Velasquez, a lifelong resident of León. "We had nothing."
Fast-forward 16 years, and that same volcano has helped revitalize León as a bustling hub of adventure tourism: Cerro Negro has emerged as the top global destination for so-called volcano boarding, a dirty and sometimes dangerous activity.
Every day, visitors from around the world hike the 45 minutes up the volcano, plywood boards tucked under their arms, wearing a suit of denim, thick gloves, and protective goggles. From the northwestern corner, boarders can see for miles: tracts of green farmland on the outskirts of León where locals grow cassava. Flanking Cerro Negro are other volcanoes on the Cordillera Los Maribios mountain range, which runs north to south for 40 miles.
Then they sit on the plywood boards, point the noses down the black, 42-degree slope, and rock forward.
As a volcano boading guide, I've led hundreds of people up—and watched them all come down. Most people conservatively slide one stretch at a time, digging their heels in to brake, but the bold ones hurl themselves down the 1,600-foot slope at 50 mph. A lot of them leave with cuts and bruises—proud battle wounds. But I'll never forget one client, a 22-year-old man from the UK, who took a tumble part way down, smacked his head on a rock, and lost consciousness. I ran over to tend to him, and when he woke up a minute later, he couldn't remember what had happened. "I hope I had fun," he said as I escorted him back to our car.
One client took a tumble part way down and lost consciousness. When he woke up a minute later, he couldn't remember what had happened. "I hope I had fun," he said as I escorted him back to our car.
Volcano boarding may sound like an odd pastime but it's emerged as a main attraction for adventurous visitors to Nicaragua and transformed the economy of León, a city of 210,000 residents. Ten years ago, roughly 5,200 foreigners visited León, according to the city's tourism office. Last year, that number increased to more than 20,000 per year. It's no secret why. 
"Before volcano boarding, the only attraction around here was the cathedral," Indrany Aurora Cuadra Zamora, a representative from the tourism office in León says. "The main industry was agriculture. People were just selling peanuts and cotton." Today the cathedral—Central America's largest, built in 1814—is flanked by youth hostels catered to the volcano-boarding crowd, and tourism has become the town's main source of income.
It all began in 2002, when French sportsman Eric Barone got the idea to attempt a record-breaking bicycle run down Cerro Negro. The volcano's relatively smooth, ashy slopes were ideal, he thought. After reaching an impressive 107 mph on the slopes, Barone crashed, landing firmly in the hospital with a handful of broken ribs. His bike had broken in half, and he swore never to descend Cerro Negro again.
But Australian Darryn Webb, then the owner of Bigfoot Hostel in León, saw potential in the hill. He began testing out different vehicles of descent—a mattress, a mini-fridge door, even an upside-down picnic table. "The first and second attempt were disasters," he says. "I fell at least 30 times and had cuts everywhere." Eventually he settled on a simple plywood board reinforced with metal and Formica. "It was this moment I knew I had something very special and looked to turn it into a rideable board for a business," he says.
That was 2005. Ten years later, it's plain to see that the activity has tranformed León, says local volcano tour guide Jose Poveda. Guides, for example, make an average of $500 dollars a month—twice the average salary in León—and there are at least 30 hostels and half a dozen tour operators in town (not including independent "freelance" guides), most of which have sprung up in the past decade to serve volcano boarders. Four years ago, the Universidad Cristiana Autónoma de Nicaragua in León created an entire tourism department to study and accommodate the growing number of visitors.
But it's not just the tourism industry that benefits. A community cooperative representing residents around Cerro Negro called Cooperativa Pilas-El Hoyo manages a ranger station there that collects entrance fees from visitors. The money generates revenue for local schools, potable water deliveries, and small-scale infrastructure projects. It also is helping fund rehabilitation centers for protected species, like a local iguana.
Velasquez, who runs Cooperativa Pilas-El Hoyo, says locals are in the process of constructing a youth hostel near the base of the volcano. "Before everyone was just a farmer," Velasquez says. "Now we have a better life." 
Lead Photo: Clarissa Wei
Trending on Outside Online