Interview: The Sweet Slacklife of Andy Lewis
Heading out the door? Read this article on the new Outside+ app available now on iOS devices for members! Download the app.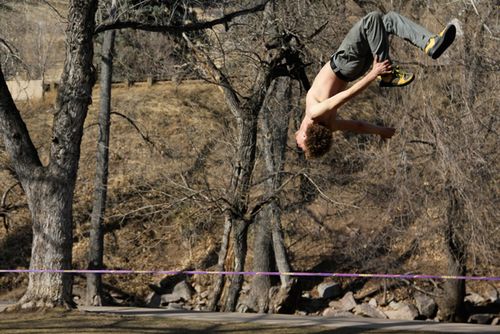 In November, 2010, slackliner Andy Lewis rigged a 130-foot length of webbing between two sandstone cliffs outside of Moab, Utah, and walked it—out and back—with no safety harness or net. The line, dubbed Shakes McCoy, was the longest anyone had ever free-soloed. Lewis has soloed 44 highlines—swaying, bouncing lines of one-inch nylon webbing strung up hundreds of feet above the ground—this year alone. Closer to the ground, the 25 year old has also landed the first-ever backflip on a slackline and won the 2010 Slackline World Cup. A film about Lewis's exploits, "Sketchy Andy," will premiere at the Reel Rock Film Tour on September 15. I caught up with Lewis, who slacklines full time, to find out more about what it takes to walk the line.
How different is one highline from another? Aren't you pretty much just walking the same line in a different place?
That's exactly it. A 50-foot highline could be a one-hour setup between trees in your backyard or a three-day hiking, three-day rigging mission that you set up between two unclimbed towers with 250 feet of vertical exposure. Both 50-foot highlines, but both entirely different. Every place has a unique setup, every highline has a different height, length, tension, and exposure level. To the average Joe, it's just walking a line in a different place; to a slacker it's the minute differences that make the challenge of slacklining.
How did you get started slacklining?
Slacklining started for me as a hobby. I bought some webbing and strung it up everywhere I could think of. I was learning to do tricks when I saw a YouTube video of Dean Potter free soloing Lost Arrow Spire [a classic highline in Yosemite]. All of a sudden, I had to start highlining. Free-solo highlining was more self-inspired—needing to be perfect, with death as the consequence.
Tell me about your first highline.
The first few highlines I walked were all really sketchy. I didn't know how to rig highlines, I didn't even have a backup rope. My first highline was in a park about 20 feet off the ground, and was about 45 feet long. When I finally got to walk it, it was amazing. By the end of the day, I got really comfortable and ended up free soloing it.
Are there any lines that are particularly memorable or special for you?
There is a line I established overlooking the Golden Gate bridge in 2008 called The Ruins Highline. At the time, it was debatably the world's longest full-manned highline, measuring in at 180 feet long, and about 80 to 100 feet high. My backup rope was about 40 feet short; I had to [tie] two ropes together for my backup. The line took me five days to send, and was probably one of my proudest ever.
I think a lot of non-slackliners look at slacklining as just a kind of circus stunt. Are they wrong? What makes it worthy of being a lifestyle?
We're hosting slackline competitions with 3000-plus viewers and competitors from all over the world now. People who look at it like a circus act probably just saw some kids backflipping in the park for dollars.  
There are many facets of slacklining. Highlining and longlining, and free soloing especially, are referred to more as meditation in the community. I would say that everyone who sees slacklining as just a circus event are f*****g wrong as shit. There are very few lifestyles that live up to the pure joy that the slacklife brings.
In your opinion, what goes into becoming good at slacklining?
You need to have time to practice and the determination to keep going when you don't see yourself getting better.  Slackline is really, really challenging when it comes to progression. Getting into a local community and the online community is really helpful. Becoming good at slacklining means watching a lot of slacklining: learning all the tricks, who is doing what, and what's next.  
You've done some pretty sick stuff. Have you had any close calls?
I actually think that the most dangerous shit I do is BASE jumping. I just had my first cliff strike, where your parachute opens backwards and you're thrown into the wall. That scared the bejesus out of me. Somehow I didn't get injured. A lot of people die doing exactly what I did.
Out of all your achievements, which are you proudest of?
I think I'm most proud of landing the first-ever backflip on a slackline. After I landed the backflip, it really launched the evolution of modern-day tricklining. That moment ended up being part of the inspiration of probably thousands of people to get up and try their first line.  
You've free-soloed a 130-foot highline. You've done tricks on and BASE jumped off of highlines. What's the next step for you?
My next step is to rig a highline that is too long for me to complete and walk it with a parachute as my only protection. No leash, no backup line. Just me, a 420-foot-long, 400-foot-high highline, a BASE rig, and the birds.