The Long Road Home
Women combat veterans suffer the same injuries and difficulties as their male counterparts. And a rugged form of expedition therapy offers a new kind of hope.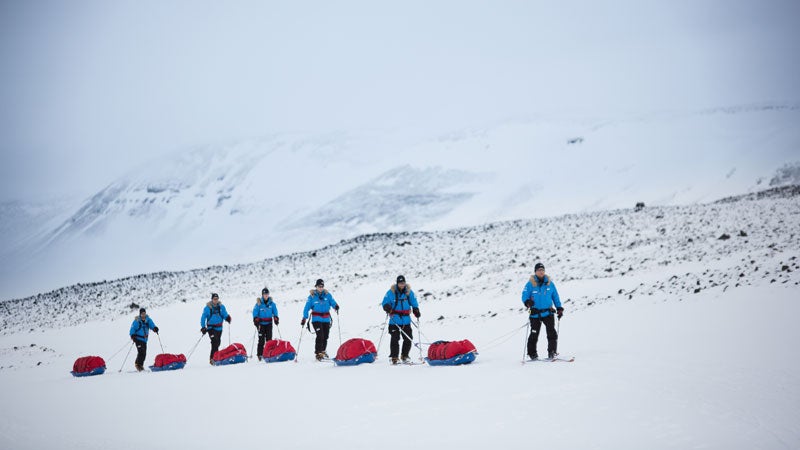 Heading out the door? Read this article on the new Outside+ app available now on iOS devices for members! Download the app.
On a thundery mid-August afternoon in Telluride, Colorado, Margaux Mange is hiking backward down a steep run on the front side the local ski resort, shaking a plastic juice container full of pebbles. "Beep! Beep! Blind man coming through!" she yells, as four wounded veterans from Canada and Australia scatter to the left and right. She shakes the pebbles faster, adding a rhythmic, maraca flair, yelling, "Ivan, come this way!"
wounded

From left: Therese Frentz, Kate Philp, and Margaux Mange
"This is a lot harder than the military," says Therese Frentz who walks a few steps behind her blind teammate, Ivan Castro, an active Army Special Forces Captain. With soft, yet firm encouragement, Frentz tells Castro where to plant his two trekking poles in order to avoid tripping over rocks and slipping in the mud.
Today is another rigorous (if scenic) training day for the injured soldiers, who are preparing for The South Pole Allied Challenge (SPAC), a 221-mile, 20-day race across Antarctica. On November 28, three seven-person teams—four wounded veterans, two mentors, and one guide—from the United States, the United Kingdom, and a combined group from Australia and Canada, will be dropped off on the wind-blown sastrugi of the 9,800-foot Antarctic plateau and, pulling 175-pound sleds, will race on skis to the South Pole.
The U.S. team's guide and overall expedition leader—and the man responsible for loading everyone down with water jugs on today's grueling hike—is Inge Solheim, a Norwegian polar explorer who has led more than 15 expeditions to the North Pole and successfully guided a blind man to the South Pole.
"If I push them to the edge here, they will land in Antarctica with much better confidence," Solheim told me at the beginning of the hike. "I want people to find their weak spots now and not on the ice. This is not boot camp, but it is a unique opportunity for really good training. Our goal is to get everybody safe to the South Pole."
The women's teammates are Ivan Castro, 46, who lost his eyesight, his right index finger, and was riddled with shrapnel in a rooftop mortar attack in Yusifayah, Iraq in September 2006, and Mark Wise, 28, an Air Force academy graduate and commissioned Army officer, who was blown up by an IED in Kandahar, Afghanistan, in October 2009. He fractured all the bones in his face, blew out both knees, ruptured his eardrums, lost extensive tissue in his left shoulder and three fingers on his left hand.
The U.S. team's mentors, who couldn't make the Telluride trip but will be on the South Pole trip, include the Swedish actor Alexander Skarsgård, an accomplished outdoorsman best known for his role as vampire Eric Northman on the HBO series "True Blood," and Ed Parker, the co-founder of UK-based "Walking With the Wounded" (WWTW), the non-profit that organized the SPAC expedition as a fundraiser to help wounded service people, with additional support from U.S.-based non-profits "Soldiers to Summits" and "Soldier On," and Canadian non-profit "Soldier On/Sans Limites." Also on the all-star roster: Prince Harry, "Walking with the Wounded's" staunchest supporter and patron, will ski to the South Pole as the mentor for the UK team.
AS PART OF AN INFORMAL pre-expedition motivational tour, Frentz and Mange are in Telluride to take part in the "No Barriers" summit, a bi-annual four-day gathering of more than 500 people whose lives have been affected by disabilities—of any kind. The women are also here to train with their U.S. teammates and the Australia-and-Canada Commonwealth Team, a.k.a. "The Commies," all of whom have returned from war severely wounded.
They are also the first women, along with Kate Philp on the UK team, to participate in WWTW, which  uses expeditions to places like Mount Everest and the Poles as a kind of therapy to help wounded vets overcome the physical and mental ravages of war.
Frentz and Mange could pass for sisters, with long brown hair pulled back into tight ponytails and strong builds that indicate serious athleticism. In high school Frentz, 33, was a tennis and volleyball star in Wakulla County, near Tallahassee, Florida. Mange, 28, scored 76 career soccer goals for Alameda High School in Lakewood, Colorado, earning her a spot on the 4A division all-state team. But still, today's training hike to almost 12,000 feet has been rough. Since the women started 3,500 feet below, each has struggled to carry a 20-liter water jug in her pack, the sky has unleashed intermittent hail, and residual pain from traumatic, permanent injuries has flared.
In March 2007 Mange, now a medically retired Army Sargent who lives in Yuma, Arizona, with her Marine fiancé, was blown up by an IED in Baghdad, Iraq, while driving in a Military Police convoy. Her best friend, Sargent Ashly Moyer, who was in the tank behind her, died in the attack. The explosion left Mange with severe traumatic brain injury in the form of occipital and trigeminal neuralgia, the latter which is so painfully sensitive that even the light sensation of her own hair brushing against her cheek can set off brain-crushing headaches.
Frentz, now a medically retired Air Force Captain who lives with her husband, a park ranger, in Seminole Canyon State Park, Texas, was hit by the blast of a suicide bomber who stood just ten feet behind her in Baghdad's Green Zone in October 2004. The explosion left third-degree burns over 30 percent of her body. The trouble with hiking, or any outdoor activity for Frentz is that the scars are sensitive to sun and she abhors unveiling them in public, so even on this 70-degree day she is covered head to toe in a long-sleeved shirt and pants, and wears special gloves on her hands. To further complicate matters, the scar tissue impedes sweating, which makes it nearly impossible for her to thermoregulate, though on expeditions they were fitted with specially designed clothing from Helly Hansen to help accommodate the injuries. On top of their physical injuries, both women suffer from Post Traumatic Stress Disorder (PTSD), compounded by waves of depression.
"It would be so lovely to wear short sleeves and shorts," says Frentz as she hikes. "What a cooling thought."
OF THE 2,558,176 OF THE U.S. service members who have deployed in support of the wars in Iraq and Afghanistan (Operation Iraqi Freedom, Operation New Dawn, and Operation Enduring Freedom), 306,177 have been women. Of those women, 978 have been wounded in action. Of the 1.8 million total U.S. women veterans, one in five who are seen by the Veterans Affairs health care staff are diagnosed with PTSD. Many, many more cases go undiagnosed. If the wars continue, these numbers will only increase. The Office of Veterans Affairs projects that by 2020, women will comprise more then 10 percent of the veteran population.
"In previous expeditions we've had no women on the teams and focused only on physical injury," says WWW's Ed Parker. "But," he adds, "women get wounded just like men and there are four times as many mental injuries returning from war as there are physical."
Healing war wounds, whether physical or emotional, is a long, slow process. According to one study, it takes women veterans an average of seven years to fully acclimate to civilian life upon return from deployment. So after everything Mange and Frentz have already been through, why have they signed on for a relentless 20-day trek across a frozen landscape with threat of frostbite or worse?
"It's the ultimate challenge and I'm an adventure junkie," says Mange. But she admits there's more to it than that. "Everyone highlights the war amputees and no one focuses on the invisible wounds like traumatic brain injury. I want to help that cause." Dig deeper and there's an even more painful reason. "Every time I want to give up, I put my best friend Ashly in my head. She's dead. She can't go to the South Pole. I'm alive, and I can."
Frentz, the quieter of the two women, offers another perspective. "This expedition brings back the good parts of being in the military," she tells me. "I really loved the unit I was in and this reminds me of being part of a little family unit again, without the risk of a mortar landing on me." 
 "PTSD and other invisible wounds can be very isolating for women," says Dr. Erin Krebs, the Women's Health Medical Director at the Minneapolis VA Health Care System. "Avoidance makes those symptoms worse and prevents recovery. Women who do best with these kinds of injuries have accepted their new normal," says Krebs. "They have accepted that 'this is my new body, my new life, and I'm going to live the best life I can with what I've got.' Being brave enough to go out there and do this intense expedition relying on your team members, can be an incredibly powerful experience to help overcome these traumas."
Both women returned from the front lines, forced to cope with a new reality. Thera Storm, Therese's twin sister, who, along with the twins' mother, quit her job and moved from North Carolina to San Antonio, Texas, for six months to nurse Therese's burns, has helped her sister accept the loss of her past self. 
"Therese was a 24-year-old single woman who had burn scars all over her arms," says Thera. "She was feeling very exposed and vulnerable. Here I am, seeing the pain going on in her head, her mind, and her heart, watching her wonder what her life is going to look like."
Thera continued, "Therese has always been number one at everything she does and she has had to completely re-identify herself. It took this trip to the South Pole for Therese to start to realize that she can be the alpha female again. If anyone can make it in Antarctica, it would be her."
For Michael Mange, Margaux's father and her self-described "life coach" during her 27-month deployment, the South Pole is a natural fit for his daughter.
"After what I've lived through with her, I really don't worry about Margaux," says her father. "This is something that will keep her moving forward. She's with a great group of people and they are getting great training. All she needs to provide is the attitude and gumption." 
Jason Duvall, a research scientist at the University of Michigan School of Natural Resources and Environment co-authored a recent study that links outdoor activity to improved mental health in veterans. The study found that "one week after a multi-day wilderness recreation experience veterans reported a greater than 10 percent improvement in several measures of psychological well-being, a 9 percent increase in social functioning, and a nearly 8 percent gain in positive life outlook." In some cases the results lasted for a month.
"One of the things that was very surprising to us," says Duvall, "was that spending time outdoors seems to be most effective to those veterans who were most severely impacted by mental or physical wounds."
FRESH AIR DOES SEEM to be easing tensions on this weeklong training mission in Telluride. On a coveted rest day squeezed between an intensive gym workout involving hundreds of squats, bushwhacking elk trails above Telluride, and a 4,700 vertical-foot climb to the summit of 12,818-foot Ballard Mountain, and tackling the Via Ferrata (traversing a dizzyingly exposed cliff on Ajax Mountain while clipped into the safety of iron rings), the two teams are taking it easy in the 73-degree sunshine at Ridgway State Park, a reservoir of turquoise water surrounded by steep canyon walls.
For an idea of just what Frentz, Mange, and their expedition mates are in for; today's temperature in Telluride is 110 degrees warmer than the -40F average they will experience in Antarctica.
Paddling a solo kayak, Mange playfully rams Frentz and Castro's tandem kayak.
"Margaux!" yells Frentz, while Wise plays around with an adaptive device for his left hand that will make paddling easier.
Meanwhile, Solheim is doing a headstand on a standup paddleboard and Mange has moved on to splashing the "Commies."  
"These guys are, like, seven feet tall," she says of her competitors. "They can kick our ass any day, but we definitely have more heart."
A few minutes later Mange, Frentz, and Castro return to the beach and Mange and Castro swap out their kayaks for a standup board. They paddle, sitting down, into deep water where Mange slowly, patiently talks Castro through standing up. After he gets his balance, she stands behind him and the two paddle through the choppy water like pros.
Later on, I privately ask Castro what he thinks of his two female teammates. "Margaux is very young, bold, brave, and in great physical shape," he says. "Therese is exactly the same way, but she is very conscious about her scars. I keep telling her that beauty isn't only on the outside. One day she finally took off her long-sleeve shirt and I said, 'Man, you need to be proud of those. They're your battle scars.'"
Lead Photo: PETTER NYQUIST