Lost in the Grand Canyon
We may never know how 21-year-old rafter Kaitlin Kenney died on the Colorado River, but we will never forget why she went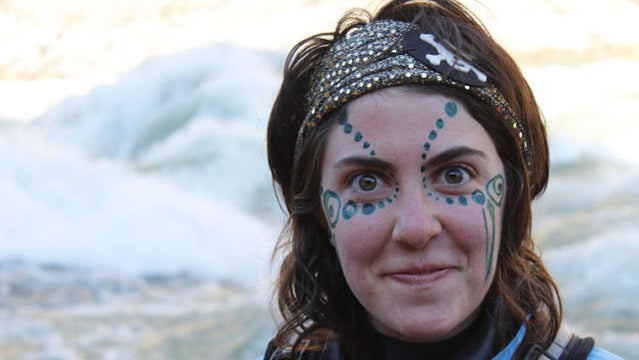 Heading out the door? Read this article on the new Outside+ app available now on iOS devices for members! Download the app.
On March 29, Linnea and Brian Kenney received the news that every parent dreads. That day, they learned that a body discovered in the Grand Canyon a week earlier was that of their 21-year-old daughter, Kaitlin Kenney, who had gone missing on January 11, during what was to be a 29-day, 277-mile self-supported raft trip down the Colorado River.
Kaitlin and a group of fellow students from the University of Montana had launched from Lee's Ferry on December 26 for what was supposed to be Kaitlin's first descent of the Grand. An anthropology major who loved to play the fiddle, she had completed a semester with the Wild Rockies Field Institute last summer, and was eager to continue her outdoor education.
Then, midway through the expedition, Kaitlin vanished without a trace. She was last seen on the evening of January 11, at the group's camp near Tapeat's Creek at river mile 135. The next morning, her trip mates discovered she was missing and searched camp before using a satellite phone to call the Park Service. Rangers would spend the next two days combing the river corridor by air, along with a search-and-rescue team that scoured drainages, trails, and side canyons on foot.
Kaitlin's family and friends speculate that she may have gotten up from her tent in the night and fallen in the river or become lost. The section of the Colorado that flows through the Grand is a frigid 46 degrees year round, and the air temperatures that night were near zero. That night, the last of her life, Kaitlin was bundled up in a long coat and a hat. Several days of searching turned up no clues, and the park scaled back its rescue mission.
Nine weeks later, rafters on a private trip discovered a body 30 miles downstream from Tapeat's Canyon. A week later, a medical examiner confirmed what her parents had feared. It was Kaitlin.
Like other adventures that end in tragedy, this one has the power to touch so many people in unexpected ways. It's Kaitlin's age, of course—she had celebrated her 21st birthday only days before she disappeared—and her passion for wilderness and exploration, her enthusiasm for spending a bitterly cold month at the bottom of the Grand Canyon, and the wild freedom of being at the very beginning of everything.
Naseem Rakha, a writer, artist, and rafter who spent the month of February as an artist-in-residence on the South Rim, never met Kaitlin, but she was so moved by her story that she began writing about her on her blog, Grand Canyon Writer. She even hiked into the Canyon and built a memorial cairn in Kaitlin's honor, overlooking the Colorado. Touched by her words and gestures, the Kenneys contacted Rakha, beginning a correspondence in which they would share stories and send her artwork, photos, and even some of their daughter's river journals.
"Because I love the canyon, and have rafted it…and because I know how the canyon shapes not just stone but every human bone that dips itself into its waters, or climbs its path, I started to write about the girl I did not know, and the ways we live and die," wrote Rakha, who nearly drowned during her own first Grand Canyon trip in 1996, when she tried to swim Hermit Rapids without a wetsuit.
"I felt quite certain that Kaitlin Kenny was living life to her fullest," she says now, three months later. "Which is something to be grateful for, even in the midst of despair."
What happened to Kaitlin on January 11 is still a mystery, one to which we may never get a definitive answer. But her journals reveal a young woman, filled with gratitude and wonder, on the cusp of the greatest adventure of her life. "I am going into this experience with the intention of opening my heart to whatever is presented to me in whatever form," Kaitlin wrote in her trip journal on day one. "The trip is a continuation of breaking down walls to let my heart shine. Cheers Universe, and thank you for this amazing opportunity. May love be, give and see. Shine night, shine bright."