Sponsor Content: Purina Pro Plan
Make This Summer the Season of Water Adventures with Your Dog
Take the plunge and explore dog-friendly fun in and on the water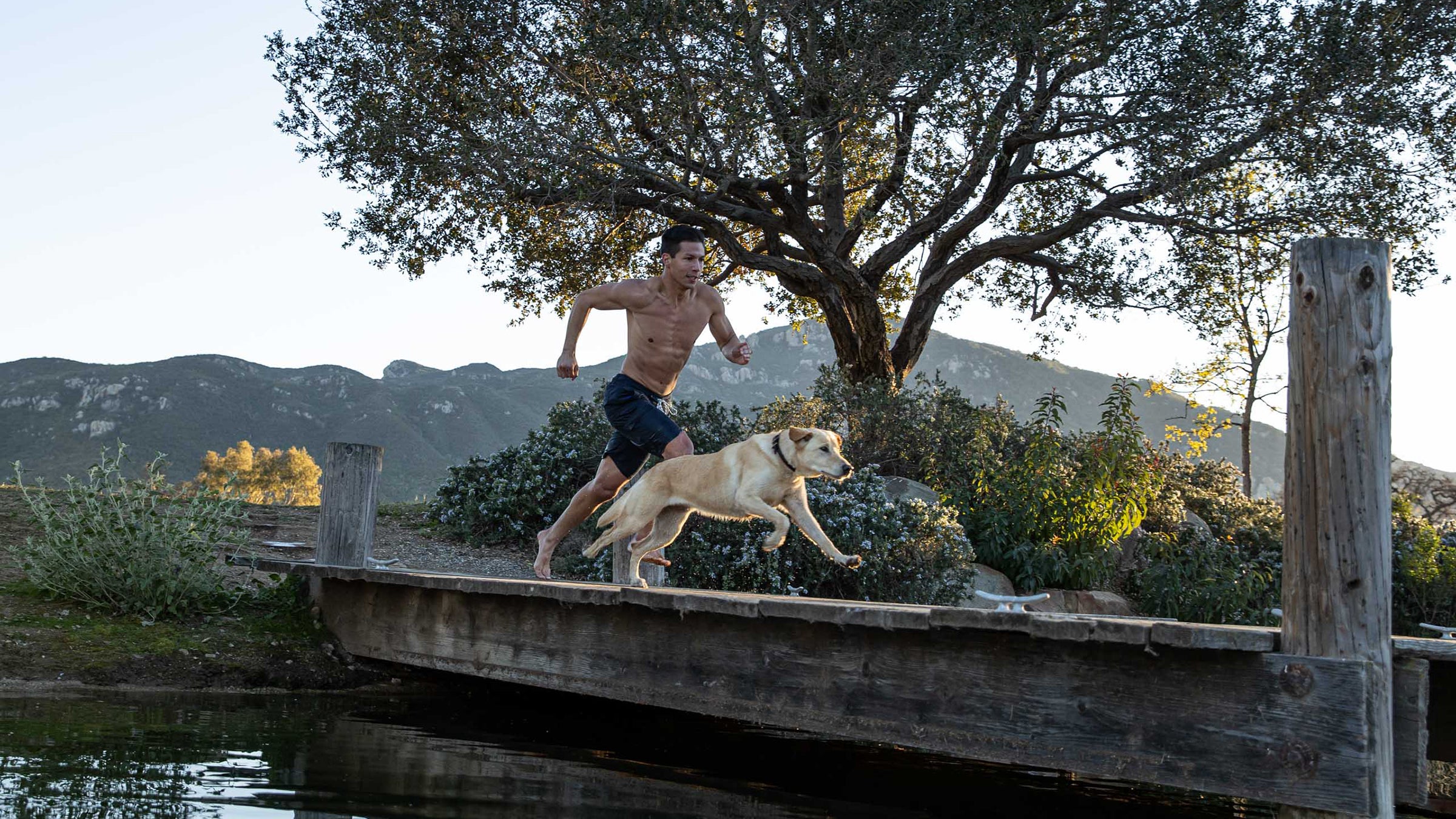 Purina Pro Plan
Canoeing on a lake. Camping next to a lazy river. Paddleboarding along the coast. These are the water-cooled scenes of summer. There's only one thing missing that would make all these moments even better. Your dog. The good news is that you don't have to choose between getting out on the water and spending time with your pup. Most water vessels are safe for dogs to come along. And with a little training, every dog can learn the skills and confidence they need to join you on the water. Here's everything you need to know about incorporating your dog-friendly water adventures into your summer plans.
Getting on the Water with Your Dog
You've seen the Instagram reels of dogs perfectly balanced on the front of a paddleboard or expertly boarding a kayak. (Bonus points if they're wearing an adorable dog life jacket.) You might be thinking, "How do they make it look so easy?" Fun and safe time on the water isn't as elusive as it might seem. These tips will help make you and your pup watersport pros in no time.
Practice on land: Whether your pup is nervous around water or overly enthusiastic, a quick introduction on land to your go-to watercraft will set them up for a positive experience. Dogs that know a "place" command can use this knowledge to help transition onto a watercraft. Start by laying a towel down in the spot they know as "place." Once you've practiced with a towel in their usual spot, move the towel onto your paddleboard or canoe and practice the "place" command onboard. Keep training time short and heavy on rewards while your dog is still learning. Multiple five-minute sessions that end on a positive note are far more effective than hour-long sessions that leave your dog feeling confused and overwhelmed.
Enjoy adventures big and small: Sometimes loading up the car with everything you need for a day on the water is a lot of effort when you're short on time midweek. Remember, no outing is too small to benefit you and your dog. Outdoor time stimulates your dog's mind with new sights, smells, and sounds. And just like human brains, dog's enjoy a serotonin boost when they spend time in nature. For weeknight-friendly water activities, choose a creekside trail for a water romp or introduce a float toy to your dog's fetch repertoire to enjoy at the lake.
Get the sillies out: Riding on a watercraft challenges your dog's core strength and provides mental stimulation. But if your dog is overly excited about water adventures, you may need to plan some aerobic exercise time before getting on the water. Hike or trail run to the lake together, or play fetch with a float toy in the water before loading up the kayak. You'll both enjoy the additional fun and quality time together. Plus, the exercise will help ensure smooth sailing for the main event. Worried your dog will still get overstimulated or punchy mid-excursion? You can always take a break to play fetch or get the zoomies out on the shore.
Stay safe out there: Even dogs that are confident in the water should wear a doggie life jacket. A flotation device provides peace of mind in an emergency and ensures your dog has added support if they get tired in deep water or toward the end of a long day. Plus, many dog life jacket designs include a handle on the back, which is absolutely necessary if you need to haul a 75-pound golden retriever back onto your paddleboard after a swim.
Fueling Active Dogs
Every day you get to spend on the water with your dog is another joyful memory made. Proper nutrition will help ensure your pet is in top health now and can enjoy on-the-water adventures with you for years to come.
How do you feed an active dog? Just like you, dogs need the right fuel to keep going all day. But dogs and humans actually run on different energy sources. That means while you're carbo-loading to prepare for a day of paddling, your dog needs to consume fat and protein to burn while they splash beside you. Purina Pro Plan Sport Performance dog food formulas are made with a 30/20 protein-to-fat ratio to fuel an active dog's metabolic needs. This helps give your dog the strength and stamina they need to keep up on all your adventures together. Pro Plan Sport recipes also include amino acids to nourish muscles, as well as glucosamine and omega-3 fatty acids for mobility and joint health. With the proper nutrition on your side, you and your water dog (or soon-to-be water dog) will be ready for a summer full of unforgettable memories. 
Read More: How to Feed Your Adventure Dog
---
Empowering owners. Advancing nutrition. And improving pets' lives. Pro Plan is reimagining what breakthrough pet nutrition can do. Our pioneering mindset inspires us to turn the impossible into incredible new products that can help pets enjoy a happier, healthier life and strengthen the bond they share with their owners. Visit proplan.com to learn more.
Lead Photo: Purina Pro Plan
Trending on Outside Online