Rowing the Northwest Passage—Because They Can
Four men are attempting to row a small fiberglass boat through a notorious Arctic route that has claimed the lives of countless explorers. Why? Because it's now possible, thanks to climate change.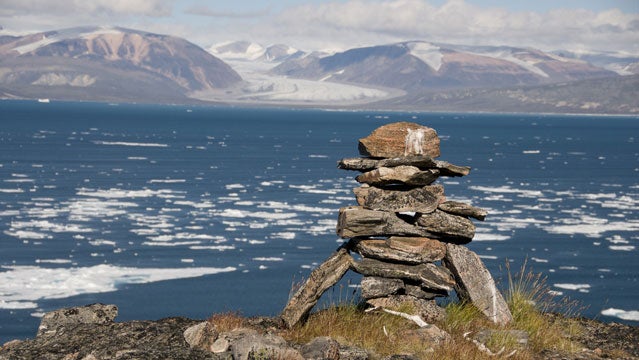 City Escapes Nature Photography(Photo)
Heading out the door? Read this article on the new Outside+ app available now on iOS devices for members! Download the app.
Kevin Vallely has seen human remains emerging from the hard, cold earth on King William Island, an Arctic archipelago just north of the Nunavut mainland. In August 2007, the now 48-year-old Canadian adventurer happened upon bones scored with blade marks and cracked open by desperate sailors scavenging for marrow in the depths of cannibalism.
The Grub
960 packets oatmeal
640 dehydrated meals
700 Powerbars
700 chocolate bars
500 Raman noodles
20 lbs coffee
6 containers coffee creamer
15 lbs beef jerky
6 bottles single malt (it ain't all misery)
360 packets of vitamins

Vallely was searching for evidence of Sir John Frankin's tragically failed 1845 expedition to navigate a Northwest Passage trade route from England to the Orient, and although Franklin's two ships have never been found, unidentified vertebrae and a scapula sit perched, as a memorial, on a stone cairn.
"The expedition history of doom and gloom up there is very profound," says Vallely, who previously held the speed record for skiing to the South Pole.
But the Northwest Passage is increasingly easier to cross, thanks to a dramatic decrease in the volume of sea ice in recent years—more than a 50-percent reduction between 2005 and 2011, according to The Arctic Institute.
To draw attention to this startling fact, Vallely and his 3-man crew are attempting the first human-powered traverse of the Northwest Passage in a single season. Taking rotations in the  two-man cockpit will be Paul Gleeson, an Irishman who rowed across the Atlantic in 2005; Frank Wolf, a Canadian filmmaker who biked, hiked, and paddled the proposed route of the Enbridge Northern Gateway Pipeline; and Denis Barnett, a former Irish rally car driver who works in Vancouver's shipping industry and locked down their deep-pocketed sponsor (Mainstream Renewable Power, a big alternative energy company) through his girlfriend.
The four men will spend the next 70-80 days rowing a 25-foot fiberglass boat, the Arctic Joule, 1,800 miles east from Inuvik to Pond Inlet. Launching July 5, they're off to a late start, but still have plenty of time before the ice in the Admunsen Gulf fractures so that they can pass.
Their relatively puny 1,000-pound boat will tackle waters that previously required 5,000-ton icebreakers to cross, an indication of just how rapidly global warming is changing the Arctic.
At The Economist's Arctic Summit in Oslo this past March, Vallely gave the keynote address to 150 attendees, from environmentalists to oil tycoons, aboard the Fram, the ship Norwegian explorer Roald Admunsen sailed to Antarctica before reaching the South Pole. No one at the conference denied the reality of global warming, and both sides of the climate change debate are intently interested in how it will affect the Arctic.
Environmentalists are concerned that decreasing temperatures will melt substantial permafrost, releasing methane, a greenhouse gas 20 times more potent than carbon dioxide.
Energy companies, on the opposite end, are paying close attention to the growing accessibility in the Arctic of what the U.S. Geological Survey estimates to be "13 percent of the [world's] undiscovered oil, 30 percent of the undiscovered natural gas, and 20 percent of the undiscovered natural gas liquids." Even more attractive to prospective fossil fuel investors is the fact that this area is not subject to Canada's tariffs and regulations.
How much of an impact will a "raising awareness" expedition like this have on energy consumption and environmental protection? Climate change skeptics will likely dismiss it as a daredevil stunt enabled by a hefty sponsorship from an alternative energy company—but Vallely hopes that the combination of adventure and observation will provide as powerful a narrative as the 20th-century Arctic expeditions that imprinted on our psyche.
"To my mind, exploration is about seeking knowledge," says Vallely. "Although we're not exploring a new territory, we are certainly seeking knowledge in a changing environment. We're hoping to go up there and come to terms with what's changing from the perspective of the Inuit people. Rather than a pure adrenaline adventure like a wing-suited BASE jump, we're hoping there's more to this."
But he won't deny that there's a good bit of serious risk to go around. Rowing a boat for three months in Arctic temperatures might be more plausible today than it was a decade ago, but it's not a whole lot safer. You still have to contend with monthlong storms, hungry polar bears, and rogue slabs of boat-crushing ice.
The biggest danger for Arctic sea navigation, particularly in the area west of King William Island, has often been strong northwest winds blowing in layers of multi-year ice, slowly pinning ships and immobilizing them for months on end. Without an engine, Vallely and his crew will have to be extremely careful to avoid getting blown into a slurry of ice, which could destroy their small boat. But in the words of Roald Admunsen, "Adventure is just bad planning."
Lead Photo: City Escapes Nature Photography