The Sky Is Burning: Caught in the Pagami Creek Fire
Greg and Julie Welch thought they were taking their regular, annual trip, paddling through the Boundary Waters Canoe Area in Minnesota. Then the fire came.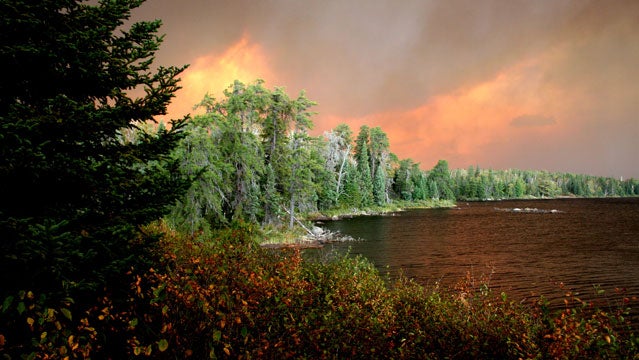 Greg Welch(Photo)
Heading out the door? Read this article on the new Outside+ app available now on iOS devices for members! Download the app.
Before they even set their kayaks in the water at Kawishiwi Lake, Greg and Julie Welch had heard about the Pagami Creek Fire. They'd been told about it by Rangers, who were watching it, who said it was small and hadn't moved much, and who had closed a swath of Minnesota's Boundary Waters Canoe Area that was twice as large as they thought necessary, just to be safe. The fire was miles away from them.

Kawasachong Lake after the fire.

Looking west at the Pagami Creek fire.

Greg and Julie Welch shortly after the fire went out.

The rocks the Welches climbed on at the end of the fire.
Besides, Greg had been a photojournalist back in Michigan, where he'd often followed forest fire crews out to take photos. He'd seen flames jump 30-foot roads and do other strange things. Given all he knew about fires, he figured they were more than a safe distance from it. Plus, the wind had been blowing the wrong way, gusting at their backs as they paddled north.
The day was perfect, 70 degrees, sunny, quiet—one of those days you dream of when you think about getting back into the wild. This was what they loved. This was what they looked forward to all year. During the summer, they worked 12-hour days at their family business, building vinyl docks for people to put out behind their lake cabins. The orders came in an avalanche each spring, and they spent the rest of the summer digging out. By August, things usually began to wind down, and they would pack their bags, strap their kayaks on the roof, leave their daughters (now 15 and 20 years old) home with family, and head out for what Sigurd Olson once called "the singing wilderness." It was something they'd been doing for the last 20 years. After two weeks cut off from everything but the calls of wolves and loons and eagles, they always came home feeling like new people.
This time, they planned to take it easy. By early afternoon, just two days into a 10-day trip, they reached Kawasachong Lake and found a campsite on the western side. It sat on top of a steep, 25-foot bank, and gave them a nice view of the water—calm and bright blue that day. They beached their boats, hauled up their dry bags up, and began the pleasant routine of setting up camp. After eating some food, they put up their tent and Greg started getting ready to go fishing.
Around this time, the wind started to pick up, gusting. There seemed to be more smoke lingering around them. Far off, there was a strange cracking noise that sounded like branches breaking. Greg took a photo of the clouds to the west, and when he took a look on the camera, there were streaks of orange shot through.
Julie started getting uneasy, so Greg agreed to paddle out and have a look to west to see if he could see if the smoke from the Pagami Creek Fire looked any closer. He walked down to his kayak and paddled out into a little river just to the north of the lake. As soon as he rounded a bend, he saw it: The entire horizon, all the way across, was on fire. The flames were horizontal, blowing straight at them.
THE PAGAMI CREEK FIRE had started about three weeks earlier when lightning stuck a bog east of Ely. It seemed to be slow moving and manageable. But on the day the Welchs stopped at Kawasachong Lake, it became a fire of legend, burning 80,000 acres in one day and racing across an unheard-of 16 miles of land. It vaporized trees, and resulted in a massive, 35,000-foot plume that created its own weather system. By the end of the day, the fire would consume some 92,000 total acres of wilderness. Nothing in the historical record suggested that a fire could move that fast through the area. None of the alerts indicated conditions were even right for a fire of that scale. But a rare, unstable mass of air formed over the fire. At the same time a strong wind kicked up out of the west, the instability pulled it through the fire like a bellows blowing through a blacksmith's forge.
Welch raced back to the campsite as fast as he could, yelling up from the water for Julie to get moving. Julie had heard the fire roaring through the woods, though, and she was already throwing dry bags down to shore before jumping herself.
Greg landed just as Julie got down, but she quickly realized she'd forgotten her lifejacket, so Greg sprinted back up the bank. The smoke was so thick he had to feel around blindly inside the tent. Already able to feel the heat from the fire, his heart raced. In the dark, he found two deflated air mattresses and grabbed them. Then his hand hit the life jacket; he snatched it and ran.
Julie was sitting in her kayak, watching her husband run down to the shore. Just as he came down the slope, the fire crested over the bank and roared just a few feet behind him. Greg threw the life jacket to Julie and told her to go while he strapped the last bags onto his kayak and dragged it to the water.
As Julie paddled out, everything suddenly went black as the fire pushed a thick cloud of soot and ash ahead of it. She couldn't see Greg, so she screamed his name, but the noise of the fire was like standing next to a freight train. All she could see was thick smoke and burning trees falling in the water. For a few seconds, she thought Greg was lost, and that she was, too. She had no map, and no way to get back alone.
Then Greg appeared, paddling out of the smoke, a few feet away from her. But just as soon as she caught sight of him, the wind tossed her kayak into the air and flipped her into the cold water. By the time she surfaced, the boat had been blown far across the lake. Greg paddled toward her, but the wind was too strong—he couldn't stop—and it blew him right past her. So he jumped in the water, holding his kayak and staying still, yelling for her to swim toward him. It took a few minutes for Julie to reach him, but together they clung to his boat while everything around them burned.
It was a world of black and orange. The islands in the lake were on fire. The entire shoreline was on fire. The air was thick with ash, soot, and glowing embers being blown across the lake at 50 miles an hour; they couldn't look west. Soot got in their eyes, coated their hair, their noses, and their throats. They had a fleece jacket, which they soaked in water to breath through, but it didn't stop the headaches, the sense of being smothered, of drowning in air. Everything was burning and there was no place to go. They could duck their heads underwater for a few seconds to escape it all, but they couldn't keep doing that forever. They both were almost certain they were going to die, but after a brief talk, they agreed not to give up. They had daughters who needed them.
So they treaded water, trying to stay in the middle of the lake, just waiting. But after nearly an hour, Julie started to shiver uncontrollably, which Greg knew meant one thing: hypothermia. They were in danger of freezing to death while the world around them burned, so they let the wind take them toward the eastern shore, where they could at least stand on the lake bottom. They drifted until they came to a boulder. They climbed on top and hauled the kayak out of the water, too.
But before they could even begin to dry off, it started to rain. Not just an ordinary rain, but a biblical, end-of-the-world kind of rain. It fell so hard that it hurt. Then, with a burst of thunder and lightning, the rain turned to hail. They held the deflated air mattresses above them for protection.
And then: nothing.
As suddenly as it had begun, the rain stopped. The fire died under the downpour. The sky cleared. High above them, the plume created by the Pagami Creek Fire had collapsed, sending all the moisture back down, extinguishing the flames, and, in the process, saving Greg and Julie Welch's lives.
Julie, however, was still shivering. Their tent was a pile ashes, and the sun was sinking in the west, so they couldn't go back the way they came. Sitting in the charred aftermath, the couple plotted their next move.
FIRST, THEY NEEDED TO find a place to stay. Miraculously, they found a small piece of a peninsula that had been spared from the fire. Julie needed to warm up, but any wood that hadn't been burnt was soaked through with rain, so making a campfire was out. They dug through the few dry bags that remained and found Greg's camping stove, which they used for warmth. They ate what little food they had left and slept in a sleeping bag Greg found in another dry bag that had washed up on shore. As night set in, they lay in the sleeping bag together, wondering if the fire would return. In the darkness around them, the shoreline glowed.
The next morning, they found Julie's kayak beached on some rocks across the lake. Then they paddled down a stream that connected Kawasachong to another small, shallow body of water called Square Lake. Along the way, they looked for the bodies of a couple they'd passed the day before. If the others had camped anywhere along this creek, they wouldn't have made it, and the Welchs would have had to bear the grim news.
But they never came across any bodies. They made it to Square Lake, which had been completely burned as well, and then on to the sudden, strange greenness of Kawishiwi Lake, where their car was still parked, just as they'd left it. Back at the District office in Tofte, where they stopped on their way out, they told their story to an incredulous Forest Ranger at the desk, who went to get his manager and make them tell it again.
From there, they drove on to Grand Marais, where they spent a few days unwinding, staring out across the water, and trying to fathom what they'd just been through. The even drove up to the Gunflint Trail, and talked about camping there and taking a day trip back into the Boundary Waters. But it was all still too close, and the fear was too fresh. Besides, they would be back. The Boundary Waters always left them feeling a little more alive, and this time was no exception. So they packed their things, got in the car, and started the long drive back to home to their daughters and their life.
Behind them, the memory of smoke and ash started to settle, while along the shores of Kawasachong Lake, new trees and brush had already begun to grow.
Frank Bures is an award-winning writer based in Minneapolis who frequently reports from Africa. More at frankbures.com.

Lead Photo: Greg Welch
Trending on Outside Online