These Pants Saved My Life
"I looked down to find my crotch on fire." Tom Kluberton holds up gutted pants as evidence. "OK, they're crotchless, but they are still good Carhartts."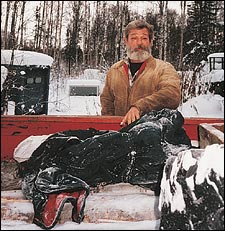 Chris McPherson
Heading out the door? Read this article on the new Outside+ app available now on iOS devices for members! Download the app.
IF YOU ARE THE CARHARTT SALES REPRESENTATIVE IN ALASKA, you hear so many stories about how your durable, mud-brown work wear has saved people's flabby backsides from wolf fangs and grizzly-bear bites that, after a while, you stop recalling the individual anecdotes. Except during the annual Carhartt Ball in Talkeetna, a winter festival at which fans gather to celebrate another year of survival on The Last Frontier.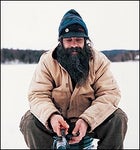 Genuine ring-spun, duck-cloth bliss: local trapper Rick Schiesl ice-fishing near Talkeetna in his Carhartt finest

River guide Carl Ober and a lot of bull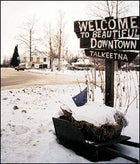 Talkeetna welcomes you

Strutting the VFW catwalk

Artist Trigger Twigg

Icy digs

Ball glitterati Kenny Umphenour and Cliff Hudson talking pants in between swigs

Tom Kluberton

William Parriseau's friends at the VFW bar

Donnie Elbert
"One time," says Doug Tweedie, Carhartt's man in Alaska for the last 25 years, "there was this walrus attacked a guy tying his boat up to a dock somewhere in the Aleutian chain who said what saved him were the black extreme-heavy-duty Carhartts the walrus's chompers couldn't bite through." Tweedie tells me this as he busily checks the microphone onstage at the Denali Fairview Inn during a lull in the festivities. "Another time there was this couple pulled over by the side of the Alcan Highway; a grizzly bear mauled the husband, who had gotten out of the car, but our coveralls deflected the claws and saved his hide."
The Carhartt Ball is not your traditional black-tie-and-strapless-gown gala with a sit-down four-course dinner. It started in 1996 after Talkeetna's garbage-removal and snowplow magnate, Bill Stearns, came up with the idea of a Carhartt shindig as an antidote to cabin fever. Although Carhartt rarely advertises, Tweedie agreed to drive up from Anchorage to sponsor the first ball and hand out prizes in the storytelling competition, where winners take home the eponymous outerwear. Six years later, the annual event has become an occasion for area hunters, fishermen, carpenters, trappers, mountaineers, whitewater rafters, and back-to-the-land curmudgeons to don their multicolored patched chore coats, kneeless pants, and worn overalls reduced to strings, and snowmobile into the two-block-long town in the foothills of Mount McKinley to entertain one another with accounts of death-defying animal attacks and engine failures.
On December 29, festivities start early at the local VFW hall (a 60-by-80-foot log cabin), where a catwalk is set up and Talkeetnans make like Gisele Bündchen and strut down it, modeling Carhartt's upcoming spring line. Then the party moves to the Fairview Inn, where everyone crowds around the horseshoe bar wearing spanking-new carpenter pants saved just for the occasion, as well as cruddy "roadkill Carhartts" articles of clothing that have blown off the backs of pickup trucks, gotten run over, and been rescued by passersby. With the perfectly groomed hair of a national newscaster, 51-year-old Tweedie stands out among the guests in a bespoke brown Carhartt tuxedo with black lapels. He is, after all, the master of ceremonies. So that I will blend in, Tweedie has lent me a purple jacket (brighter hues were recently introduced in the Carhartt line, to appeal to rap stars and women) festooned with battery-operated blinking lights and a gigantic hieroglyph on the back that spells out c-a-r-h-a-r-t-t in sequins and glitter.
Alaskans buy an estimated four times more Carhartt work duds per capita than their compatriots in the Lower 48, and their loyalty is not due to just the harsh weather. Up here, hair-curling adventures featuring these sturdy $40 pants and $70 jackets are what distinguish weather-beaten sourdoughs from virgin flatlanders. The company was founded in Michigan in 1889 by traveling salesman Hamilton Carhartt, who started the trend by fashioning railroad uniforms out of surplus army tent material. Today, his great-grandson Mark Valade presides over the family-owned, Dearborn-based business, which reportedly grossed $324 million in 2000. Still, what is it about this brand that has made the Carhartt survival story a phenomenon so peculiar to Alaska, a kind of currency swapped in bars late at night, over breakfast in diners, and at the state fair? As the epicenter of what could be called the Rescue-Pants Epic, Talkeetna's Carhartt Ball seems a good occasion to investigate why this extra-thick, water-repellent, 100 percent ring-spun duck cloth has become the stuff of frontier fable.
"In Alaska, you're always getting into extreme situations where everything fails but your Carhartts," Tweedie theorizes. "Then when you get out of the situation, you tell everyone about it." And they tell everyone else. All around us at the Fairview Inn, drinking from beer steins at wooden tables, standing by the house-rules sign warning "All firearms must be checked with the bartender," villagers are one-upping each other with Carhartt war stories.
"People call every week, with animal stories, chainsaw stories, accident stories stranded off the road in 70 below zero, skidding hundreds of feet on icy roads on tipped-over motorcycles. I've stopped writing them down," Tweedie says. Then he perks up at the thought of a humdinger. "Do you know the one about the Fairbanks policeman who was saved when an assailant's bullet ricocheted off the brass zipper of his Carhartt jacket?"
AS AN INFAMOUS PLAQUE, no longer on display, put it, the winter population of Talkeetna was once "378 people and one grouch." These days it's pushing 800. If you count the tourists, the spring-summer population runs into the tens of thousands, with climbers, campers, and sightseers passing through en route to Denali National Park and Preserve. Carhartts are so prevalent here, and the villagers so vociferously loyal to them, that visitors sometimes catch Carhartt fever.
"I've had Californians and Japanese tourists, total strangers, try to buy my Carhartts right off me. Yuppies!" scoffs Ted Kundtz, a Talkeetna jack-of-all-trades, when I meet him one morning before the ball for breakfast at the town's Latitude 62° Lodge. "They called the years of wear and tear I put in them 'authentic character.'" What seems to irritate him is not that the interlopers hoped to wheedle him out of his sorry-ass jacket, but that they wanted to appropriate the adventures that came with it.
Kundtz, a no-nonsense 60-year-old with a stubbly gray beard, sits over his eggs and reindeer sausage in padded black Carhartt bibs stained with yesterday's cheeseburger juice, last night's spaghetti sauce, aviation gas, engine grease, moose turds, moose innards, and moose blood. He has just pulled an all-nighter at mile 110 of the nearby Parks Highway, helping adult students learn to carve up abandoned game for a community-ed course called Roadkill 101.
"The difference between formal and informal in Talkeetna is clean Carhartts and dirty ones," he says. "The washed ones, you wear to church. Ones as cruddy as these" he points at various blotches on his chest and pant legs "you clean. Preferably in someone else's washing machine."
In his varied career, Kundtz tells me, he has been a pilot, a tester of Berkley fly rods, a ski instructor, a forensic photographer, and a Green Beret. A life such as his is full of Carhartt flashbacks. On one particularly memorable night several years ago, as he drove home from Talkeetna, with the mercury hovering at minus 25 degrees, Kundtz's 700-pound snowmobile skidded off a trail by the side of the road, tumbled down a slope, and flipped on top of him. He credits the thick insulation of his jumpsuit for keeping him alive and warm during the slow, cumbersome process of digging a snow-tunnel escape route. Kundtz's story exhibits typical Alaskan sangfroid and quick-wittedness in an emergency, as well as frugality; he still has the clothes he wore that night.
"I just heard about some new high-tech, battery-operated parka," he says. "But for me, out in the remote after the batteries ran out, where would I plug it in to recharge it? A birch tree? If you live here, Carhartts are bound to save your life one time or another. Once they do save your life, you're obviously not going to throw them away. That would be like scattering diamonds on the floor."
As we head out to the restaurant parking lot, Kundtz points to his truck. In the bed is his dead Australian shepherd, Jillaroo, wrapped in…a beloved Carhartt. "I'm about to bury the dog in my oldest Carhartt jacket and build a spirit house over her," he says, before driving off. Even in the afterlife, Carhartts are too precious to discard.
"WHERE IS OUR Carhartt machete holster, honey?" computer consultant Tom Kluberton asks his girlfriend, Hobbs Butler. At the moment, Butler, a fresh-faced, red-haired 32-year-old, is too busy to help. She's occupied talking about the homemade brown Carhartt tool belt recycled out of worn-out pants that she is modeling for me over a pair of newish Carhartt blue jeans.
"Other people wear through the knees first; I wear through the seat," she tells me. "Then I save the waistband and the back pockets. Turn them around and you get a great tool belt you can hang a hammer on and keep nails in."
I've dropped in on Kluberton and Butler at their 1940s hunting lodge, over near Talkeetna's railroad tracks, because I heard in town that they were a repository of rescue-pants epics not only because they have spent most of the last decade outside, rebuilding their house from the foundation up, but also because they own 12 antic sled dogs.
"Day to day, these pants will last a lifetime in someplace like Oklahoma," Kluberton says. "Up here, getting pawed, clawed, and chewed by sled dogs all day long, or being dragged along behind them through thorny devil's claw when you fall off the sled, you might get a year's wear out of them." He looks down at his raggedy, paint-stained trousers, which are five months old but could pass for antique. Kluberton, 50, is tall and loping, with a boyish face and a thick mane of graying hair. He gives me a fast-paced tour of the grounds, breezing past a retaining wall constructed by "the Sherpa that our Everest-guide neighbor, Todd Burleson, sent over to help.
"Twice now, I've had a chainsaw swing up and catch me on the leg," Kluberton continues. "That's why you wear the double-knee pants so the chainsaw cuts off a good, long slice of your Carhartts, instead of a good, long slice of your leg. Even so, you hate to lose a pair of Carhartts. What I do is get high-temperature automotive silicon gasket sealer and glue the pants back together." When I point out that silicon gasket sealer is neon orange, he offers a more color-coordinated alternative: "You can also use duct tape as a temporary fix."
Kluberton shows me other pairs of archival trousers he has not repaired, because they serve as badges of honor. Like the pair with the black-rimmed burnt-out crotch the pants that illustrate a kind of infallibility principle.
"What happened was, while I was driving out of the Costco parking lot in Anchorage, I was futzing with this new minitorch the kind that will flame a cigar from 11 inches away which I bought to melt the ice that builds up overnight in my ignition. I dropped the torch in my lap, and kept driving until I noticed I was feeling a bit warm. I looked down to find my crotch on fire." Kluberton holds up the gutted pants as evidence.
"The family jewels were at risk," he says. "If I'd been wearing any other kind of pants, I'd have been dead or dying, in trouble, flambé even. Instead, I pulled over to the side of the road, put myself out, and turned the lighter off. OK, they're crotchless, but they're still good Carhartts. You can wear them as long as you've got boxers on underneath."
Kluberton goes into a bedroom to change into "the pants that survived auto-da-fé" to prove it. He is right. His crotchless Carhartts don't look so bad if you like chaps.
FISHERMAN JOHN FERRELL has a story that gives new meaning to the term "fashion emergency." A 50-year-old charter-fishing-boat captain from Anchor Point, Ferrell made national headlines several years ago after his 37-foot aluminum boat, the Irene, capsized dramatically in Cook Inlet, south of Anchorage. I track him down by phone from Talkeetna one evening after several folks tell me he is the ultimate protagonist in the definitive Carhartt narrative.
Ferrell had taken a party out fishing when the shaft connecting the Irene's engine and its transmission broke off, piercing the boat's hull and flipping it in turbulent 40- degree water. His six passengers and deckhand all clambered onto a four-person life raft. This left no space for the captain, who had to hang on to the hull of his overturned craft. The first Coast Guard helicopter on the scene pelted Ferrell with 110-knot rotor winds as it extracted the tourists from the life raft and flew away, leaving him to await the second rescue team.
"I should have died, because I was out there for more than an hour, and generally you're a goner in 10 to 15 minutes," Ferrell recalls nonchalantly. "But I was wearing my double-knee Carhartts, which were so insulated the wind did not penetrate and I didn't get hypothermia. Sure, my arms gave out and turned to Silly Putty, but the Carhartts protected my bottom half, allowing me to keep afloat by moving my legs."
To hear him tell it and he tells it often, since it's his best story his boat anecdote is less about almost drowning than about clothing as miraculous as the Shroud of Turin. But behind the clothing trope, the Carhartt survival yarn is a type of Freudian talking cure: a way to get over the aftershock by retelling your life-threatening experiences to others.
"Bottom line, those pants saved my life," Ferrell says proudly. "I'm the Carhartt poster boy."
THE CARHARTT BALL takes place on my last night in Talkeetna. And, with all due respect to John Ferrell and his pants, there are a lot of poster boys in attendance. Not to mention poster girls. Emcee Doug Tweedie makes a halfhearted attempt to be heard over the raucous crowd standing three deep at the Fairview Inn bar as he introduces the handful of contenders for the survival-story contest, while in typical anarchic Alaska fashion, the majority of survivors are loudly swapping their bios offstage. Up at the microphone, nurse Colleen Hogan describes the time she saved a car-crash victim by covering him with a warm jacket. Offering a business survival story, jam and jelly maker Laura MacDonald recounts how she once lugged 50 gallons of blueberries home in a spare jumpsuit.
The contestants are so few that all of them take home Carhartt prizes of hats and T-shirts, and their anticlimactic tales turn out to be so downright mild that I wade into the Fairview's back room, where real cliffhangers are being traded under a mounted bull buffalo. I hear some archetypal stories of Alaskan ingenuity like the one about Donnie Elbert, the mechanic who used his overalls as a frostproof tent one night after his plane crashed in the tundra; and then there's Carl Ober, the quick-thinking river guide who saved his own life, after flipping out of his 35-horsepower boat, by tying his waxed Carhartt pants into a knot and inflating them into an emergency life vest, all while careening down the Talkeetna River.
I head across the room, where teamster Randy Brooks hoists his right leg up on a table and rolls up his pants. He has an ugly eight-inch scar on his right shin. This happened when a birch tree he was cutting for firewood fell, pinning him beneath it and bending his leg at a right angle until the fibula was shattered and the tibia broke through his flesh. Brooks says the reason he's still walking is that the thick insulation of his Carhartts kept him warm, which stopped him from going into shock during the two hours it took his two sons to dig him out from beneath the tree, call for help on a nearby radio phone, and put him in an ambulance.
"This is a true story, backed up by bills and hospital records," Brooks says, as his wife, Edie, nods. "I would have been carving a peg leg for myself out of that birch tree had I not had my Carhartts on. And I still got them. I wear them all the time."
As Brooks rhapsodizes about how his pants saved his leg, I realize that whatever permutation of Carhartt yarn you hear, it represents more than an I-lived-through-this epic or a psychological coping mechanism. It's an initiation rite, an application for citizenship. If you haven't lived through such a tale, it means either you just arrived in Alaska or you have no business being here in the first place.
AND SO, ONE LAST STORY. Even if you're born and bred Alaskan, Carhartts do more than save your hide; they can also save your love life. In 1997, Anjanette Knapp, a 26-year-old ecologist from Sheep Mountain, was trying to impress her musher boyfriend Zack Steer, 25, when she agreed to dogsled with him through a trailless stretch of backwoods in the Chugach Mountains. It was a bold move; Knapp was new to mushing. Steer would pilot the lead sled and she would follow him on her own sled. He instructed her to not let go of the dogs, no matter what.
Soon after they started, Knapp accidentally slipped off her sled into deep snow and tumbled. Steer, far ahead and oblivious to his girlfriend's predicament, sped along as she was dragged facedown, losing her boot and sock but never leaving the sled because the leg of her Carhartt trousers snagged on the brake pedal. Finally, the dogs, realizing something was amiss, reined themselves in and brought the hell ride to a halt. Needless to say, Steer was impressed by Knapp's endurance. Soon after, he ran the Iditarod with an engagement ring tied to his lead dog's collar and proposed to Knapp at the finish line.
Those pants proved not only that Knapp truly belonged in Alaska, but that she also belonged to her beloved. Reader, she married him.