Sponsor Content: New Balance
These Runners are Gathering More than Miles
From foraging wild asparagus to scouting for the perfect shot, these runners are proving there's no wrong way to run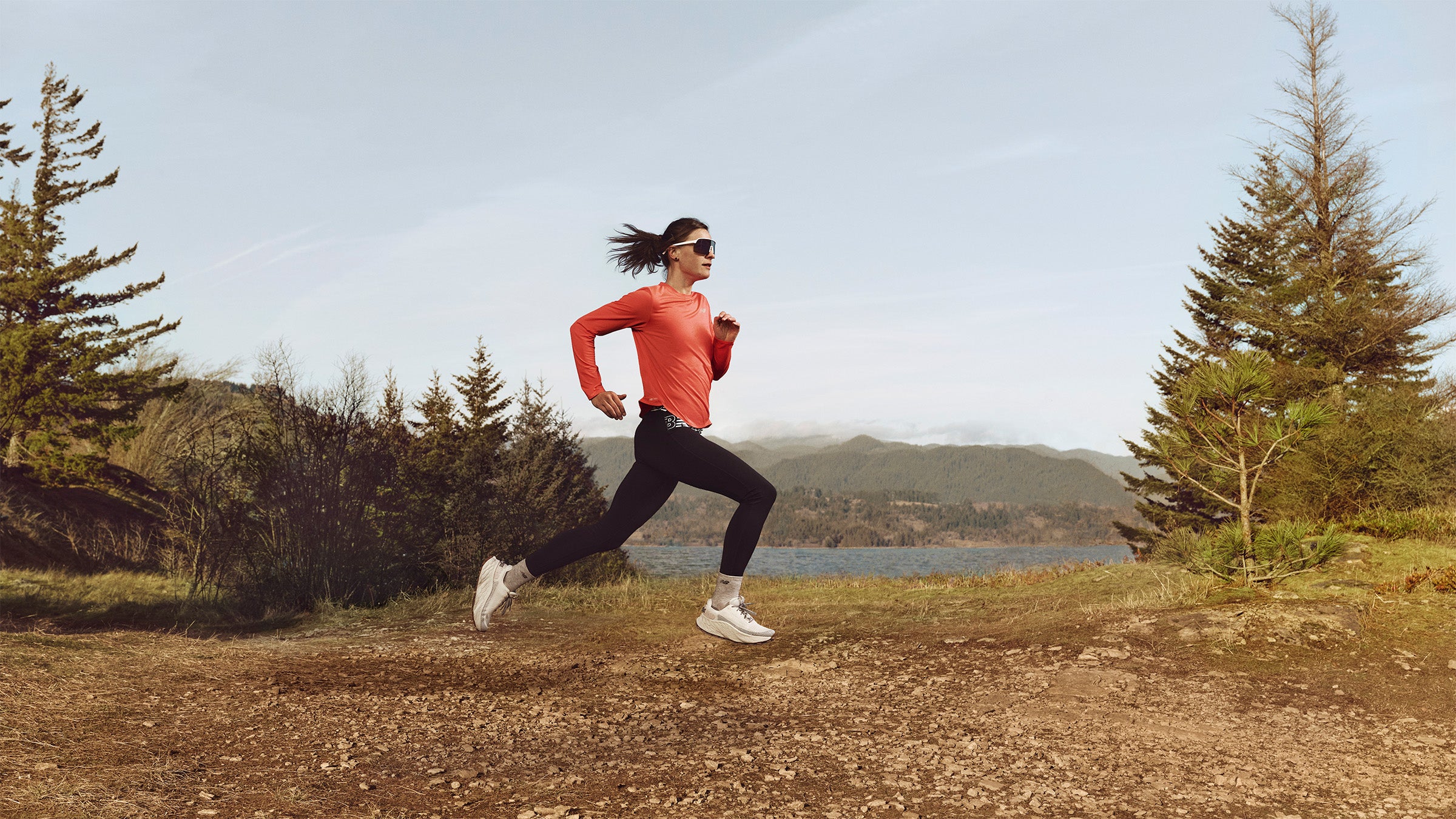 New Balance
Since there's no wrong way to run, that means there are only right ways. For proof, check out the following handful of athletes from a larger showcase of unique runners, who came to the sport from unconventional places. Their stories prove that running can be transformative in diverse ways—sparking creativity, balancing day-job demands, and uplifting others—but always pointing the same direction forward. For these gatherers in particular, running yields other ways to prospect and bring back the best of nature's offerings.
MEET: Kelly Bailey Newlon
The trail-savvy chef who forages Colorado's Front Range.
When she laces up for a trail run in the foothills outside her home in Boulder, Colorado, this catering company owner-operator always makes sure there's extra room in her pack. She often forages for ingredients—like morels, oyster, or porcini mushrooms or raspberries, blackberries, or blueberries—while she runs. "If there's something I can grab, I grab it," Bailey Newlon says. "It's about paying attention to my surroundings."
"And I often have relationships with farmers," says the foodie founder of Real Athlete Diets (RAD) who has competed in roughly 25 ultramarathons. "I'll go knock on their door while I'm out on a run, having run by their crops, and ask them about what they're growing—and then I'll source that ingredient from them later." Results like apples, peaches, honey, or cheese from local farmers help fuel her next jaunt deep into the nearby Indian Peaks Wilderness.
GRAB & GRUB: Freshly Foraged Asparagus
"A lot of people are not aware that asparagus will often pop up on the side of the road or in ditches next to farms," Bailey Newlon says. "It's easy to spot once you know what to look for (spears near tall grasses and water sources in full sun). I always keep an eye out on the rare occasion that I am on the road. Picking a solid handful is a great addition to any meal or snack after a run."
MEET: Brendan Davis
The pro photographer who's turned his running passion into a creative niche. 
Brendan Davis ran 30 to 40 miles a day while shooting film and still photos of Joe Grant's 500-mile trek along the Colorado Trail, documenting the athlete as he ran from his former home in the Front Range to his new home in the San Juan Mountains. It was a typical job for Davis, a professional photographer and competitive runner who has blended his two passions into one creative, athletic pursuit. Davis not only runs 50 to 60 miles a week, but he's also made a name for himself by matching pro runners stride for stride and shooting them in their natural element.  
"The hardest part is carrying everything," he says. "A lot of my running injuries are tennis elbow from carrying a six-pound camera for a long time." 
Davis has photographed pro runners at their best for their sponsors, captured runners attempting Fastest Known Times on specific trails, and created projects to raise awareness for specific charitable issues. For a while, he struggled with turning his love of running into work, worrying that carrying a camera and stopping for photos would remove some of the joy from the effort, but Davis has come to terms with the combination. "I've decided that taking photos as I run, carrying a camera, is just another way to add to the experience. It helps me be present for it all." 
MEET: Andrew Todd
The "flyathlete" who runs to fish and lures in other trail-minded anglers.
This 48-year-old trail runner and trout aficionado, carries lightweight, telescoping fly rods on trail runs, casting for wild mountain brookies in backcountry lakes and streams. When he's done, he has a beer. Though the wildlife biologist ran road marathons after college, Todd switched to trails when he discovered the fun of running on varied terrain. "No two footfalls are the same," he says, "and every step takes you into some spectacular landscapes—and to some spectacular fish." 
That payoff has turned Todd's pastime into an interesting multisport event, challenging others to run local trails, catch a local fish, and drink a local beer at established so-called Flyathlon races. Todd puts on at least three a year, raising almost $500,000 for water-quality projects in the process. And this year, he's kicking it up a notch personally, training to run an "Ultrout"—a 50-mile course through Colorado's mountains where he'll need to catch five different species of native trout and drink a 15% ABV beer, all in under 15 hours. 
As Todd sees it, any pain associated with the run is worth the effort of upping the fishing odds in his favor: "I'm pushing 50 years old, so the run won't be easy, but the fishing could be tough (otherwise)," Todd says. "I need the fish to be hungry when I'm casting." 
GO DEEP: Into the World of Flyathlons 
Compete in one of four scheduled Flyathlons, ranging from a 4.4-mile course in Iowa to a mountainous 13-mile course in Colorado. Or grab a buddy and sign up for the Troutman Team Challenge. Teams design their own courses (totaling at least 26.2 miles with an elevation of more than 3,000 feet), catch four trout species, and finish by drinking a beer greater than 12% ABV. Any team that completes the challenge in 12 hours or less earns an official Troutman belt buckle.
---
Independent since 1906, New Balance empowers people through sport and craftsmanship to create positive change in communities around the world.
Lead Photo: New Balance
Trending on Outside Online