Nature-Bonding with Dad
Outside's best writers share their thoughts on fatherhood and nature-bonding with Dad.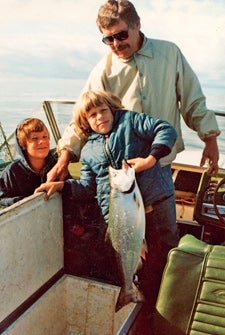 Heading out the door? Read this article on the new Outside+ app available now on iOS devices for members! Download the app.
Tough Love
I became a father in May 2010 with the birth of my son, Jim. Like many fathers before me, holding my boy in my arms brought back memories of my own dad. When my father decided to instill in my two brothers and me his love for the outdoors—a love that he developed during a two-year camping trip in Europe known as World War II—he did so with an intract­ability that you might get from cross-breeding a drill sergeant with Timothy Treadwell.
Outside's Guide to Fatherhood
Six steps
to instill a passion for the outdoors in your next generation
Steven Rinella and family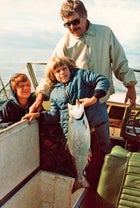 Rinella (with salmon), his brother Matt, and their father on Lake Michigan
He made me prove I could swim by throwing me off a dock. If we went camping and used a tarp to get out of the rain, the next morning would bring an hours-long seminar on drying and folding tarps in the precise fashion normally associated with flag ceremonies. One time, we built an ice-fishing shanty on the lake in front of our house. When it got stuck in the snow and ice, my brothers and I weren't allowed to come inside until we freed it up. By then I had frostnipped fingers. I was six years old.
My father died in 2002, and since then my brothers and I have hashed out over dozens of campfires how he affected us. My feelings have ranged from anger that he could never just let us enjoy the outdoors to incomprehension about why he did what he did. Now that I've brought my own son into the world, I'm beginning to at least understand his motivations. He didn't want to raise a thin-skinned softy who couldn't handle hardship and who didn't respect the value of his equipment.
In the end, my father's approach worked. My brothers and I can survive in Alaska's backcountry for extended periods; we know how to fix things; we can handle the cold. But I'm hoping to find a way to impart that knowledge to Jim with more patience and less danger, and to create a future that we can remember with fondness. Plus, a little hot chocolate never hurt anyone when frostbite is about to set in.
Correspondent Steven Rinella is an author and the host of the Travel Channel series The Wild Within.
The Rambling Gene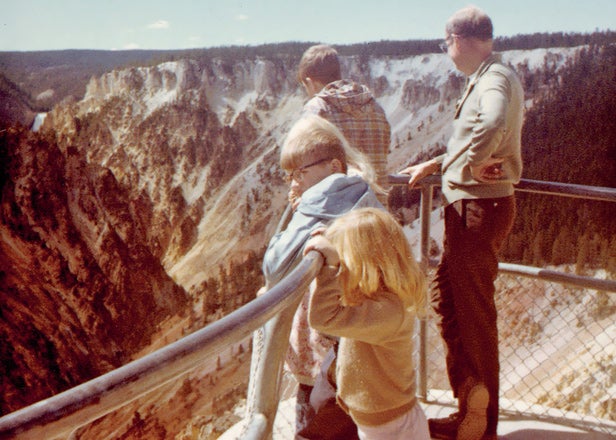 I THINK IT has to do with being from Ohio. My great-grandfather, born in Norwalk in 1866, used to tell a story about his younger brother Wint, a lad so restless and prone to wander that his mother had to tie him to a dog run in the backyard. Despite her efforts, Wint often disappeared, and my great-grandfather would be sent to find him. One morning he discovered Wint at the Norwalk railroad station, perched expectantly on the cowcatcher of a waiting westbound train.
Family contagion, or something, transferred the wandering fever to my father and through him to me. I never thought of my dad as an outdoor kind of guy. Fishing and hunting, which I loved, appalled him; I realized only later that he spent more time outdoors than almost anybody. His particular restlessness sent him sailing out of sight on Lake Erie, walking into the desert beyond Tucson, where my mother's parents lived, and driving all over North America—as far as possible until the road ran out. He often took his wife and kids along on his jaunts, but he went whether accompanied or not. As he got older, his fingers curled permanently from gripping a steering wheel.
In the pre-seatbelt days, my four siblings and I racketed around the back of our station wagon on mattresses laid over the folded-down seats. As my father drove, I leaned over the front seat and helped him observe the highway: Route 66 in New Mexico and Arizona, for example, still my favorite of all roads. Dad would lecture to me quietly on some long, complicated subject—rocketry, the court system—during the dawn hours as the others slept. Jack­rabbits ran from the headlights, mesas and saguaro cactuses lifted their intoxicating silhouettes against a slowly brightening sky. My happiness then was inconceivable, even shaming, compared with my average grown-up frame of mind.
We stayed mostly in campgrounds—dozens and dozens of them, from the Florida Keys to Alaska. Every trip, we rented the same fold-up camper trailer from Buckeye Sports Center near where we lived. During the rest of the year, when we weren't using it, the trailer sat in Buckeye Sports' parking lot. The trailer's top consisted of two doorlike panels on hinges that folded out to provide sleeping platforms, above which a camper tent with aluminum struts could be assembled. A crucial moment in the assembly process required someone to stand inside the tent and clip things together while a partner on the outside held it up. It was my job to be on the outside while Dad did the inside part. Once, I got distracted and let go of the tent, allowing the whole business to fall on him. When he emerged from the wreckage, he told me I didn't have the brains God gave a screwdriver.
He was a chemical engineer, a man of practical wisdom who could take apart and repair anything, and I think he regretted that I wasn't like him. He reproached himself for failing to pass his mechanical aptitude along. But though I couldn't fix things, I could ramble as far as he could, even when I was young; and if his unstoppable momentum—which never let up, even on vacation—drove him up a mountain next to the campground as soon as the tent top was in place, I went with him. He's been dead for many years, but I still have a muscle memory to match the brisk, easy rhythm of his stride.
My son, Thomas, has the same skills my father had. They skipped a generation, as often occurs. But at 18, Thomas is like most kids his age in that he spends most of his time indoors, viewing artificial landscapes on a small screen. Last summer I took him on a road trip from our house in suburban New Jersey to my new favorite destination, Ohio, the state from which I was centrifugally flung long ago. Two old friends, Bill and Don, came along. And I do mean old: cumulatively, the three of us are almost 180. Thomas chilled in the backseat, texting, with his headphones on, and our old-guy awfulness affected him not at all. To get him even to look out the window I had to point and shout. Later, though, he said he'd had a good time. And these days, when we return from doing some local errand, he often asks if we can keep driving for a while. He has inherited the rambling gene, although he doesn't know it now.
Contributing editor Ian Frazier is the author of Travels in Siberia.
Son, Keep Your Skis On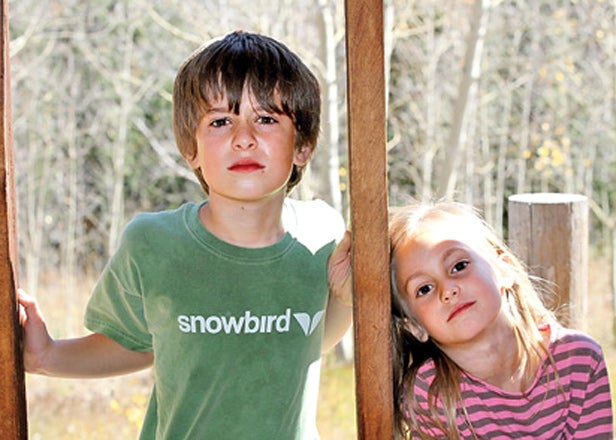 Despite his mustache, I SKI sunglasses, and wind shirt, and even though he owned one of the first Subarus in a town full of Camaros, my dad was never much of a skier. A second-generation Italian American from Quincy, Massachusetts, Pete Peruzzi ("Peatah" to the micks) played high school sports as a youth and helped out around the lot where my grandfather cut gravestones. An outdoorsman he was not. He took up skiing because my Irish mother was a skier. Somehow he kept the ruse alive for 20 years.
We skied Black Mountain, New Hampshire, a mom-and-pop hill with a spider's web of whoop-de-do trails in the trees to keep the kids busy. It was here that my dad gave me the only piece of outdoor survival advice he would ever proffer. "If you get lost," he said, "never take your skis off—you'll sink in the snow and freeze to death."
At seven years old, I was the youngest boy in a group that today would be mainlined with Ritalin. We held mock machine-gun battles at full speed in the woods. On this day, though, I was skiing with my father. When I saw the older kids cut into the forest ahead, I pleaded with him to let me go. He acquiesced, wanting nothing to do with the luge track through the low branches. I promised I would reconnect with him down the trail.
Except I didn't. The kids had gapped me. Moving fast, I took a hard left, dropped over a gentle ridgeline, and entered another world. Within a few minutes, I was a mile or more away from the ski area. Then I stopped gliding.
For the first time in my life, I went for a backcountry tour. Across the fields, into the woods, following a contour line in the direction of the ski area. Onward I plodded until I came across a brook, water bubbling under and over the jumbled ice. I almost made it across, but the opposite bank threw me back. My skis broke through into the stream. I thought about releasing them, but if I took my skis off I'd be a goner. My father had said so. I began to scream. The story ends with a patroller hearing my cries and rescuing me. My mother, needless to say, was wicked pissed.
Now I find myself teaching my kids to be safe in the mountains. At ages seven and nine, Ada and Jake know they can sideslip any steeps. They execute workable ski-pole self-arrests on ice. They partner up in the trees and stay clear of tree wells. I've even given them the "keep your skis on" talk. "But if you get stuck," I tell them, "don't just sit there and freeze to death. Click out of your bindings and get moving." That, and I've clipped rescue whistles to their coats.
Funny thing is, although my dad's survival advice may have been half- baked, maybe he was speaking in metaphor. As it turns out, I've kept my skis on my entire life. Thanks, Peatah.
Marc Peruzzi is the editorial director of Mountain magazine.
Mulligan Boy
First, the math: my sons are now 29, 25, 25, and 12, which adds up to 91 child years. Or is that dad years? More important, have I learned anything?
On paper and otherwise, the three older boys (Jeb, Reid, Tim) collectively have done just fine—acquired manners and humility, earned diplomas with distinction, run swift marathons, finished triathlons, been awarded the game ball, trekked to Everest Base Camp, brought home a keeper of a daughter-in-law, moved to another continent (Africa), memorized every line of Goodfellas. No complaints from this corner. But if I were them, I'd have registered at least one: Dad, please, less is more.
If I could have one do-over, it would be to have spent less time telling them what I'd done in my life, what arcane knowledge I'd accumulated. If only I had just listened and absorbed what the world looked like through their unadulterated, as it were, eyes. And now, of course, they are adults themselves, residing under other roofs. Which is how the youngest, Paul, became my mulligan boy.
We live in the busiest of places—Manhattan—where guilelessness and silence are rare commodities. Paul is bright, competitive, and no fool, yet willfully innocent, having arrived at a simple but profound understanding: for as long as possible, he wants to remain a boy/child. This is where I come in. The key, I think, has been to mute my reflexive irony and hum along with the music of his monologues, the euphony from his brain.
We drive: "I just like looking out the window, Papa. It's a time to reflect. My ideal trip would be one around America. That would be a fun trip. Maybe I'll decide to learn to drive."
We camp, we canoe, we fish: "Fishing and camping are really fun. It makes you realize that some parts of the world aren't yet built up and super civilized. You forget that computers exist or how they could even be invented. And I like the fishing part just because it's fun, even though we release them. It's like going to the grocery store but really having fun at the grocery store."
His plausible fantasy: "Go into the woods and, like, have a survival kind of experience. Just live off of not much. Just have the basics: a tent, sleeping bag, and flashlight, a minimum amount of clothes. For fire I'd need matches and wood. No ax—well, OK, an ax, but I'd only cut stuff off of dead trees. The weather might get nasty in other months—so summer. So I won't get sick in the middle of the woods." Bugs? "I'd deal with them." Bug repellent? "No, thanks." Getting to the woods: "I might have somebody drop me off, and from there I'd just walk around. I don't know that anyone would want to come with me, but if you wanted to, you could."
That's it? "That's it. I'd fish for my food. I'd have a tiny bit of money. Just in case. Because I'd be traveling inside the woods, I probably wouldn't need it. Unless maybe I came to a city. If I came to a city, I'd buy some fresh vegetables. And sushi."
Mark Singer is the author of Character Studies: Encounters With the Curiously Obsessed.