Tourist Trap
Since the release of 127 Hours, a certain canyon in Utah has become a lot more popular—and dangerous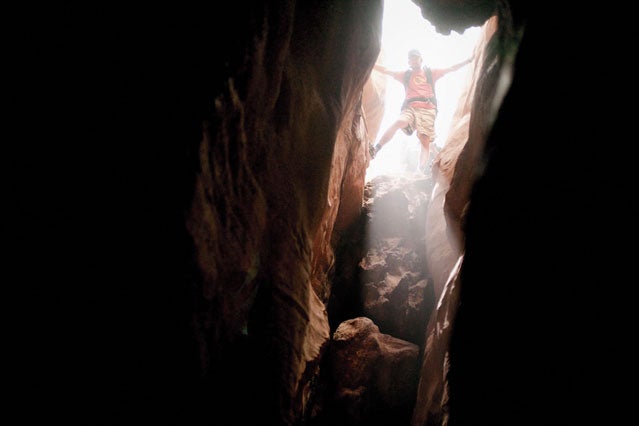 Heading out the door? Read this article on the new Outside+ app available now on iOS devices for members! Download the app.
In early September, a 64-year-old North Carolina man named Amos Wayne Richards hiked into Utah's Lower Blue John Canyon. As Richards descended to the canyon floor, he slipped and fell ten feet, breaking his left leg and dislocating his right shoulder. He hadn't told anyone where he was going, and the only food he had with him was a couple of energy bars. Three days later, a National Park Service patrol found Richards's car. The next morning, a helicopter crew spotted Richards roughly four miles from the site of his fall. He had spent three days crawling across the desert.
Sound familiar? It should. Blue John is, of course, the canyon where Aron Ralston was trapped in 2003 by a falling rock and forced to amputate his arm. Except for Ralston himself, Utah officials hadn't performed a single rescue in Blue John or the surrounding canyons between 1998 and 2005. But after Ralston published a book about his ordeal in late 2004, and especially since last January's release of 127 Hours, starring James Franco as Ralston, the canyon has seen a jump in rescues. Since June 2005, more than two dozen hikers have been reported missing in or near Blue John. Most of them, like Richards, were trying to retrace Ralston's route.
"I saw that movie about the guy that got his arm cut off, and I started reading about slot canyons," Richards says. "That movie ­really got me excited."
In perhaps the most dramatic post-Ralston epic, Louis Cicotello, a 70-year-old ­college professor and an experienced ­climber, fell to his death in nearby No Man's Canyon in March, leaving his 57-year-old brother stranded on a ledge for 145 hours, nearly a day longer than Ralston was pinned in 2003.
Blue John is 250 miles southeast of Salt Lake City and a two-hour drive from the nearest town. To reach the lower narrows, where Ralston got stuck, requires a ten-mile hike over unforgiving terrain. Horseshoe Canyon to the north, in Canyonlands ­National Park, gets a fair number of visitors, but Blue John is just outside park boundaries and is one of dozens of slot formations in the area. Until 2010, it was known only to serious canyoneers and people who'd read Ralston's memoir, Between a Rock and a Hard Place. "There's nothing special about this canyon other than it's in the middle of nowhere," says Wayne County sheriff Kurt Taylor.
The copycat-accident phenomenon isn't without precedent. Rescuers in Alaska saw a similar trend after the 2007 release of Into the Wild, the movie based on the Jon Krakauer book about Christopher McCandless's death at an abandoned school bus near Denali ­National Park. Each summer since the film Into the Wild premiered, rescuers have recovered at least half a dozen lost hikers on McCandless pilgrimages, says former Denali Borough Emergency Services director Rusty Lasell. Not surprisingly, the uptick of rescues in and around Blue John has officials concerned. Bureau of Land Manage­ment recreation planner Myron Jeffs was initi­ally ­reluctant to speak about the canyon at all, fearing that additional media attention would attract a new crop of unprepared visitors. "Another story will just bring more people out after they read it," he said. And both Park Service and Wayne County officials expressed frustration at 127 Hours' depiction of a lagoon deep within Blue John: there isn't one, and the embellishment makes the canyon look far more inviting than it really is.
"I think the film has done a disservice to hikers and climbers and the public by glori­fying the event," Taylor says. "Everybody wants to go see that blue lagoon, thinking it's part of Blue John Canyon."
Ralston is conflicted. "I do feel a little bit responsible for enticing people to go who get in over their heads," he says. "But the canyon is self-limiting in terms of who's going to commit to doing it, and I'm not going to discourage people from going out there. I under­stand why they're there in the first place."
Richards says 127 Hours made him think Ralston's near death was a freak accident rather than a likely consequence of hiking in a dangerous place. "I didn't think anything like that could happen again," he says.
Taylor only hopes that his department's search-and-rescue efforts don't give ­people the impression that they can have what he calls "the Aron Ralston experience" and survive it. "It's not Disneyland," Taylor says. "When God built that canyon, he didn't make it safe for people."